9 Steps to Attract the Right Audience through Social Media
---
According to Buffer's state of social survey, at least 73% of marketers believe that their efforts to attract the target audience have been successful. Having a clear understanding of your target audience on social media may be the most crucial thing you must do as a marketer. Your target consumers are at the centre of all the elements of your social media strategy.
You need to learn where your audience spends most of their time online and then narrow them down into unique groups. You can offer them the most inspiring content possible and connect with the people who are genuinely intrigued to know what you have to offer.
With that thought, let's dive into elaborate on some steps that you can take to drive more audience engagement for your business' social profiles.
Step #1. Know your target consumers
The most significant first step in determining who are likely to buy the product or service offered by your brand is to identify the existing consumers. Gaining clarity on the characteristics of the existing consumer base allows you to reach more people who can fit the same profile.
Find answers to the following questions to reach the right audience for your business.
What are the age groups of people you're trying to reach?
What's their average income?
What are their core values?
What's their common interest?
Step #2. Identify the size of your target audience
On every social platform, you'll find a search option which if used meticulously can help you find the right target audience and their size as well. For instance, Twitter's got an advanced search feature; LinkedIn allows users to search by names, email addresses, keywords, and more.
Business Manager tool from Facebook is another one that assists you to determine the size of the target audience for your business. Moreover, its unique features allow you to carry out thorough market research. You only need to select some of the vital elements like location, gender, area of interest. This will provide you with ample clarity on the size of your audience.
Another idea is to begin by targeting a smaller set of audience, testing various marketing strategies, and gradually presenting the ideas to a broader audience. A small target audience may seem discouraging initially, but you can change the offers to expand the audience.
Step. #3. Perform a social media audit
Initiate a social media audit on your brand's social channels to two or three competitors. You can even choose non-competing brands for inspiration. Compare the content, engagement, audience size, frequency, visuals, video use, and customer service messaging.
Both small and large businesses nowadays determine the ROI of social media advertising by keeping track of engagement. To understand how to engage with the audience, check out Google Analytics and the social media acquisition reports from time to time.
Step #4. Connect with your customers
Utilize the knowledge you've gathered so far on your target audience to maintain a strong brand presence on social media. Robust and relevant content isn't always enough to ask people to follow. You need to have a well thought out content plan in place and create a social media content calendar. Include posts for holidays/ festivals, sales, special offers, and other events in your social media content strategy.
Determine the time of day your consumers are most active, and scheduling posts accordingly is a must. Also, your brand should be ready and available to answer users' questions at any time of day, to maintain a constant presence. Promoting the business on social media may not be easy owing to the dynamic platforms and user trends.
Step #5. Use industry hashtags
Since the past decade, almost every type of audience has used hashtags on social media platforms. They find it useful to be in touch with what's trending, latest events, common topics and questions within the industry.
These hashtags are also helpful for getting the content in front of a wider set of audience by using them in social media content. Anyone who checks the hashtag will find the content posted with it. This allows the brand to gain more exposure and at the same time, makes it easy to identify the target audience.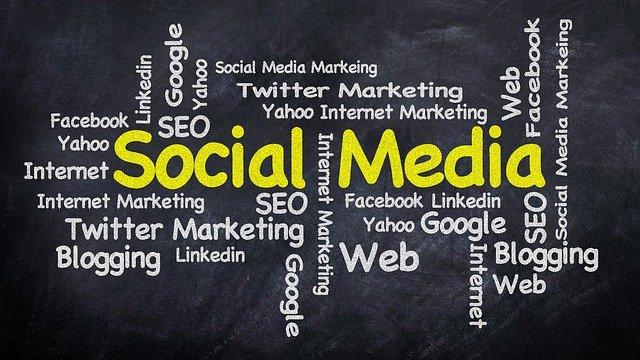 Source: Pixabay
Step #6. Leverage the influencers
Influencer marketing has become exceedingly popular with the prominence social media platforms. You can use the impact of social media influencers to reach out to your target audience more effectively. In this type of marketing, your business has to partner with influencers to market your products or services to their audiences.
Influencer marketing is a potent marketing technique that will help you fulfil numerous marketing goals. If you collaborate with relevant influencers from your niche, you'll be able to strike a chord with your potential customers easily, and they might be interested in your brand. This paves the way for qualified lead generation and helps you find your target consumers.
For instance, Huda Kattan is a popular Instagram influencer from the beauty industry. She frequently collaborates with international beauty brands as well. If a beauty brand joins hands with her, they can reach out to a massive audience.
Step #7. Use targeted advertising
You can find your target audience more effectively with the help of targeted advertising. Social media ads they provide advanced targeting options to help you connect with your audience. You can target the ads depending on demographics, location, and interests of your audience.
This will ensure that your ads are only showcased to those who are likely to engage with your brand. This also means you don't need to invest a fortune on ads to connect with your consumers who are more likely to convert.
For example, Facebook offers you access to multiple targeting tools that assist you in creating and running ads the way you want. They even come up with analytics so that you can optimize your advertising campaigns further. Other social media platforms like Twitter and Instagram also come with their own advertising tools for businesses.
Step #8. Present intriguing content
Even if marketers have clarity on their target consumers, but that will be of little consequence until it's presented interestingly to make sure the target audience takes notice of the brand. The content be must be interesting for prospective buyers. Typically, the selection of content should consist of a mix of curated content and original content on the topics that intrigue the audience along with an occasional promotion, too.
The social pages should be able to inspire prospective consumers. They should visit the brand's pages because of the content created and shared.
Step #9. Ask the right questions
Many brands are looking for an answer to the question "Why don't the posts have enough audience engagement?" Brands should also ponder over whether they're offering them with the right kind of content.
Also, keep tabs on what your competitors in the industry are doing and learn why your brand isn't capitalizing on activities which are generally preferred by the audience. When you begin asking the right questions, it'll help you to attract the like-minded people who will lead to newly acquired target audiences.
Winding it up,
Finding an engaging with your target audience is a pertinent step in social media marketing. It's only when you find your target audience that you'll be able to drive more conversions. Thus, utilize these effective techniques to attract your target audience and grow your business.
Author bio: Olaila Leeis a career advisor at a reputed firm in the United States. She also offers Assignment help to students at MyAssignmenthelp.com. Jonas loves to travel on the weekends.
---