7 Best Project Management Tools for Digital Marketers
---
Running a digital marketing agency lays far beyond setting up PPC campaigns, posting on Facebook or LinkedIn, or updating websites titles and descriptions. The work is an all-embracing and never-ending process of brainstorming, strategic planning, executing, testing, and measuring results. Moreover, a substantial part of the digital marketing managers' shift is devoted to communicating with stakeholders and synchronizing actions with the team.
Without time and task management tools, they risk sinking into the operational routine and losing fuse and productivity. If you manage a team of digital marketers or an agency, the software listed below will save much time and energy when doing day-to-day tasks.
7 best project management tools for digital marketers
You won't find many of those banal tools habitually polled in "Best…" lists in the article. Instead, we've reviewed 7 apps – both popular and new – that your team and you can install and use right after reading the article. Enjoy!
Trello
We would give the lead to JIRA if we advocated for the best PM tool for software development projects. Yet, for digital marketers, Trello is so much better, indeed.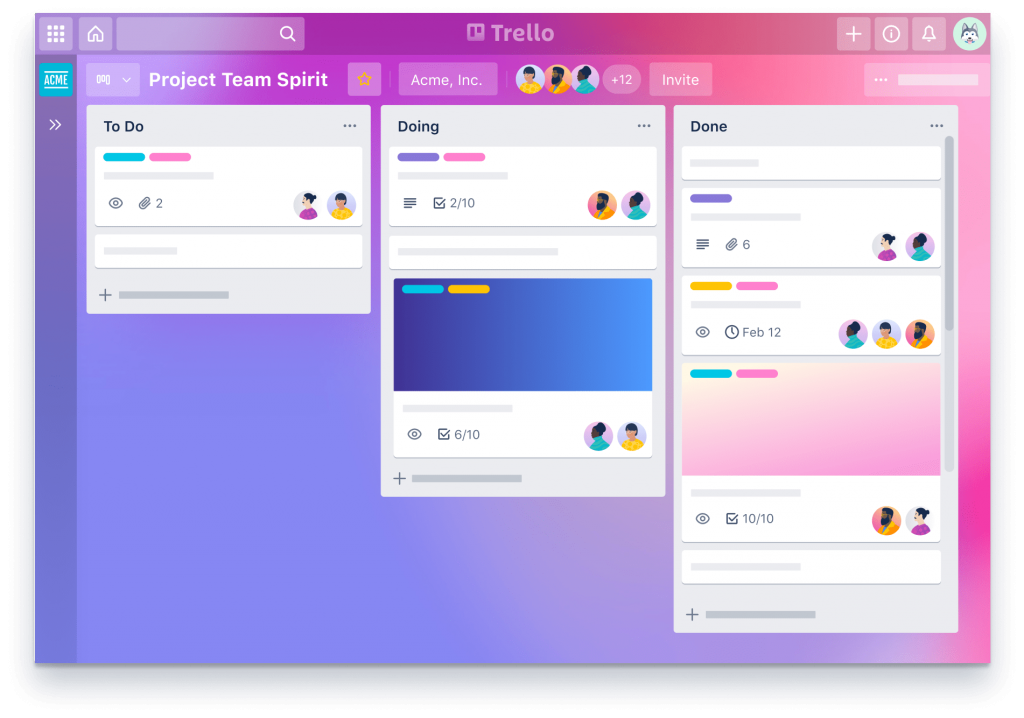 "Trello Kanbans are well-designed and very intuitive", image source
First, – it's free. Second, – it's easier to use due to a "boards-lists-cards" setup. You can create a separate board for every marketing project, add "To-Do's", and set different access rights for teammates. Every time you move cards between lists, e.g. change task status, board collaborators will receive desktop or email notifications and see the most recent updates.
All Trello boards are kept in a cloud, which means you can access them securely from any device and any place in the world. Although the software doesn't offer the whole bundle of Scrum tools, like Backlog planners, Trello gives more space for project visualization and scoping. It allows users to handle real-time dialogues and includes many ready-to-use templates prepared by other Trello users.
Digital marketers will particularly like:
an option to choose the view (Dashboard, Timeline, or Table)
attachment preview
setting automation with the "Butler" tool
integrations with Slack, Dropbox, Google Drive, Confluence, and others.
This tool comforts collaboration and simultaneous task delivery, especially for remote teams. Weje is an online workspace where users can create digital whiteboards – to keep and edit all sorts of information. The tool supports major file types and has a preview mode, so you can work with documents, tables, images, and videos here.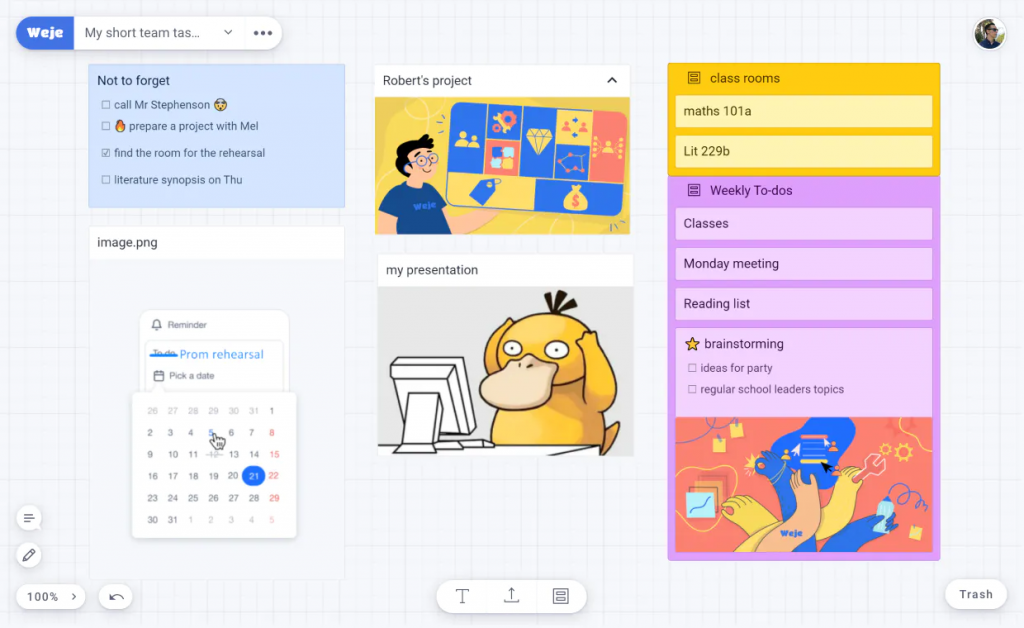 "You can use Weje to put thoughts in order – whether they relate to work projects or hobbies", image source
Weje canvases are infinite and shareable. Once you've created an online whiteboard, invite teammates, add relevant records, and start the collaboration. Marketers can use Weje to:
run virtual brainstorming sessions with third parties, e.g. with clients
mind map ideas and create mood boards
design prototypes, e.g for newsletters or ads creatives
create Kanbans and manage tasks
estimate time and project costs
leave comments (on reports, or something) with online sticky notes or instant messenger.
After the work ends, you can download outcomes or send them for a review via email or socials.
ProofHub is a powerful project management and team collaboration tool that helps managers to plan, assign, manage, and execute projects successfully. This tool helps marketers to optimize task workflows with task management and synchronization communication with team collaboration. Overall it lets your entire team rally around a single app for day to day work. One place to assign tasks, deadlines, collaborate with teams, make changes in plan, share updates, check progress, share files, loop in team members to keep everyone on same page.
More features include project reports and timesheets for managing marketing campaigns on time. It leaves no stone unturned while planning marketing campaigns, track results and maintain transparency among team members. This tool will help in:
Run marketing projects effectively
Assign, share, prioritize tasks, and track all in one place
Plan and visualize the outcomes with Gantt charts
Communicate effectively with group chat and discussions
Review and feedback with online proofing to eliminate errors of all sorts
Flat pricing and no per user fee
Additionally, it gives you the option of recurring tasks so that you do not have to create tasks manually yet and again. No wonder it is used by more than 85,000 teams and businesses across the globe with clients like Google, Pinterest, Netflix, Nike, and Tripadvisor, among others.
Monday.com
This software is beloved by teams of global brands, including IBM, Coca-Cola, and eBay. Monday has much to offer salesmen, software developers, designers, and HR managers, but it's foremost famous for its "Monday Marketing" set of PM tools for marketers.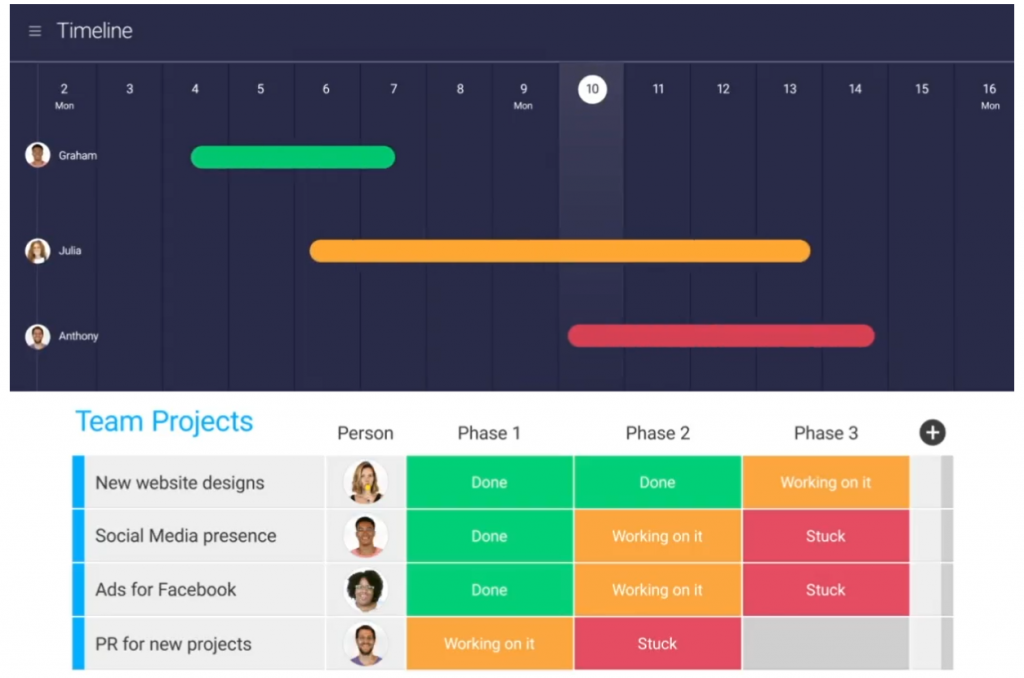 "Monday.com allows to track tasks and team projects in timelines", image source
The principle of interaction with Monday is similar to Trello. It allows users to create boards, assign and track jobs, and individual performance. However, it Monday offers more options for organizing, reporting, and automation, in particular:
pie charts that show how many tasks are "In progress", "Stuck", or "Done"
social media posting calendars
tasks prioritization
templates for different creative projects, e.g. "Video production"
a set of pre-designed automation rules, etc.
You can integrate Monday.com with the mailbox and Slack, so every time you receive a new request, the software sends a notification via chat, adds a new assignment to the respective board, and sets the deadline and owner of the task.
Monday.com also offers customizable forms, file sharing options, and integration with 200+ tools, including Facebook Ads, Typeform, CRMs, and others.
Google Analytics (GA)
This is a #1 instrument for website analysts, SEO, and PPC managers. GA is "eyes and ears" for marketers – it shows what audiences visit websites, what content engages users most, what CTAs convert better, and how much the company may earn this month.
The updated version, Google Analytics 4, collects data from websites and mobile apps and offers many telling insights for marketers. They can use GA to:
build a single user journey across devices
build cross-platform customer journeys
integrate reporting and analysis.
GA is useful for predicting conversions and measuring ads performances. To get a complete picture of paid campaigns and study keywords that bring the most website traffic, we advise you to integrate the Analytics account with Google Ads.
ClickUp
Imagine that you've mixed Jira, Trello, Confluence, and Google Calendar. The result will be much like ClickUp. The software is positioned as an all-in-one tool for PMs and promises to replace all similar instruments.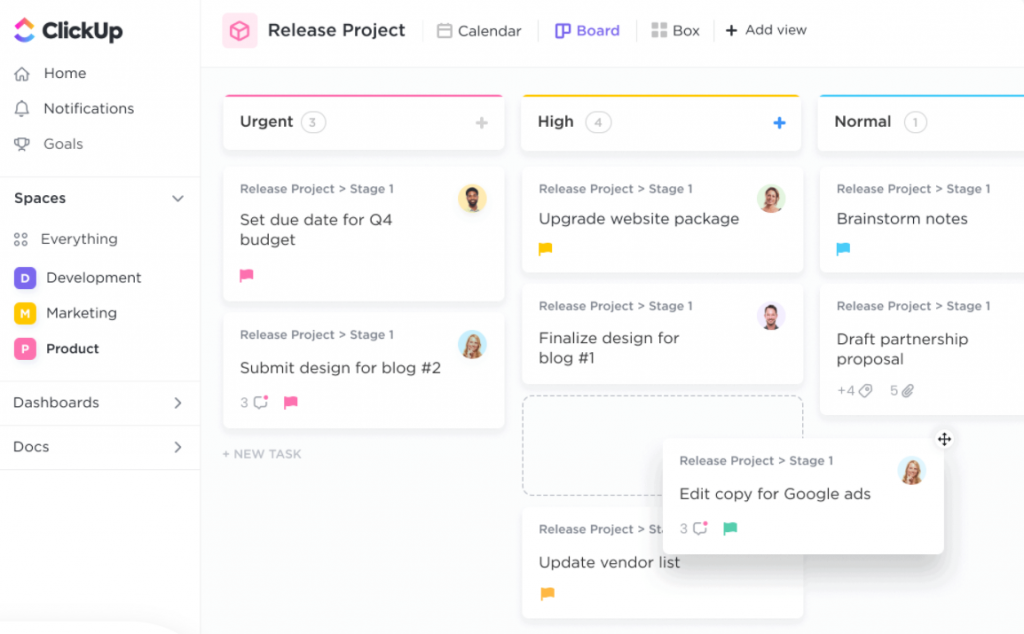 "ClickUp promises to replace all other PM tools", image source
ClickUp allows you to create Kanbans and work with them using one of 15 views, including "Workload", "Activity", and "Map" views. All assignments are organized in a "space" – a kind of board from Trello, but with extended functionality:
an option to create tasks from images or screenshots
threaded comments and mentions through the "#" symbol
rich formatting when editing documents
the opportunity to assign several people for the task
a real-time chat, and more.
If you work with multiple projects during the day, you can create a tasks tray – to access assignments at any given moment without switching between tabs. ClickUp offers more than 1,000 integrations, so whatever marketing software you use – there's a good chance you can incorporate it with the tool.
Indy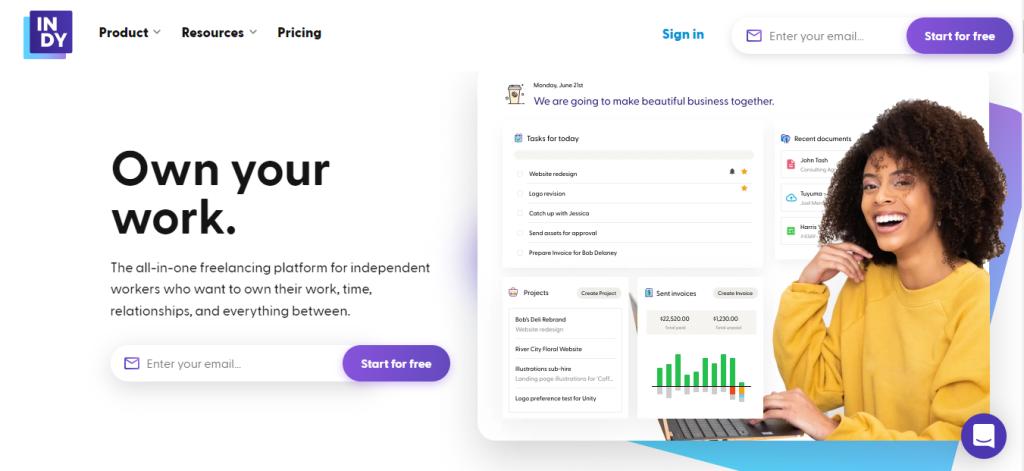 Indy is a simple project management tool for freelancers and independent contractors. What makes Indy unique is its focus on your entire workflow.
You can use Indy to create tasks just like every other project manager on our list. Indy goes a step further, though. With Indy, your tasks can be connected to projects, tracked using the built-in time tracker, added to an invoice with just a few clicks, and you can get paid with the payment gateway. The integration with all the other tools is what makes Indy so helpful for freelancers.
The biggest benefit to freelancers is how easy Indy is to use. There is no learning curve here. Just create an account, log into your workspace, and you'll see how stuff works at a glance. Projects can be associated with tasks, files, time tracking, contacts, contracts, and proposals. Everything works quickly and simply, just like you'd expect.
Basecamp
Basecamp is savvy for remote teams. This isn't complete project management or marketing automation software. It is useful for organizing and maintaining information flows – emails, chat messages, meetings, and tasks – within a company.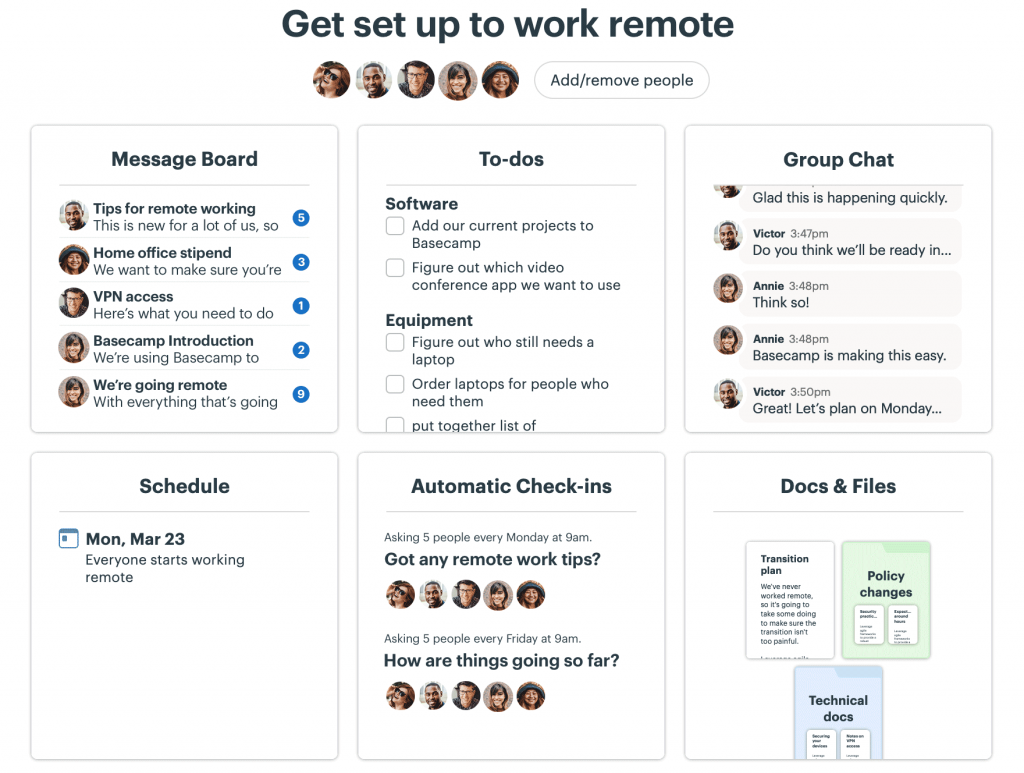 "Basecamp replaces emails, chats, and file storages with boards", image source
Basecamp serves as a repository for communications, files, and processes. Everyone invited to the board will see the same information, e.g. To-Do lists, comments threads, schedules, deadlines, and will be able to check out and download project-related assets.
A manager can use Basecamp to assign tasks and see how many have been completed so far. The tool has an automatic check-in option to ask team members about their workloads – at the end of each day.
Marketers can use Basecamp to create different sets of tasks and members for projects, which makes it easier for everyone to switch between multiple assignments.
HubSpot
HubSpot is a "colossus" digital marketing tool. It offers everything a single marketer or a team may need during work over the project – a CMS, a CRM, drip campaigns launcher, paid ads launcher, SEO package, chatbot builder, and a scheduler for publications. Not to mention free templates for landing pages and email newsletters.
"HubSpot allows managing both Inbound and Outbound marketing activities", image source
In addition to these perks, HubSpot collects marketing intelligence and returns comprehensive reports. You can learn more about prospects, leads, or clients by reviewing analytics in terms of:
users
events
single marketing campaigns
and omnichannel marketing campaigns.
You can use HubSpot to align activities across multiple social accounts, e.g. send messages and get responses from/to a single Inbox, track mentions, comments, etc.
Some of these 7 tools can turn into a day-to-day toolkit for 99% of digital marketing teams. All have at least one free option, so you can use them at least for a couple of weeks and with no charges from your credit card.
---