5 Linkedin's Automation Tools for Lead Generation
---
With over 30 million companies present there, LinkedIn is a top destination for B2B lead generation. The advanced search and filtering options allow you to find the ideal prospects for your product/service, connect with them, and build business relationships. But doing that job manually can be extremely time-consuming and exhausting.
To save you from monotone tasks, businesses have created tools that automate the lead generation process on this platform. Some of them have free plans, some of them don't. However, if you are working with a B2B lead generation agency, they will definitely be using 1 or even multiple similar tools and you won't end up paying extra fees.
To know what LikedIn features you can automate, how much the tools cost, and how each of them is unique, keep reading!
Lead Connect

Lead Connect is a Chrome extension that makes it possible to automatically send LinkedIn connection requests and set up a drip campaign. You can include up to 10 follow-ups or the sequence will be stopped when you receive a reply. Messages can be personalized by using the LinkedIn user's first name.
Pricing and integrations
Lead Connect has a free forever plan that allows you to send 5 invites and 15 messages per day. Besides, it provides 5 templates for writing messages effectively. Paid plans start at $25.95 monthly. The tool has integration with HubSpot.
Meet Alfred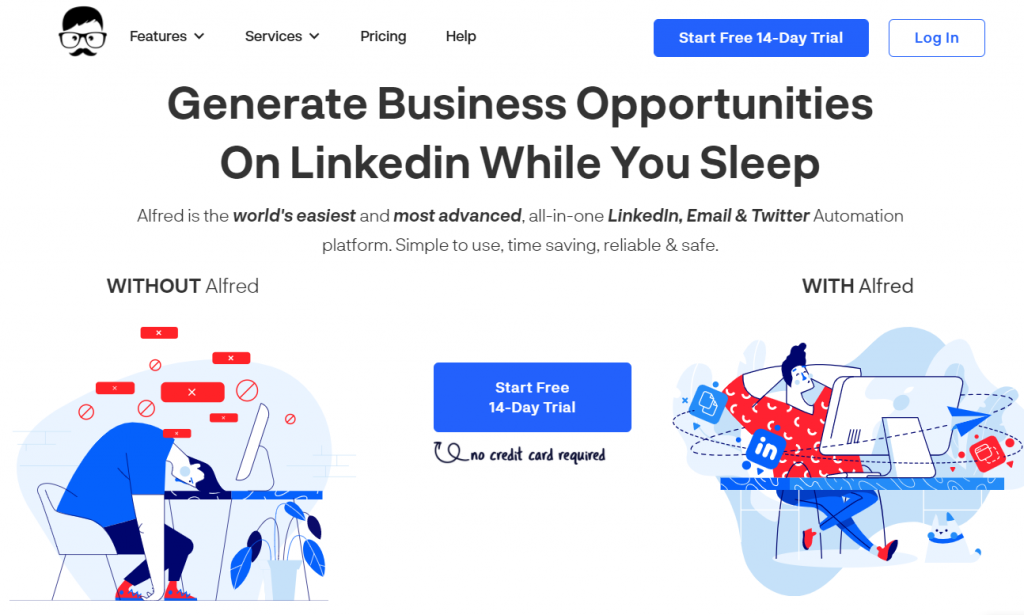 All Meet Alfred plans allow you to send
auto connection requests,
auto greetings,
auto follow ups,
auto messages (personalized),
auto visit profiles,
auto endorse.
When creating a campaign, you can exclude profiles without photos (as they are probably fake accounts) and/or target only users with premium membership (as they are probably very active).
Meet Alfred is different because it helps you run messaging campaign sequences not only on LinkedIn but also Twitter and Email (using Gmail, G Suite or Microsoft Outlook). So if you are trying to diversify your lead generation sources and bring them under one roof, you can go for this tool.
Pricing and integrations
Meet Alfred's plans start at $49 monthly. You can set up 3 active campaigns, add notes and tags, view and export data. With higher plans, you can also automate InMail messages, send an attachment with messages, get access to messaging templates, etc.
Octopus CRM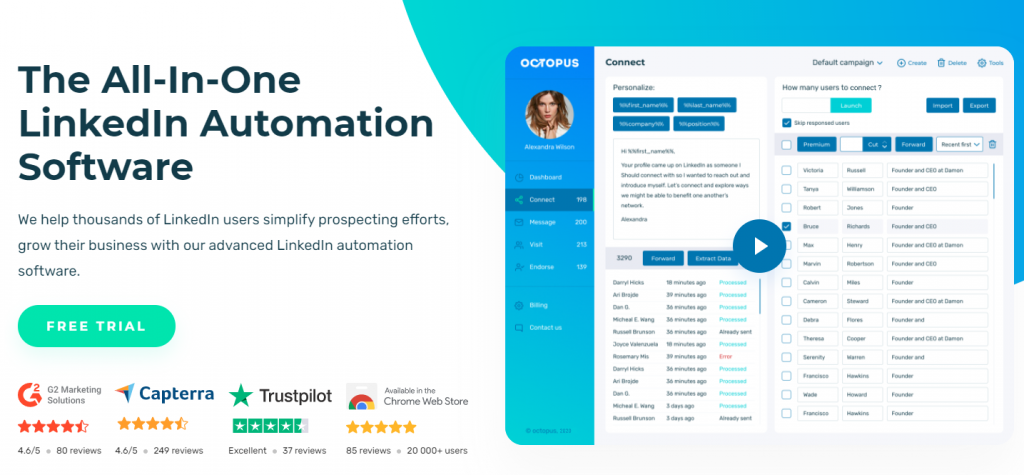 Octopus CRM is a Chrome extension for business owners, marketers, and recruiters. There are 4 tabs in the dashboard – Connect, Message, Visit, and Endorse.
The Connect tab allows you to send personalized connection requests to your 2nd and 3rd level connections.
The Message tab allows you to send messages to your Linkedin contacts in bulk. To make your message personalized, you can include the recipient's name, last name, position, and company name.
The Visit tab allows you to view hundreds of profiles automatically and draw attention. And the Endorse tab allows you to auto endorse the skills of your 1st level connections.
After the connection requests are accepted, you can further your relations through thank you messages and follow-ups.
To transfer LinkedIn users to the CRM, go to LinkedIn Search or Search for Leads in LinkedIn Sales Navigator and filter the users. If you are using basic search, you can filter by Location and Relationship. If you choose Search for Leads, you can filter by Seniority level, Function, Company headcount and other categories as well.
Pricing and integration
Octopus CRM starts at $9.99 monthly. The tool has integrations with HubSpot and Zapier.
Dux Soup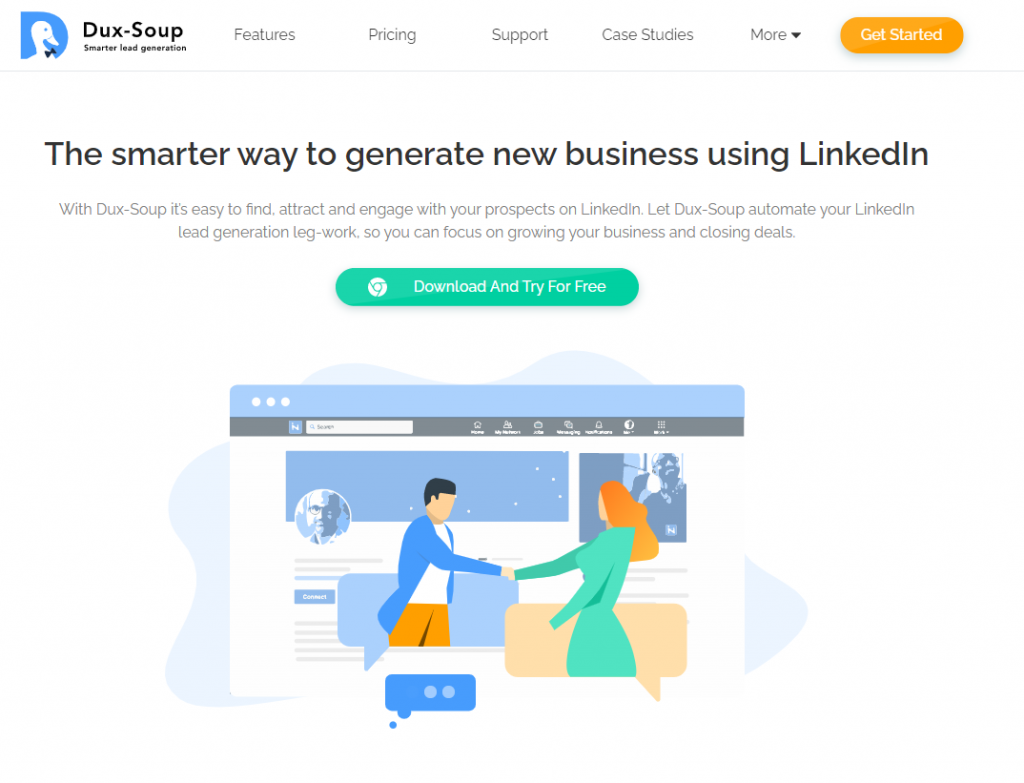 Dux Soup is equipped with the most essential features. You can view profiles, follow users, endorse their skills, send connection invitations, and set up drip campaigns.
Pricing and integrations
Dux Soup has a free forever plan that allows you to
find prospects,
auto view profiles (100 daily),
target previously tagged profiles.

For auto inviting, auto messaging, auto endorsing, auto InMailing features, you need to subscribe to a paid plan. Paid plans start at $14.99 monthly. The tool is available in 9 languages – English, Dutch, Polish, French, Italian, Russian, Portuguese, German, Spanish.
LinkedIn Helper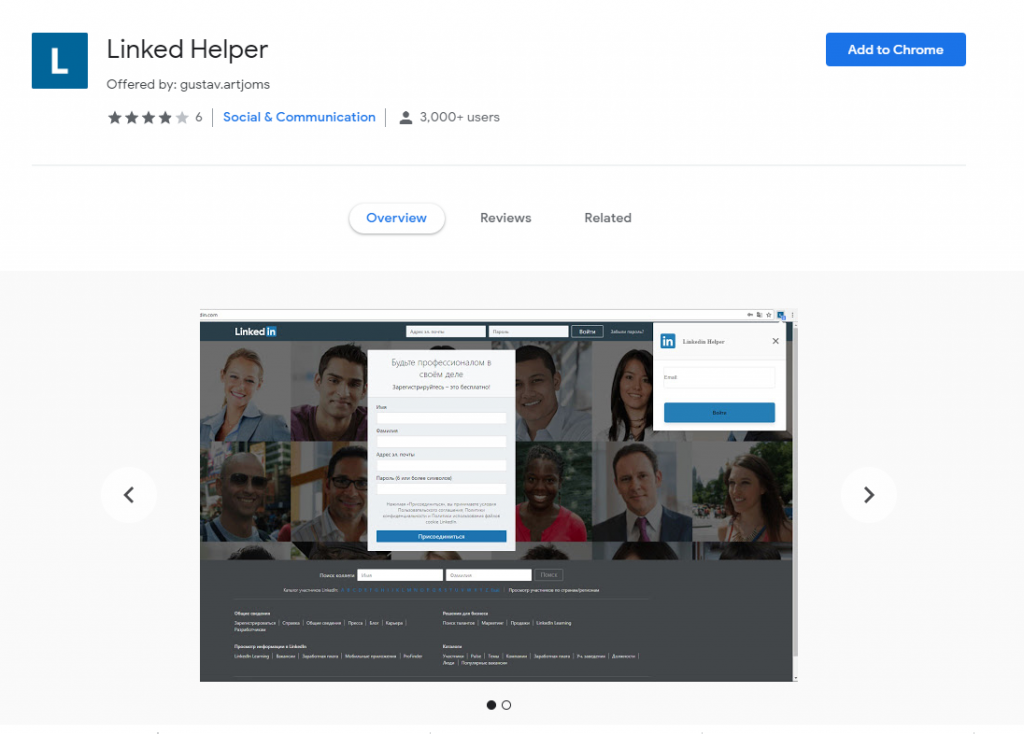 LinkedIn Helper is another tool that allows you to send connection requests with a personal note, message 1st level connections, send follow-ups, endorse for skills, etc. It's not cloud based and is downloaded directly to your computer.
The tool provides you with templates that you can use for making your messages more effective and high performing.
One of the unique features is that you can send messages to LinkedIn group members. It's extremely useful if you are part of a group where you can find potential customers. Other unique features include inviting your connections to follow a page and join a group.
Pricing and integrations
Plans start at 8.25$ monthly depending on how long you are willing to use the software. The software supports integrations with Zapier and Webhooks.
Author's Bio:
Michael is a member of the editorial team at Leads At Scale. His main areas of expertise include business growth, inbound, and outbound marketing & sales.
He is a walking wanderer and a travel enthusiast.
---