4 Key Elements of a Killer Digital Marketing Strategy
---
In the modern online world, digital marketing is of the utmost importance. The main reason is that the best way to reach online consumers is via digital marketing. After all, you have to be wherever your customers are. Digital marketing is one of the most effective methods for businesses to promote their products or services, attract customers, and tailor their promotions and offers. In addition, it's a reliable way to drive sales and capture the attention of your target audience.
However, crafting a digital marketing strategy that will yield the best result and have a positive impact on your business is far from easy. As a matter of fact, it requires careful planning and a lot of effort to develop such a strategy. You have to know your audience well in order to come up with the best approach that will surely capture their interest and convince them to buy from you. Here are a few key elements of a killer digital marketing strategy.
Research the market
There's no way of developing the right digital marketing strategy without extensive market research. Market research allows you to determine key elements of your marketing campaign, such as your target audience and their preferences, the product/market fit, your main competition, market trends and so on.
The fact of the matter is that you simply cannot create a successful marketing strategy without relevant data to back it up. Otherwise, you'll just be wasting both time and resources on developing a strategy that will most likely fail. Every step and decision you make must be based on relevant information you've gathered through research. That way, you can actually develop a killer marketing campaign.
Have a functional website
Your marketing strategy won't mean much unless you have a working website. Your website is where your leads come to become customers and where people can get informed about your business. In other words, a website is the end point of all marketing campaigns. However, not just any website will do. In fact, it has to be fast, safe, user-friendly, responsive, and highly functional.
Moreover, it has to be carefully designed and enriched with relevant content in order for your leads not to simply bounce off. You can choose a cPanel hosting solution for your website so that you have more control over its content and features. Make sure that you have consumers' expectations and needs, as well as their best interest, in mind when building your website. As a result, you'll be able to provide them with the best customer experience possible.
Be active on social media
Social media platforms offer businesses a way to build their online presence, awareness and reputation, as well as form relationships with their target audience and promote products or services. Simply put, social networks are a great medium for your marketing campaigns and strategies. You can design various promotions and custom offers in accordance with your audience's preferences in order to gain their interest and lead them down your sales funnel.
In addition, you can effectively communicate with your target audience to build relationships and gain valuable insight into their needs and demands. This will help you develop strategies that will drive the results you need to achieve success. What's more, social media marketing provides means for your audience to familiarize themselves with your brand, your content and your offers.
Follow up with an email
Introducing email into your marketing strategy is a great way to improve your campaigns. Email marketing allows you to nurture potential leads, and slowly but surely convert them into customers. As a matter of fact, email should be an integral part of every digital marketing strategy. The main reason is that email yields one of the highest returns on investments in digital marketing.
In addition, it can be as much as 40 times more effective at generating leads than Facebook and Twitter combined. That being said, 72% of online consumers prefer to receive custom promotional offers via email rather than over social media networks. When used correctly, email marketing will not only generate leads and improve conversions, but also help retain customers and encourage repeat business.
Developing a killer digital marketing strategy depends on your business goals and what you wish to achieve from your marketing campaign. Sometimes marketers look to promote a business, while other times they look to boost sales using marketing campaigns. Either way, it's important to know your target audience well and be aware of the approach needed to achieve the best results. By doing this, you can develop a strategy that will help you achieve your goals.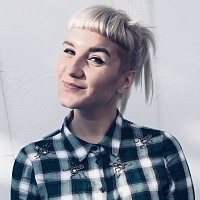 Lauren Wiseman is marketing specialist, contributor to bizzmarkblog.com and entrepreneur. She helps clients grow their personal and professional brands in the fast-changing and demanding market, strongly believing in a holistic ap
---