4 Benefits of Using a Podcast for Content Promotion
---
Podcasting is one of the fastest-growing platforms not just in the US, but all over the world. They're found on Spotify, iTunes, and YouTube, among others.
The percentage of people listening to podcasts on a weekly and monthly basis has increased steadily over the last decade.
So. Why should you care? What are the benefits of using a podcast for content promotion? Read on to find out.
1. Discoverability
There are two great ways for growing your brand's awareness that many people avoid. Those are video and audio. Podcasting gives you an opportunity to do both at the same time without a lot of additional costs.
Google does a great job of getting the right content in front of the right people. But the proper promotion of your content across a wide array of social channels can help others find you before they know they need you.
The problem with most social networks is users are hit with a barrage of content all at one time. They don't have the opportunity to focus on what's in front of them.
This is where podcasting really stands apart. Once someone starts listening to a podcast, they'll be there a while without any direct interference from your competitors.
Most people listen to podcasts while they're commuting, working out, or doing something mundane. They likely don't have their hands free to scroll through Twitter or Instagram.
Record videos of your podcasts. Put the video on YouTube. This will help people associate a real human being with your brand, instantly giving you more trust than a YouTube video with a robot voice.
Put the audio on iTunes or Spotify. You will now have the potential to reach millions of people who otherwise may not know you exist.
For small and medium-sized content creators, a podcast could be the leverage you need to next level your brand and help you compete with others in the same space who have been around longer and have more authority than you.
2. Repurpose Your Old Content
People still visit websites and blogs in droves. But everyone watches YouTube and podcasts are catching up quickly.
You don't have to create brand new content for a podcast. Use blog posts or web content you already have to get started.
As an example, let's say you have an affiliate site and you want to teach people how to make money blogging.
It won't be hard for you to write a script around something you've already written about and record yourself reading the script.
When you're first starting out, you don't need to rent or invest in building a studio. You can purchase a basic camera and microphone setup for about $100 USD and record from your office or home, depending on what kind of persona you're trying to convey to your audience.
The main focus should always be on creating exceptional value for the viewer. You can do this by inviting guests to the show or providing something unique the audience may not find in the original post.
Many podcasters like to do giveaways, offer coaching services, and other useful items to people who like, comment, or engage with the podcast in a favorable way.
In the YouTube description, you can add affiliate links as well as links to your website as we've shown below.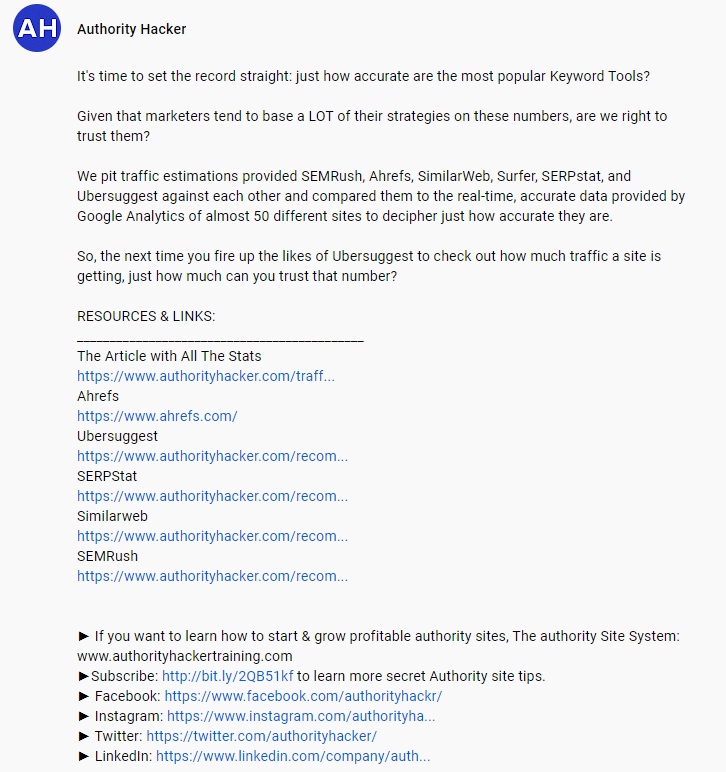 There is also a section on YouTube where you can hold permanent links to your website and other social channels. It's found in the lower right-hand corner of this screenshot.

3. Extra Channels for Cross Promotion
Only having access to a few channels like Twitter, Facebook, and Instagram is restricting the potential flow of customers.
Content marketing should be a constant flow. Think of it as turning on a faucet and you control how much water is coming out.
Let's take everything we've talked about so far and put it all together.
When developing a strategy incorporating a podcast, you can use something like this:
Write and publish content x
Promote content x on social media
One month later, make a podcast on content x
Upload podcast to YouTube and iTunes
Promote content on social media
Creating a podcast gives you access to an entirely new world of marketing possibilities. Some ideas work on some channels and some don't. If you've tried strategies that don't work on Snapchat or Facebook, maybe they'll work with a podcast.
With the added discoverability you'll receive, you can start to hone in on how you want to use podcasting to get customers down your sales funnel more efficiently.
Gamble on Streaming
The newest way to create and promote content is through live streaming. This can be done on Facebook, YouTube, and Twitch.
Are you about to make a huge announcement? Do you want to host a live Q and A? Streaming is a great way to make all of this possible and you can incorporate these types of strategies into your podcast.
At the beginning of the show, you can say something like, "We have a big announcement today and we'll be giving out some information on a new product launch at the end of the stream."
4. Increased Revenue
There are plenty of people who've struck it rich on podcasting platforms, especially the ones using Twitch and YouTube in the gaming market.
Chances are pretty high you're not going to be the next Joe Rogan, but it is reasonable for you to see a direct return on your investment.
YouTube and podcasting monetization through affiliate marketing, ads, and sponsorships are a way to help bring in revenue to pay yourself back for the initial podcasting investment.
You can use these funds to help fund future marketing campaigns or expand your reach even further via paid ads on YouTube and other social channels to promote the podcast.
Benefits of Using a Podcast for Content Promotion – Some Final Thoughts
Podcasting is not going to work for everyone's strategy. But if you know video and audio can boost your sales and brand awareness, then you owe it to yourself and your business to give it a shot.
Most marketing teams have mastered other social channels and the intense competition has made it difficult to get your content in front of the right eyes. Podcasting is still in its gold rush phase. Jump in now to get ahead of your competitors.
Thanks for hanging out and check out my post. Leave a comment below if you have any questions. If you want to check out something similar, check out this post 5 tips on developing your digital marketing strategy
---