10 Tools Every Digital Marketing Agency Should Use
---
Technology has changed how businesses operate. Innovation is now a big part of collaborations. In today's world, a business's growth depends on the tools they use. Team members now thrive in environments that offer creative ways to interact with customers.
From time management to data analytics, tools are essential for boosting productivity. With online tools, you can deliver more efficiently and achieve a better work-life balance.
In this article, we will discuss the ten tools every digital marketing agency should use. We will also highlight each tool's example, so you know what to look for when you visit the web.
Agency management system
Managing an agency isn't only about managing your team. Sure, your team has to be in-line with their tasks, but there are many other aspects you should keep an eye on, such as agency profitability, resource management and forecasting. You need a tool that will synchronize your entire team, tell you how well your resources are being utilized, and what the upcoming few quarters hold.
Example: Productive
With Productive, you get a 360-degree view of your organization—from sales to billing. Productive helps you gain full control of your budget and easily track time to get all your key metrics. You can make informed decisions with real time insights, streamline projects and save time on invoicing since it integrates with accounting tools.
Collaboration and Task Management Tools
The priority in any agency is managing your team. It would be best if you had a tool that allows your group to share files in real-time. You also need tools that identify assigned tasks and when they should be completed. You need a place where your group can share ideas, problems, and offer solutions.
Example: Microsoft 365
Microsoft 365 is an excellent tool for managing large groups. It's perfect for creating, organizing, and managing multiple tasks. By using Microsoft 365, your team can connect and collaborate from anywhere.
Microsoft 365 is also packed with a lot of collaborative features. There are many analytical capabilities that make Microsoft a great task management tool. Since the tool has many features, studying how to use Microsoft 365 properly and learning some quick tricks can make your team's job easier.
Client Onboarding Tools
Once you're getting a steady flow of potential customers through, you'll be looking at ways to turn your leads into clients and get them onboarded quickly. These first touchpoints are super crucial to build trust with your clients. You want to make sure your client relationship starts off hassle-free: The smoother the onboarding, the more likely your client is going to stay.
Example: Leadsie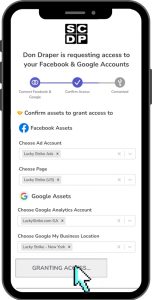 One of the most painful parts of onboarding is getting access to your clients' accounts, like Facebook Ads & Pages, Google Ads, Analytics and so on. Often, clients have no idea how to give you the right access – that's why they hired you. Even if you send them instructions, they will put it off and you'll end up on a Zoom call. Leadsie takes the hassle out of this process. All you need to do is send them your access link and your client can give you access via this link in a few clicks. It doesn't only save you time, it makes a great impression and you can get started quicker!
Social Media Management Tools
Social media management requires that you have tools that track massive content. You need tools that fetch feedback from you and your competitors' posts. In other words, you need tools that will engage your followers from different channels.
Example: Sprout Social
If you are not using Sprout, you are missing out on a useful tool for social media management. Sprout Social is excellent for reaching your audience and engaging with your community. This all-in-one software allows you to manage your channels from one location. With Sprout Social, you no longer have to switch between apps to interact on different social media channels.
Website Analytics
Website analytics tools measure your websites' performance. They collect, organize, and deliver data in easy-to-understand formats. They are necessary for digital marketing agencies that want to attract more traffic, increase conversions, and close more deals.
Example: Google Analytics
Google Analytics is a standard tool for gathering website information. It's a free tool that businesses use to collect customer information. Google Analytics allows you to observe a customers' journey from when they get to your website. With Google Analytics, you can check what they do, when they do it, and information that engages them most.

Calendar Management Tools
Time management is an essential aspect of business success. In business, you need a scheduler that guides your daily operation. You need a tool that highlights when to start, complete, or take breaks from tasks.
Example: Coschedule
Coschedule is excellent for tracking team progress. It automates your workflow, so you get reminders for project requests. Coschedule is also great for scheduling massive posts. You can also save custom views of the calendar and share read-only versions with your team.
Email Marketing Tools
Emails have been around for years but still reigns as one of the most effective marketing tools. If you are in an agency, email marketing plays a massive role in growing your list. You can use email marketing tools to measure the response from product introduction or engage new and returning customers.
Example: MailChimp
The price of MailChimp is one of the reasons why it's so prevalent in online spaces. The free plan is excellent for digital marketing agencies that are just starting. It's also a superb experimentation platform that helps you discover content that increases your open rates.
Video Hosting Tools
Videos are a big part of every digital marketing strategy. With videos, it's easy to distribute information that would be challenging to share in text. Videos are also engaging and will keep your audience glued to your message for a long time. For digital marketing agencies, hosting your videos on sites with high viewers is also necessary for brand development.
Example: Vimeo
If you want to create high-definition videos, Vimeo is the right tool for the job. With Vimeo, you can enjoy ad-free videos with amazingly stunning visuals. Vimeo is also famous for driving millions of viewers to every video you share.
Image Creation Tools
Image creation tools are excellent for creating visual appeals. They help break long, monotonous texts into easy-to-understand formats. The tools are convenient for developing proposals, photos, and presentations for online platforms.
Example: Canva
Canva offers both the paid and free versions of content creation tools. You can customize images, proposals, flyers, or other graphics from the app. Canva also has features that allow you to create Infographics posts. Through Canva, you can create new or polish old images to develop responsive visuals.
Customer Service Tools
Customer service tools initiate conversation. They enable customers to ask questions and give feedback about your business. With customer service tools, you engage customers in real-time. The tools also avoid instances of customers moving to public online platforms to share concerns and complaints.
Example: LiveChat
You have likely experienced LiveChat on the websites you visit. LiveChat facilitates communication with your website visitors so information is shared with ease. With LiveChat, you can still show your products and services while chatting with your customers.
LiveChat is also convenient to use since it stays on your page's side. LiveChat also offers opportunities for customers to interact with your team when it matters most.
Search Engine Optimization Tools
SEO plays an essential role in digital marketing. SEO increases your agency's online visibility so that a Google search for services like yours appears on the first pages. With search engine optimization tools, it's easy to discover where you stand with your competitors. Even better is how SEO tools simplify your digital marketing campaigns.
Example: SEMRush
If you are looking for a tool with in-built digital marketing trackers, SEMRush should be your choice. SEMRush is an excellent tool for crawling a competitors' site to track search ranking.
From SMM to SEO, SEMRush helps you improve your online visibility. If you want to analyze a domains' backlinks, SEMRush will assist you. It's also a necessary tool for discovering millions of keywords you can use in your digital marketing campaigns.
Conversion Tools
Conversion tools are meant to optimize your website for positive results. They test different parts of our website to discover which part converts and which one doesn't. Conversion tools allow for A/B testing. They are excellent for repurposing page formats to encourage more clicks.
Example: Unbounce
Unbounce is an excellent tool for creating responsive landing pages. It comes with templates that are easy to customize for better results. It also allows for A/B testing that demonstrates what works in your strategy. For agencies, Unbounce is useful for creating, testing, and managing conversions.
Conclusion
Tools make work easier for digital marketing agencies. They save time that would have otherwise been used delivering papers from one office to another. When digital marketing agencies use tools, they boost productivity. This later translates to better performance and returns for the business.
---