How to Leverage TikTok Data to Make Viral Videos
---
TikTok is probably one of the greatest inventions of our time entertainment-wise. Once known as a platform for lip-syncing clips, TikTok now features all kinds of videos for every taste.
But apart from entertainment, TikTok also has a lot of untapped marketing potential. TikTok is used in 155 countries and is available in 75 languages, making it the sixth most-used social media platform globally.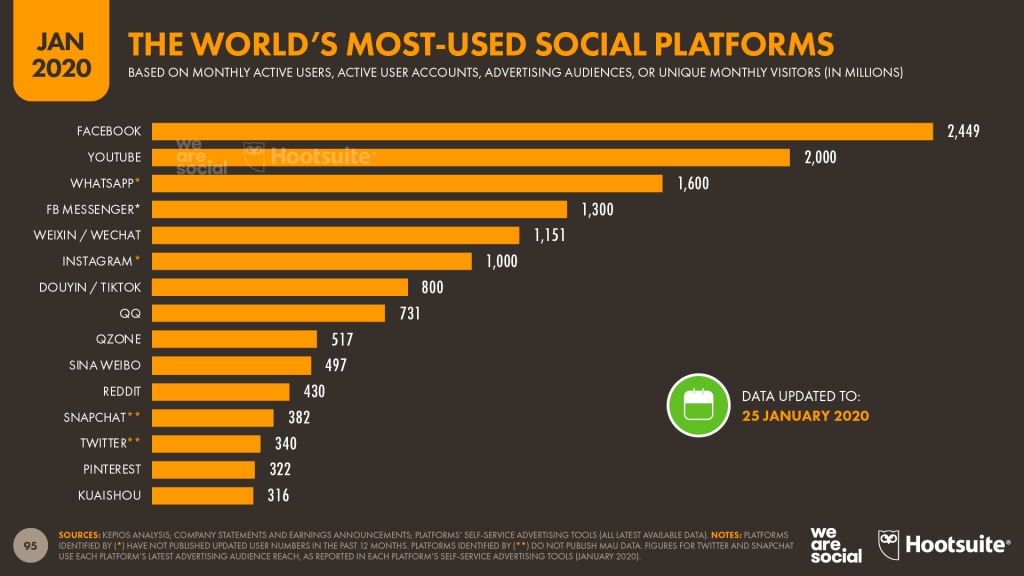 Credit: report by Hootsuite and We Are Social
And brands acknowledge that TikTok offers a pool of marketing opportunities. Big names like Starbucks, NBA and NFL, Chipotle, and Guess – all of them have a rather consistent presence and a decent number of followers on this platform.
Why do brands love TikTok so much?
You're right to ask this question. Obviously, there's something else to TikTok that makes it so popular.
After all, there are other social media platforms with a much bigger number of active monthly users. Besides, it's unquestionable why your website needs videos, and it already takes a lot of time and money to produce this video content. So is it really necessary to invest in TikTok too?
The answer is yes—especially if you want to go viral.
One of the reasons why this platform is so likable is that TikTok is wired for viral content. Videos on TikTok are easy to share. They are under 60 seconds and are also easy-to-consume. 
A lot of viral content creators on TikTok create funny videos. This is because when we get a good laugh, we tend to share it to our network and then the videos go viral. Creating these videos is practically easy with a funny video maker from Veed.io.
You can add stickers; add your brand logo, an audio track, resize it, add captions, add subtitles, or some sound effects for more impact. Quality must not be compromised when creating these videos, if you want your TikTok video to stand out. Do anything to ensure that your videos get an outstanding number of views, likes and laughs.
Besides, you will hardly have to write a script for your TikTok videos. They usually have a rather spontaneous nature, and that's the beauty of content on TikTok.
Nevertheless, if you really want to take advantage of the platform's viral potential, you need to know how TikTok's algorithm works.
So, today, we'll take a look at a few recommendations on how to leverage the data from TikTok analytics to make viral videos. To give you examples, we will use Tiklytics, a free TikTok analytics tool, as well as the platform's native analytics tab.
1. Analyze General Content Performance
First and foremost, if you want to rock TikTok and use its viral potential to its fullest, you need a video idea worthy of public attention.
Of course, you can take a look at the current viral trends on this platform and join the masses. But, it might not be necessary to go further than your own TikTok content.
There's a very good chance that you've already done something that delivered unusually high audience engagement and could possibly bring you viral success.
Start by going to the content overview in the TikTok Analytics tab to check how your current videos are performing. In the example below, you can see the performance of some videos on Gymshark's TikTok profile:

As you can see, three of four videos have a considerably higher number of likes, which could be a hint that the content in this video possibly has viral potential. Upon a closer look, all three videos feature popular TikTok influencers, indicating that this could be the best strategy for this brand's viral marketing efforts.
So, browse the content you've already posted on TikTok to find some gems that could possibly bring your brand viral success.
2. Take a Look at Audience Engagement
If you have too much content to browse, there is an easier way to find those videos that might have great viral potential.
Go to your audience engagement tab and take a look at the history of likes and views. You can check audience engagement since the start of your TikTok channel or set a custom timeframe.
In the example below, we are analyzing the NBA's audience engagement since it started building a brand on TikTok:

As you can see from the graph above, there is a noticeable spike in engagement on February 15, 2020, compared to a rather steady overall performance of NBA's content on its TikTok channel.
A closer look into the reason for this spike revealed that on that day, the brand posted a series of videos featuring Addison Rae, a TikTok influencer. The total of nine videos with her brought the NBA almost 20 million likes and over 145 million views. In the most popular video from the series (50 million views and 7 million likes), Addison teaches Chicago Bulls cheerleaders a popular TikTok dance: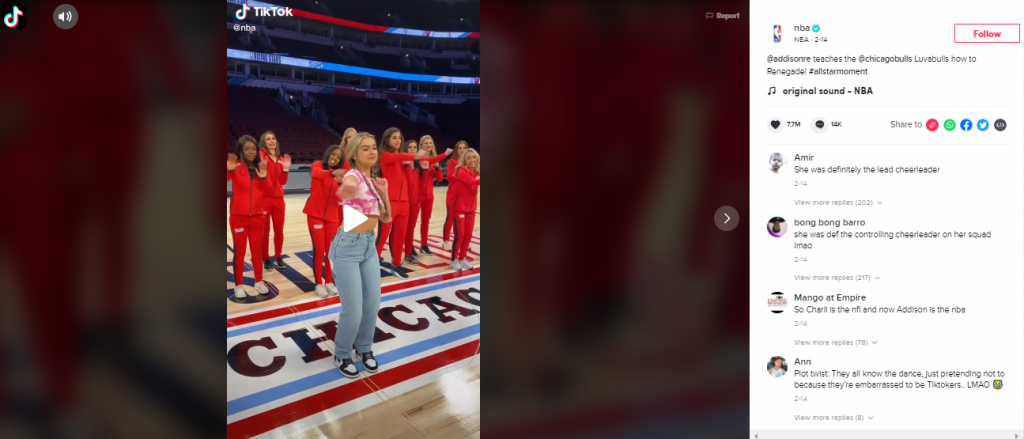 If you're on the hunt for viral content ideas, you should also check your content that has the most shares. This content may differ from the one that has the most likes and views, but its viral potential won't be lower since shareability is an important factor in viral marketing.
While checking the engagement, also take a look at the audience demographics data in the Followers tab: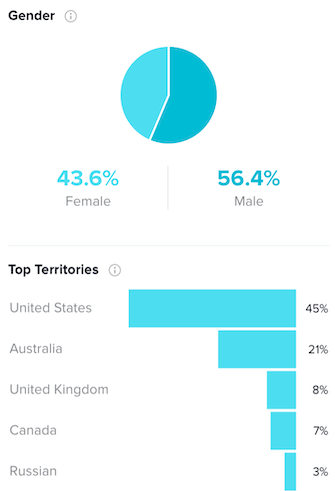 Knowing your target audience persona is crucial to the viral success of your TikTok content. Not only will you know who to address in your videos, but you will also have a better idea of when to post your videos, which directly affects the visibility and discoverability of your content.
3. Track Viral Music Trends on TikTok
Sounds have a great impact on the virality of TikTok videos. Unlike other social media platforms, in TikTok's algorithm, a video is connected to a sound edited into it. And if a sound goes viral, the entire video does as well.
Some brands also build their TikTok marketing strategy using an original sound that's later reused by other TikTok influencers. E.L.F. Cosmetics is a great example of a successful TikTok marketing campaign built on an original song, which is now featured in 1.6 million videos:

Of course, it's not necessary to create your own TikTok sound from scratch. There are plenty of choices already available on the platform that can help your videos go viral faster.
Where can you find viral sounds?
First of all, check TikTok analytics to see which sounds your followers have been listening to. This data can be found in the Followers section: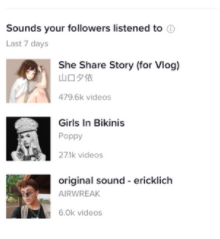 You can also check your current most popular videos to see which songs they are featuring and reuse these sounds again.
You can also check the sounds that are currently trending through the video editor. When creating a TikTok video, go to Sounds and browse the most popular options that the platform's algorithm has selected: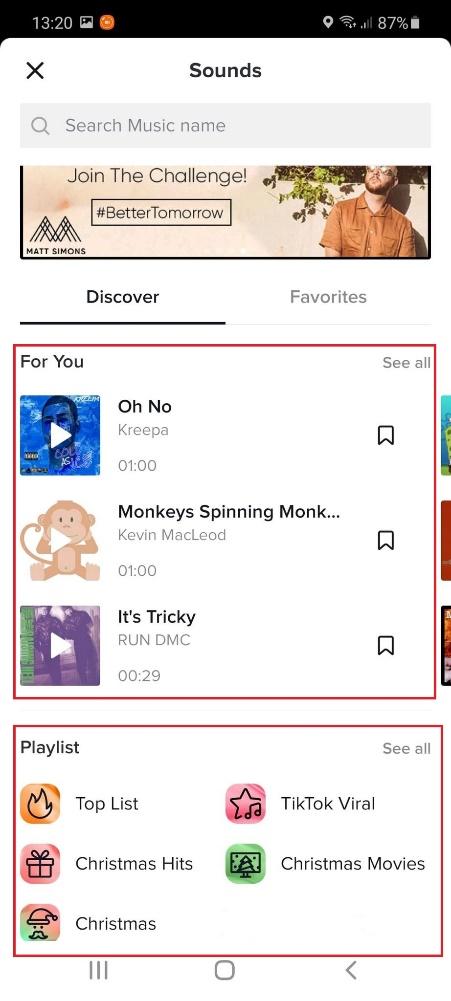 As you can see, there are two sections to choose from – For You, which is a selection of sounds based on your likes and accounts you follow, and playlists with songs that are currently popular on TikTok in general.
However, before you choose the sound you like, check how many people are currently following it, and how many videos feature this sound.
4. Check Hashtag Performance
Apart from sounds, another factor that impacts content virality on TikTok is a hashtag. With relevant hashtags in the caption, your videos will be more likely to appear on the For You and Discover pages, where TikTok users can view recommended content.
Of course, some TikTok hashtags are more popular than others, and there is no way to find that out without taking TikTok analytics into consideration.
So, if you have a couple of hashtags in mind but don't know which one has the most potential to make your video go viral, check the performance of these hashtags using comparative tables:

As you can see, the performance of each hashtag is broken down into several metrics that indicate its growth and success, including average views, likes, and the overall engagement rate.
You can also check each hashtag's growth within a particular time frame:

Based on this data, you can pick the hashtag that most likely will bring your TikTok content more views. However, when choosing hashtags, you should also cater to your audience and think, which hashtags they would find relevant.
Befriend TikTok Algorithm to Go Viral
Of course, viral marketing is not an exact science, and there are many examples of content going viral overnight for no particular reason.
However, if you want to increase your chances of going viral on TikTok, you need to make friends with the TikTok algorithm and learn how to analyze the data provided by the platform.
First and foremost, this data can help you find ideas for your viral content based on what you've already posted and what your audience liked. Besides, you will also be able to leverage sounds and hashtags on this platform as they play a big role in making content go viral.
Surely, it will take you some time before you finally explore all the depths of the TikTok algorithm and learn how to use it to your advantage. But hopefully, our insights will help you befriend this complex algorithm faster and leverage it to go viral on TikTok.
Author bio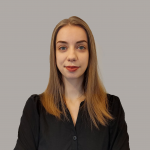 Mariia Kovalenko is a content writer at Digital Olympus. She's been working as a writer and guest contributor for over 3 years, specializing in topics such as social media marketing, email marketing, and link building. You can visit her Upwork and Linkedin profiles to learn more about her experience.
---