10 Effective Formulas To Grow Your Email Subscribers
---
Developing long-term connections with clients is to have a well thought out and structured email list. This will allow you to build relationships over time. It's important that you show up and stay consistent, being helpful to your clients and working on your list in order to be successful.
So why should any of this matter? Why is it so important to build up this list?
You are completely owning your email list. If you look at social media, this is no place for real ownership. If Twitter decided to vanish tomorrow morning, you've lost a lot of information! Having people on the list that you can target is what keeps your business and control.

Emails are very personal and close-up. This is guaranteed communication, not just hanging out around social media waiting for the next notification or update.

By using email, one can easily build up loyalty, relationships and trust with their clients.
Each and every person on a list is a potential client, customer or reading. We've come up with 10 formulas that you should use in your business to really get your email list moving forward and making you money. Let's find out more together.
1.  Using reliable email marketing tools
Before you begin, you will need to really make use of marketing tools. These will allow you to store your subscriber's emails, create an opt-in form (a place where your visitors can sign up and enter the information to subscribe) and send emails. You should never neglect your opt-in form – it will be the place where you can get people to jump in and form a relationship with you. Tools such as Aweber or MadMimi are a couple of brilliant examples that you can use. Take a little time to research and see what works for you.
2. Making it super easy
Everybody loves to have a convenient way of doing things. In order to engage with your customers the most,  make it as easy as you can to subscribe. Be simple and hit home with your message. There is no use trying to make people fill out 20 question surveys or make them go on a massive hunt to find out where they should sign up. It should be as easy as 123!
3. Put your opt-in form everywhere
This will create convenience for people but more importantly, it will allow people to see things more often and therefore be more likely to sign up. When you've got your opt-in form in multiple places, you're giving it a lot of exposure and are building more of a case as to why people need to sign up. There are many different places that you can put your form: on your homepage, on your about page, after your blog post, on the top bar, below on the footer, on your email signature, at the registration page, near your comment box – these are all great places and try to think of some others that could benefit you.
4. Making your opt-in pop
If you haven't got this box noticeable, you need to think about your design and make it stand out. Sometimes it is best to use a design which is a little odd, or something with bright colours that are the opposite to your background. Take time to experiment with different font sizes, background colours, button colours and shapes. It is really worth spending a lot of time even if it does look like something insignificant because it can make all the difference.
5. Offering an incentive
Everybody likes free stuff! Someone is much more likely to subscribe to your list if they think that they can get something free out of it. There are many ways of offering things for free, so you just need to get creative and think about what you can offer. There are numerous examples of things that can be provided for free without too much cost for you: a worksheet, e-book, download, video, an invitation to a private Facebook group, webinar, email course et cetera.
6. An offer of content upgrading
What do we mean by this exactly? Content upgrading? This is much the same as offering incentives but you'll be offering specific bonuses that will be relevant to the content that your visitors are reading currently. In exchange for this, they will supply you with their email address and will be on your books. As an example, if you are writing a blog about home improvement tips for homemakerguide.com, it would be a good idea to offer a printable tips checklist in return for an email subscription.
7. Giveaways, contests and competitions
By creating one of these, this is a great way that you can pull people towards you and get them to subscribe to your email list. Moreover, by creating a contest, giveaway or competition, these things can have the potential to go viral or reach many people in short periods of time. Offering services or items to people is something that they are really going to want to get on board with. 
8. Catchy headlines
The small things really matter and it is important to get innovative and creative about the headline you will want to use for people to sign up to your list. Think big and think outside the box. Nobody is going to want to respond to a headline such as "subscribed to this email newsletter" because it does not offer anything to set you apart from anyone else. In order to think of a good headline, you will want to take note of what your brand speaks of in terms of exclusivity.
9. Be as clear as the light of day
If you don't be clear about what people are going to get, they will not know what they will be in for. People are also extremely protective of their email addresses. If a prospective customer considers handing it over, they will want to know exactly what they're going to get. By being clear as the light of day, you will talk about what it is and will eliminate any doubts. Are you offering an exclusive discount, update or something else? Think about it and be clear – come up with a way of communicating effectively.
10. Social proof
People want to know that you are legitimate and good at what you do. Numbers really speak louder than words? Give yourself credibility, for instance saying things such as "join 20,000 subscribers…".
We hope that you can take away some great points and expand your email list. All the best!
Our Author: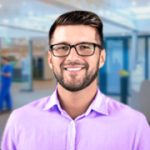 Randolph Ray is a copywriter from Iowa in the United States. John has written extensively on email marketing, search engine optimisation and a whole variety of topics. In his spare time, John likes to trade cryptocurrency online to make a small profit and submit articles for homemakerguide.com.
---