WordPress vs Joomla vs Drupal: Detailed Comparison 2021
Introduction
It's undeniable that content plays an integral role in boosting online sales and increasing engagement. However, it can be confusing to find a suitable CMS for your website since there are tons of options out there. According to a CMS usage distribution research on 1 million sites across the internet by Builtwith, the top three standing in front are WordPress (34.35%), Drupal (3.45%), and Joomla (1.96%).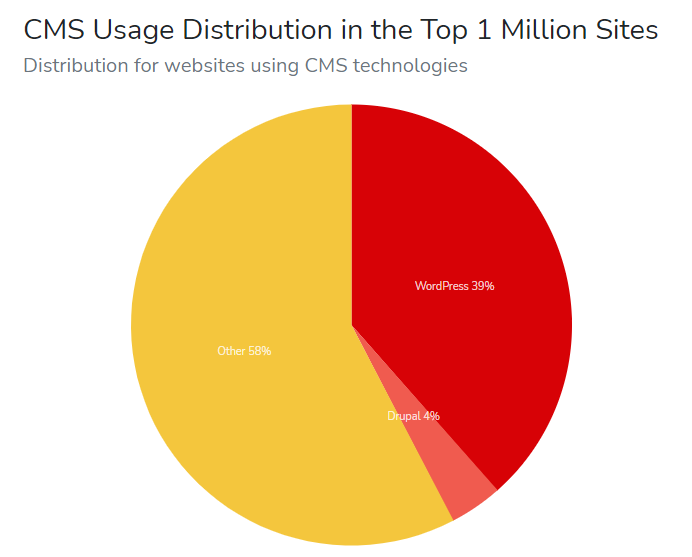 This article will focus on the comparison of WordPress vs Joomla vs Drupal so you can find out which one is the perfect choice for your business. We will be providing you with:
Brief introduction of the three CMSs.
Detailed comparison of WordPress vs Joomla vs Drupal on some of the most important aspects: ease of use, SEO, CMS Features, and far more.
Key elements for deciding which one is the right option for your store.
Let's jump right into the WordPress vs Joomla vs Drupal comparison!
WordPress vs Joomla vs Drupal: Overview
Before heading to the main point, let's take a look at what these three CMSs actually are and what they can do.
WordPress
WordPress is a self-hosted solution founded in 2003. It was written in PHP and paired with MySQL or MariaDB. Although it might require a certain amount of technical know-how to use, WordPress offers amazing tools for creating any small-to-large online business. At first, it was known as a blogging solution with its out-of-the-box content capabilities.
As time goes by, the development team has added various website builder functions to make it become one of the best CMS in the market. Thanks to its ease of use and the ability to customize every part of your site, you can now build a fully functional Estore. In addition, you will have a chance to use WordPress's massive built-in features along with a huge ecosystem of plugins and themes to enhance your website.
Joomla
Launched in 2005, Joomla is just as old as WordPress. Joomla was launched with the intention of providing scalability to build your website and applications without technical know-how. This platform is also one of the top Open Source CMSs written in PHP and stored in a MySQL database. Currently, this CMS is powering around 5% of websites around the world and seeing continuous improvement and development. As a matter of fact, Joomla is having over 1,5 million live websites which makes it the 3rd most popular CMS in the world.
Drupal
Released in 2001, Drupal was originally created to help business owners create outstanding content-driven or community-driven websites. Due to its steep learning curve, Drupal is a go-to option for large companies or agencies with a dedicated team of developers. Especially, this platform has a huge open-source community with over 1 million members including developers, designers, strategists, and other sponsors worldwide where you can find and solve any kind of technical issues.
WordPress vs Joomla vs Drupal: Detailed Comparison
First and foremost, before making any determination on which CMS is your best fit, you should keep in mind that all these 3 CMS are free and perform perfectly to fulfill basic requirements.
To begin with, let's look at the common features of WordPress vs Joomla vs Drupal:
All 3 CMSs are free open-source solutions licensed under GPL (General Public License).
WordPress, Joomla, and Drupal are primarily using PHP to create dynamic content websites.
They all support MySQL as their database management system. While Joomla and Drupal also support other management systems for databases, WordPress exclusively supports MySQL and MariaDB only.
Owning to its open-source nature, all of them are community-driven projects.
Now, let's take a closer look at how WordPress vs Joomla vs Drupal takes your business's wing.
Ease of Use
User-friendliness is among the most crucial factors to consider when choosing a CMS, specifically for those who aren't tech-savvy business owners.
WordPress
WordPress has a reputation for being one of the most beginner-friendly platforms among the eCommerce market, even for non-coders. And, because of its simple control panel, most beginners can pick up the basics in no time at all.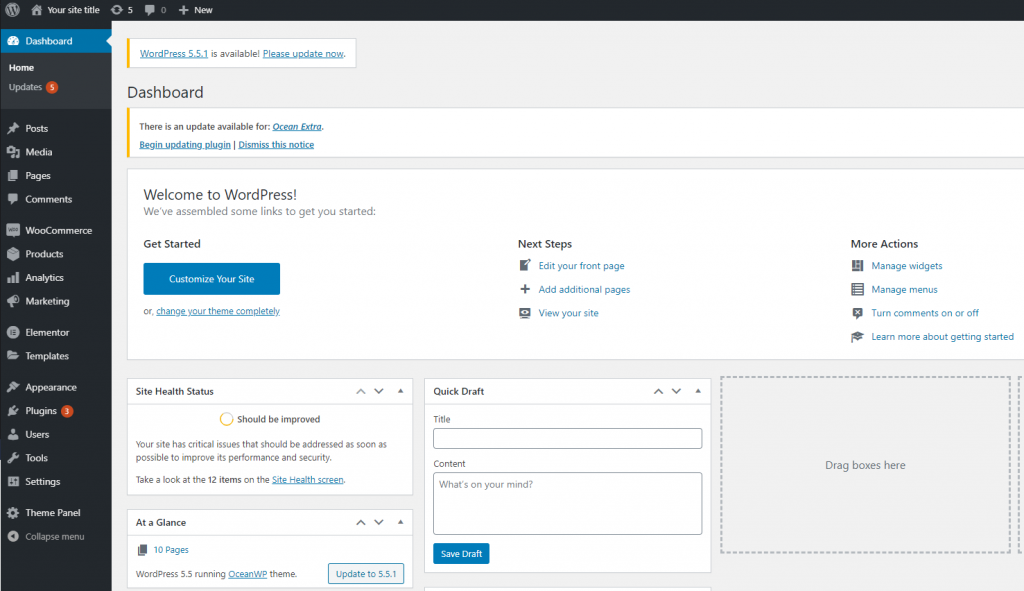 WordPress Admin Panel
As you can see, WordPress's back-end is pretty simple and clean, and everything from the dashboard is straightforward. On the left side of the screen, there are various tools categorized into different sections for easy navigation. You wouldn't have to spend much time wondering where you can go to customize your design, install a plugin, or add a new blog post, etc.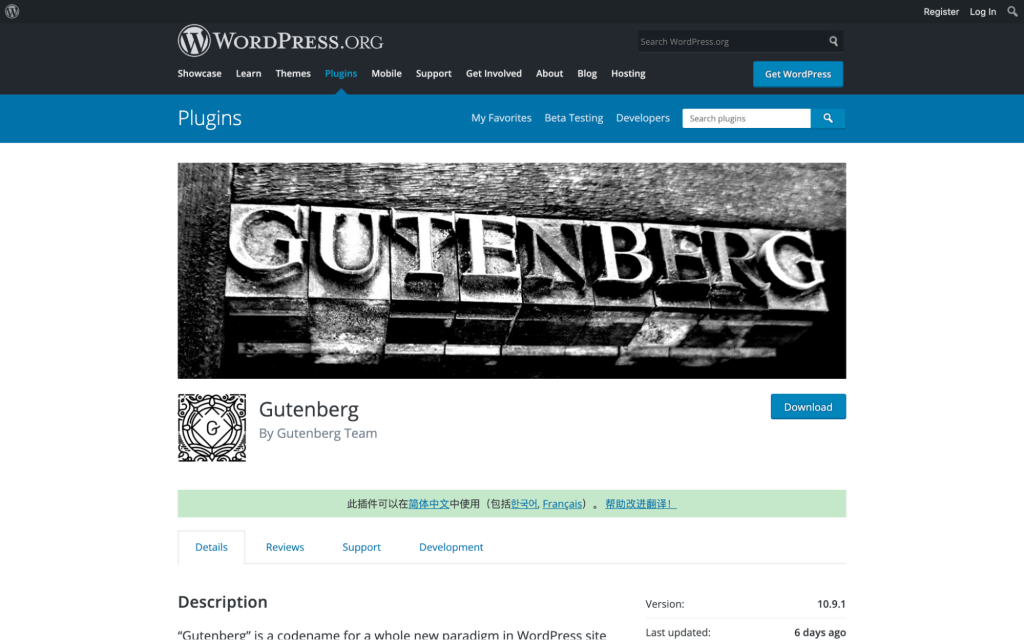 Lately, WordPress has integrated with Gutenberg – a new editing interface designed to shorten the process of building a content page. Thanks to its drag-and-drop content editor, you can painlessly use blocks to create media-rich pages. Plus, choosing text, layout, or code blocks is just a breeze as you can rearrange, insert or even style multimedia without knowing a line of code.
Joomla
Meanwhile, Joomla doesn't offer the same ease of use as WordPress and might require more patience if you are not familiar with the code. Don't worry much! If you spend some time learning the ropes, Joomla can prove a big asset to a company. But bear in mind that it will take more effort and brain-power for beginners to get there due to the sheer number of various admin screens.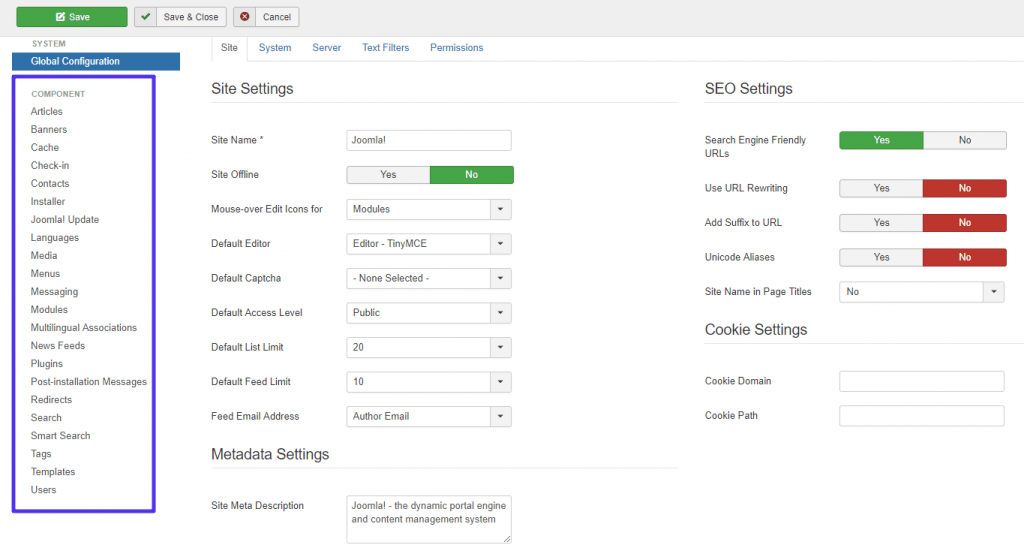 Joomla's main dashboard
Moreover, Joomla is equipped with a combination of Articles and Categories, as a result, you'll need to set up a category for the type of content you're gonna make. That's why many users, especially the non-tech savvy type, find it more complicated than other CMSs.
Drupal
Similar to Joomla, Drupal also involves more of a learning curve. The truth is that building a Drupal site can be a tough task even for users who have prior expertise with other CMSs. This is mostly because Drupal is primarily developed to serve as a piece of blank paper for customization on all levels.
Don't panic yet, whenever you fully understand Drupal's multiple drop-downs, the user interface is no longer as complicated as you think.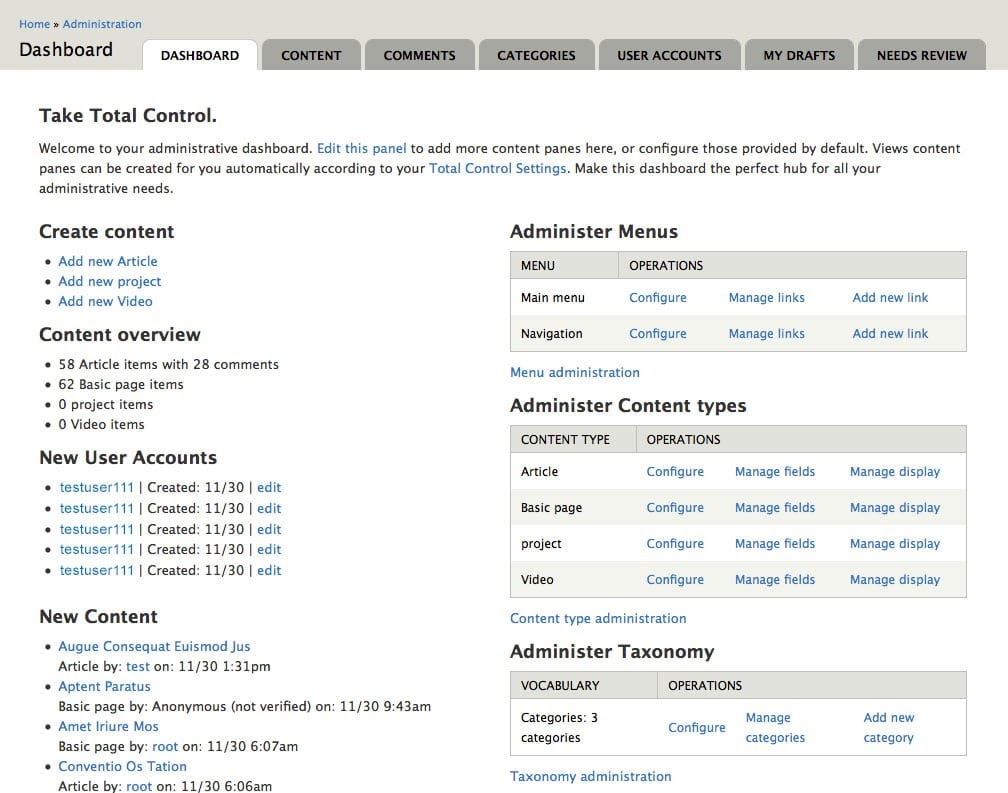 Drupal's main dashboard
As shown above, the Drupal dashboard clearly displays the administrator's options for posting content, installing modules, managing users' accounts, and far more. Nonetheless, when admin users navigate through each menu tab, they might feel overwhelmed by the vast number of available options shown in the main dashboard.
In short, building your desired Drupal website still depends greatly on custom code. As a result, if you want to create a unique look for your website or even a custom-operating one, you probably need to learn the command-line interface.
Themes & Plugins
Let's evaluate WordPress vs Joomla vs Drupal in terms of customization capabilities via the number of themes and plugins they offer.
WordPress
WordPress's main draw is its massive theme and plugin collection which contains over 58,000 free and paid plugins along with nearly 4000 themes. Long story short, if you can think of a feature, there's probably a WordPress plugin that can meet all your needs.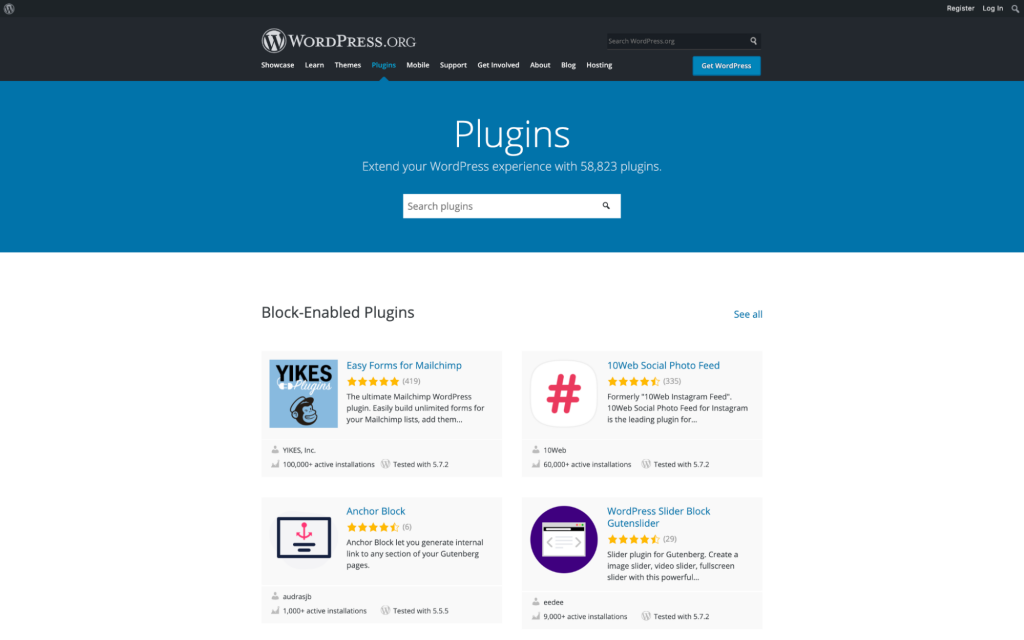 When it comes to themes and designs, WordPress has a huge truckload of themes with over 4000 free and extra thousands of premium ones from Themeforest.
Thus, WordPress lets users build anything from a simple website to a more professional one, even if they don't know much about coding or design. Furthermore, you can enjoy full control over the source code and even use plugins that allow you to build your own site's look using drag-and-drop tools.
Joomla
When considering Joomla vs WordPress, Joomla obviously has a smaller selection of themes and extensions. Yet, this CMS's customization options still range in the thousands, with roughly 6,000 extensions available to install in the official directory.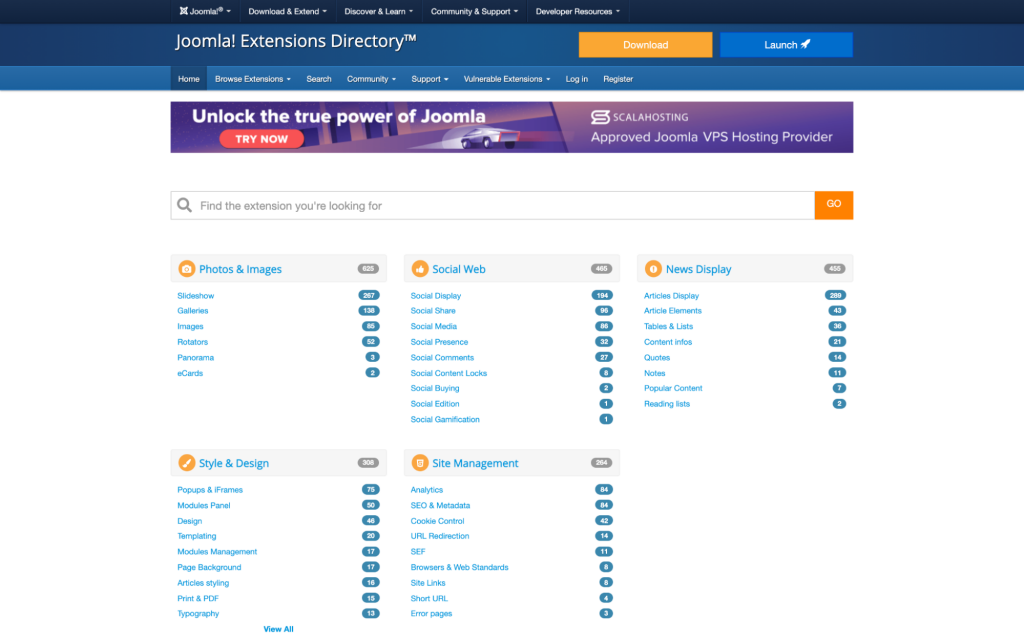 You can access these extensions directly from Joomla's main dashboard, just like WordPress. But be careful because the installation process can be more complicated.
You are also able to change and modify your website's look by installing Joomla themes or templates. Unlike the other platforms mentioned in this post, Joomla doesn't have an official theme directory. All you need to do is look for free and paid themes on your own to download. While Themeforest provides over 1,000 premium designs, a fast Google search will show up hundreds of free themes for business owners on a budget.
Drupal
Drupal is an extremely adaptable software with nearly limitless modification possibilities. While this lets you complete control over your site, it's also why the learning curve is so steep for beginners.
Any of the 47,000 modules available in Drupal's library can be used to enhance and customize the core functionality of your site. The majority of these modules are aimed toward developers, providing ways to extend Drupal's core APIs, create additional tokens, and perform more advanced user management, and so on.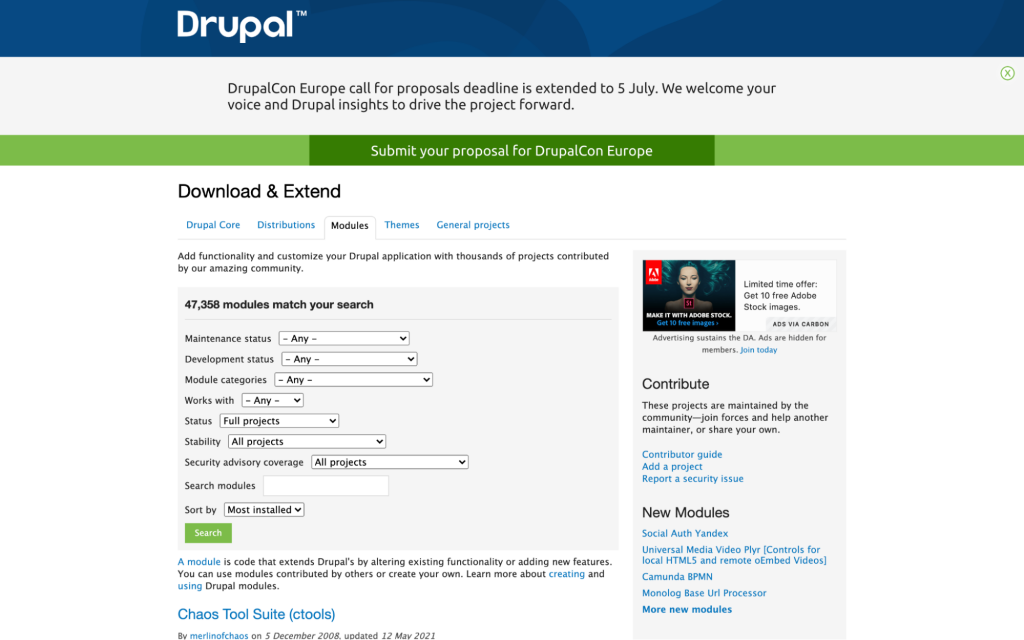 With around 3,000 free themes in Drupal's official library, you can freely build and customize your website's appearance. In case you can't find one you like, there are still thousands of premium themes from third-party providers to choose from.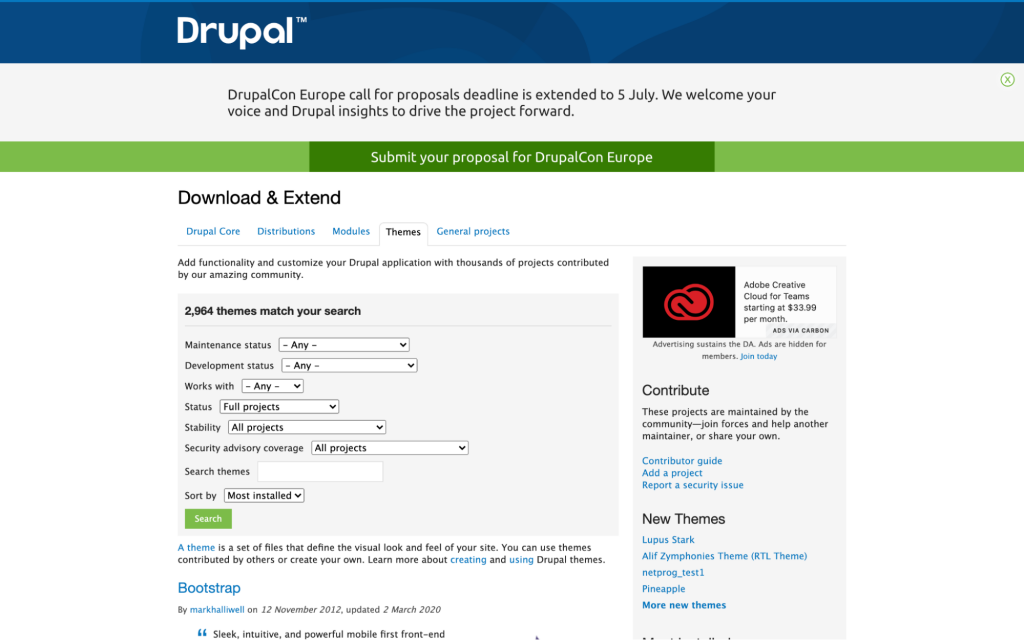 Although the number of modules and themes is less than that of WordPress, each module and theme is highly adjustable, allowing you to have complete control over the operation and appearance of your site.
Search Engine Optimization (SEO)
WordPress
WordPress is a great platform when it comes to SEO. Many themes contain SEO features like schema markup, breadcrumb navigation, open graph data, and so on. WordPress also allows you to create tags for posts, something that Joomla doesn't allow without the use of an extension. Besides, you can optimize permalink structures and set all the appropriate metadata for pages and posts.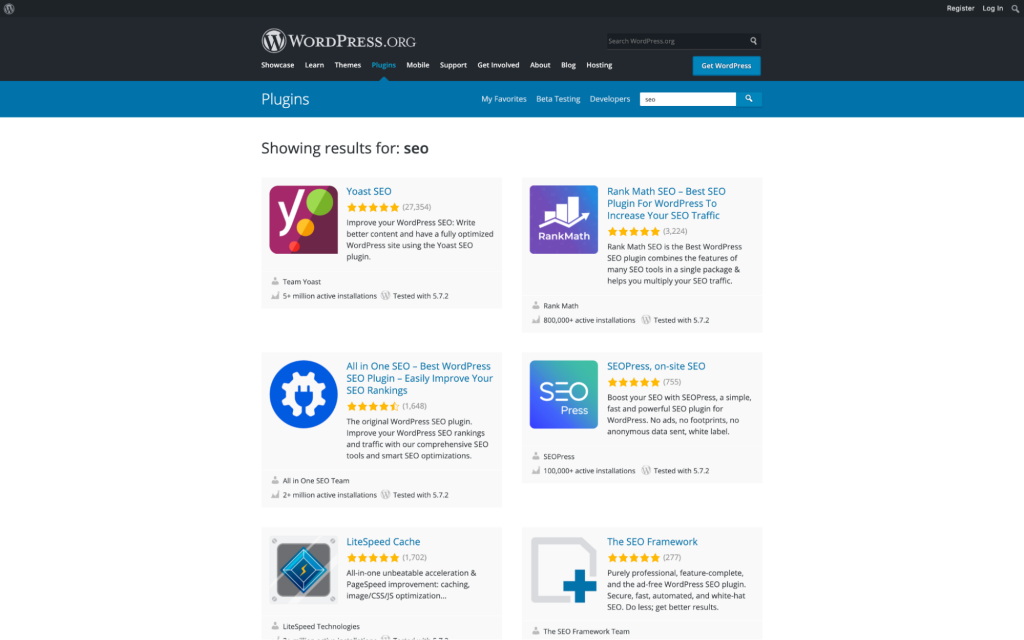 WordPress's SEO is much better with the help of its most powerful SEO plugin—Yoast SEO. It offers lots of features and anyone can get to grips with it in a couple of minutes. Furthermore, the plugin tells you exactly how to improve your score in each area and it also rates your post's readability so that you can optimize your content to a maximum degree. The good news is that with WordPress, it is quite possible to get a high ranking even though you're new to the website game and you can have great control over SEO easily.
Joomla
Just like WordPress, Joomla is also an SEO-friendly platform. Although it requires the most initial care and attention in terms of SEO, it has great potential to rank very high if you set up the website properly. With Joomla, you can enable Search Engine friendly URLs, making them more readable and memorable for both humans and search engine crawlers.
Furthermore, it also enables URL rewriting that helps you get rid of index.php in your URLs. Besides, it is possible to add metadata and title tags to your page. However, proper on-site optimization is not a one-click affair at all, especially for newbies and first-time users, so make sure to get an expert with you when performing website SEO with Joomla.
Drupal
The Drupal SEO Tools module seamlessly integrates a sophisticated all-in-one suite of search engine reporting, analysis, and optimization tools into your website. It provides a dashboard that integrates analytics reports with links to webmaster tools and vital Drupal SEO modules. Therefore, Drupal is an exceptionally SEO-friendly CMS as it comes with clean code and effective modules.
CMS Features
If a CMS needs to do one thing, it's to manage content. Its main function is to input or create content, format it, and then make it available to display on your website. Let's see how WordPress vs Joomla vs Drupal offers its users in terms of content manipulation.
WordPress
Needless to say, WordPress is the most straightforward CMS when it comes to creating content as its root is a blogging platform.
WordPress offers 3 default content types: post, page, and media. Firstly, you can easily build and add pages to the menu whenever it's ready to go live. Additionally, WordPress's menu system has recently been improved, and a drag-and-drop editor for controlling menu structure has also been included.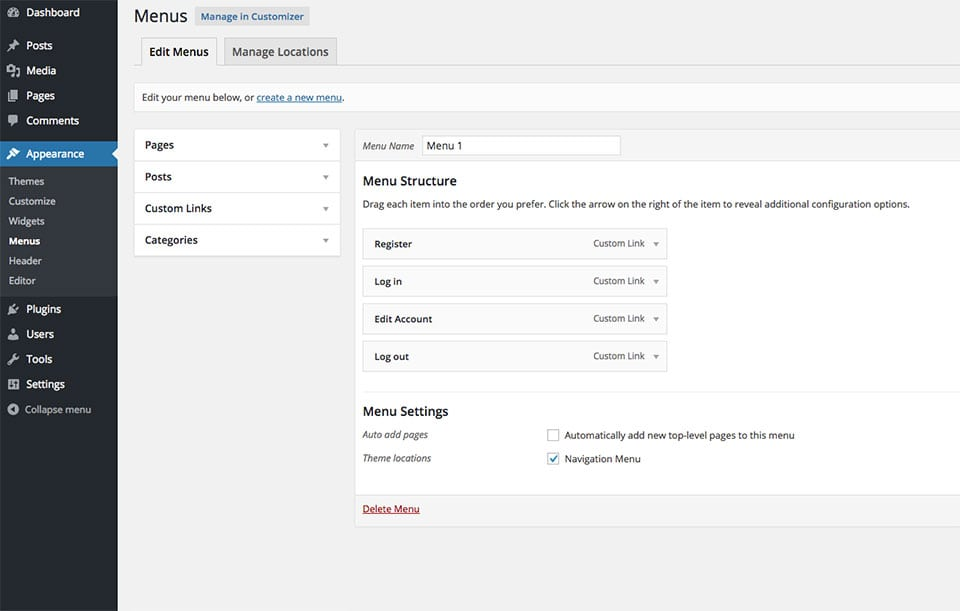 WordPress's menu management
When it comes to blog posts, users can freely make and then publish them with a time and date stamp. Also, you are able to assign your posts to specific categories and tags, so they can be simply archived and sorted.
WordPress's content types basically include images, videos, PDFs, or other files that help you store and organize your blog posts and pages. Its strongest trait is that drag-and-drop uploading, file size limits, automatic image resizing and editing, and a visual gallery for administration are all features of WordPress's media uploader.
Apart from the three default content types, this CMS also uses widgets where you can store the uncategorized piece of content. It means that widgets contain things regulated to a sidebar or footer.
Joomla
Joomla stores content as articles. You can attach your content to a menu and display it on the site. Thanks to its excellent modules, placing content in different areas is just a breeze. For example, Joomla uses separate modules on the website to help you freely move your chosen section as you wish.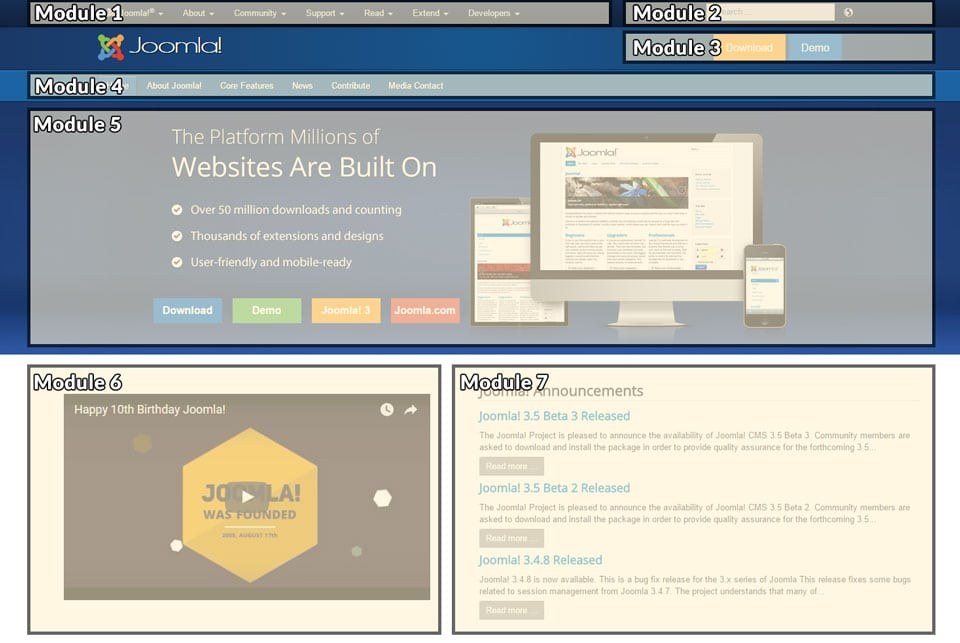 Example of the way Joomla uses modules
In fact, this isn't an intuitive setup at first, especially for those who are beginners or non-coders. However, it's well worth learning as once you have the hang of it, these modules are incredibly powerful.
Besides, Joomla's framework allows you to reuse content across your website in a variety of ways such as repurposing a blog post as a page, an event all at once.
Drupal
Drupal comes with a few standard content types out-of-the-box, "articles". Similar to WordPress, basic pages are typically used for static pages.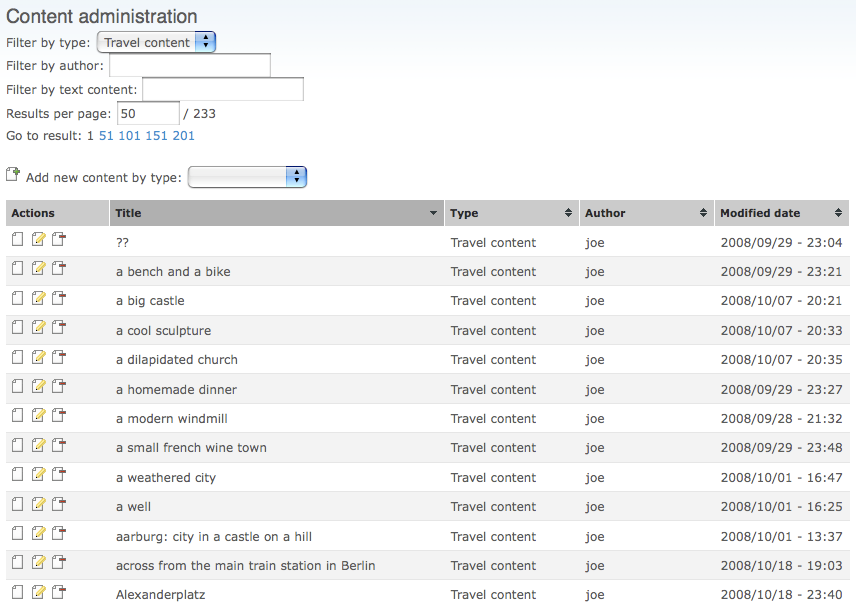 Thanks to the default content types, now you can use Drupal as more than just a simple web content management framework. It comes with a number of community tools that allow you to automatically add the dynamic of user-generated content.
It's worth noting that Drupal 8 has significantly improved the power and usability of blocks over the earlier versions. Now you can create entirely new content types with various functions, features, and capabilities since it's a blank slate. To be more specific, you can add a number of content types with different sections, headings, built-in video embeds like white papers, case studies, webinar recaps, demos, and so on.
Security
Security is one of the most important factors when choosing a CMS for your site. Let's see how these 3 CMSs perform in terms of security.
WordPress
Due to its popularity, hackers often set their target on WordPress websites for data breaches, hacking attempts, malware, and Trojan attacks.
Despite the fact that WordPress has thousands of plugins and extensions, it's hard to ensure that each one follows proper safety standards. From a security standpoint, this can be a nightmare. Moreover, you must modify the core files to enable SSL connection to ensure the security of each plugin you have.
But don't worry much, WordPress already has its own set of security extensions and plugins to assist its users in protecting their websites to the best possible level. In particular, an increasing number of WordPress users are installing the SSL certificate which establishes a secure session with browsers.
Joomla
Similar to WordPress, Joomla security confronts some threats as a result of additional extensions and plugins which account for 84% of all hacked sites in the system. Recognizing that external threats are always a serious risk, Joomla also offers a set of security plugins.
While WordPress requires the installation of additional plugins to activate SSL, Joomla has its "Joomla Force SSL" which lets you set up the Joomla SSL Certificate in their core system without downloading any further extensions.
Drupal
Meanwhile, Drupal has the highest level of reputation for security. In fact, it comprises a group of 40 people working only to improve and maintain the platform's security. This team adheres to a strict release schedule, producing one bug fix update and one security update every month on average. Larger updates are typically released twice a year.
Obviously, according to research, these efforts are paying off. When compared to WordPress and Joomla, Drupal has the lowest number of incidents to market-share ratios, according to the CVE (Common Vulnerabilities and Exposures) data cited above.
WordPress vs Joomla vs Drupal: Which one suits you most?
Rather than attempting to determine the winner in the battle of WordPress vs Joomla vs Drupal, you should carefully analyze which platform best suits your particular needs. Each of the platforms listed above can be used to develop a successful website for your business depending on your technical expertise, the customizability you require, along with the budget you have.
WordPress is suitable for:
Simple websites for small and medium enterprises.
Blogging sites or news sites.
Websites that need some quick scalability in terms of new feature additions.
Serious publications which require content contribution from multiple authors.
Joomla is suitable for:
Users that need ease of use and more flexibility with content and structure than what WordPress offers.
Small-to-medium size eCommerce Stores.
Drupal is suitable for:
Large scale, enterprise-level needs.
Complex and advanced websites where scalability and stability are more important than the simplicity of the admin interface.
Community sites where multiple users can access at the same time performing a variety of actions.
Conclusion
Without a doubt, these three systems are the finest CMS platforms accessible today, thus choosing any of them would not be likely to cause much trouble. That said, it is highly advisable to draw distinctions within and select the one that suits your needs most.
In fact, you don't actually need to take them this long to choose a suitable CMS, because, in the end, it's not always the last decision to stick with. Thanks to several shopping cart migration services out there, you're able to switch among blogging platforms to meet your expectations. Just simply contact your reliable service provider to ask for help whenever you need.
Good luck with your decision and thanks for reading!