Why Your Law Firm's Google Search Ads Aren't Working
---
Google Search Ads (formerly Google AdWords) has become the place to advertise for many different types of businesses – large and small – looking to show up on the first page of Google's Search results. Although Google Ads is the largest global online advertising platform (projected to account for $103 billion in 2019), many small businesses fail to see a positive return on investment from it.
In this article, we're going to discuss 3 reasons why your law firm's AdWords (now known as Search Ads) might not be working. By the end, you should be in a position to take this information and start diagnosing for yourself.
1. You're Overpaying for Your Ad CPC
When you bid to have your ad displayed on the search results page, your ad isn't likely going to be the only one. If this is the case and you're new to AdWords, then you likely won't have the top ad position either. It's a common misconception that the bid determines your ad's position and ability to show up on the results page. However, it's more important to have a high Ad Rank Score.
Improve your Ad Rank
Remember that Ad Rank is calculated by multiplying Quality Score by the Bid amount. The ad in an auction pool with the highest ad rank gets the top ad position. The table below illustrates an example of how the positioning of ads on a results page is determined by Ad Rank.

In this example, Ad #2 would be the first ad displayed on the page. Although it isn't bidding as much as #1 and #3, it has the highest Ad Rank and therefore wins the auction for the top position on the results page.
Ad #3 is a good example of how having a higher bid, doesn't necessarily give you an upper edge. Instead, it would be the last ad displayed on the page – or it may not be displayed at all. Having a top position ad is highly dependent on having the right bid and improving the quality score.
A compelling copy and accurate keyword targeting are also essential for a high-performing ad, according to this Google Ads quality score guide. The guide cites factors that impact your quality score, including your click-through rate (past and present), usage of relevant keywords in ad copies, landing page quality, and performance by device type. They provide you with valuable insights on how to improve your quality score.
2. Your Site Isn't Optimized to Convert
Once a person clicks on your ad through Google, you have been charged for that click. There are no two ways about it. So it's imperative that you maximize your odds of generating a return from that click – in the form of a client or lead.
Check your Bounce Rate
To understand how well your ads are running, you should check how they are performing within your Google Analytics account. Primarily, you should look at the bounce rate to see how high it is. If it's abnormally high, then this is a strong indicator that something is wrong with your landing page's user experience. There are a few things you can do to improve your landing page.
Make Sure Your Landing Page Loads Fast
Before your ads are up and running, make sure that the page you're going to send users to loads fast, especially if you are running your ads on mobile search. A fast site will help you squeeze as much out of your ad budget as possible. Use Google's free tool to check the speed for yourself. It will give a score for both the mobile and desktop versions of your page and also tell you what needs to be improved.
Keep Your Ad's Messaging Consistent
In order to retain the user's engagement after clicking on your ad, it needs to be clear to them that they have found exactly what they were looking for when they performed their search in Google. Make sure that whatever is written in your ad also appears on your landing page as well. Not verbatim, but they must be highly relevant. Otherwise, this could be what's leading to a higher bounce rate, as discussed above.
Tips to Consistent Messaging
Use captivating headlines that entice them to click the ad

Choose relevant photos and imagery for your landing page

Position the benefits and features of your service

above the fold

Include matching or similar keywords in your ad and on your landing page
A good example of matching your ad also stated some sort of promotion or offer, such as Free Consultation, then make sure that this is present and above the fold on your landing page.
Choose Your Landing Page Wisely
Building off of the last point, in many cases, it's not a good idea to send people from your ad to your website's homepage. If you're trying to promote a particular service for your law firm, then your homepage isn't likely to focus on that specific offering.
You can do one of two things in this scenario:
Send ad traffic to your service page

Build and design an ad landing page for the service
While these seem fairly similar, there's a significant difference. Your service page likely already exists on your site. A landing page for your offer, however, is designed not only with the intent to inform users but to market and convert them into a lead on the spot.
So be sure to have a landing page that is designed to convert your ad traffic into new cases and clients with clear call-to-actions. This will increase your conversion rate and reduce your cost per lead.
3. Your Competitors Are Costing You Clicks
One of the most unsettling things you may discover going through your ad campaign results is that you may suspect that your competitors are clicking on your ads. There are usually several reasons why they do this.
Remember that your Google Ads works based on an average daily budget. By clicking on your ads, they deplete your budget. They may even have a strategy of spending your daily budget early enough in the day so that your ads won't appear during the prime periods of the day. Once you have run an unsuccessful ad campaign for several months or more, you may cease to use Search Ads altogether. That results in one less advertiser bidding for the keywords in your competitors' eyes and more market share for them.
How to Tell if Competitors or 3
rd
Parties Are Interfering with Your Ads
While it may be tempting to blame a poorly performing campaign on your competitors and click fraud, it's important to understand whether it actually is click fraud or not. AdWords campaigns can perform poorly for a number of different reasons. So it's important to know how to properly diagnose what is going wrong with your campaign before jumping to conclusions.
Check for Invalid Clicks in your Google Ads account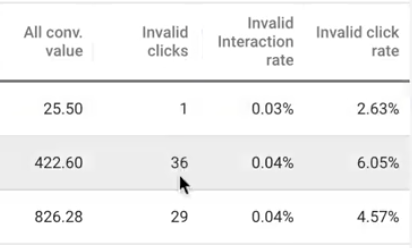 In your Google Ads account, you can customize your Search Ads report to include Invalid clicks, Invalid Interaction rate and Invalid click rate. This is what Google considers an invalid clicks through its classification algorithms. Google will automatically refund you for these invalid clicks. You can verify this in your billing.

Check your Clicks, Impressions and Click-Through Rates
While Google does classify and refund you for invalid clicks, there are other ways to identify suspicious, click-fraud activity occurring within your Google AdWords campaigns is by looking at these 3 metrics.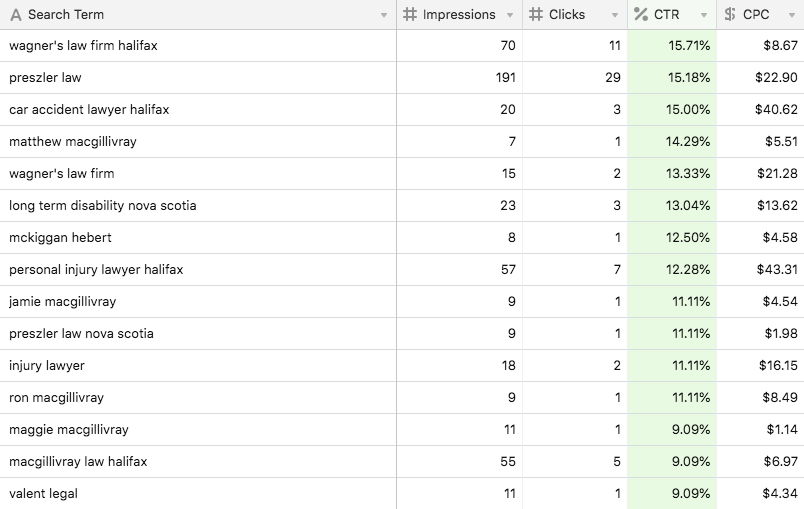 Naturally, you will have many more impressions than clicks. Above is a screenshot is taken from a campaign where we can see fairly high, but still natural CTRs. PPC for law firms would also work in the best ways nowadays.
In campaigns where competitor tampering or click-fraud is occurring, you can tend to see a lot of your ad's keywords receiving a high CTR (Click-Through Rate). It's difficult to say just how high should be considered alarming, but the average CTR for search ads is 1.91% across all industries and legal services average 1.35%. It will depend heavily on your ads and keywords. It's not uncommon to have high single-digit and low double-digit click-through rates. However, the higher the CTR, the more suspicious you should be.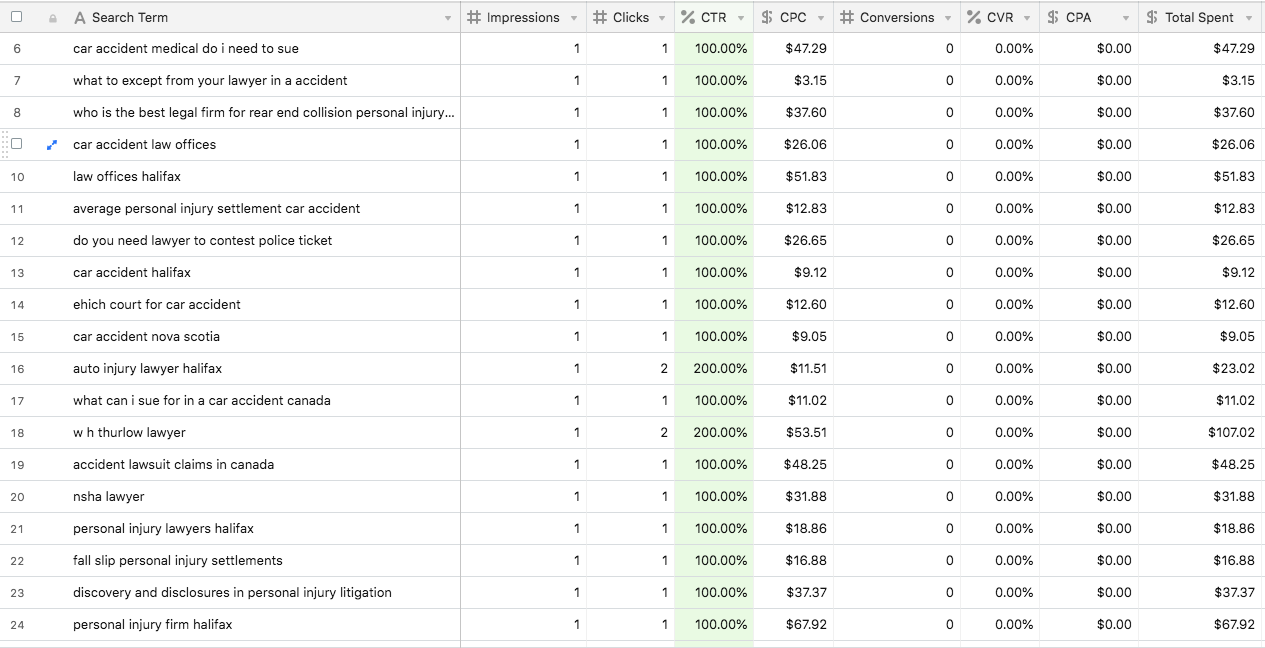 Above is a screenshot of a campaign I personally audited (no, I didn't manage it) where 60% of a law firm's clicks were spent on keywords that had a 100% CTR. This is not normal. To be clear, a 100% CTR means that your ad was clicked on every time it was served in the search results for that keyword. What are the odds that 60% of the campaign budget was spent on clicks where that search keyword was only queried once, and your ad was the result that got clicked on – the first time – every time?
Protect your PPC Spend with Click Fraud Software
Fortunately, there are SaaS products that safeguard against competitor tampering and click fraud. The software hooks into your Google Ads account and gets data from every click that you get charged for through AdWords.
By grabbing metadata from ad clicks (e.g. users, devices, IP addresses, locations, etc.), the software determines if the same device or user is searching for keywords where your law firm's ads may appear and click on them. Once it discovers a potential threat, it then automatically passes this information back to your Google Ads account and blocks the user or IP address this is coming from. In the future, your ads will no longer be displayed to that searcher.
Start Improving Your Campaigns
There can be many reasons that your ads might not be working. However, if you tighten up your processes by safeguarding your budget against click fraud, optimize your ads and landing pages to reduce your CPC and cost per lead, you'll be in a much better position to turn a healthy profit from your campaigns.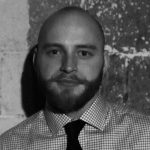 Author Bio: Jared Kimball is a blogger and digital marketing consultant from Nova Scotia, Canada. He is the owner and lead strategist at Zahavian Legal Marketing, an agency that works with small law firms and solo practitioners – handling all of their SEO, Web and PPC Ad needs.
---