Why You Should Add Credibility Markers to Your Website
---
Adding credibility markers to your website is one of those things that's so simple you have to get involved. Giving your website that extra edge, no matter how small, over the competition is crucial as websites and SEO becomes more and more complex. The moral of the story: The sooner you can make your accomplishments a part of your website, the better.
Different Credibility Markers (and Where to Position them on Your Website)
Credibility marketers are essentially just small features that you add to your website to show that you are an accomplished and trustworthy company. You don't want to bombard readers with too many all in one place, but a few of your best should be displayed. Credibility markers are sometimes called "social proofs," meaning that people will be more willing to use your website because it is "socially" approved by other people.
The easiest way to understand how they work is to look at examples. Below are some of the most popular credibility markers along which how you can feature them on your website for the best results:
Testimonials.
Testimonials are probably the most popular way that companies are showing that they can be trusted. By featuring testimonials, or quotes and opinions from customers or clients who have worked with you in the past, you're showing new visitors that others have had good experiences. However, there are better and worse ways to feature testimonials on your website.
First, having a photo is a great way to give your testimonial some life and give that testimonial credibility. It shows that you're featuring a real person who can relate to others.
Second, you shouldn't count out video testimonials. These are even better than your traditional testimonial because they offer more information and it seems even more credible and "real." Try to feature influencers in your industry or other well-known companies willing to talk about their experience to give your testimonials even more authority.
And third, see if you can get your clients and customers to be as detailed as possible. Specific stories and numbers are always best.
Below is an example from OrganicSEOConsultant.com:

Reviews.
Reviews are another option that is important for SEO, but it's also a pretty obvious way to show credibility. Reviews are becoming the obvious thing to do when you have an opinion about a company, and searchers know that. Reviews are coming from real people and they can be trusted.
There are many different types of reviews, but some of the most popular include Google reviews, Yelp, and the reviews you see on Amazon (oftentimes you can also just give a star rating if that's easier).
You can put some of these reviews on your homepage to help showcase them to new visitors. Have a live feed going where people can either leave reviews or read the reviews being left on Google. Of course, it's important to remember to always respond to reviews correctly to show that you care.
Below is an example from Recipe.com that shows a website that has its own rating system on its website, which is another great option: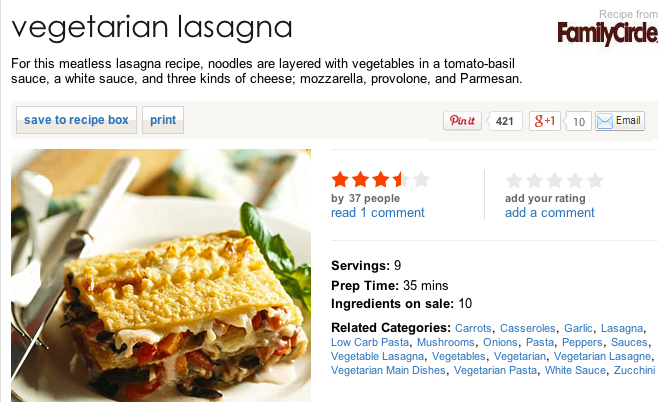 Awards and Industry Recognition.
This will refer to badges on your website that show where you have been featured or mentioned in your industry as well as any awards you may have won. This is also one of the more widely used credibility markers out there because it's so easy.
Optimize your funnel by putting a logo of places where you have been published or awards you have won to show that these big brands know who you are. If you haven't been mentioned by any big brands yet, make that your goal!
Another idea is to show the logo of some of your current clients. People want to see that you have other clients that trust you, and by using their logo you have a better chance that someone will recognize that company. Again, the more recognition you can get out of your visitors the more you will be trusted.
Below is an example from AudienceBloom:

Industry Trust Seals.
On that same note, having a Better Business Bureau or Chamber of Commerce seal on your wordpress website shows that you are again endorsed by reputable organizations in your area. If you have worked with local organizations or have been mentioned through their website in some way, see if you have permission to put their seal on your homepage somewhere (usually, companies will put this seal right along with industry recognition badges as discussed in the last point).
Author Pages.
Whether you have multiple authors or just a few, having author pages is a must. This not only helps your SEO and your authorship, but it gives you credibility by taking responsibility for your writers.
People want to see that your writers are truly experts, so creating an author page with a bio section, links to other publications, and/or social media accounts of that author shows that you have nothing to hide and you're only publishing the best.
This is something you probably wouldn't have on your homepage. Most websites connect the author's name with a link to an author page on the website, so anyone reading the article can click to learn more.
Below is an example from SearchEngineJournal of SEO expert Ann Smarty's author page. If you were to scroll down you'd see her social accounts and her articles: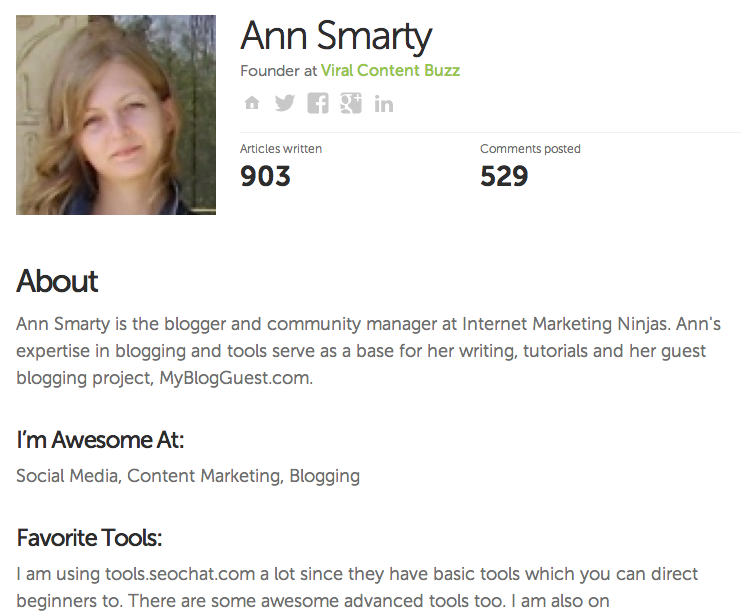 Photos and Bios of Staff.
You may not want to necessarily feature every single person on your staff (this could get difficult), but try to at least have a page that highlights your customer service team and your management. This works in the same way that author pages work—it forces companies to take responsibility for whom they are hiring. It's complete transparency, and that gives credibility.
Below is an example from Business.com. You simply scroll over a photo and can get a bio for anyone you wish to learn more about: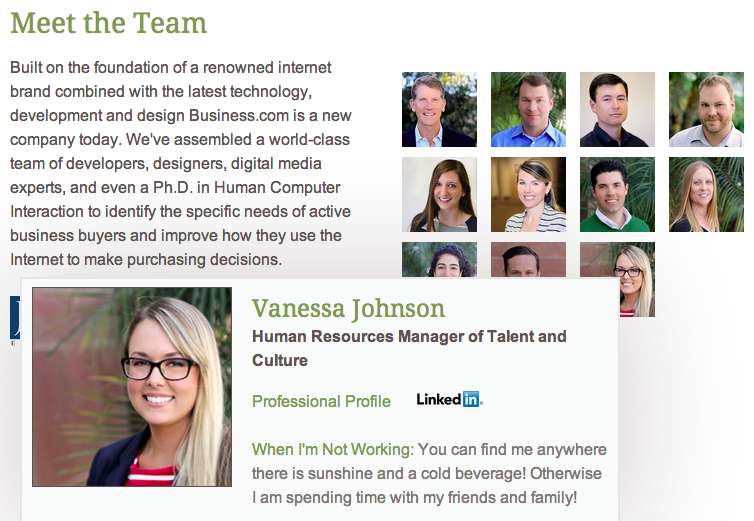 A Few Other Options
Of course, there are many other types of credibility markers you could add to your website, the above are just some of the most popular. You can add an explainer video or sales video to make your website more credible.
Adding case studies and/or statistics, QR code, credit card trust seals, privacy and security policies, and a money-back guarantee are all great options. What you choose to include depends completely on your type of company. It's all about testing, which brings us to the next section.
Making Sure Credibility Markers Improve Conversion Rates
It's safe to assume that adding credibility indicators to your website will improve your conversions just because of their nature, but there is no real guarantee. You should try to measure the effectiveness by setting up test page versions with and without these markers, talking with your customers and your customer service team about getting feedback, and of course, checking your conversion rates and other metrics as much as possible. It's also a good idea to keep at it and try adding these markers onto different pages to see what works best.
If you've had any success with credibility markers, we want to hear about what worked for you. Let us know your thoughts in the comment section below.
Author Bio
Amanda DiSilvestro is the Editor-in-chief for Plan, Write, GO. She has been writing about all things digital marketing, both as a ghostwriter, guest writer, and blog manager, for over 10 years. Check out her blogging services to learn more!
---