Why Tone Of Voice Is Key To The Best Brand Experience
---
If you're thinking about heading out into any kind of media with your company, then you need to be thinking about your brand experience. Ask the question: how will you engage your audiences and how will they engage with you?
Whether on social media or any other marketing activity, the consumer needs to take something memorable away from the interaction. Tone of Voice might sound like a superficial detail or low priority here. However, it frames the entire context and how you communicate within it. Here are 3 points that prove it – areas where a good creative branding agencies can help you.
Character
Set yourself apart from your competition and define yourself as a brand. Why should people care about you over all the others? Are you just a yogurt company or are you one with a cheeky sense of humour, as seen across your platforms?
This is a way of offering value to consumers without having to spend any capital on the product itself. And that's value that's going to amplify your reach, if said consumers find your yogurt posts fun enough to share. It's about how people are going to feel when they interact with you, the perceptions that encapsulate the overall brand experience.
Your character and tone of voice can be a source of pride and creativity for your brand. At the end of the day, if you want consumers to like what you're all about, then you need to like it yourself.
Consistency
Having your tone of voice set up and well understood by your team keeps your communications uniform across platforms. This means that your audience knows what to expect, look forward to and come back for. It removes room for unexpected and unpleasant surprises and gives consumers a frame and context to talk about you in their advocacy.
Beyond published content, tone of voice can be found throughout your company, from the way your staff approach phone calls with customers, to how they greet them instore, to how you plan, ideate and execute marketing campaigns. The long and short of it is – if your output (whatever that may be) isn't tonally right then it's not on brand and won't make the impression you want.
Keeping on brand in terms of your character is how you show your authentic. Consistency, stemming from Tone of Voice is part of what builds trust for audiences of your brand, something that is crucial for sustained success.
Conversation
Having a well-defined tone of voice is a pathway to opening up a conversation with your consumers, something highly relevant in today's competitive and noisy marketplace.
Consumers expect brands to value their voice and respond to them – whether it regards grievance or gratitude. By knowing how you'll address them, consumers know how they should address you in turn, demonstrating your openness to dialogue.
Putting thought and effort into creating a compelling tone of voice is more than worthwhile in today's day and age. In fact, it's an important step for any brand who doesn't want to be left in the dust. Your voice can be a valuable tool to persuade audiences to choose you over the competition and continue to do so in the future.
Author Bio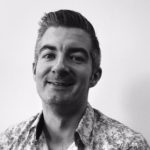 Russell Britton is the digital director at uberbrand, a Sydney based brand identity design agency. He is an award-winning creative leader with over 15 years of experience in managing the planning and creative execution of through the line brand experiences. His passion drives him to connect with brands to give an experience that will change perceptions and create action.
Photo by Gem & Lauris RK on Unsplash
---