---
What is Local SEO?
Local SEO refers to the process of optimizing your online presence to increase business from local searches. What are local searches?
It is when a person does a Google search or an Apple map search to purchase a product or a service that is available in that geographic area. Though most people are using Google to make this search.
Local SEO is very helpful for small businesses, as it helps them to be discovered. A business that is listed on Google's first page for a search result sure as hell will get way more traction than any other search engine. And haven't we all heard the saying that if you want to hide something, put it on Google's 2nd page? That being said, let's get onto what is white label local SEO.
What is White Label SEO
You know a lot of companies outsource their work to other companies, to either save time or funds? White Label SEO is the same, but it's specifically for SEO. It's when an agency outsources all its SEO services to a better more suited company that has better tools and manpower to take it forward. White label SEO helps companies to transfer work, and not just the work but also the customer service to another White label company.
White Label+Local SEO
White label SEO combined with local SEO is a combination of an agency, outsourcing to a White label SEO company for better results. Outsourcing this work makes it easier for the company to focus on their main skill and gives them more time to develop a better strategy for success. Whereas, the White label SEO company will have the right kinds of tools and professionals who will be at their disposal.
The combination of Local SEO and White label SEO is a win-win for both parties.
Why Label SEO is essential
Construct online local presence
3 out of 4 people who make a local online search for a product/service visit the store within a day. If you make a 'near me' search on Google it will show you results of physical stores in your geographical area.
For example, if you search Italian food near me, you will get the following result
Whereas, if you make a search " Italian restaurant Vancouver" it will show you all the restaurants within the city limits.
The near me feature shows you options that are closest in proximity to you.
Now imagine being the top search result for both, the 'near me' option as well as an overall search. Small businesses are using local SEO to get the above results. Appearing on Google maps is one of the strategies of White label SEO. To begin your local SEO journey, especially on Google you have to make a Google My Business account. This will establish your online presence.
Next, after you have established your presence you have to drive traffic to your website and or your local business. It is important to note that you don't necessarily have to have a website to dominate your online presence. The whole aim of a White label SEO is to bring targeted traffic to you. Local SEO search results in purchases 28 per cent of the time.
Local SEO also includes registering on various other websites/directories. This strategy brings in prospects that are looking for a specific job to be done.
Since local SEO highlights the location of a business, it helps a business rank in the local search, so if someone searches for yoga classes in Edmonton, that person definitely wants to join a class or try it.
So if you rank high on the local listing chances of that person visiting your physical store are really high, which in the end means conversion.
In addition to the above mentioned, white label SEO also generates qualified leads. If a person is searching for a product/service online, they are already in the consideration stage. The probability of purchase is higher in this stage. 76 per cent of people, who perform a local business search on mobile phones, visit a business within 24 hours according to Think With Google. This is an important reason to collaborate with a white label local SEO.
Your online presence verifies your business's goodwill. It allows people to leave reviews and gives potential customers information about your business. All these factors affect the lead generation process.
According to research, 92 percent of searchers will opt for businesses listed on the first page of local search results.
White label SEO can optimize the results of your local listing and provide your business with
Business listing
Citation building
Content creation
Link building
On-page and off-page optimization
It's essential for a business to build trust and authority to attract potential customers. Trust is the base of any relationship, and only if a customer trusts you and your product will they buy from you. 97 per cent of customers say that reviews influence their purchase decisions. White label local SEO lets you build credibility by managing customer reviews on various platforms, including Google.
Not just reviews but optimization of landing pages is equally important. To boost the reputation of your business and make it look credible online, you have to make sure that you insert local keywords, publish testimonials, and display certifications & accreditations.
Benefits of White Label SEO
There are indeed various benefits of working with a White label SEO agency
Grow your business — while your competitors are busy utilizing their time and investing money in learning Local SEO or hiring staff for the same, you can be attending client meetings and generating more business for yourself.
While you are busy making connections let the White label company handle all the intricate details and nuances that come with SEO. Even when the White label company is doing all the work, they represent themselves as a part of your company to the clients.
Save resources — now that you are dealing with a white label company, you don't have to invest your resources in setting up a team or going through the hiring process which can be incredibly time-consuming.
No infrastructure bills, no professional bills, no tool bills, and no human resource management bills, basically no bills at all.
What all is included in White Label Local SEO
With more new businesses registering online it is becoming difficult for businesses to rank on the first page on search engines.
Website audit
On-page optimization
Off-page optimization
Reputation management
Local citations
Business listing
Content creation
Reviews management
Campaign analysis and management
Website auditing is a crucial part of SEO. optimizing your website for two major reasons
For user experience
For better rankings on SERPs
A website audit discovers the limitations and possibilities of a website to optimize the website for a better ranking.
A comprehensive website audit includes
Spam content
Duplicate content
NAP details
Meta title, meta descriptions, and meta tags
Search engine penalties
Site speed and structure
Call to action optimization
After an audit, we move onto other areas to work upon, on-page optimization being one.
On-page optimization for white label local SEO covers
Content-type
User interface
Internal linking
Site structure
Meta title, meta description and meta tags
headings, keywords and categories
off-page optimization not only includes backlinks it also includes
HTTPS
Website loading speed
Brand citations
User experience on mobile
Website speed on mobile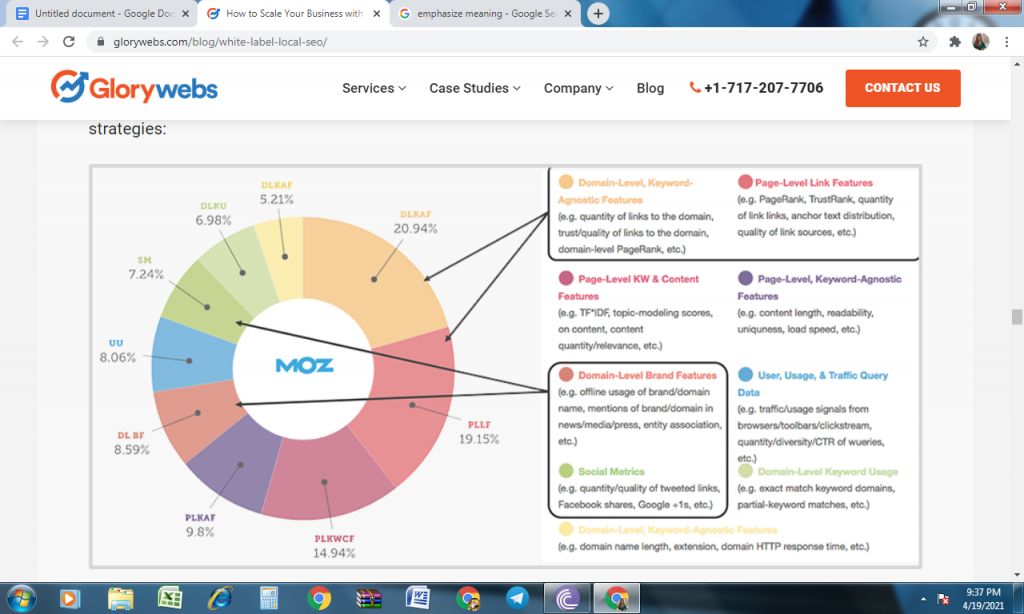 Now onto reputation management. In any kind of online marketing, keywords play a very important role. Keywords form the building blocks for visible content on Google My Business's listing, other listings, landing pages and the blog. For local SEO, keywords are used known as Geo-modifiers. They indicate the search intent of a user or a query.
Citations are mentions of your brand on any website or social media platform. These are not linked to your website, then they become backlinks. A survey from Whtie spark shows that citations are the most important when it comes to SEO, a whopping 13.31 optimization is contributed by citations alone.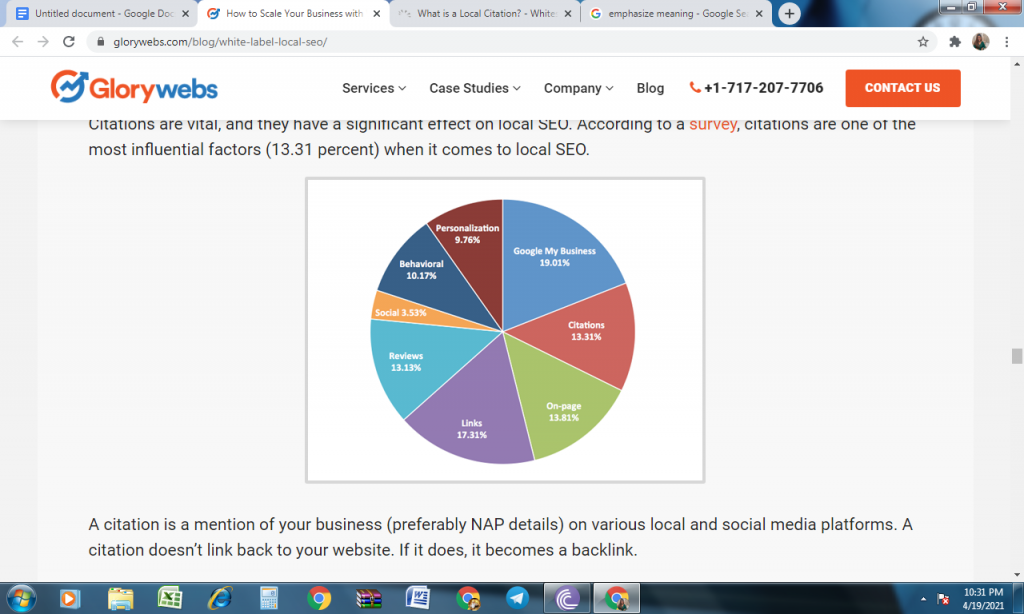 These mentions should contain the website name, NAP details, brand name, opening hours and other such in[portant details.
There are basically two types of citations, structured and unstructured. Structured citations contain all your details like the ones mentioned above and appear on various sites and social media like Yelp, Facebook, Yellowpages, etc. Whereas, unstructured citations are just brand mentions which can appear on local E-newspapers, magazines, wiki, etc.
Now onto the business listing. Business listings make your business seem legitimate. A survey shows that 71% of people confirm location before visiting a business. So it makes sense that a business registers on all business listings available online, Google My Business being a priority.
Let's move onto content creation. Nothing beats content when it comes to ranking high on SERPs. White label local SEO focuses on
NAP details include name, address, and phone number, additionally map location, website URL and various other important information of a business that will be useful for a customer.
Web page content includes your home page, contact page, service pages and about us page.
Blog posts are important to show expertise in your niche.
Customer reviews play an important role in customers decision making
Infographics are a great way to share information because people would rather share images with each other than something that is textual.
A good customer review is as important as having new customers on board. Reviews help other customers make informed decisions. 94% of customers read reviews before making a purchase or even visiting the store. It is important to
Request customers to leave a positive feedback
In case of any negative reviews always reply promptly and with total honesty
Don't strive for 5 stars it's basically impossible to please everyone
Always acknowledge and reply to reviews promptly
For reviews make sure you have reviews on platforms that are your niche.
For example, if you have an Airbnb, make sure you have reviews on their site too, similarly if you are a travel agency, make sure to have reviews on TripAdvisor.
Lastly, we have campaign analysis, which includes
Review management and timely closure of reviews
Analyze SEO ranking for all keywords
Brand citation management and measure impact of each citation
Analyzing backlinks and their effects
White Lable local SEO, is a win-win situation for both the marketing agency and the SEO agency. The details mentioned above are just a small part of a very big picture of SEO and local SEO.
Author Bio:
Semil Shah, Chief Marketer at Shrushti Digital Marketing According to his team, Semil Shah can take any digital marketing profile to the next level. With over 15 years of experience in the SEO world, he is a certified SEO specialist, who mainly focuses on growing businesses. He is the Chief Marketer at Semil Shah View all posts by Semil Shah
---