What does an SEO manager do and how do you get started with SEO?
---
If you are working or studying within digital marketing, you may have come across the term "SEO" and "SEO manager". 
But what exactly is an SEO manager? What do they do and how does SEO even relate to working with digital marketing?
Well let me put this into the perspective of a business. 
Sometimes digital marketing can seem like a never ending jungle of upcoming digital trends. But it the long run, these trends does nothing significant for the numbers of your business.
And it can be very frustrating, when your content does not pick up any traffic onto your website. 
This is where an SEO manager comes into the picture.
But how can you excel at the discipline of SEO, help businesses reach their target audience and secure volumes of neet traffic?
First, let's take a step back.
What does SEO stand for?
SEO or Search Engine Optimization is a process of improving your site's ranking factor on the Google Search Engine Result Page (SERP).
By ranking higher among the organic searches on the result page, you increase your chances of gaining traffic to your website. 
More traffic, more potential customers. Neet.
Ranking high on the SERP can therefore help you gain revenues as a website and also as a business.
In short:
When working as a Search Engine Optimizer or SEO manager, it is your job to make sure the search engine marketing tactics are implemented in ways that attracts the attention of your audience. 
Also these tactics should make sense for your business as well. 
But how do you do that? 
Well good SEO depends on several ranking factors. 
And not just how well written your content is. 
When stepping onto the SEO field there are certain concepts with what you need to become familiar. 
1. Search Intent
The primary job of any search engine is to bring the best answers to a searcher's query. 
If a website does not deliver the needed information, users will quickly move on to the next website.
And that is bad for traffic and business. 
So how can you get your sweet hands on all those potential buyers?
A simple way is to look at the search engine result page for a given keyword that you wish to rank for. And voila.
Perhaps you are a customer searching for a cure against jet lag when flying long-distance flight.
If you Google (or are one of the rare humans who use Bing) "jet lag cure", the result page presents you with the top rankings of these pages. 
If a result page shows you almost only product sites, then a "how to"-guide will have a hard time reaching the top 10 rankings. 
2. On page SEO
This is the part that focuses entirely on YOUR website. This means everything from page titles to content.
Even the more technical aspects of SEO like a websites loading speed and meta titles is part of the "on page" work. 
Here the overall user experience like navigation, design and content is key, if you want your users to stay on your website. 
3. OFF page SEO
This part focuses on the online presence of your business. 
Linkbuilding is a concept you will definitely encounter in this part of SEO. 
You can compare the off page SEO to the role of a PR bureau. 
Outreach is one of the central strategies that many SEO experts will dig into at first. And writing outreach emails is one way to strengthen link relations between sites.
What is the job role of an SEO manager?
The role of any SEO can vary from company to company.
Though most SEO work within the field of marketing, internet marketing or any form of digital marketing, different skills are required for the position of an SEO manager. 
As of yet SEO is hardly an established study of its own.
For the aspiring SEO manager quality educational information can be found online – If you know where to look. 
Open source SEO companies like Ahrefs or Backlinko offers you great tools and insights to the profession of search engine analysis. 
Because SEO is such a young discipline many companies might not know how to mobilize this resource for profit. 
It is therefore key that you bring the knowledge, which help grow business revenue. 
Even though companies might not be directly looking for an SEO manager, jobs like community manager and general marketing jobs can be a great entry way into SEO. 
What you need to know when working as an SEO in digital marketing? 
So what are the skills needed to land this mysterious job of SEO manager?
As I mentioned before the position of SEO is not a study of itself. Hence the great volume of open sources on the matter. But where to start?
Fret not. 
Many of the skills required of an SEO manager can be found within greater professions such as communication, journalism and marketing. 
1. SEO Passion
Central to the job is the ability to work with a variety of disciplines. Your passion for the field is therefore key to finding a position of SEO manager.
The field of SEO is growing all the time and you need to be there to trim the weeds from the roses! 
No company profits from an employee who does not support the ideals of the company, anyway.
2. Strategic mindset 
Perhaps you have come from a marketing background and are now looking to make your way into SEO. 
Well a great deal of tactical work is made in this line of work. It is therefore not too bad having some experience with strategic business planning. 
Growing revenues for you business is a central part of any marketing job. 
3. Analytical and data driven
When creating content, writing is based on thorough research within the writing topic. 
Even though you might write like Hemmingway, your content will not go far, if you do not know what people are looking for. 
If your audience is looking for a recipe on cookies and you provide them with an op-ed on baking, then what good is it? 
4. Technical expertise 
Technical skills can be quite useful as part of the skill set needed as SEO manager. Technical SEO is a big part of any website when creating a beautiful user experience. 
So, if your technical settings are not up to the standard of you users? 
Bye bye traffic. 
This graphic helps you understand the fields of study that SEO potentially touches upon.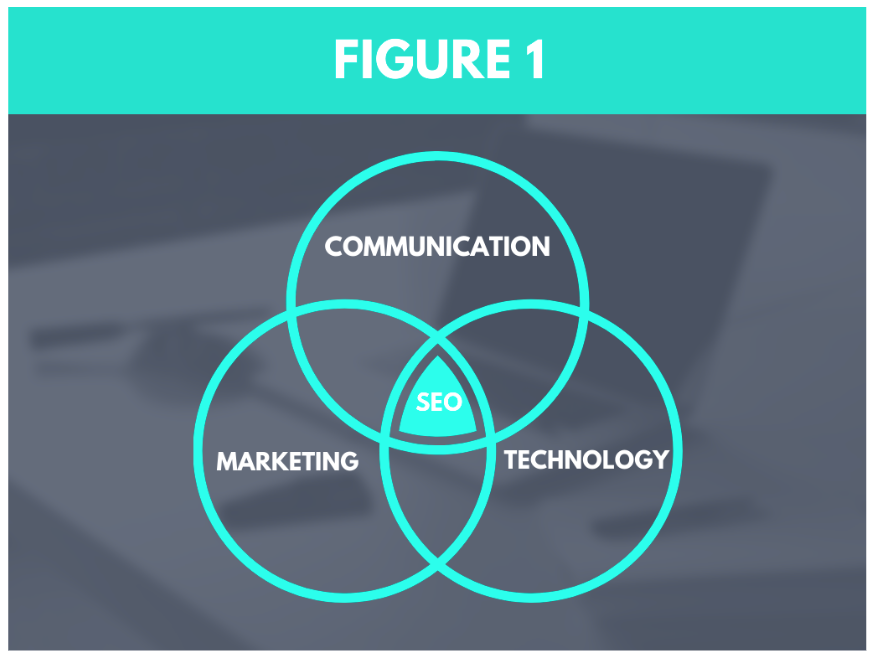 How to get a job in SEO?
You've discovered that SEO manager is the job of your dreams. Now what?
How can you make you ambitions and dreams of SEO marketing come true?
Well getting a job within any field requires effort and the path to the SEO careers is not always straightforward. 
If you are a student, begin by finding some relevant college courses within marketing, branding journalism maybe even UX.
Many companies are looking for people with either marketing, data analysis, branding or even technical skills like programming. 
Since an SEO work within the field of communication, it is also key to having good people skills. 
Through the contact of your piers you can build you way to the next SEO job.
Build you social circle within the industry.





Social media sites like Linkedin and Twitter are excellent ways to gain new contacts and create a solid network.





In this way you can get access to knowledge and people within the industry.




 

Build your own online presence.





A way to gain attention within the field of SEO is to show that you are able to create and gain results.





This is a more time consuming process but gives you both the practice and the skill sets of a true SEO manager.





Start by building your own website, create a blog and boom you are on your way to learn SEO.

Internships are great ways to practice and become even better at the things you love.





And the good news is, there are plenty of SEO bureaus on the lookout for new interns to help them grow business.





Experience is key, when it comes to working as an SEO.





And therefore an internship could be the right way for you. Especially if you do not have any previous experience on the matter. 
Final thoughts
The world of SEO is ever growing. And right now there is a huge potential for becoming part of that expansive journey.

Do you feel inspired to take on the next step of SEO?

If so, there are a ton of online guides, like this beginners guide from Moz.

If you still have doubts about whether SEO is the right career path for you, I suggest you try and reach out to people working in the field.

SEO managers are always on the lookout for new quality employees. And you might be next. 
Good luck!
---