Try any plugin on free WordPress test sites by TasteWP
---
New plugins and systems are being introduced and put into use on WordPress sites each day, and digital marketers and website developers need to integrate them into existing as well as new WordPress sites. But before taking the step to install a new plugin on a live site, it is smart to first take it on the test drive – and this is where the TasteWP conveniently steps in.
TasteWP is a cool new platform that generates WordPress test sites in seconds. It is globally available and users can create fresh instances of WordPress without any hassle.
Testing any plugins and themes, official or custom-made, is very efficient with TasteWP, especially for the plugins from the official WordPress plugin directory, whose demo can be run with just one click.
There are many cool features on TasteWP, and even more are being introduced, but before we dive into them, let's have an overview of the basics first.
Quick test site launch and Advanced Setup
On TasteWP, you can start up your first free WordPress test site from the home screen, by clicking on Set it up! button, after ticking the Terms checkbox. On average, TasteWP takes only 3 seconds before the brand-new WordPress site is served to you.
What also makes a warm welcome to TasteWP, is that the language is automatically selected to match the preferred one in your browser, if it is listed in the 20 currently available. This applies not just to the TasteWP interface, but also to the test sites it spins up. Of course, you can change the language at any time.
Signing up on TasteWP provides a number of advantages. Most importantly, your test sites will last longer – seven days instead of two, and you will be able to have six active free test sites at the time, with the ability to manage all of them. Premium test sites don't count toward this limit.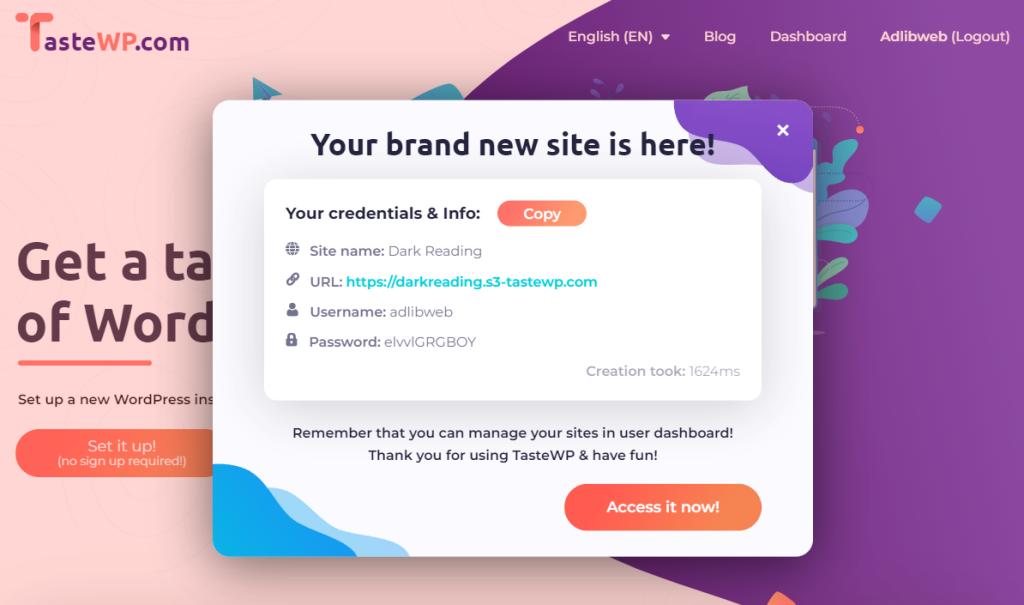 Quick test site launch uses the latest WordPress and PHP versions, but Advanced Setup is also available for the new test sites, which allows you to specify different options for your test site, which are organized into several groups:
You can select the specific versions of WordPress and PHP that will be used for the test site;
Editing is available for some of the WP Config options, e.g. for debugging, caching, or for WP cron;
Choosing from several recommended plugins and themes is possible, but not mandatory;
If you find randomly generated test site names too silly, you can give your sites a custom name;
WordPress multisite creation is optional;
If you are not happy with the standard test site limitations, you can assign the Premium site here as well.
On the Advanced Setup screen, you can also set a custom name for your site, otherwise, a random funny name is assigned.
All test sites created via quick launch or advanced setup are standard, full WordPress sites, without anything taken out from them in order for them to keep them lighter, yet they are still created in a blink of an eye.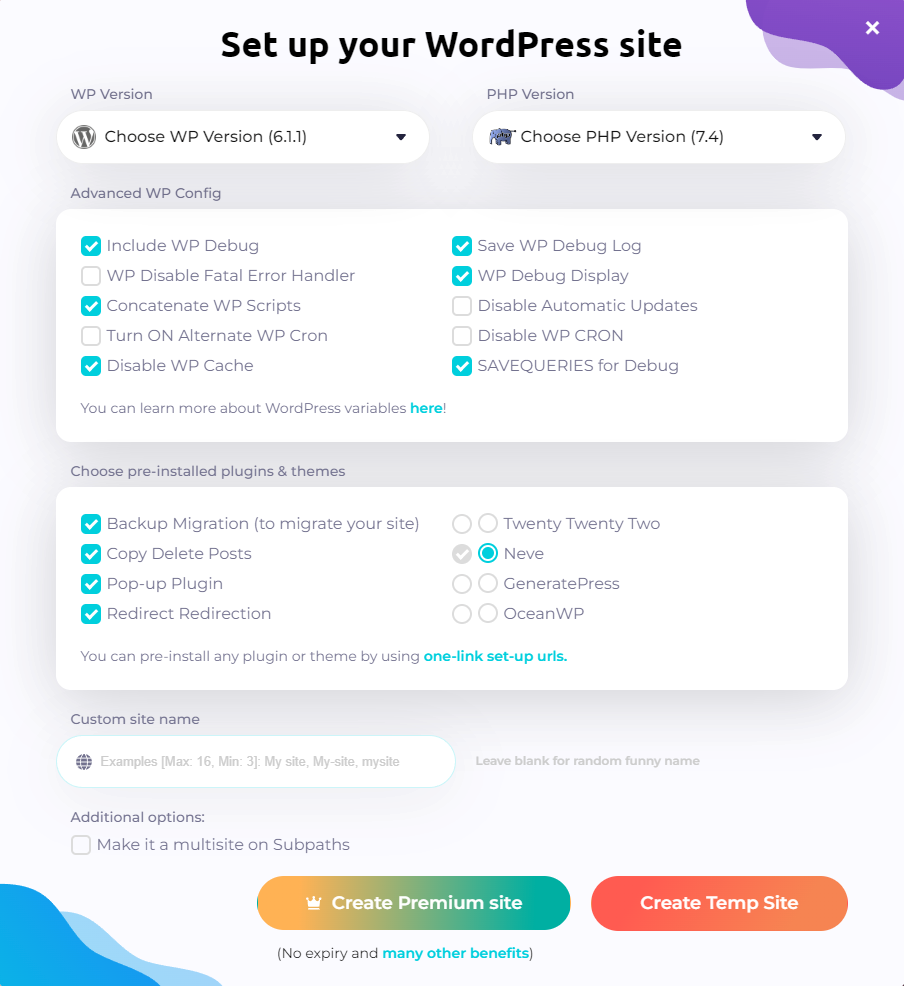 Extra features from TasteWP
One of the most popular TasteWP features is the quick launch of WordPress plugin demo sites. This feature allows you to start a demo of any plugin simply from the official WordPress directory.
All that you need to do is merely switch the "wordpress" with "tastewp" in the plugin's page URL, and run it. Perhaps you were just reading our article about WordPress Digital Marketing Plugins Every Marketer Needs and you wanted to try some out on a test site.
Let's take Yoast SEO as an example. You can edit https://wordpress.org/plugins/wordpress-seo/ into https://tastewp.org/plugins/wordpress-seo/ and in a few seconds, you will be taken directly to the Yoast SEO menu, on a fresh demo site with the mentioned plugin already installed.
The quick demo launch trick also works with themes in the WordPress repository.
To make demo running even easier, Inisev, the team behind TasteWP, has made a magic bookmark. Add this to your browser and you will be able to run plugin and theme demos with a single click while you are on a page of any WP plugin or theme.
While demo links are primarily used to check out plugins and themes created by other people, you can also create a Site Template on TasteWP, where the generated link will create a fresh WordPress instance with a theme and up to five designated plugins, including any custom plugin that you made.
Clearly, this feature is favored by plugin developers as it gives them the opportunity to share links for demo sites with their prospects.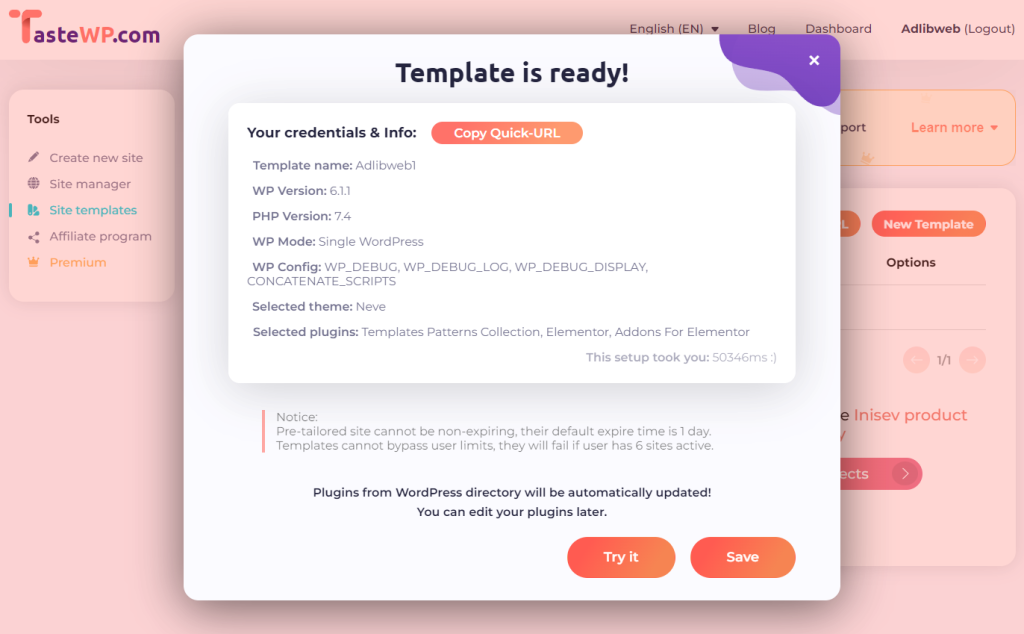 Check out this demo link for an example: https://demo.tastewp.com/neve-bundle. It will launch a test site with one of the Best lightweight WordPress themes that we previously covered: Neve theme, and in addition, its complimentary plugin for starting theme templates. This site template will also install Elementor and a couple of its extension plugins.
With this demo link, you will also be redirected directly to the theme's menu page and the standard TasteWP intro screen will be minimized.
TasteWP recently introduced premium test sites, which in contrast to standard TasteWP test sites last as long as you need them, and they also have an expanded maximum size of 20GB.

Conclusion
TasteWP test sites are a quick and easy way for digital marketers and website developers to run tests and experiments they would not want to do on their live sites. Serving also as a staging environment, website owners can replicate the state of things from their live sites here to confirm the compatibility with new plugins as well.
A beautiful and intuitive interface of TasteWP, followed by flawless functionality and an ever-growing number of features, can easily entice WordPress beginners as well as experienced developers. Being so handy, why not give TasteWP a try now?
---