Top Tools for UI/UX designers – Must Read
---
Every industry, which is into Information Technology and software development business knows the importance of UX/UI of web designs. The only objective in developing any software products is providing better User experience and User interface.
UI design tools give the users what they want to design with different prototypes, wireframes, mock-ups, and minimal rendering products. They represent the ins and outs of a design part.
UX design tools are used to make it easier for the users to interact with the software. As UX is considered as the fundamentals of the software development process, the user experience should be satisfied with a smooth run.
In this article, we are going to look at some of the "top tools for UI/UX designers".
SKETCH
If you have come across the UI/UX design experience, you would have heard about 'Sketch'. It is one of the very interesting tools which are used by designers to design web applications or mobile applications.
Sketch was developed by a Dutch Company in 2010, for MAC OS. It was primarily used for UI/UX mobile apps design. Its interface is easy to use which makes you able to create a very good-looking web design. Most of the prototype tools work well with Sketch, therefore eases the work in collaboration.
ADOBE XD
Adobe XD is one of the popular UX design tools which is designed by Adobe Inc. It offers various features, from wireframing to prototyping, which is used in the process to develop a mock web design and test before the final one. Adobe also supports vector designing, a software program used to make use of mathematical equations and geometric symbols like lines, shapes, points, to develop clean art.
Interactions and collaboration are very easy even with cloud-based apps as well. The best part is that its design and navigation are very fast.
AXURE
No doubt that many designer tools have hit the market in recent years, but among those, AXURE has made a mark, which is very popular amongst web designers.
To date, AXURE has released many versions and the latest one is AXURE 8, which has come up with some additional features compared to earlier versions. It is robust in nature, which means it can easily handle complex UI designs in a very simple way. It also allows testing functionality and puts everything together for the convenience of the developers.
BALSAMIQ
Balsamiq was developed by Balsamiq Studios in 2008. It provides very easy UI wireframes and prototype tools which can be used easily. Someone without pro designing skills can also use the tool on the go. It offers drag and drops features which helps the users to create excellent prototypes.
Balsamiq is user-friendly as compared to some of the designing tools. It is available in desktop version or as a plugin that can be used with Google Drive.
INVISION STUDIO
Invision Studio is another most interesting designing tool for UX designs which is a perfect combination of prototypes, wireframes, and collaboration, resulting in phenomenal designs. It was introduced in the year 2008 by the company named Invision. Its objective is to have an easy prototype process.
Invision Studio comes with very easy-to-use features, therefore it is considered the most preferable tool among the designers. Some of the great features are that it allows the designers to control their designs, LIVE sharing of screens, maintain the records, and many others.
PROTOPIE
Designers barely having programming knowledge or no coding at all go for ProtoPie. It is smartly designed where designers can test the UI/UX designs. From simple designs to extremely huge ones, ProtoPie can effectively handle all of those situations.
ProtoPie gives very easy communications gateways to the designers where they can share images, videos, and can take feedback through comments. It makes you feel real and helps you create, organize, integrate, and test accurate mock-ups.
MARVEL
Marvel comes up with an all-in-one feature, which is one of the best choices of designers. It brings wireframes, prototypes, and design specifications at fast and easy spin-up speeds. It provides a platform for all the designers to communicate and take the feedback related to the projects.
Most of the digital products are built on Marvel. It is available on apps as well, and even non-designers can easily enjoy its features. The best part of this tool is that it generates CSS, Swift, and HTML codes for the designers.
FIGMA
Figma is considered as a most favourite tool of the designers for UX designs. One can easily perform the designing work without the help of other platforms as it is a cloud-based tool. Figma allows multiple designers to work on the same project simultaneously, and the changes are done automatically on the whole project. Isn't this amazing?
Other great features of Figma are that it has built-in CSS codes, you don't need to use third-party tools such as Zeplin to handoff. It is the latest entrant to the family of designing tools but it provides a very quick pace to the UI/UX designers in designing.
PHOTOSHOP
Every UX designer would have come across Photoshop tools for designing or finalizing the designing process. It is the flagship of ADOBE which has redefined the image features that can be added and edited. Photoshop is changing to its extreme extent in its attractive features.
Designers with basic knowledge or pro, both can use Photoshop for basic edits to complex one. It is a tutor by itself, it easily guides the designers to continue with the designing.
ILLUSTRATOR
Illustrator is a graphic design tool developed and marketed by Adobe Inc. It was developed by Apple Macintosh in 1985, it has gone through various changes since it got developed. When it comes to editing the same objects, again and again, global editing of Illustrator is most effective in that case.
Among many designing tools, Illustrator is known as the finest tool for UI/UX designs. There are multiple amazing features, which include generating files of all files, scalable, easy upgrade, allows panel editing, great user interface, and many others.
FINAL NOTE!
These are the "top tools for UI/UX designers", and now you might be familiar with which tools will help with your designing. In every minute, new designing tools appear which appeal themselves as the best tools to date. It is always better to go for the well-known and most used designing tools, instead of getting stuck in the rat race.
Always remember, many tools will come and go, the best will remain. Now you have to make your decisions about which one to choose?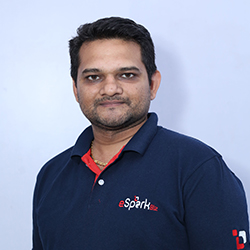 Author Name:- Harikrishna Kundariya

Biography:- Harikrishna Kundariya, a marketer, developer, IoT, ChatBot & Blockchain savvy, designer, co-founder, Director of eSparkBiz Technologies. His 8+ experience enables him to provide digital solutions to new start-ups based on IoT and ChatBot.
---