The Ultimate Tips for Video Marketing to Boost your Business
---
It has been proven that videos are more engaging and more memorable than any other type of content. It has become a trendy and efficient communication channel these days. As a means of storytelling and advertising, video is no longer one option, but a necessity for marketers. So marketers have become increasingly involved in making video a new marketing strategy. Why is video marketing the key to business success? Indeed, according to studies conducted by SoxH Factory, 57% of Internet users are tempted to buy a product after watching a video, While customer testimonials influence 43% of them. Adding a video to your landing page can help you increase your conversion rate by 80%. Videos can be viewed on search engines or social networks. Currently, YouTube remains the preferred video viewing platform for Internet users. It is followed closely by Facebook, with an 84% audience.
The Top 5 advantages of video marketing: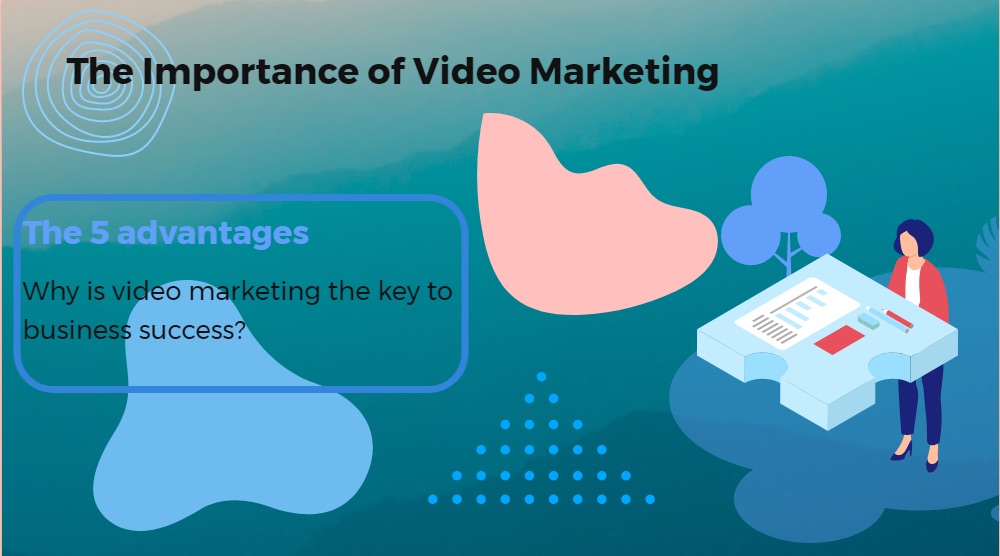 1. Video improves SEO 
A marketing video is 53 times more likely to appear at the top of search results than a single text page! Search engine love content engages viewers, nothing gets more plentiful, and more extended page views quicker like a video. YouTube, as the second-largest search engine globally, is the right place where you should post your videos.
2. Video helps your email marketing campaigns.
The video is eye-catching and impressive. Using "video" in your subject line can help increase open rates and decrease unsubscribe rates. Video in an email leads to a 200-300% increase in click-through rate. Be careful not to add too many videos to annoy people.
3. Video boosts conversion rates.
Watching a video takes less effort than a text. With videos, you are likely to find a larger audience! 84% of Internet users and 56% of mobile users watch at least one video per month on their computer or smartphone. Adding a video to your landing page doubles your chances of converting users into customers. It helps increase conversions rate by 80%, according to HubSpot.
Video enhances brand image and prestige. 
Video helps to promote the company's history. It could be a useful tool to improve its image and reputation to attract more customers and stand out from the competition.  With a video marketing strategy, you can connect with your viewers and earn their trust. Therefore, video is the perfect way to enhance your brand.
Video encourages social shares.
Most video consumers tend to share videos with others. One-third of social media users share brand marketing content with their circles. This is what we called the "snowball" effect: if your video is attractive, your community will distribute it for you, as long as it provides sharing options for major social networks and blogging platforms. Use humour to let your company's personality shine and encourage shares every time. 
The 10 Types of Marketing Videos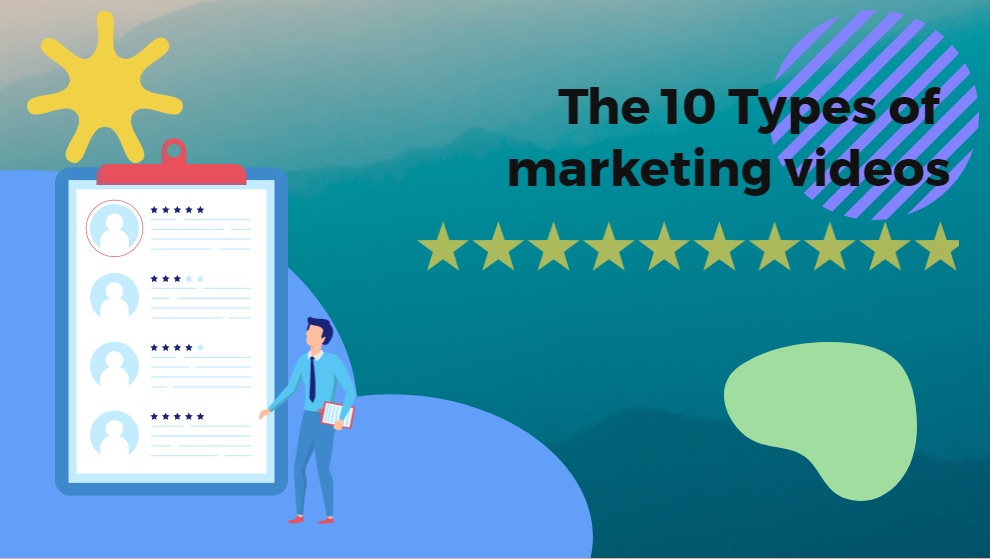 1.Commercial brand videos
Brand videos are typically created to showcase the company's high-level vision, mission, or products and services.
These videos are short video clips made only for social media like Facebook, Instagram, Twitter, LinkedIn, etc. They are designed to be share due to their enjoyment and engagement.
As social media videos, most videos can be an explainer video. It helps explain how your company solves a particular problem. 
Educational or tutorial Videos
These kinds of videos are starting to be highly appreciated by Internet users today. They aim to teach new things to Internet users. They also play the role of trainer.
Nothing is more convincing than honest personal feedback from your customer. Most consumers would buy a product or service after reading online reviews.
Live-stream interviews, presentations, and events offer a unique, behind-the-scenes look to your viewers. They tend to know more and trust more about your product or service.
AR video is a new type of video. You can add a digital layer to what you are currently viewing to make it more real. 
A perfect way to build trust and authority with your target viewers is to interview internal experts and leaders in your field.
The animation is an exciting and powerful style, especially when it comes to explaining the hard-to-understand technology concepts.
For those who own a tourism or real estate company, aerial photography is ideal for offering a panoramic view.
Since we have already explained the importance of video marketing and the types of videos you can make, now let's get started to figure out how to make a successful marketing video. According to a 1,000 marketer survey, "how to take the first step" ranks the first of the top 10 video marketing challenges. Here are some tips on how to get started.
The top 5 tips for video marketing.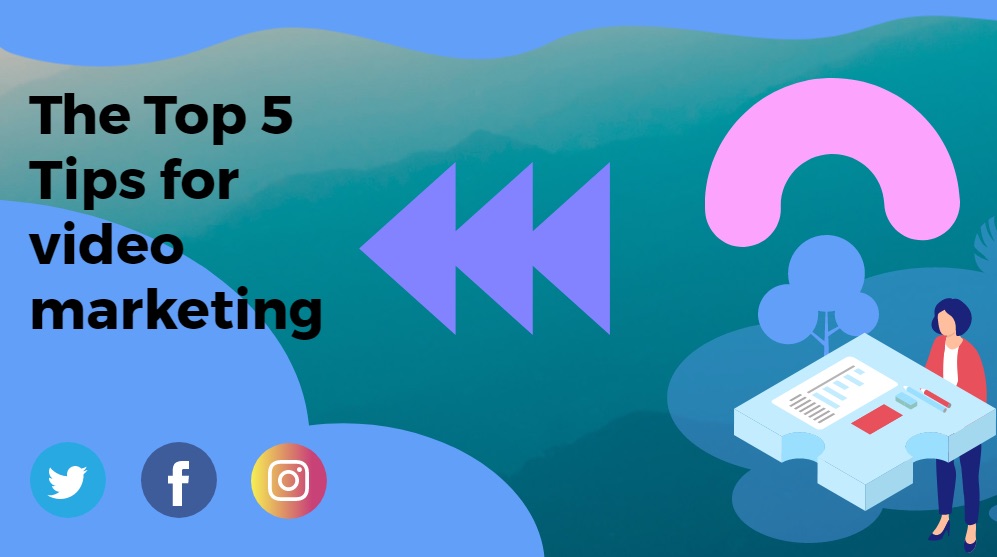 The first step to make a marketing video is to set your goals. Do your research and determine how many videos you would like to incorporate into your strategy. Also, think about what kind of videos you want to create, who is your target audience, how quickly you want to post them, and how much budget you want to spend on each one. Also, remember that you can hire a professional videographer to help you get good videos to share with your audience.
Find out video type and style.
Once you've defined your goals, it's time to start thinking about your style. Video marketing now isn't just about what you say, but more importantly, how you say it. It would help if you found a unique type and style. As an example, here are some questions you might ask yourself:
What's your tone? Will you bet on a professional and severe style or a funny on

Do you want a modern and original visual or fun animations?

What sound effects will you use? In addition to your recorded voice, you will need sound effects. 
3. Keep it short and straightforward
When we are making a video, remember that you don't have to make the next Titanic. Your target audience doesn't want to watch a one hour video. The shorter, the better. According to a survey, one-fifth of users will close the video within the first ten seconds of a video. Therefore, the video's essential is that it must deliver content value quickly and tell the audience why they should watch this video. The reason why users watch the video may be that the video is enlightening, or it allows them to learn something. Of course, there are plenty of ways to quickly attract the audience's attention, including but not limited to questions and forecasts.
Once you have your topic and understand your audience, create a storyboard to outline and visualize what you intend to show. Film your videos with professional equipment. Pay attention to audio and Visual Quality, especially. Then you can start to edit the video to make it stunning and attractive. If you are not a video expert, an easy-to-use online video editor is your best choice. Flexclip is my pick because there is no skill and download needed. With its setup marketing video templates, you can produce a customized and compelling marketing video. Another tip to keep in mind is to include your homepage URL, a "Click Here" button, and a social media sharing icon.
You may be familiar with the 80-20% rule. Applied to video marketing, it takes 20% of your time producing your video content, and 80% promoting it. Indeed, creating good videos is essential. But more importantly, make sure they are seen! Distributing your videos through owned, paid, and earned distribution channels to get more viewers.
Owned media: website, blog, social media, email.

Paid media: search ads, social media ads, paid influencer, sponsored content.

Earned media: social media sharing, reviews, publicity.
Final thoughts
A great video can go as far as a strong video marketing campaign can. A video marketing strategy's success lies in inconsistency between the message sent, the target audience, the objectives, and the communication channels. Imagination and creativity are significant assets to mark the mind of the public and establish a brand image. To be at the top of the video marketing campaign, you have to develop your video strategy from now on. 
About the Author:
Sammy is a digital marketer and an enthusiast for photography and videography. She always tries to explore something new in her content and loves sharing tips and tricks on marketing. Works for FlexClip, she is passionate about everything related to video production.
---