The Guide to Successful Content Marketing – 7 Stages to Cross
---
In the current business scenario, content is king. This is why the digital marketing team plans out in advance, creating strategies so they can achieve different business goals seamlessly.
Say for instance the goals include brand awareness, product sales, etc. they must create a plan which has outlined ways to achieve these objectives seamlessly. This demands them to keep some important pointers strictly in mind. We will cover them, discussing these stages in detail.
These stages are important for every content marketer. With its knowledge, success and lead generation will become easy to achieve.
Want to know more? In the article, we have listed down the seven main stages that are particularly crucial to follow so that these aspects are simple to accomplish without any difficulties.
All About Content Marketing
According to Wikipedia content marketing is a form of marketing that places focus on creating, publishing, and distributing content for a particular group of audience online.
Other definitions for the process are provided in the lines below-
It is a strategic marketing approach that focuses on the creation and distribution of relevant and consistent content so that it successfully attracts a particular set of audiences to its services.
A marketing strategy- content marketing helps to attract, engage and retain audiences through the creation and sharing of articles, videos, etc
A long-term strategy, this marketing form places attention on building and fostering strong relationships with the target audience through the creation of high-quality content that discusses in detail the different services the business offers.
Knowing the different definitions of content marketing, let us get a comprehensive understanding of the content marketing process now.
Content Marketing Process – What Does It Entail?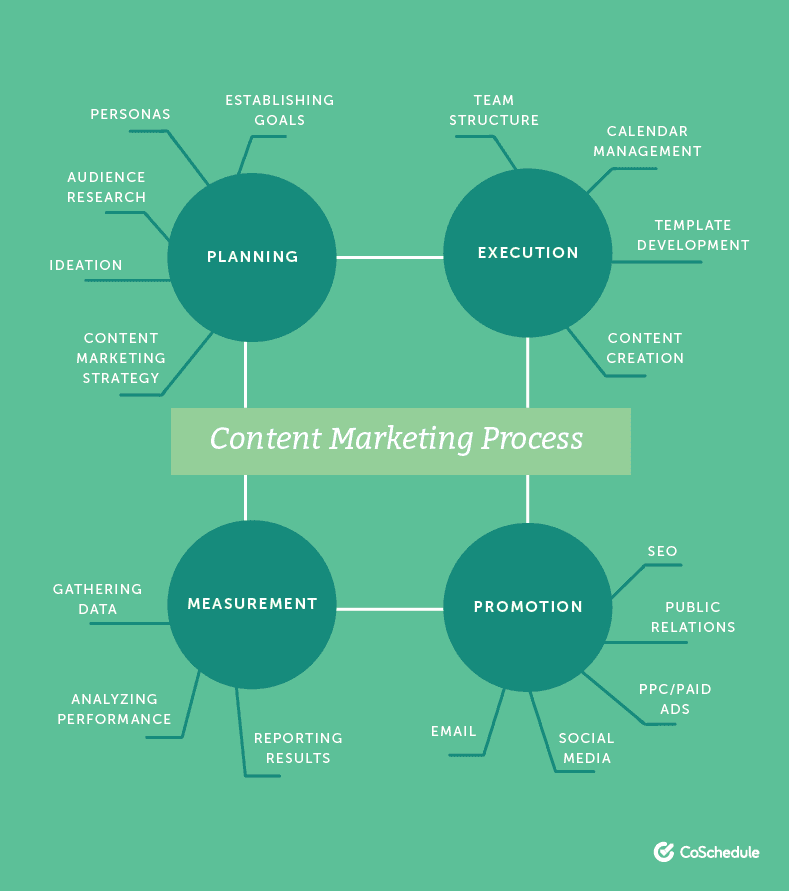 Image Source – coschedule.com
In the lines above you have gotten a brief understanding of the concept of content marketing. You must get clarity on the content marketing process now.
This will help you to know how digital marketing strategies are created by the digital marketing team.
The image above elucidates the content marketing process. This includes the following steps.
Content planning and strategy creation
Content creation
Content publishing
Content promotion and distribution
Content measurement and analytics
With the awareness you have now of the content marketing process, let us comprehend the seven stages of content marketing every digital marketer follows while creating digital marketing strategies.
7 Stages of Creating Successful Digital Marketing Strategies
In the article, until now you have understood content marketing and the process in detail. This might help you to understand why it is a necessity thus for any business. If you want to stay relevant, unless you have a successful digital marketing strategy in place, success will become difficult to achieve. To make it inevitable we have outlined the seven stages you should follow so you can create this plan like a pro and success starts knocking at your doors.

Check the stages below.
1. Goal Definition
Before anything else, you need to define your goals. Have clarity on it so that you can successfully measure the success of your content marketing.
It is important to note here- there may be different goals your business wants to accomplish- like generating more revenues, increasing the rate of returns, or for that matter developing USP through the content created.
Therefore in a nutshell keep your goals SMART (Specific, Measurable, Action-Oriented, Realistic, and Time-sensitive). This ultimately will help you towards achieving systematic success.
2. Research
Research is the only key to creating successful digital marketing strategies. It is thus crucial to perform qualitative research about the content and audience both.
This means conducting surveys, or quizzes so that you get clarity on the needs of the audience in a simplified way.
Here are some ways you can do this-
Analyze & track customers' behavior
Examine the audience present on your social media handle
Collect information and place quizzes, forms, etc to engage them and new ones as well
3. Plan
Also known as inventory check, the process of planning involves listing every single piece of content. This helps digital marketers accomplish two main aspects –
Obtain content overview
Get hindsight of the impact of the content created on the target group
To accomplish these aspects, perform the steps below-
Keep it exclusive
Know your USP
Include the USP in your content
Simultaneously keep these pointers handy-
Create content and check the relevance
Ideate if the content created is solving customers' issues
Assess the requirement for revision
Upon revision in case necessary try locating missing elements in your content
Find posts generating more traffic and understand their relevance to your content marketing plan. This is possible by studying competitors
4. Create Content
Now that you have done your curation activity the next main activity is creating exceptional content by gathering all the information you collected.
This may be in the form of articles, blogs, news, alongside images, infographics, quotes, etc so that the level of appeal goes up.
Here are some ways you can perform this activity like a pro-
Check competitors' activities and observe their published contents
Examine post frequency, writing style, and channels they select for getting more audience
Topics they cover
Once you have an idea of these aspects you can create content that is engaging and relevant so that you can successfully reach out to more people.
5. Curate Content
You have successfully created, what next? The next stage is curating your content seamlessly and straightforwardly.
In simple words, curating content includes acts like searching, filtering, and publishing content that is based on different customer personas. Upon creation, their arrangement is done systematically so that the right content reaches the right audience at the right time.
This is probably a vital attribute of a successful social media planning strategy that needs to be kept in mind. This will help time and resources effectively and will allow maximum customer engagement and traffic to take place.
6. Distribute Content
The phase aims to reach new target audience by spreading the message of the brand image in a systematic and orderly way.
This is how you can perform this activity-
Analyze different contents
Create a distribution strategy so that different content pieces are easy to distribute. This includes using social postings, emails, etc.
Remember sending content to the right audience is the only way to make your social media planning strategy successful in the long run.
Here are ways you can perform this –
7. Measure Performance
The last stage is measuring the results you achieve through the content you create, curate, and distribute. This means getting clarity to know if you are successfully increasing scope organically on search engines. This includes to obtain clarity if users remain retained on your website at the current juncture.
Here are three ways you can perform this –
Use measurement tools like Google Analytics to outline current user behavior.
Focus on KPI (key performance indicator) to assess if you can meet your goals or not
Check the feedback you receive to brush up on the strategies created and ensure the content marketing process is efficient.
Focus on areas where you receive positive responses and work towards its categorical enhancement.
Keep these pointers handy to create successful content marketing strategies for your operations.
The image above illustrates the different stages that every contenting marketer keeps within their plans.
First and foremost they research on the target market and the competitors to assess the former and their behavior. This follows next by understanding ways that competitors are reaching out to customers better.
Second crucial step is defining goals and recording the metrics so that goals become easy to accomplish and achieve
Third step is gathering data of different activities performed by different business and assess relevance to your business
Fourth and most vital step is deciding the content you will share, and creating it thereafter. This is followed by curating them and sharing them as much as possible.
Last, the SEO follow-up is dome to assess if the plan is successful or not.
Wrapping Up
Reading the article, you can understand content marketing is a crucial part of a business. Thus, when you wish to integrate it, it is critical to follow some steps. This includes researching on target audience, clearly defining your goals, and recording metrics. Gather data, decide on the content type, create content, curate it, and assess their overall performance. With all these steps, you can be sure your social media planning strategy will be successful. Remember, survival in the competitive business era is only possible if you have a strong content marketing strategy. Set internal processes to enhance the process to ensure content you create reaches the right audience in less time.
Thank You
Author Bio:
Sophia Wilson, working for Grocery App Clone – XLGrocery, a readymade product of XongoLab Technologies LLP. As a hobby, I love to share my knowledge through content marketing.
---