Create an Effective Social Media Strategy – Follow These Tip
---
With businesses placing their focus on getting an online base it comes as no surprise that they need to create an extremely competitive as well as dynamic social media strategy. This also means updating the already existing ones.
Want to know the reasons why it is important to create an effective social media strategy? Read this exhaustive article to gain insight into this and understand its advantages to the digital marketing calendar.
So let us begin.
What is a Social Media Strategy?
A social media strategy is an amalgamation of social media marketing tips. This includes the content outline to be posted by a business. It follows next by providing a list of responsibilities of the social media team and the channels they would be making use of to perform business promotion.
In short, it includes different social media goals that are in sync with the overall digital marketing strategy of the business.
Now that you are aware of the basics, let us get knowledge on the reasons why it is recommended to have a social media strategy.
Benefits of a Social Media Strategy for Businesses
Creating a social media strategy has a wide array of benefits to offer to the business starting from ascertaining more brand awareness, building more engaged communities, and so on.
In the pointers below, we have discussed the other advantages of the plan. Check them out-
Allows more sales of products and services
Assists in measuring the brand sentiment
Aids in advertising products and services to the target audience in the right way
Automates tracking performance and adjusting larger marketing strategies
Observing these advantages, you can gauge that the plan has a win-win proposition for the organization overall.
Therefore, if you have yet not made use of it, or are finding it challenging to perform it, don't worry! We have listed down a set of tips that will make this easy for you. Before that, let us understand what the constituents of a hit social media strategy are.
Constituents of a Hit Social Media Strategy
When you are creating a social media strategy that allows you to accomplish your digital marketing objectives with preciseness, you must work towards making the plan a hit. To achieve this, you need to have some constituents in place.
Here are those constituents listed down below.
Clear, real, and easy-to-measure marketing goals and objectives
Clarity of business goals and needs
Content posting on platforms that will allow generating more ROI
Knowledge of customers
Researching competitors and examining how they conduct business
With all these constituents in place, you can be sure you have created a hit social media strategy that aligns with the business requirements in a rather streamlined way.
It is important however to also have awareness of the steps that need to be followed during the creation of a social media strategy. In other words, it is vital to keep some social media tips in mind to capitalize on success.
Social Media Tips Guaranteeing More Leads – Keep Them Handy
When you are working in the field of digital marketing intending to get a healthy customer base, it is vital to keep some important tips in mind and follow some important steps. This is particularly when you create a social media strategy.
If you are creating one too for your business advantage, keep the tips below handy to ensure you get returns that are profitable to the maximum.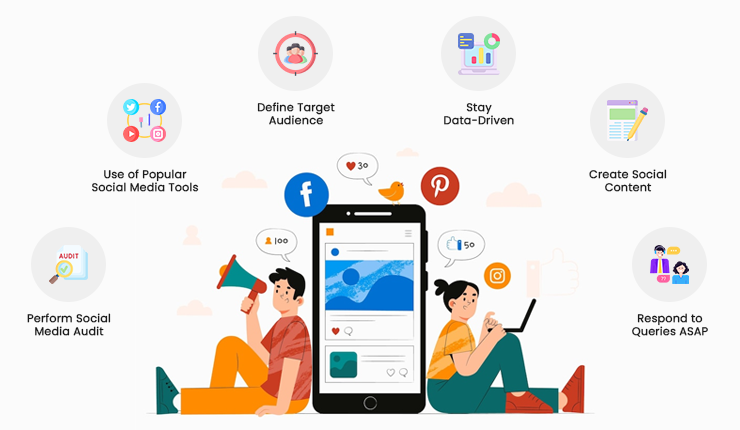 #1 Perform Social Media Audit
They say, keep friends close, but enemies closer. This goes especially true when assessed from the business perspective.
Therefore, it is critical during the creation of this strategy; you focus on conducting a social media audit.
This includes assessing the reach of your brand on different social media channels. It is next recommended to compare the reach of your competitors.
How to perform this?
Compare content
Analyze engagement
Focus on the audience size
Check keywords and hashtags they use
Assess reviews
With all these areas kept a check; you can gain insight into the session quality and the number of page viewership taking place.
#2 Make Use of Popular Social Media Tools
To ensure that you know what your customers think about you, it is critical to make use of popular social media tools.
In other words, to ascertain that a plan can be created which addresses the customers and their different queries in a streamlined way, you must use noteworthy tools.
Want to know about these? Here are the same listed below for your convenience.
Check them out below.
#3 Define Target Audience
It is a vital area of consideration to define your target audience. In other words, you need to document the buyer persona.
In other words, it is wise to get knowledge of their age, gender, occupation, etc., to name a few. This will allow you to successfully create an advertising plan that focuses on those needs and addresses them smoothly and conveniently.
Here are some ways you can perform this action like a pro-
Gather data
Avoid creating assumptions
Prepare social media analytics
#4 Stay Data-Driven
You need to establish metrics and comprehend key performance indicators as thoroughly as possible from your end.
This will allow you to make smart business decisions. It will also assist you in obtaining perspective on the direction projects are currently taking.
Here are some techniques to adopt to measure this area with the utmost level of precision-
Check post reach
Examine the number of clicks
Assess engagement level
Study hashtag performance
With all these areas focused upon; you will gauge the number of users who checked the posts you made, followed by getting clarity on what the audience perceives of you and your brand.
#5 Create Social Content – Keep It Engaging
To ascertain you create a social media strategy that is successful and delivers the best business results, it is important to create engaging content.
Therefore, it is recommended to study the audience and know your goals well to check the networks where the coverage will make these goals easy to accomplish.
Here are some ways you can perform the task-
• Create stories and time-sensitive posts
• Engage the audience through short videos
• Focus on posts that display the humane side of the creator
Note – Conduct competitive analysis thoroughly so that the content you create stands out and reaches out successfully to the maximum percentage of consumers.
#6 Respond to Queries ASAP
This is a major reason you need to place focus on this aspect as much as possible from your end so customer remains retained in your business.
Here's how you can perform this task-
Avoid keeping customers waiting
Designate teams to address different customer concerns
With all these steps adhered to, you can be sure to get the customers' trust in the services you provide. This will ensure that the end consumers successfully remain engaged with your business for a long time.
Alongside the social media tips and strategies discussed above; others guarantee the creation of a plan that is in sync with your business's digital marketing requirements.
Here are the tips listed below. Check them out to make success through the customers you generate and gain side-by-side.
Decide the social networks you wish to use
Draw inspiration from other brands doing well socially on other social media platforms
Create a social media content calendar
Write compelling content – which is also at par with the purpose of each network
Track performance and based on this adjust within the strategy
With all these points in place, you can be sure to keep yourself on track and allow the business to grow in a streamlined way.
Closing Words
Reading this guide, you can understand the importance of creating a robust and well-documented social media strategy. It is wise, therefore, that you set actionable goals and follow the steps above.
With these steps adhered to with utmost care and precision, you can successfully remain ahead of the curve. Also, you will succeed and get positive results through the plan you create. However, keep sure to keep your team updated about the plan for business growth to remain constant.
So, what are you waiting for? Be ready for change. Make your social presence felt to the maximum through the social media marketing ideas you implement. This is going to aid you to stand out from the competition right. It will also allow you to get the desired boost and strength to address customer needs in the best possible manner. This ultimately will enhance the ROI or returns on investments for you.
Author Bio:
Annie Walker, Enthusiastic Digital Marketer & Writer. Work for XLFoodies – a readymade food delivery clone product of XongoLab Technologies. Like to write articles and blogs about new technology, mobile apps, and trends.
---