The Future Scope of Chatbots – From the Eyes of a Marketer
---
The future scope of chatbots can be evaluated by its present demand and scope. Remember how back then we used to think that someday the bots will rule the world? They could perform most of the tasks a human does with double the speed and with double the efficiency?
Well, thankfully or not, that time has not come yet, but ‌the future isn't that far away…. Bots are slowly taking over a lot of tasks which earlier a human used to do…it all began with using them as AI personal assistance giving birth to the Siris and the Alexa's of the world…then came the Facebook, integrating messenger bot on its platform..it made our lives easier so we loved it… Marketers quickly realised the benefits a chatbot could bring to their businesses. Time passed away… and now, the chatbots have become the more advanced human agents…Now we see them everywhere – websites, E-commerce, social media, even in our homes… Businesses use chatbots for a variety of applications – market research, lead generation, customer service, sales assistant, customer outreach, lead nurturing and the list goes on…
Let's have a deeper look into what chatbot technology is in simple terms, 3 major chatbot applications for your business and the future scope of chatbots.
What is chatbot technology?
Let's keep it simple. Chatbot technology is a computer program which is designed to give you information based on the command you choose. For example, let's say you're on an E-commerce site and you're looking to buy a medium-sized, long sleeve top. Now, either you can waste your time by looking through the hundreds of similar products available or you can just type in your query and ask the chatbot to find your desired product.
A good example of this is the brand Snap Travel. They have a Facebook Messenger bot that helps people find their ideal hotel deals.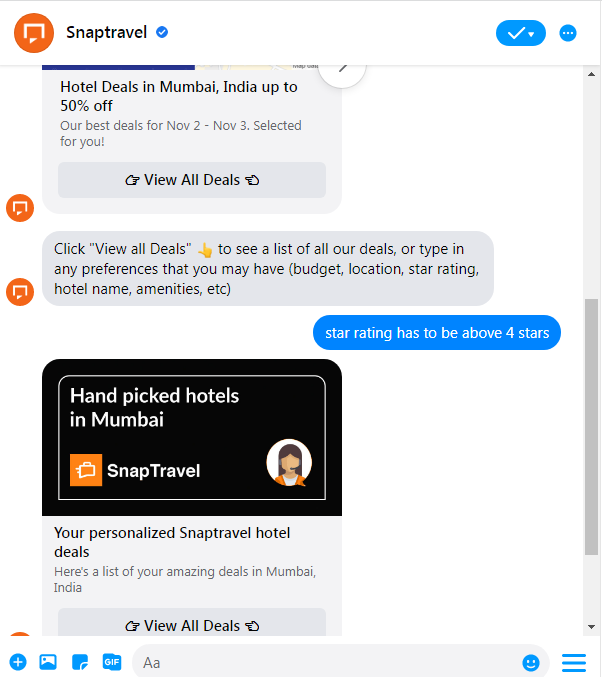 3 Major Chatbots Applications for Businesses
According to a report published by Drift, usage of chatbots as a brand communication channel saw a tremendous increase of 92% since 2019. Not just that, the statistics show that the vast majority of consumers have neutral or positive experiences with chatbots. It's clear that the future scope of chatbots is huge.
Driving More Sales
Chatbots have already proven to be a great brand communication channel but you may find them just as useful for driving sales to your business. Deploying a chatbot on your social media or website through which your customers can easily place their orders can help you get more sales. WhatsApp Business already has an option to automate your interaction with your customers. You can send broadcast messages, catalogues, pictures, videos depending upon the query of the customer.
For your website, you can place a Facebook Messenger bot or have one built through chatbot builders like Appy Pie, Giosg, MobileMonkey.
You can even integrate them within your CRM to automate your sales process. Use it to better segment your target audience based on the queries your chatbot gets. It's a great way to engage with your customers, gain insights from them and make it easier for them to make a purchase.
Increasing your organisation's productivity with HR chatbots
Whether it's automating your onboarding process, answering frequently asked questions, collecting feedback or offering training for employees, a chatbot can significantly increase your organisation's productivity by saving you more time. There are several chatbots available in the market that can help you seamlessly automate your HR related activities. For example, the chatbot, Bot-Assistant Moon can help you provide training to your new employees, track their progress, answer their queries, identify their skills gap with quizzes. Another chatbot, Joonbot helps you pre qualify candidates at scale and build relationships with them.
Monitor Your Customer Data
With Google's The Privacy Sandbox update and Apple banning 3rd-party cookies, it's safe to say that a cookie-less future is coming up soon. As marketers we cannot anymore rely on 3rd-party data to carry out our marketing campaigns. This is where a major application of chatbot comes in.
Since your customers are willingly interacting with your website chatbot, it might prove to be a more reliable channel to collect first party data insights from your customers, identify popular queries, user paths, and trends. Integrating your chatbot within your marketing strategy to increase your website retention rate would prove to be beneficial but to do this you need to first make sure your website is SEO friendly. Here's Ginger Media Group's blog that discusses 5 key elements of SEO you should take care of.
You can launch promo codes, lottery coupons or a special offer that the customers can only avail through having an interaction with your website's chatbot or filling out a short feedback form – the task and incentive could be anything.
The key here is to engage your customers with your website's chatbot, get them more comfortable and used to using it often. This way you would find it a little easier to get quality first-party insights from them and it would also help improve user experience for them.
What is the Future Scope Of Chatbots?
Needless to say, chatbots have seen a tremendous increase in the past few years. Online retail businesses found to have the greatest customer-acceptance of chatbots – Invespcro.
From SaaS businesses, SMBs to large corporations like Walmart, it seems everyone's getting their hands on integrating a chatbot in their system.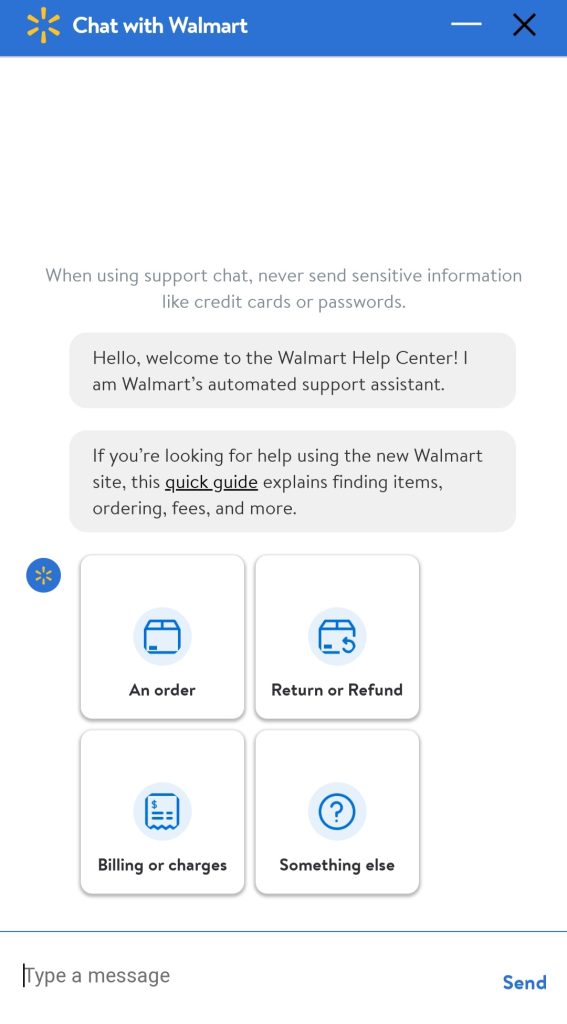 Currently, chatbots are already being used for personal assistance, for marketing applications like customer service, improving user experience, assisting in product sales, collecting feedback and much more. Given the ease and efficiency that a chatbot brings, the future scope of chatbot looks bright. As businesses develop their marketing strategies and customer acquisition processes, we could see a significant increase in the use of chatbots.
Also, with the future moving towards AI assistance and automation, chatbots are more likely to gain more popularity and acceptance by the masses.
---