The 4 most Successful .com Domains and how yours could be next?
---
Many businesses have become household names through their digital presence worldwide.
On the internet, some corporate giants have established unmatched dominance and have monthly website visits of billions.
What meets the eye is that most of these business websites have the most popular domain extensions worldwide: .com, .org., and .net.
The reason for their popularity is simple: trustworthiness. Because users have developed a familiarity with these extensions. A .com domain in particular assures users that the website is legitimate and does not perform any fraudulent activities as .com is mainly used by established commercial website owners.
So, what are the 4 most successful .com domains for any online business presence and how have they become some of the most visited business websites?
Facebook: Facebook is the most active social networking website since its launch. It was the first of its kind that helped people to connect no matter where they are around the world. Developed by Mark Zuckerberg, this .com domain website is still among the ones ruling the social media world, attracting over 2.7 billion active users daily in 2020 according to statista.com. With an easy to access app that pings its users with regular notifications, it encourages users to return in regular intervals, which leads to many high-frequency platform users.
YouTube: YouTube is an online video streaming platform launched in February 2005. It allows its users to upload videos and share them with others. In 2006, Google bought YouTube which made this website rank even higher in search engines and eventually a brand name in the .com domain. Many successful influencers promote their YouTube channels to their audience and followers by announcing new videos to their subscribers with notifications or via an email newsletter. This and its popularity on search engines for high volume SERPs leads to YouTube.com having 2.1 billion daily users worldwide in 2020 according to statista.com.
Reddit: A community forum platform that is right now the biggest source of user-generated content also has a dot com extension to its domain. This website is important for people who want to conduct in-depth research and it offers its users over 130,000 sub-forums and communities. All Redditors can post their content regularly, which led to 1.7 billion active users per month in 2021 according to statista.com.
Quora: The world's biggest Questions and Answer community website also uses the dot com extension with its domain name. They have kept a steady growth rate and are trusted by millions of users. According to Wikipedia the website was visited by 300 million users per month in 2020. Like Reddit, it offers many forums and subforums and pings users via email and app notifications when new posts go up in their groups or forums and all users can contribute content regularly.
The Success Formula to a top performing .com Website
As shown with the above examples, many .com websites are household names trusted by billions of users hence why a dot com website extension is a great starting point for any business website.
Let's see how you can get started.
Step 1: Buy a .com domain
Firstly, to get into the list of websites that make it big, you need to buy a domain name with a .com extension. Now, you might want to do some research about domain registration prices for .com domains and you will find the cheapest .com domain name registration for $5.99 at SeekaHost when you sign up through the new web hosting control panel SeekaPanel. Here you can get your website live within 5 minutes with the best WordPress website hosting, just check this short video tutorial: https://www.youtube.com/watch?v=WzG4VrlKPo0&t=24s.
With speedy loading times and solid 99.9% server up time, this is exactly what you need to build a .com website that can compete with all the top websites mentioned above in the future, if you put in the hard work as these companies did.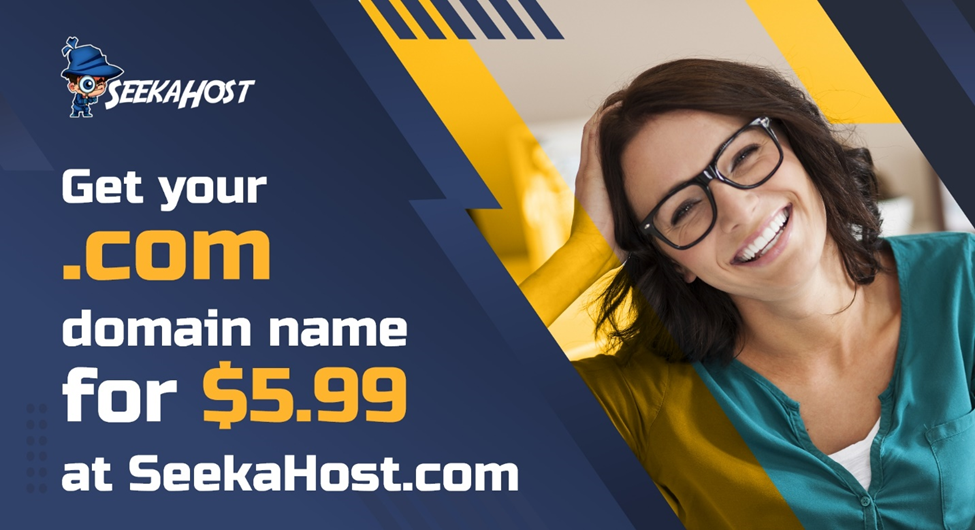 Step 2: Work on the structure of the website
When you have an idea, and a domain name on which you can build a website, you need a structure before the actual development starts. This is called a prototype of the wireframe. You need to know what purpose your website will serve and how. For example, if you click a tab, you must know where it will open and what purpose it will serve. Once you are clear about all of these functionalities, you will be able to develop the website more efficiently. In most cases, you either hire a web development team or a marketing agency to do the web design. In both cases, you need to give them a brief about how you want the website to function and look.
Step 3: Focus on the content
When you have a structure, all the pages are set up and all the functionalities on the website are in place, you need content. Content is something that will tell the visitors what the website is all about. It will help them navigate through the website and inform them what purpose a specific page or function serves. This establishes that you have created a user-friendly website for the visitors by providing them with everything that they require to understand the purpose of the website. Ideally, the content is SEO and reader friendly for the website to rank better on search engines for improved online visibility.
Step 4: Perform all the SEO activities
When you are done with the structural development and the content, the next thing you need to implement is SEO (Search Engine Optimization). DIY SEO or SEO through a consultant or agency is something that takes your website to the sea of endless users who search for something related to it on Google and other search engines. There are many things that you can do to improve the reach of your website and you need to make sure that you keep improving continuously to constantly hold your place in the competitive market.
Step 5: Focus on what the people require
The first rule of building a popular .com website is designing something that is in high demand. If you want your website to hold its place in the market, you must always think about the future, because momentary issues attract multiple websites and apps, but when you look at the bigger picture and create a solution for a future problem, ahead of its time, you are most likely to lead the market for a long time. While others will be busy creating solutions, you may have already executed and offered yours, making you a market leader.
There you have it. Every website, no matter how powerful and popular, had to be set up and started somewhere. Get yourself on the web property ladder with the right .com website for the best start to a successful online platform in the future. And best to do this with the best web hosting services at the best prices.
Manuela Willbold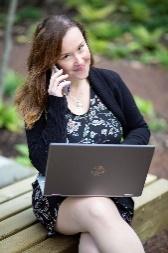 I am an Online Media & PR Strategist at ClickDo Ltd. & SeekaHost Ltd. and an SEO Copywriter and Educator by Passion. I am also an editor of many News and Education blogs and manage blogs for business marketing. I have completed a journalism summer course at the London School of Journalism and manage various blogs.
---