Technical SEO Sorted: Deep Dive into JetOctopus SaaS Crawler
---
SEO experts are always in search of a website audit tool that provides insights from various angles. However, with the availability of so many tools in the market, choosing the right one can be an uphill task.
Don't fret, as we'll take a look at an excellent and affordable tool that covers all the major SEO areas — it's called JetOctopus.
JetOctopus breaks down significant issues in a website and identifies the SEO problems that need immediate attention. This ends the search for experts who are seeking a tool that provides actionable results in less time.
This detailed JetOctopus review will help you decide whether it's the right tool for you.
What is JetOctopus?
JetOctopus is a content and SEO toolkit that uses a problem-centric approach to analyze website pages and help users identify any technical SEO problems affecting the site's performance.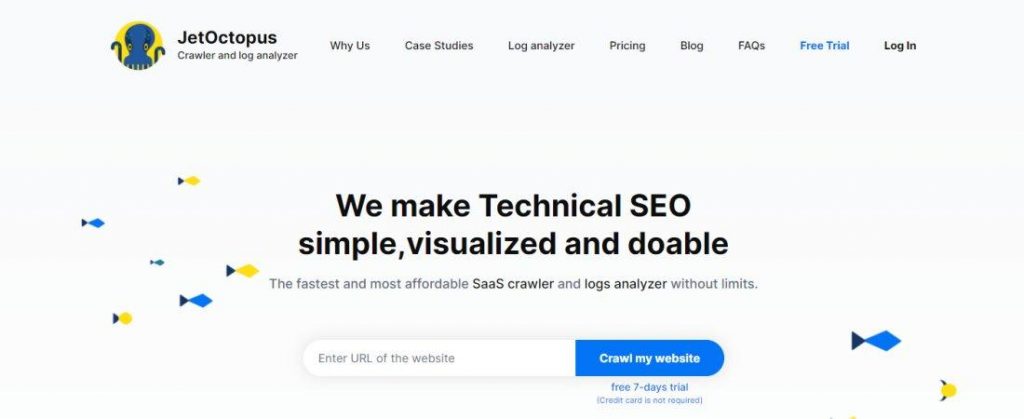 Features Of JetOctopus SaaS Crawler
Let's take a look at some of the key features that make this SaaS crawler stand out amongst its competitors.
Top-Down Approach

JetOctopus focuses on the major issue with your website, followed by the more minor problems that contribute to it. There are different categories, and you can choose the issues you need to deal with accordingly.
The identified issues could be missing metadata, broken links, failed redirects, etc. Availability of more than 150 filters adds to the convenience. Easily select the pages you would like to deal with first.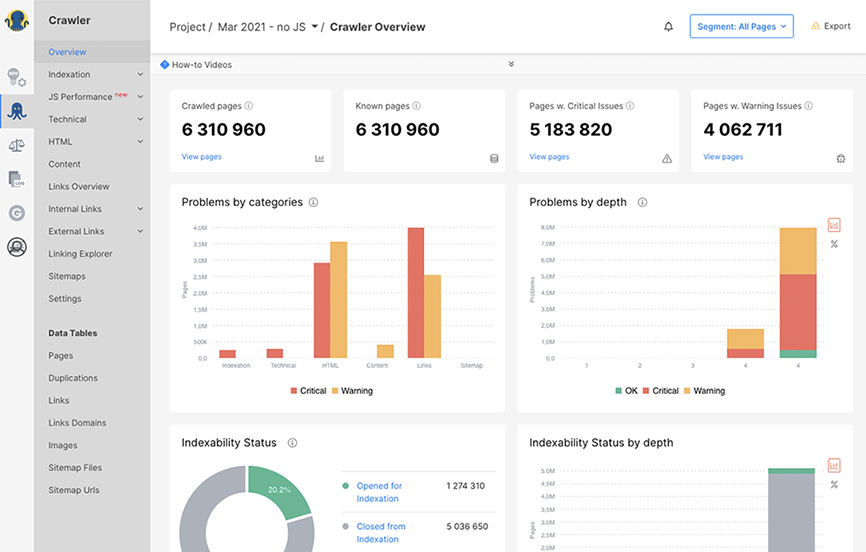 Links Explorer Helps Create Balance
It's crucial to be aware of the usage of inbound and outbound links on your site. A proper balance between the two drastically impacts the performance and ranking of the site.
That's exactly what this feature is for. Not only it helps you understand the number of both these links on your website, but it also enables you to get rid of any broken links that affect your site's user experience and make you lose potential customers.
In-Depth Analysis Of Bot Behaviour
A comprehensive log report makes it easier to analyze badly behaving bots. It gives in-depth information regarding the bots that crawled your web pages. You can identify the web pages that weren't crawled, the bots that caused issues, etc.
Having this report enables you to block bots that cause problems. You also get the option of restricting bots to specific web pages. Analyzing this information and taking action is crucial as bots highly affect your website performance.
Easily Connect With Google Search Console
Track your keyword performance at ease by connecting JetOctopus with your Google Search Console account.
Identify the pages that bring the most traffic, keywords that help you rank, and other vital information. The categories provided make it easier to analyze and get to the root of the cause quickly.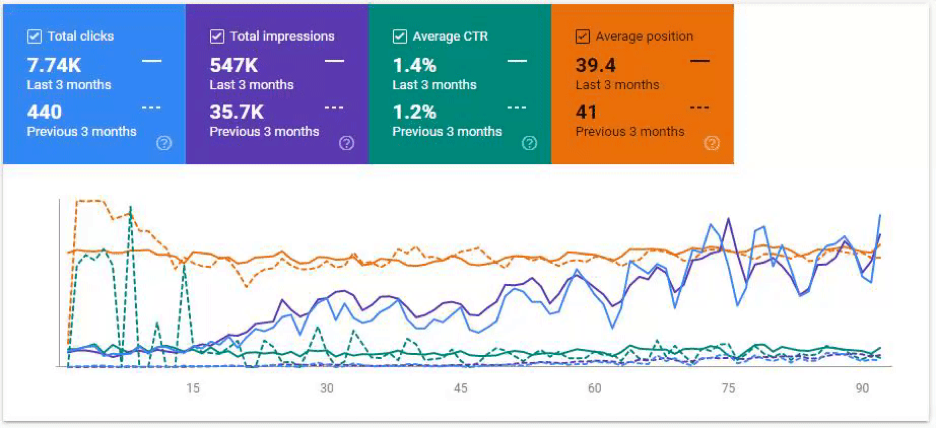 Effective Performance Tracking With Crawl Comparison
Crawl comparison helps in comparing two crawls to analyze website performance in specific durations. This information helps you in understanding the improvement or downfalls that your website experiences. Using this data, you get the idea of what works best for your site, and you can modify it accordingly.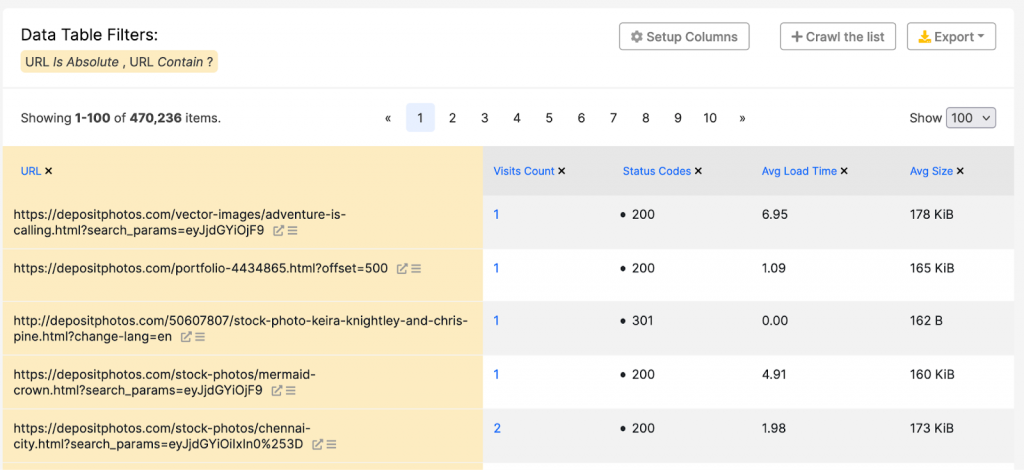 Responsive Customer Support
Proper assistance is crucial in the initial stages of using the tool. With a responsive live chat feature, you get answers to questions when required. To ensure you can get back to the assistance provided, you receive a transcribed email of the same.
Key Benefits Of JetOctopus
Let's move forward with some of the key benefits this SaaS crawler offers.
User-Friendly Interface
This SaaS crawler provides a bunch of information. Despite the volume, it's still easy to understand and use. You won't get confused or lost amongst the pool of vast data.
To get acquainted with some tools, you need time, effort, attention, and sometimes training. But this tool is user-friendly, and every information is broken down into categories for better understanding.
You don't have to be an expert in the field to use this tool. After visiting the dashboard, you clearly understand the more significant problem and the smaller ones associated with them.
The page speed report helps you quickly identify the pages on your website that aren't performing well. Since it is a crucial factor in your ranking, it's vital to improve it at the right time.
The acquired data is neatly displayed on the dashboard, and the side menu offers filters for convenience. Assembled information followed by easy navigation makes this SaaS crawler tool preferable amongst users.
Super High Speed
The task of a SaaS crawler tool is to identify crawling issues hindering a website's growth. JetOctopus is a cloud-based crawler that is super fast at performing its task. It can read up to 250 pages per second, making it one of the fastest crawling tools.
Most crawlers can take up to an hour to finish the audit. But with JetOctopus, you receive an email within minutes informing you about the completion of tasks.
Your computer's power is free as it's a cloud-based crawler. Other crawlers rely on the computer or laptop's power to crawl through websites. This adds to the convenience if you are simultaneously working on various projects.
Effective Content Analysis
In-depth content analysis helps in identifying the content that needs modification. You get information regarding the pages containing images that affect the page speed.
This helps in filling the content gap and providing apt content to the users. The manual content analysis could take hours, and you would still miss out on crucial data. This tool easily analyzes multiple web pages at the same time and offers quick results.
Affordable Pricing
The pricing of JetOctopus varies based on the volume of analysis and module you need. You have three different analytic services to choose from, namely—crawl, log, and GSC visualization.
There are restrictions associated with each plan, but only on the number of web pages you can crawl, not on the websites.
Undoubtedly, a perfect blend of three is crucial to improve your ranking in search engines. You have the option of selecting any one or all three if you prefer.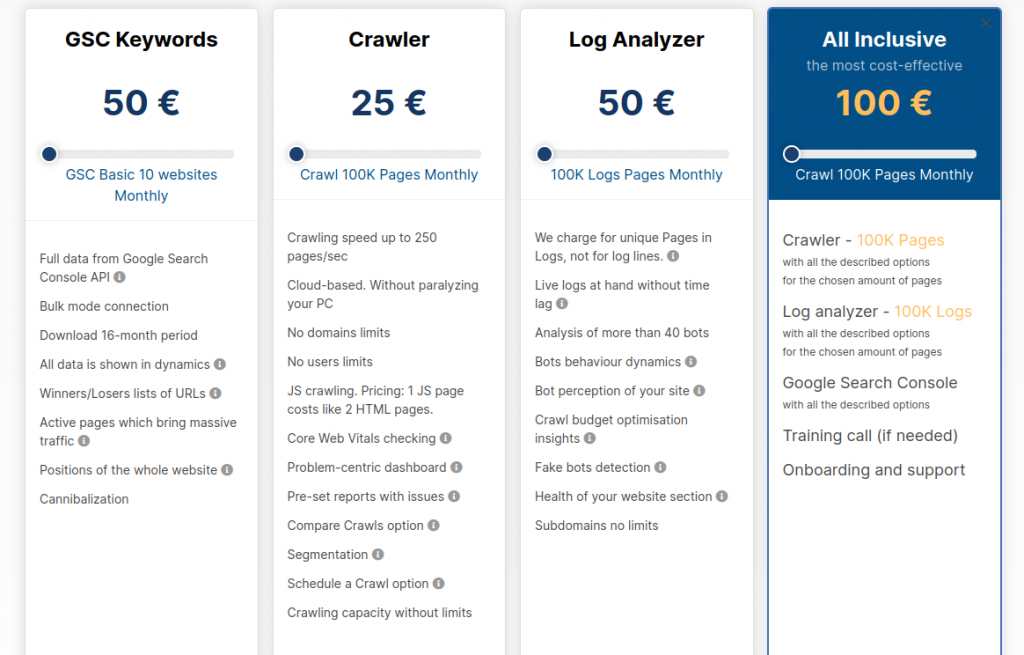 As you can see above, you either get the option of selecting each module separately or an inclusive package. The inclusive package is cost-effective and comes with everything you require.
All these plans have certain limits associated with them. But there is a different plan for $300 that eliminates some restrictions that the other plans put forth.
Customize the plans as you prefer and go along enjoying the benefits of the same. Get started with the free 7-day trial to see if it fits your requirements.
Drawbacks Of Using JetOctopus
After going through benefits like high speed, user-friendly interface, and excellent customer support, let's look at the other side of using this SaaS crawler.
Despite its superb functionality, some features are still in beta testing. This makes it hard for users who are stuck at some point. But their customer support is always there to help you deal with any issues.
Though it has a user-friendly interface, some people still find it hard to use it in the initial stage. The experts in the team are invested in making it more convenient for the users.
Final Verdict
In a nutshell, JetOctopus is an excellent tool for all your SEO audit needs. It is one of the fastest and most efficient SaaS crawlers that provides you with enormous data and information to effectively analyze your website. The best part? It's super affordable to use.
Get started with the 7-day free trial and explore your website with one of the best SEO audit tools. With time, you will see how the insights provided by this crawler can help you level up your ranking game.
---