SEO Forecasting Explained: What It Is and How It Can Help Reach Your Marketing Goals
---
Search Engine Optimization (SEO) is a central pillar of modern marketing strategies. Without it, you'll struggle to generate organic traffic to your website, ultimately losing your important brand visibility and revenue.
In this article, we'll look at a crucial SEO tactic: SEO forecasting and explain how it can be used to help you reach your marketing goals.
What Is SEO Forecasting?
SEO forecasting involves using website traffic data to predict traffic potential, the value of search traffic, click-through rate (CTR), and other content marketing performance metrics. In other words, it is the science of generating predictions about future website traffic by extrapolating from known traffic data with the ultimate purpose of informing SEO strategy.
Why Do Marketers Use SEO Forecasting?
Because seasonality can affect traffic volume and eCommerce sales, having an understanding of when your key metrics will rise and fall can inform strategic business decisions such as how, when, and where to invest resources.
For example, online stores often find that SEO content offers the best return on investment during seasonal peaks such as the holiday shopping period. Conversely, investing in paid ads can be a more rewarding tactic during other time periods.
But as every industry and each individual business follows different seasonal trends, it isn't enough to merely assume that traffic and sales will follow general patterns. To anticipate when to expect peaks and slumps in traffic, marketers use forecasting techniques to inform their SEO strategy.
How to Gather Data for Forecasting
In order to make predictions about future traffic you first need to understand current visitor patterns. Website traffic gathered from your own digital assets is known as first-party data. Third-party data include those data that you collect from external sources.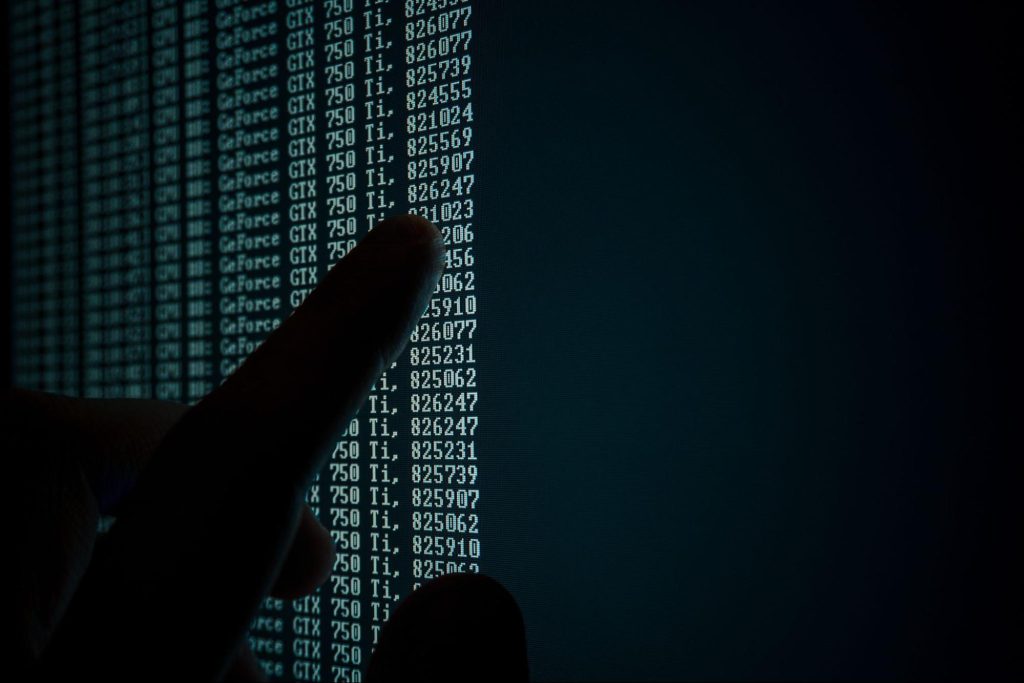 First-party data
First-party data refers to the information you collect about your site. Historical data such as visitor count and bounce rate are some of the most fundamental measurements used in SEO but modern analytics and reporting tools such as Google Analytics can give you a much more detailed picture of your website traffic.
The predictive models used in SEO forecasting also take into account things like session duration, traffic source, cookie data, and of course, search data.
The more profound understanding of the make-up and behavior of visitors to your website that an effective first-party data pipeline can generate is essential if you want to provide your customers with a higher level of customization. In an online environment in which people tend to applause digital experiences that are found to be more personal, this kind of data becomes invaluable.
Third-party data
Third-party data refers to the information collected from external sources. It is either purchased from companies that deal with data they have collected or from publicly available open data sources.
If you collect information about websites you don't own such as information on your competitors, that's a kind of third-party data. Consumer data purchased from digital sales and marketing intelligence platforms is another type of third-party data.
Top 5 SEO Forecasting Tools
Thankfully, you don't need to manually process mountains of data covering the last decade or more if you want to forecast your SEO performance. There are several tools designed to make forecasting easier. Here are five we think you should know about.
Google Data Studio
Part of the Google Analytics suite of data tools, Google Data Studio is used by SEO practitioners and digital to create interactive dashboards and automated reports. It allows you to import and visualize data from spreadsheets, Google Analytics, Google Ads, BigQuery, and a host of other data sources.
Thanks to integrations with over 150 cloud, SQL, e‑commerce, and digital advertising platforms, Google Data Studio is one of the most powerful sales enablement tools for transforming raw data into strategically valuable business intelligence.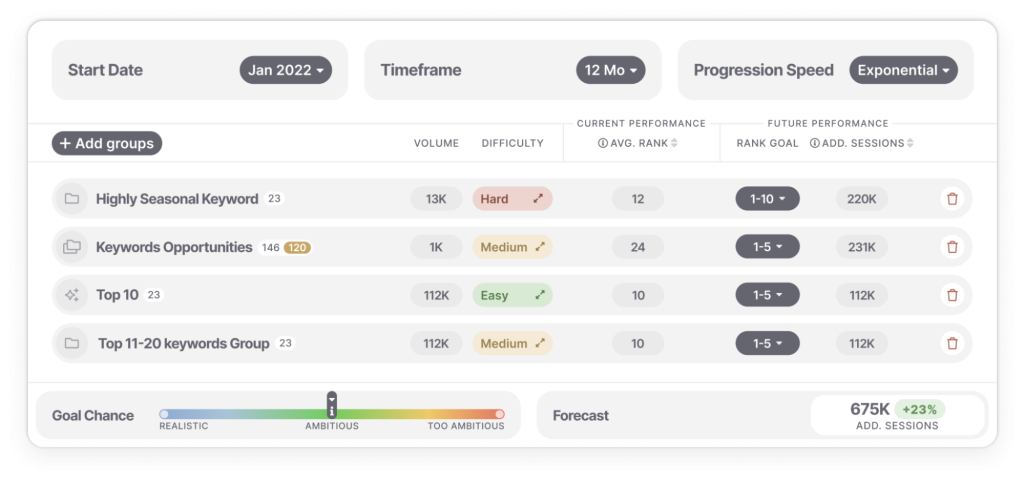 Keyword Forecasting by SEOmonitor
One of the leaders in SEO forecasting technology, SEOmonitor's keyword forecasting tool incorporates a range of variables such as SERP features and device mix into its models to create more accurate predictions.
The detailed picture of keyword potential that SEOmonitor generates means that you can make more informed keyword targeting decisions based on expected click-through and conversion rate rather than search volume alone. For example, it could help you understand the relative potential of targeting the search term "small business VoIP" versus "VoIP" as a standalone term, allowing you to adjust your SEO strategy accordingly.
Prophet by Facebook
Prophet is a procedure for forecasting time series data developed by Facebook and available as an open-source script in R and Python.
As a general-purpose codebase rather than a dedicated SEO tool, Prophet requires a certain amount of programming knowledge to use and thus might not be the right solution for everyone. But if you do have the requisite Python or R programming skills, you can create detailed traffic forecasts out of a wide variety of data sources.
Ahrefs' Traffic Site Forecasting
Thanks to an impressive arsenal of analytics capabilities and educational resources, Ahrefs has become one of the biggest names in modern SEO. In fact, their traffic analysis and prediction tools are used by everyone from SEO rookies to specialist content marketing services.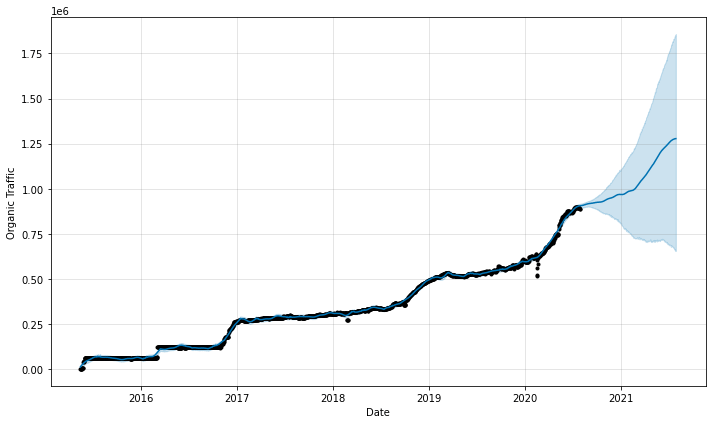 As the above image shows, Ahrefs' forecasting graphs visualize the foreseen traffic for a given site. That blue line represents predicted traffic growth (or decline), with the shaded area being the upper and lower uncertainty level. According to Ahrefs, there's an 80% probability of actual future traffic being within that range.
Ahrefs provides easy-to-use scripts for forecasting models and detailed guides explaining how to adjust these to suit your requirements.
Moreover, because Ahrefs is one of the market leaders in providing third-party SEO data, you can use a single platform for all your forecasting needs and keep predictions for your own and your competitors' website performance in one place. It makes competitor analysis easier and means you can direct resources more efficiently according to the strengths and weaknesses of the competition.
BrightEdge Opportunity Forecasting
Opportunity Forecasting by BrightEdge provides you with the projected impact content and search optimizations will have on key metrics, helping marketers prioritize their content projects and make the business case for the value of SEO.
Making it easier than ever to view forecasts for revenue, conversions, website traffic, and more, Opportunity Forecasting is the ideal solution for translating traffic data into impactful revenue reports that demonstrate the return on investment for SEO content marketing.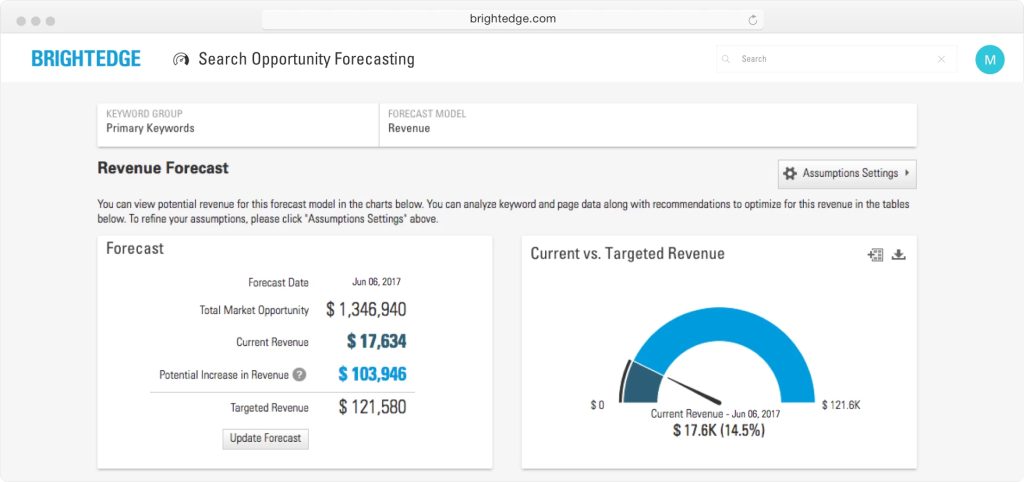 SEO Forecasting: An Opportunity to Make the Most of Your Data
While any SEO is better than no SEO, optimizing your website without understanding traffic cycles and seasonal trends is a missed opportunity to maximize the return on investment for your content marketing.
By incorporating forecasting into your SEO efforts, you can ensure that you make the most of the data available to you and best position your website to attract the most traffic with the highest conversion rates.
Using the tools discussed here, anyone can start making predictions about how their content will perform in the future. So whether you are a seasoned optimizer or just starting your journey in Search Engine Optimization, take your SEO to the next level and achieve your marketing goals with SEO forecasting today.
Author Bio: Grace Lau – Director of Growth Content, Dialpad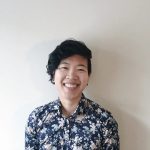 Grace Lau is the Director of Growth Content at Dialpad, an AI-powered cloud communication and CX platform for better and easier team collaboration. She has over 10 years of experience in content writing and strategy. Currently, she is responsible for leading branded and editorial content strategies, partnering with SEO and Ops teams to build and nurture content. Grace has written for domains such as Brightpearl and VoilaNorbert. Here is her LinkedIn.
---