How to Write Content as per SEO Requirements?
---
SEO and content have Co-relation with each other. Unique and original content helps to boost your website ranking.
Without SEO, your content is not able to reach your ideal audience. That is why SEO is much more important to content. A good relation between Content and SEO does wonders for your website.
If the title catches your attention to read this article and you want to know how you can write content as per SEO requirements, you are in the right place.
To enhance your SEO base writing skills, you have to develop a habit that you'll go through the proper research for that topic and analyze what others are writing about before writing every article.
Write Content As Per SEO Requirements:
Content that is generally created to rank in search engines like google is called SEO content.
There are several web pages on the search engine, so generally, it isn't easy to reach your ideal audience.
Write As Readers Point Of View:
For one reason, this SEO type advice is number one. It seems simple enough, yet for all the wrong reasons, so many firms produce their content. Write material that calls for or answers inquiries about the interests of your target market. Not all postings must connect to your product or service, but all of them should relate to the industry. Please make sure you and your organization are an industry authority by generating fascinating and valuable SEO-friendly content and do it better than your competition.
Keyword Research:
Keyword research is fundamental before writing content. First, you have to analyze which keyword you should use in your article to rank it high. For SEO, selecting the proper keyword for your content is crucial. You can use tools like google keyword planner, keyword analyzer, or uber suggest to analyze which keyword is right for your content. We consider google keyword planner to research keywords.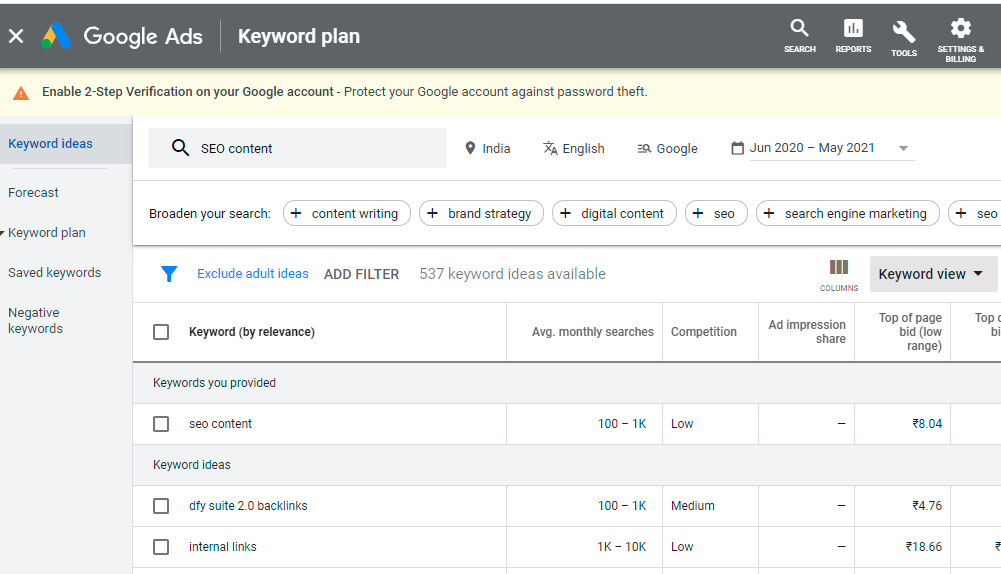 Same Roof For All Of Your Content:
All the content you create is must be on the same platform so that your audience doesn't get confused and clearly convey what they need exactly. Get your website credit and visitors by maintaining your unique content under your domain name. This implies if you have a blog opting out and hosting the blog on your own domain with WordPress or Blogger (i.e., www.example.com/blog). Any time you are able to exhibit different types of unique material, such as films, infographics, or white papers, you should also include them in and post them on your website.
Make Creative(Catchy) Headlines:
Creative and catchy headlines easily get the reader's attention to read the whole article. If they click on the headline boom, you won the 50% battle here. Now the rest 50% battle is up to the content you wrote is easy for the reader to understand or not. To make creative and catchy headlines, you have to easily use emotional and powerful words to engage your readers. The more creative and catchy headline is, the more amount of attention it will get from the readers. Make sure you write creative and catchy headlines for readers that will pack a punch. Using tools like a share through headline analyzer to check its engagement score up to 60% score for your title is considered a good headline score.
Use Rich Keyword Phrases:
Use relevant keywords in your headlines as well as throughout the content the more it uses rich keyword phrases frequently in a natural way, so your readers and the search engine will identify what your content Is all about. But be careful you do not cause keyword stuffing for your content. It will harm your website and cause you to search engine penalties as well. Use keywords wisely and with care and adhere to a natural feeling, besides employing keywords across the whole corpus of your content, blog tags by labeling several essential keywords for every article.
Structure Your Posts:
Build a structure for your posts written to increase the reader's interest to read the article. If you add value to your article, the reader will definitely get involved in your writing and give his time to read the entire article as simple as that. Your post material is extensive yet may be quickly lost in an inefficient, unstructured structure. Bridging your material into smaller paragraphs with headings will make your readers simpler to read. The back-end structure is also crucial for search engines. To maintain a structured article, it is vital to use a suitable tag hierarchy for labeling headlines (H1 for headings, H2 for subtitles).
Incorporate Imagery:
Take pictures of your posts, pop! People are visual. People are visual. A picture may make a great impression on your blog content. Do you have an account with Pinterest? In addition, postings with photographs may be put up to support your blog across other social media networks, adding another outlet to your website's traffic.
Content With Social Media:
Social networking is an excellent tool for enhancing the reach and sharing of your content. Post every new piece, with a comprehensive description and invitation, on social networking sites and in fora. Since social media's power depends on sharing, sharing buttons on each blog post is exceptionally vital. If you want to manage how your links appear when shared, using Twitter or Open Graph for Facebook (technical) to install Twitter cards will increase your shared links and help you get your click-through rates.
Execute Good Authorship:
Google Authorship is a quick and straightforward means of linking your work to a given author. This results in rich snippets for your articles with the author's photo and the title of the piece. Google Authorship is wonderful for marketing and may also improve your content rate by clicking on it. Learn how to create Authorship for your website if you're an author.
Natural Link Building:
Link building has gone a long way since the purchase of links and connection farms, but for SEO, links are still crucial. When another website picks up your article, the link to your articles or website in your post will ensure that the link back to your website. By placing an embed code on your site, you will be able to encourage content sharing and connect to the original source if you are creative about other content kinds like infographics and visions. Creating amazing content helps enhance sharpness and the chance that different websites connect to it.
Monitor YOUR ACTIVITY:
Keep up with your SEO content by monitoring your efforts. Google Analytics is a straightforward and freely available solution to measure your page views and average page time. Check factors like bounce rates and time-on-site to obtain an insight into how people engage with your site once your content has been accessed. In addition to the short average time spent on the page, if you find a low drop off, this indicates that your material was not relevant or, worse, not fascinating to what they were searching for. See also the number of social interactions (shares, likes…) to get an indication of your post's virality.
Author Bio: Vijay Rathod
Vijay Rathod is a content writer and blogger writing about digital marketing, personal finance, crypto and virtual offices. He did his post-graduation in journalism and mass communication. Vijay likes to Travel and enjoy food.
Vijays profile: https://in.linkedin.com/in/vijay-rathod-5803261a6
Image source: https://pixabay.com/photos/laptop-coffee-arm-desktop-notebook-1205256/
---