How to Use LinkedIn to Find Prospects for your B2B Brand
---
With close to 4 billion active users, social media has become an integral part of marketing for B2C and B2B brands.
But for B2B brands like yours, no platform is as effective in bringing in leads and driving sales as LinkedIn is.
That's why you must know how to use LinkedIn to find prospects for your B2B brand.
3 Reasons LinkedIn Should Feature in Your B2B Marketing Tool Stack
Why is LinkedIn such an invaluable tool for B2B marketers? One of the main reasons is that social media sells — even in B2B markets. Research shows that 75% of B2B buyers and 84% of C-suite level executives use social media to research buying decisions. That alone is reason enough to employ social selling in your marketing strategy. And why you must set a social media marketing budget for your brand.
But why LinkedIn in particular?
Let me give you three reasons:
1 It's a B2B Prospect Goldmine
LinkedIn has over 722 million users.
And most of them are industry leaders and influencers in their organizations. That makes LinkedIn a B2B prospect goldmine. What's more, most LinkedIn users are not looking for cute cat videos or Buzzfeed quizzes. When they scroll through their LinkedIn feeds, they are looking for solutions toa business problem.
2. LinkedIn is the Go-to Platform for 91% of Executives Looking for Quality Content
91% of marketing executives surveyed cited LinkedIn as their go-to platform for quality content. This automatically makes it one of the best platforms for B2B inbound marketing.
3. Effective for Account-based Marketing
There are over 50 million companies listed on LinkedIn.
With the rich data the platform provides, coupled with their lookalike audience feature, targeting the right companies and decision-makers becomes easier.
These three aren't the only reasons your brand should be actively prospecting on LinkedIn. But I'm sure they're enough to show you just how powerful the platform can be.
But like all tools in your tool stack, you must know how to use it properly for it to help you achieve your prospecting and lead generation goals.
How to Find B2B Prospects on LinkedIn — 5 Winning Strategies
Now that you see how valuable LinkedIn is for B2B marketing purposes, let's quickly dive into how you can leverage the platform to find prospects.
Optimize Your Company Page
One of the first things you must do to ensure you win at generating B2B leads on LinkedIn is setting up a company page. You must make sure you set it up the right way. And the right way to do that is to turn it into a lead generation page.
For your company page to be an effective lead generation machine, you must go beyond just stating your name, products/services, and location. You must make it interesting enough to lead people to your website. Besides filling in your basic information like company name, size, industry, e.t.c, here are a few tips to help you do just that:
Use Your Description to Sell
Don't make the mistake of using your description to talk about your company. Instead, use it to show the benefits your prospects will gain from doing business with you. Here's a great example from Stride Health: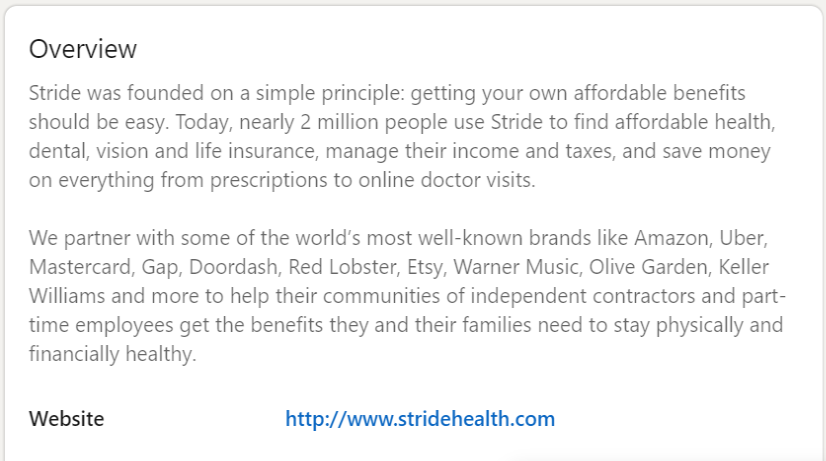 Make Your Page SEO-friendly
Craft your company page in such a way that when your prospects search for products or services you offer, your page shows up. You can do this by naturally including keywords in your company page copy.
Because the first two lines are the ones displayed in the preview, put more effort into those.
Use Engaging and Action Inspiring Words
Keep your prospects reading your copy by using engaging words. Don't use bland, generic words. Instead, use power words to help your content engage your audience on an emotional level.
Besides using engaging words, make sure to use words and language that inspire your prospects to take action — especially visiting your website.
Your company page is one of the most important assets you have on LinkedIn, make sure to leverage it to the fullest.
Get Your Employees Onboard
Your employees are another weapon you can use to find prospects for your B2B brand. Get your employees to be part of your marketing team by sharing your brand's content. You can also incentivize them to include your company info in their profiles.
This is called employee advocacy.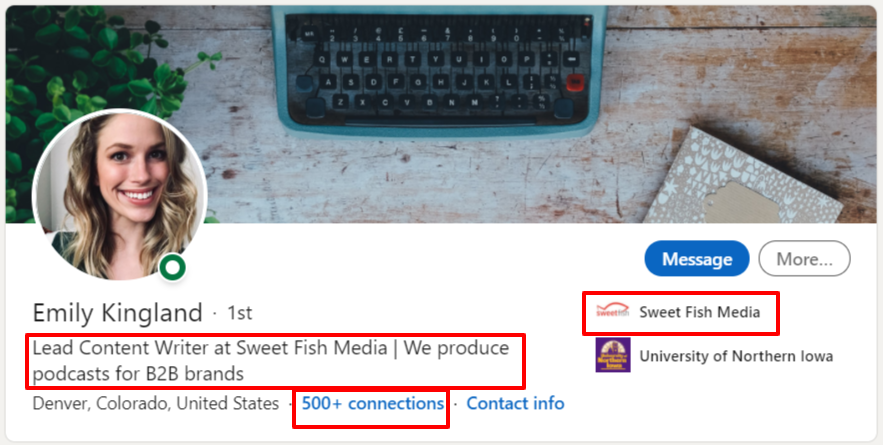 Why is employee advocacy so important?
The Human factor. Employee advocacy is a great way to give your brand the human touch. Yes, it is important even in B2B marketing.
The reach factor. On average, the collective reach of personal accounts is greater than that of company accounts.
The trust factor. A Nielsen study shows that 83% of people trust recommendations from friends and colleagues. So when they see a post from someone close to them, they're more likely to trust the brand behind the post.
The authenticity factor. Social media users value posts by other users more than they do posts from brands. This is because posts from users are deemed more authentic than corporate posts.
You should also leverage your employees whose content performs well. Help them develop into thought leaders and piggyback on their influence.
Don't underestimate the power of employee advocacy. It's a powerful B2B lead generation strategy that can help you find prospects that are a perfect fit for your brand. For this to work however, you must have an employee advocacy policy in place.
3 Build Relationships with Decision-makers
To find prospects on LinkedIn, you must be proactive in your activity on the platform. One of the aspects you must be the most strategic in is the relationship aspect of LinkedIn.
Build strategic relationships with decision makers in your industry. Called relationship marketing, this is one of the best ways to increase your chances of keeping your sales funnel brimming with viable leads.
Do this through your corporate account and encourage your employees to do the same. This is one of the few outbound prospecting strategies you can use on LinkedIn. That's why you must be careful to execute it well lest you end up being blocked, or worse still, in LinkedIn jail.
So how can you use LinkedIn to build meaningful relationships with decision makers?
Define Your Target Audience and Connect
Most people on LinkedIn are looking to build a network of relevant connections. That's why you must do your best to send out connection requests to people in your industry or related industries. It's easier for people to accept a connection request when they see that you share some things in common.
Send a Personalized Message When You Connect
Research your prospects before you send a connection request. This will help you craft a personalized message that will elicit a positive response from them.
Give Before You Sell
The temptation many marketers fall for is to pitch immediately their connection request is accepted. Resist this temptation as much as possible.
From the time you send a message with your connection request, to at least three interactions, try to add value to your connections. You can do this by sharing important industry statistics or some valuable resources. Gauge their response to what you share before you pitch your products or services.
Finding prospects on LinkedIn becomes easier when you prioritize building relationships. After all, it's only when people get to know you that they trust you enough to do business with.
Build Your Authority by Creating Valuable Content
Most B2B marketers cite LinkedIn to be one of their most instrumental content distribution platforms. That's mainly because of the way it helps you target the right audience.
And getting your content in front of the right eyes is essential to establishing yourself as an authority in your industry. Here's how you can ensure that the content you publish on LinkedIn helps establish you as an authority:
Conduct audience research. Knowing your audience helps you create a content strategy that's tailored specifically to solve their problems.
Use the right keyword. Using the right keywords not only helps your content get discoverable but it helps your prospects relate to your content.
Use the right hashtags. Hashtags play an important role on social media as they help boost your content's visibility.
Apart from these, research the kinds of content that work best in your industry. Does your audience prefer articles, posts, videos, or image heavy content (like a SlideShare)? Give your audience what they want and they'll value you as an industry thought leader they can trust with their business needs.
On the same note, make sure to post consistently. Establish a cadence so your audience knows when to expect your content. Also, end every post with a call-to-action to encourage engagement. Engagement is a metric the LinkedIn algorithm rewards by showing your content to more users. As a result, you become an authority in your industry.
Engage in Industry Conversations
One mistake many B2B marketers make with social media marketing is to use the "post and pray" strategy. This is where you post content and expect it to do all the heavy lifting in bringing in leads.
To find prospects for your B2B brand on LinkedIn, you must engage in the conversations taking place in your industry and around your keywords. This is one reason why starting a group or joining some groups in your industry is a good idea.
Engaging in these conversations helps you:
Showcase your expertise
Reach a wider audience
Boost brand awareness
All these are important factors that will help your inbound prospecting strategy yield results.
Bonus Tip — Leverage the LinkedIn Newsletter Feature
At the time of this writing, LinkedIn was still rolling out its LinkedIn newsletter feature. Not everyone has access to create a LinkedIn newsletter as it's by invite only.
If you have been afforded the opportunity to be a LinkedIn newsletter publisher, you must take advantage of it. It's a great way to further refine your contact list as only people interested in your industry, brand, products, or services are likely to subscribe when you invite them.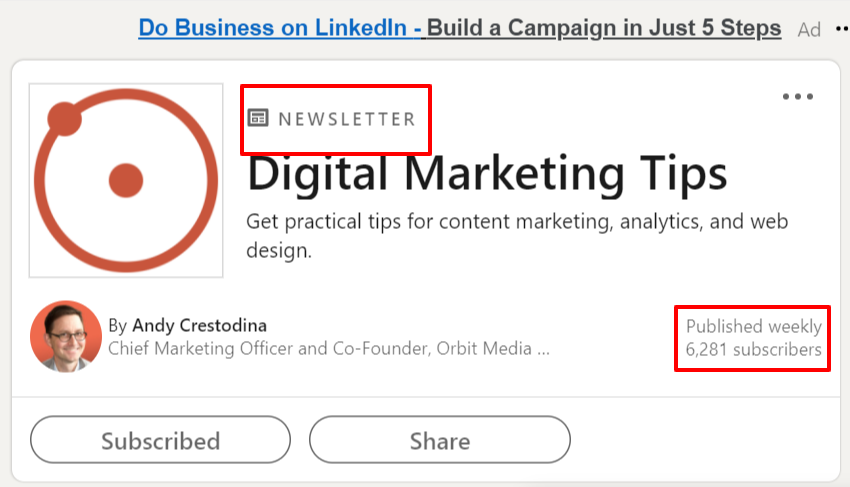 As with your email newsletter and LinkedIn content, make sure to invest in providing your subscribers with valuable content. Not only will this keep them engaged, but it will also help you establish you as an authority in your industry.
Using LinkedIn to Find Prospects for Your B2B Brand — It's No Longer an Option
As the most popular social media network among professionals, particularly in the B2B vertical, you just can't ignore LinkedIn. And as you can see, LinkedIn prospecting is not only a vital marketing strategy, but requires a lot of time and effort. That's why you must either hire a full-time or freelance social media manager.
If you can get your LinkedIn strategy right, getting prospects for your B2B brand will become easier. So go ahead, use the strategies outlined above to get started.
Neal Taparia is the co-founder of Imagine Easy Solutions, a portfolio of online educational services that reached over 30 million students yearly. Neal sold the business to Chegg (NYSE: CHGG), where he stayed there as an executive for three years. He's now pursuing a new initiative, Solitaired, which ties classical games with memory and attention training.
---