How to Support Your Remote Digital Marketing Team for the Long-Term
---
If your digital marketing team is going remote for the long-run, you must support your employees. Here are some tips to set them up for long-term success.
In an effort to slow the spread of Covid-19, many businesses allowed their employees to work remotely for the majority of 2020. While this was intended to be a temporary solution, some companies have decided that remote situations could work for the long-term.
According to the latest survey from PwC, less than 20% of business owners want to return to having all of their employees in the office. Digital marketing teams and SEO Firm in particular have adapted quite well to working remotely. Often, most of the work digital marketers handle can be done via computer and telecommunication.
However, things aren't all sunshine and roses. There are lots of new challenges, particularly for marketing teams. Squaretalks report on remote work found that collaboration and communication troubles were the biggest challenges. Additionally, remote employees struggled with staying engaged and focused.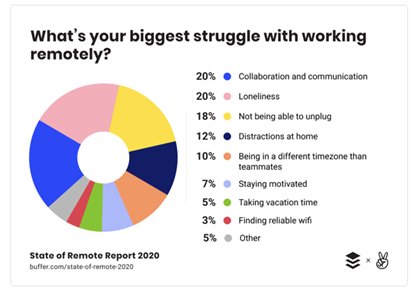 Managers and team leaders need to provide the necessary support for digital marketers who are going to continue to work remotely. Otherwise, their team could quickly start to lose motivation.
Let's discuss.
Find a Cloud-Based System that Works for Everyone
Remote digital marketing teams must have quick and secure access to the data they need to get the job done. Unfortunately, remote working situations actually leave data systems highly vulnerable to malware and cyberattacks. This risk is even higher for employees who use their personal computers to access databases that are not secured with firewalls.
The best solution here is for companies to invest in either a private, public, or hybrid cloud system. Public clouds offer flexible storage infrastructures through a hosting company. This is fine for non-sensitive data sharing like files and documents, but not ideal for information that needs more security. Private clouds are built specifically for a business through a confidential private network.
For most remote teams, a hybrid cloud may be the better option as it is a combination of public and private. This ensures that sensitive data is protected within the database, but information can easily be shared publicly throughout the cloud between remote users.
Consider Hiring Remote IT Assistance
Issues with the network, glitches, or more serious problems like data security need to be handled quickly. Marketers are not always the most tech-savvy – and trying to explain how to correct an IT issue remotely presents a lot of challenges.
Little issues with network connections can really slow down your remote marketing team's progress. Glitches with file sharing programs or internal communication systems need to be addressed as quickly as possible to allow your team to keep moving forward.
One solution here is to partner with an IT support service specialized in assisting remote workers. IT support providers can help with lots of technical tasks, from setting up hardware, setting up email srvr and software systems to troubleshooting network issues.
Some managed service providers (MSPs) provide services specifically for remote workers to ensure improved network security and backup data systems. This means that your remote team can safely access and share everything they need with their team – and ensure that all data is safely stored in case of emergency.
Minimize "Productivity" Tools
Marketing teams often use a lot of software programs to keep everyone organized and on-task. It is not uncommon for digital marketers to use project management software for task management, along with a digital suite of other programs for communication, file sharing, time-tracking, and more.
However, using too many of these programs for remote teams can slow down progress immensely. While some of these digital tools are necessary and incredibly helpful for aspects like remote collaboration, they can ultimately slow down progress when too many are implemented.
Instead, try to narrow down the tools and use ones that offer numerous features so everything is handled in one platform. There are plenty of great project management tools which allow teams to collaborate, assign tasks, share files, and even communicate via chat or video all in one place.
This makes it much easier to keep all of the important information stored in a single workspace and minimize frustrations like missed notifications.
Set Clear Expectations and Boundaries
One of the greatest benefits of working remotely is that it creates more freedom and flexibility. However, it can also be stressful since remote employees feel like they always need to be "available" and have a hard time separating work from life. According to research from OnePoll, 62% of remote employees felt more stressed due to increased pressures from their bosses to be available constantly.
Although some workers thrive in remote working situations, others may have a hard time focusing – depending on their environments. Some employees may have children to take care of or live in areas with a lot of noise, making it difficult to get much work done at certain times of the day.
Team managers should work with employees to set clear expectations so that everyone is on the same page. For example, workers should know if there are set hours when they must be reachable. There should also be discussions about flexibility, such as allowing employees to make up hours later in the evening if they need to.
Additionally, managers should work with team members to set realistic expectations for project completion. This will help to maintain a more realistic work and life balance that is sustainable for your team in the long run. Happy employees who are less stressed are often more productive and loyal to their employers – so working with them to create realistic expectations can bring about better results.
Conclusion
Having a remote digital marketing department can be quite beneficial for lots of reasons. But there are lots of challenges remote teams face and they may need some additional support from management to ensure that things go smoothly.
If your business is considering keeping your marketing team remote for the foreseeable future, take the time to see how you can set them up for success.
Author

Jody Edgar – THE SHOPIFY EXPERT Entrepreneur, Educator & Creator Born on the Pacific West Coast of Canada, Shopify Systems Sunbowl is a network of individuals who believe that building an e-commerce business should be energizing, challenging, and fun. Shopify Systems Sunbowl takes on projects the same way they live their lives, with purposeful balance. Shopify Systems Sunbowl is composed of a team that gets it done and gets it done right.
---