How to Protect Your Website From Negative SEO
---
In this post, I will walk you through the tips to follow in case of an SEO attack. 
Website owners who have experienced the attack will agree that this is not a fun affair. After months of extensive efforts, you wake up one day to see your website filled with spammy links, a penalty notice, or worse – a sharp drop in traffic. 
Unfortunately, not everyone fights fair when it comes to the SEO war. And there is no way of predicting your likelihood of the hit. Your number one defense from such attacks is to enhance the protection by following good SEO practices and monitoring your website regularly for unusual activity. 
Let's take a look at some of the strategies you can follow to protect your online reputation. 
What is Negative SEO?
Negative SEO is the method of using unethical practices and black hat techniques to sabotage a website's rankings. Generally, SEO attacks are targeted towards a competitor's website. However, sometimes these can result from bot scraping sites, link farms, and other protocols that generate links. 
This can take several forms, such as:
Duplicating your content and distributing it across the web

Building a large number of spammy and/or low-quality links

Generating negative reviews to influence SERPs

Creating fake social profiles

Removing the most valuable links on your website

Hacking your website and injecting it with anchor texts like 'viagra,' 'poker online,' and other spammy terms. 
During the past few years, negative SEO has become quite common. In fact, internet forums are filled with stories of successful black hat attempts. You can also hire someone easily to build bad links against any website via black hat community forums and freelance marketplaces. 
A similar incident happened in 2014 with Robert Neu of WP Bacon, a WordPress podcast site. He became a victim of spam links with the anchor text 'porn movie.' As a result, his website took a massive hit from Google. It lost  50+ spots for the keyword 'Optinmonster coupon' that was ranking on the second position.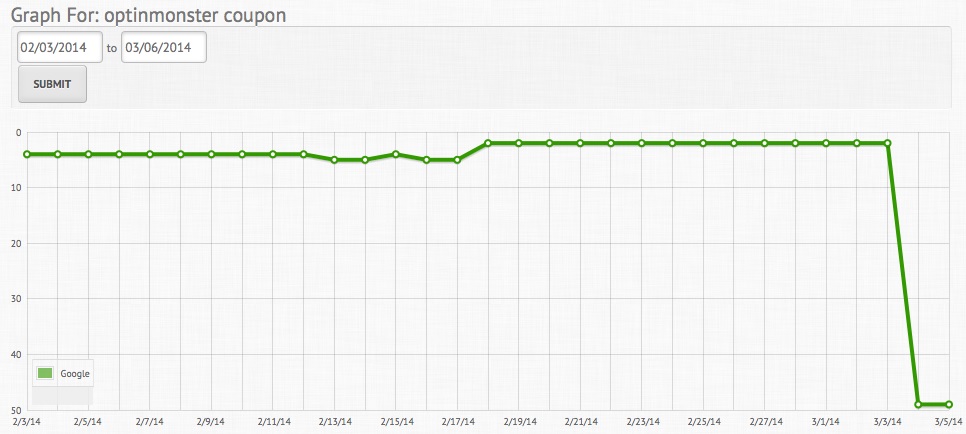 Before the incident, WP Bacon had some solid links, a Page Rank of 5, and an Ahrefs Domain Rating of 53 in the 21 months of being 'live.'
However, did that stop the SEO attack? No!
Was it fixable? Probably yes, but it would take him a lot of time and effort. Also, any 'fix' is pointless if the attacks continued!
This is why the adage 'prevention is better than cure' holds true when it comes to these attacks. With this being said, let's move on to our set of tips on how you can prevent negative SEO and keep your online profile safe. 
1 Setup Google Search Console
The Google Search Console provides free backlink data for your site. It enables you to assess your website's performance in search engines. And offer troubleshooting tips for any element that is behaving abnormally. 
You can easily set up your website for monitoring by Google Search Console by signing in with your existing Google account. It will also send you alerts if Google notices a fluctuation in your website's clicks and search traffic – compared to a week before. 
2 Audit your Backlinks Profile
Websites enjoy a stable upward-moving backlink graph as they continue their link building strategies. However, a sudden spike or drop should raise concerns, despite the efforts you are making. 
There are several free and premium tools available to check if someone is building links to your website. 
Generally, the standard is to conduct a website audit every 3 – 6 months. The frequency should be more often if you have a larger site with more links coming in. 
You might also see your links taking a strike if your website is hacked. The attacker can modify your content and include spammy links that are redirected to fishy websites. Since these types of attacks are usually hard to determine, a regular site audit becomes necessary to protect your site. 
Subsequently, you should also keep track of your best backlinks. Very often, the spammers will take a dig at your most valuable link and attempt to modify or delete them completely. As a precautionary measure, create tags for the best links so you can filter and monitor these links easily. 
If you do become a target of spam links, notify Google and disavow the links immediately.
3 Check for Duplicate Content
'Content is the reason search begins…in the first place!'
However, not everyone has the creativity to create engaging, readable, and relevant material to impress both – the search algorithms and readers. 
To beef up their content, these people resort to 'content scraping.'
Content scraping or duplicating content is the process of copying your content and passing it off as their own. They may also publish the content on other websites with spam links inserted. 
Plagiarism is an offense in the eyes of Google and can lead to penalization of your site. 
Keep a check on the content of your website with plagiarism tools like Copyscape. This will alert you if the content – same as your website is being published elsewhere. If you find duplicate content, ask the webmaster to remove the content or fill out a Copyright Removal Request on Google. 
4 Track Website Loading Speed
Another factor to consider when determining an SEO attack is the website speed. If your website suddenly becomes sluggish, make sure no one is sending out a massive number of requests. If they remain persistent, your site can crash as well. 
Keep an eye on the website loading speed. See if caching and optimizing the content helps improve the speed. If you suspect the speed to be unusually slow, determine where the traffic is coming from. You can also contact your hosting service or webmaster to catch the culprits. 
5 Monitor your Business Reviews
Negative reviews can hurt a business. No doubt about it!
Unfortunately, spammers can ruin the reputation you have built up throughout the years in a matter of minutes by leaving fake reviews on social media, forums, and listings such as Google My Business. 
Keep an eye on such mentions and report them as spam before they become widespread. You can also use automated tools that will inform you when someone mentions your business's name on a website or social media platform. By remaining vigilant, you can take action promptly. 
6 Enhance Website Security
Cyberattacks are on the rise, with the 'bad actors' on the lookout for any 'back doors' that will gain them unauthorized access to your website.
While this may not technically be an SEO attack, a compromised website is usually flagged by Google. Hackers may also play around with the content of your site, negatively affecting your search ranking.
To protect your business website from any potential attacks, make sure to follow the best cyber security practices. You should also keep your CMS software updated along with its components to reduce the risk. 
7 Follow the Best SEO Practices
Last but not least, make sure you follow the best strategies when it comes to SEO. For example: 
Avoid linking to penalized websites.

Avoid buying links from any source.

Don't build backlinks using irrelevant anchor text.

Don't sell links without using the 'no follow' attribute.
Final Words
Negative SEO is rare but not uncommon. In most situations, Google is smart enough to catch the problem before it gets a chance to affect your search engine ranking. But remember, hackers have proven to be more intelligent in many cases. And establishing the best protocols is necessary to avoid any SEO issues – especially before they escalate and become a massive headache. 
Monitor your website regularly by following the above tips. If you suspect foul activity in your SEO strategy, try to manually remove the bad links and report to Google ASAP. 
Good luck!
---