How to Create a Perfect Business Website – Top 5 Best Website Builders for Small Business
---
Don't you all wish that there was a coding wizard who'd wave a wand and create a small business website? What if you were told that it's possible? Not through any magic tricks but both paid or free website builders meant for SMBs and eCommerce.
For a functional business website, you need
A professional domain name

Promotions and advertisements on the website

Professional storefront templates and business-focused add-ons.

Product pages

Shipping and taxation management, and a lot more
Using one of the best business website builders or hiring a web design company, you can get your website up and running in no time. For instance. Wix with its new ADI technology claims to build a website in less than 10 mins by answering a simple questionnaire. All that for a cost less than hiring a designer!
Along with cost-effectiveness, flexibility, and scheduled delivery time, you have absolute control over the look and feel of your website. Don't know how to code? Well, that's not a problem if you're using a website builder as it is usually based on drag-and-drop functionality.
Top 5 Website Builders for Small Businesses
Without further ado, here are the top 5 best website builders for small business.
1. Wix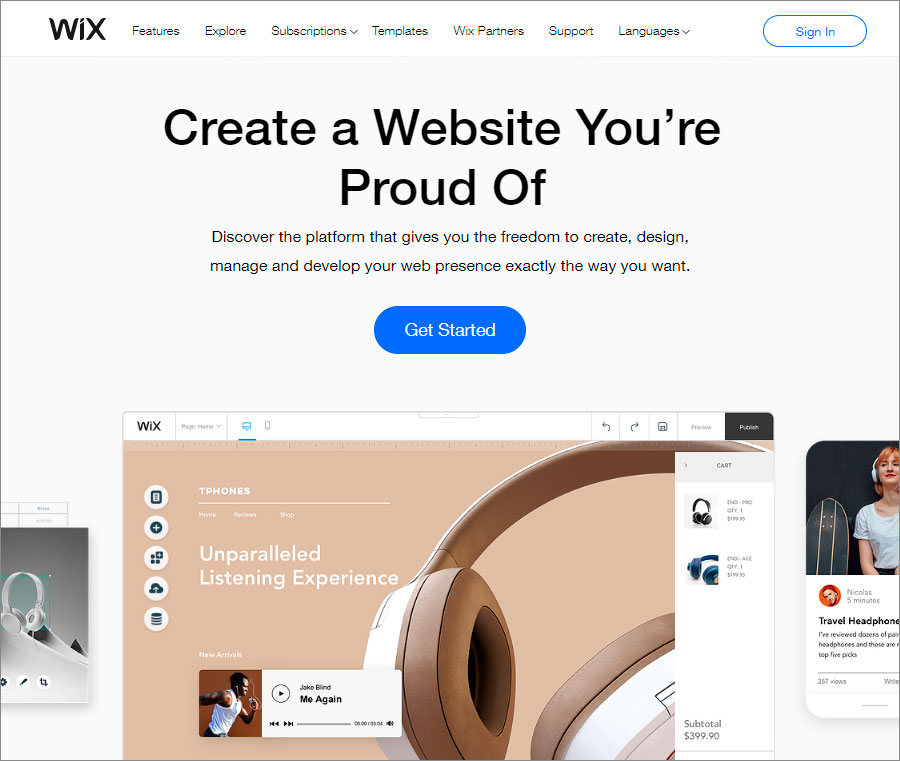 Easily one of the most renowned names in website building tools; probably the best. Wix has all the goods to back up the label of 'best'. Wix is a cloud-based website builder software that offers ease of use combined with a powerful set of features and templates.
What will get you amazed is the Artificial Design Intelligence (ADI) feature that develops a website in less than 10 minutes. You don't need any design skills or technical skills like CSS or HTML, as Wix is based on the simple drag-and-drop functionality.
With 500 professionally designed templates, fantastic customer support, and rich web-store features, Wix rarely lets you down. The new addition of Wix Corvid is made for people with coding prowess who want to add custom code on the website.
Pros
Excellent drag-and-drop builder that offers creative control without coding knowledge.

Limitless options for customization of themes and website features.

Full-fledged e-commerce store-builder tools for small businesses.

Extensive app market with over 200 apps like Wix Video and Wix SEO Wiz.
Cons
Can't change template or redesign once the site goes live.

The overwhelming amount of customization may feel like a headache early on.
2. Shopify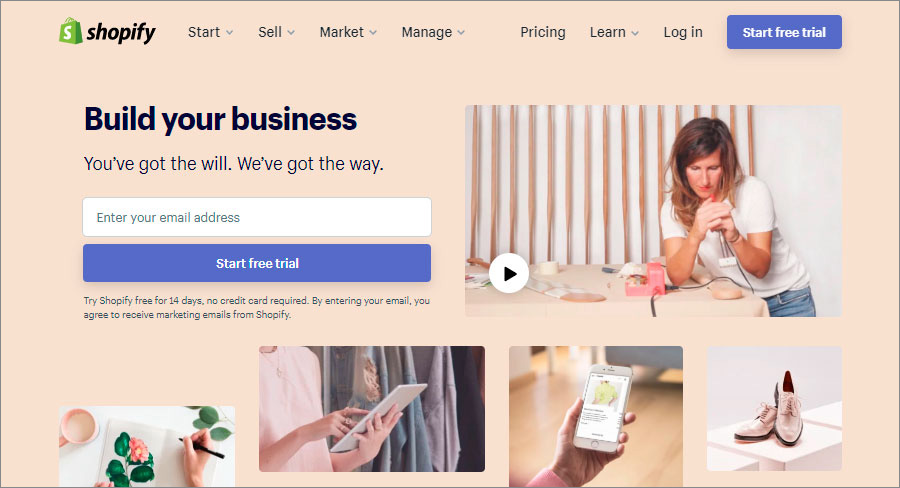 Another popular household-name for eCommerce website builder made for eCommerce websites and online stores. Remarkably, more than $40 billion worth of products have been sold through Shopify's platform.
Shopify is graced with stunning template section which automatically updates any updates or reformats instantaneously. An intuitive drag-and-drop feature makes it super easy to create full-fledged eCommerce stores in hours.
Easy marketing solutions, full inventory management, and integration with WordPress make Shopify the best choice for creating an online store. You can also integrate third-party payment solutions with Shopify Payments to customize your website design.
Pros
Advanced eCommerce functionality allows to add up to 5,000 products.

Customize shipping options is just the thing you'd need.

No-fuss for managing the software, installing updates, and keeping backups.
Cons
Unnecessarily pricey and tricky to use, Shopify requires to buy paid apps and themes to reach its full potential.

Migrating your website away from Shopify is quite an uphill task.
3. Weebly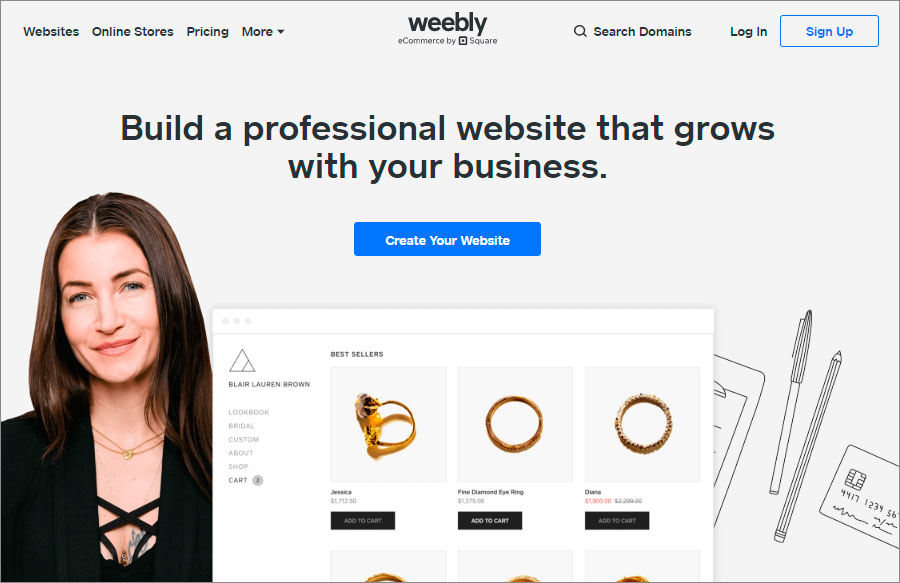 If you're a brick-and-mortar store looking to build an aesthetically pleasing website for cheap, Weebly excels in every aspect for you. The drag-and-drop functionality is easy to use but there aren't many fancy features to embellish your website.
If a website bursting with fancy features is not your M.O then you can create a simple and quick site through the customizable pre-designed layouts on Weebly. Weebly, unlike Wix, updates the edits in real-time before the website goes live.
If you're aware of CSS and HTML, Weebly gives you the option of customizing the entire webpage-layout through a code-editor. On a pro-plan, you can even add Ultra-HD audio and video on your webpage, a feature that usually costs a bomb with its compatriots.
Pros
Easy-to-use Weebly dashboard with simplistic tools.

Professional-looking templates and easy subdomain generator.

Great value for money as it gives amazing features for relatively lesser money.

An enormous number of apps with a premium plan.
Cons
Amateur-looking blogs without any extra apps.

Fewer customer service options and extra costs for most e-commerce options.
4. BigCommerce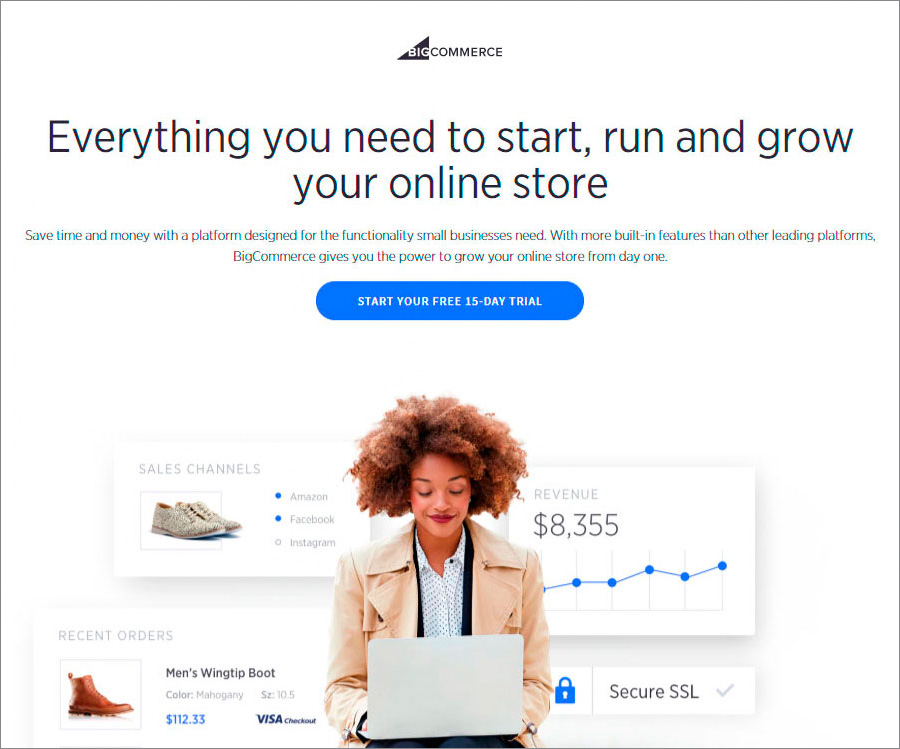 Tailor-made for your e-commerce store, BigCommerce is an amazing website builder suited for small businesses. It's designed to handle a business's online sales. A long list of credible users like CamelBak, Skullcandy, etc. makes BigCommerce a valuable name.
BigCommerce gives you a fully-hosted eCommerce solution that includes website speed, security, and update management. The easy drag-and-drop feature lets you provide high-end customization to your website even with minimum or zero coding skills.
Integration with WordPress and pre-made website templates make your website design quick and flexible. The website builder also lets you add payment gateways like Amazon Pay, Apple Pay, PayPal, Visa, etc. to your website to accept payments from customers.
Pros
Easy handling of server and technicalities lets you focus on growing your business.

Fast & secure websites made to handle a high capacity of traffic.

Features to handle conversion rate optimization like a product review, etc.

Easy connection with third-party applications to the app store.
Cons
Upgrade to expensive plans to get store credit cards, customer reviews, etc.

Migrating away from BigCommerce is difficult as it's a proprietary platform.
5. Squarespace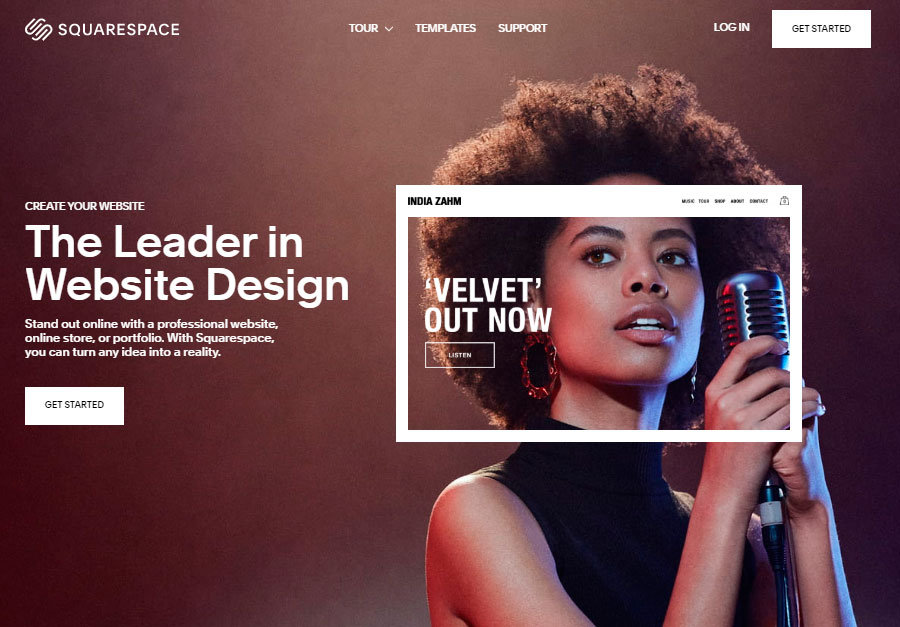 If you're a fast-growing SMB or a start-up, square space may just be the right choice for website building for you. The phenomenal image quality and stunning template design is quite a unique offering. Got big plans for your business? You need Squarespace.
Squarespace provides SERP (Search Engine Result Page) dominance through its powerful SEO features. Professionally polished website-templates and clean & high-quality vector images make it possible for a customer to zoom-in on the product image.
An outstanding key-feature of Squarespace is the mobile-responsive templates that automatically resizes your website depending on the screen size. eCommerce specific features like integrated social media, accounting, and label printing make it a potent website builder.
Pros
Really strong SEO features that pin you on the top of 'search results' page.

Integration of social media seamlessly to announce your presence

An easy-to-use platform for advertising a product.

Loads of marketing and analytical features with the business plan.
Cons
Feels restrictive at times and isn't easy or intuitive to use like Wix or Weebly.

No app store makes you rely on the in-built features which are quite rigid.
Which One Do You Choose?
Whoa! That's a lot of facts that we shoot straight at you. Take a deep breath and take it easy!
You'll need to consider your needs before choosing a website builder for your small business. If you're an eCommerce company looking for a fresh or a revamped website/ online store, Shopify or BigCommerce will serve your purpose well.
Go for Wix as it is the most versatile and flexible way of website creation. Give Wix ADI a try and see your website develop in merely 60 seconds.
Also read
---