How to acquire high DA/DR links on autopilot with HARO
---
In order to increase your organic traffic one of the key activities that every website must do is link building. Link building refers to increasing the quantity and quality of inbound links to a website to increase the Search Engine Results Page (SERP) rankings of that webpage.
It involves building one-way hyperlinks (commonly referred to as backlinks) to your website from established, high authority websites to boost your domain authority.
There are a couple of link-building strategies you can adopt including:
Writing data-driven content
Creating infographics
Running a guest post program
HARO
When it comes to acquiring high DR backlinks, I've found that Help A Researcher Out (HARO) is a great way to build links without doing too much writing. Through HARO, I managed to get my website Passive Income Tree a backlink from Yahoo after just 4 months. Before getting into how you can get high-quality backlinks with HARO, let's start with the basics.
What is HARO?
Help a Reporter Out (HARO) is a free platform that enables journalists and bloggers to obtain feedback from the public. Journalists send in queries relevant to their field and post questions and reference the best answers. This enables you to gain media exposure by helping reporters when they need specific information.
How does HARO work?
As complex as it sounds, the whole concept of Help A Reporter Out is pretty simple. It is essentially Craigslist, but for writers.
The straight-forward pitching process allows bloggers and journalists to find topics related to their expertise, niche, and experience. They are connected with news sources interested in sharing their case studies and work in general.
HARO has benefits in store for both parties involved. It is beneficial for journalists as they spend more time writing and less time sourcing. On the other hand, the sources(you) benefit from free media coverage for their businesses.
Why is HARO good for high-quality links?
Who does not want DR40+ links from companies such as American Express and Business Insider?
Sure, link building is hard as high-quality backlinks are often the reason why your competition outranks you on SERPs.
HARO is a fantastic way to get the elusive backlinks from trusted and authoritative websites. It's because when using HARO, you will be coming across journalists who write for Business Insider, CNBC, Reader's Digest, etc.
How to find the right freelancer with HARO with Upwork
Instead of writing all the responses myself, I work with freelancers on Upwork who are experienced with Haro. See the profile below for reference.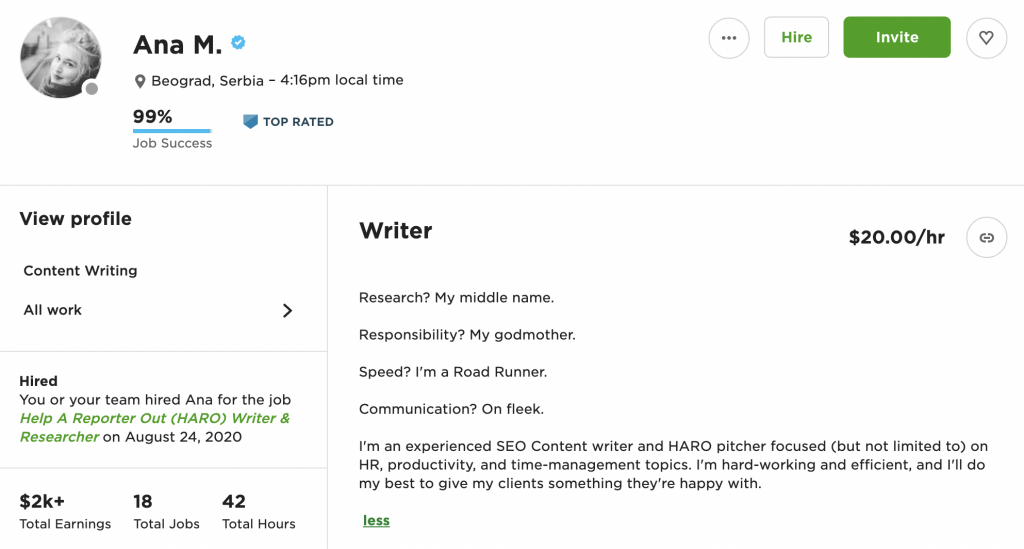 Ana is an experienced HARO writer and even states it in her bio.
I find that creating a specific job post and outlining your exact requirements upfront helps you identify the best candidates. This is the exact posting I used.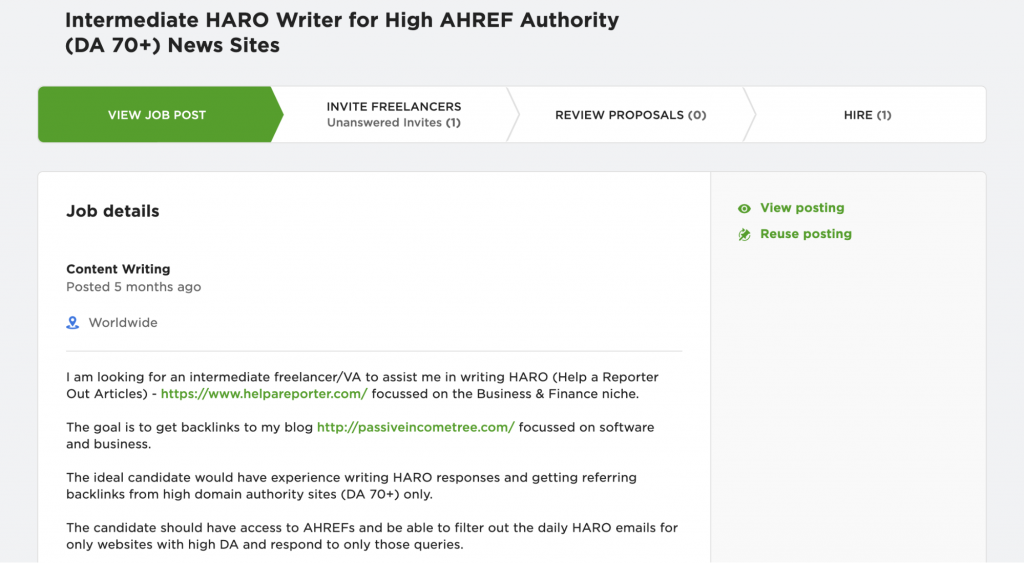 So, how do you find an ideal HARO outreach writer on Upwork? Follow the tips below.
1. State that you're looking for a long-term partnership
The promise of long-term work is appealing to most freelancers, which means more of them will be likely to apply. It also sets an expectation that you expect long term commitment.
2. Ask for writing samples
It's a no-brainer. You have to look at the quality you expect from an outreach specialist. If their samples aren't satisfactory, expect lower-quality work should they start working for you. I generally ask for a portfolio of websites and URLs they have published in and accompanying DR and DA to verify that they can actually get links via HARO.
3. Look for experience on your niche
You don't expect someone with no experience in a specific niche such as PC Gaming to write an answer about overclocking or CUDA Cores. The same applies to all specific niches. For example, if your blog focuses on finance, your ideal outreach specialist should have some experience in the niche and answering journalists authoritatively. Relevance is as important as quality.
4. Negotiate a per pitch price
Instead of paying the freelancer per hour, you should pay per pitch and offer a bonus when they manage to get you a do follow link. I find this incentivises them to perform better. I usually suggest a fixed price per post + a bonus based on the DA/DR of the website. It's good to negotiate with different freelancers so you can get the best price.
What to expect from a HARO campaign
It's becoming more competitive to rank online and guest posting is not enough to build brand authority. You need to establish your brand through media or public relations.
So, how does HARO help you to accomplish that? Being quoted on big media sites results in positive exposure for your business. It results in a win-win situation for both you and the reporter who gets to complete their story.
Media placements result in relevant backlinks from influential media sites, cementing your brand's credibility while still publicizing your business. The more backlinks you have from authoritative websites (unique referring domains), the more your authority and trust signals increase. It results in higher placements in SERPs for your target keywords.
For example, my advice was initially shared on Best Life Online.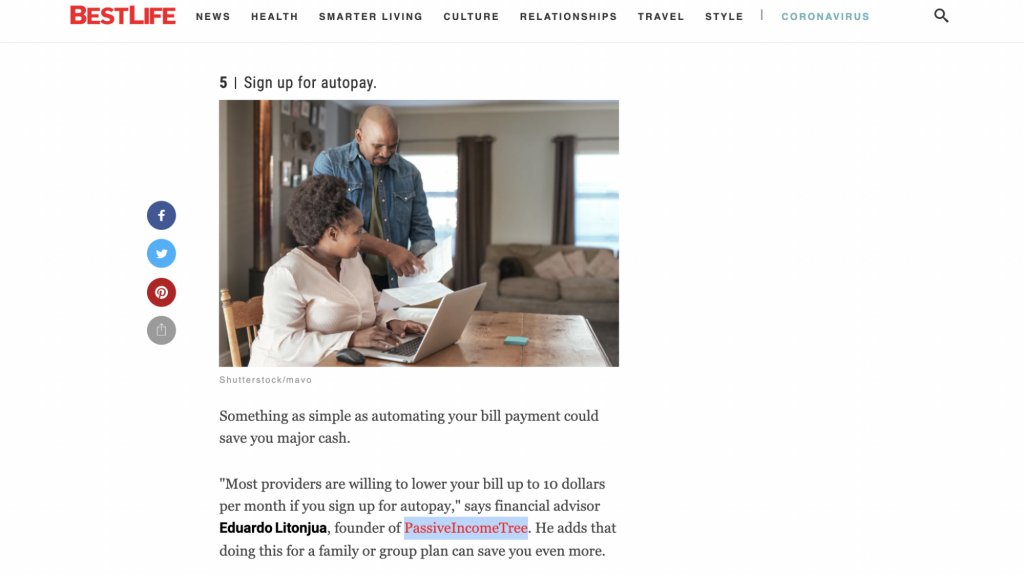 It was then shared on Yahoo.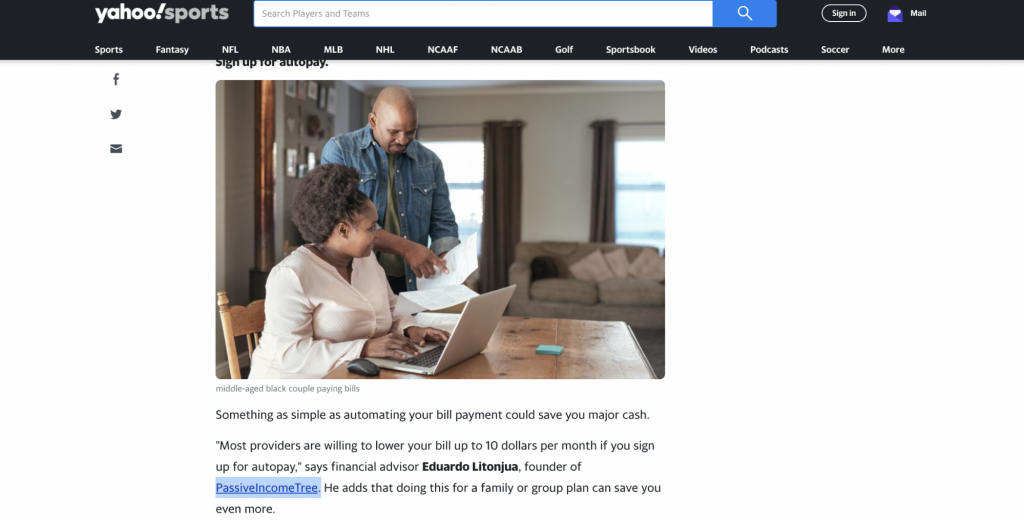 So you can get two backlinks since content gets shared and syndicated across different news websites. This is one of the reasons HARO can be so powerful.
Costs of HARO outreach
If you are outsourcing HARO and just getting started with building a website, I recommend asking the freelancer for $3 per pitch and then adding a bonus of half of the site DA/DR for a do follow backlink. All in all, I spent $234 for a campaign which netted me two do follow high quality backlinks and a couple of no follow links after 2 months.
HARO vs Guest Blogging Pros and Cons
Since we now know what HARO entails, how does it compare against traditional guest blogging as a viable link-building solution?
Here are the pros and cons of each strategy.
HARO Pros
Updates regularly, with three daily emails.
Establishes a relationship between your brand and reporters.
Helps you establish credibility in your area of expertise.
Backlinks often come from well-known websites.
Since you're responding to queries, backlinks from HARO appear natural.
Very user-friendly
HARO cons
Some media sites have a zero link-out policy. It may result in wasted time and effort.
Few journalists inform you when you get cited. It makes it hard to track HARO ROI. A way around this is using Google Alerts.
The referring domains may not be relevant to your industry or niche.
Tight timeline to answer questions – as many of the large publications have short deadlines.
Inability to choose the SEO anchor text.
Some links you land may have a nofollow metatag.
Guest blogging pros
Access new audiences.
Network with up-and-coming professionals.
Chance to diversify content.
Establish credibility within your niche.
Guest blogging cons
Guest blogging outreach can be costly and time consuming.
You need to write much more for a guest blog vs a HARO pitch.
Cold outreach response rate is much lower.
HARO offers you the chance to directly connect with journalists and large publications as opposed to cold-pitching. The success rate I've found is typically much higher with a 10% chance of getting a link (as opposed to a 5% chance for guest posting). If you are a new website, then HARO is a great way to build high quality links. The best part is that it is more easily outsourced than guest posting. For example, with guest posting you usually need more sophisticated email marketing tools that can auto follow up on your cold pitches to increase conversion rate. Having said that, it's best to use both HARO and guest posting to build high quality backlinks if you have the bandwidth.
Author Bio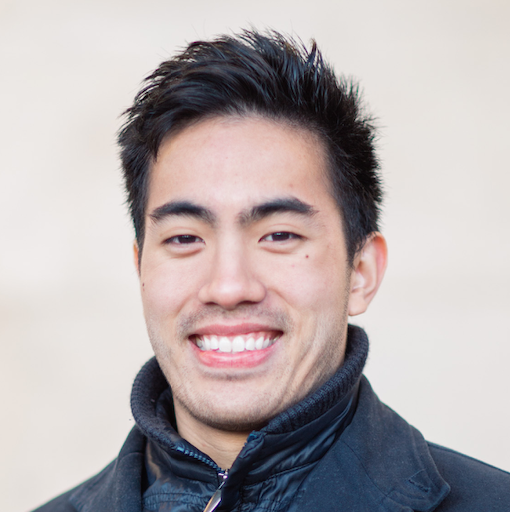 Strategy consultant by day, blogger by night – Eddie helps entrepreneurs create, grow, and scale their online businesses on his blog Passive Income Tree. By finding the best tools, deeply understanding the business models and interviewing successful founders, Eddie provides a holistic approach to building online businesses.
---