HostPoco Review: Why Go for Its Shared Hosting?
---
For finding the perfect web hosting provider, you need to do a lot of research based on factors. There are thousands of web hosting providers out there in the market and, all of them say them to be the best.
HostPoco is one of the best web hosting providers in the industry. HostPoco gives you the top-class support, highest uptime, quality features, all at a budget-friendly price.
Now, however, you have landed here on this blog, I am sharing the best shared hosting plans with features and pricing of HostPoco.
I decided to share my review on their shared hosting is because it is a beginner-friendly and very economical hosting option. At the end of this review, you will have all the required information about its shared hosting, which will help you know if it is the right option for launching your website online with lower investment.
Before I start with the review, let me brief you about what exactly is HostPoco.
Know About HostPoco
HostPoco is an USA based web hosting provider. It started in the year 2017. HostPoco is well-known for offering cheaper, reliable and budget-friendly web hosting solutions to customers around the world. HostPoco offers all types of hosting solutions and here are their top most services- cheap web hosting, cheap windows shared hosting, WordPress hosting, reseller hosting, and dedicated hosting.
Get to Know What exactly Shared Hosting Is?
Shared hosting is one of the web hosting type that means numerous websites reside on a single server, resources are shared. Shared hosting works in a way where many users share storage space on a one server maintained by the hosting provider. Because you are sharing server resources with other users, it is the most cost-effective web hosting option. It is the best price factor for those who are just getting started online.
HostPoco's Shared Hosting Plans & Pricing
HostPoco makes it very easy for the customer to choose a plan that perfectly suits their website requirements and budget. All of these plans differ on the basis of features and pricing.
HostPoco's shared hosting plan is best for small websites, blogging, designers and hobbies.
HostPoco has 4 shared hosting plans- Beginner, Pro, Premium and Elite.
In the below image, you can check out their best low cost hosting plans.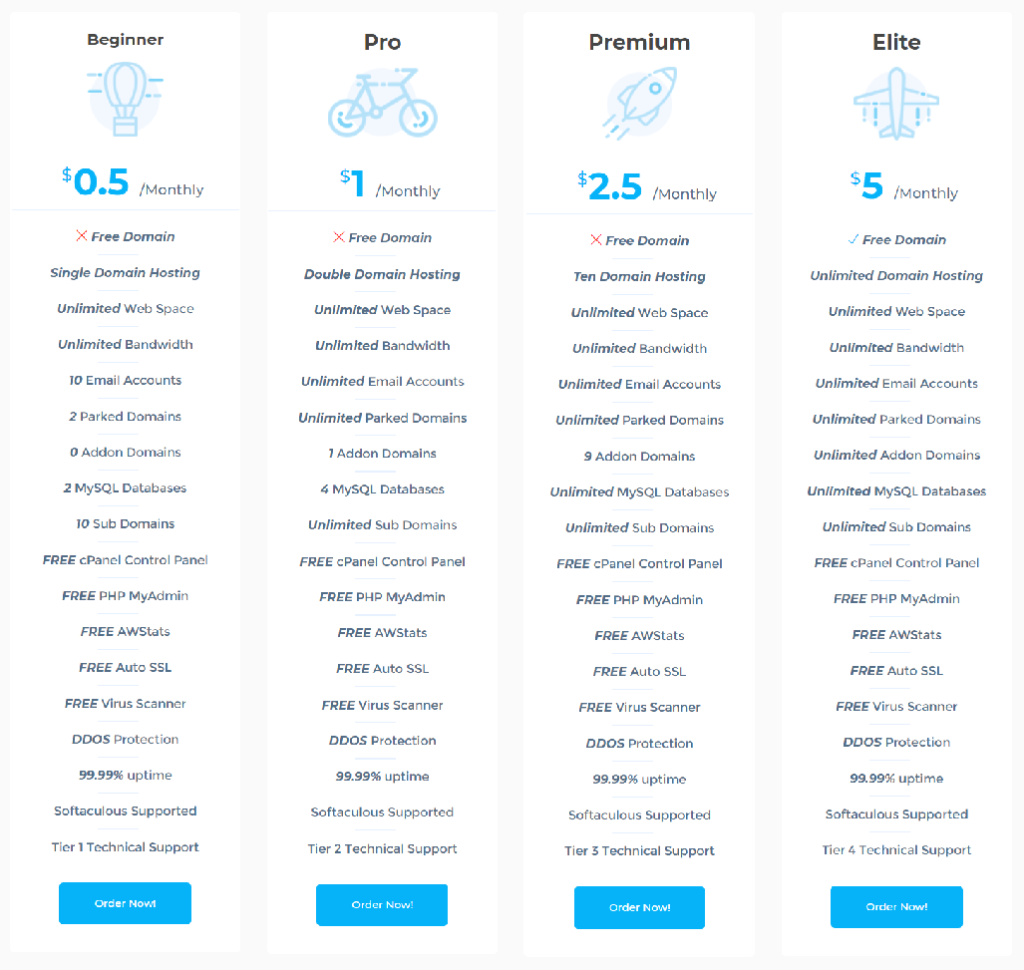 The Beginner plan is best for beginners, small site owners and personal websites. It costs $0.50 per month on 1 years of subscription.
The Pro plan is perfect for small and medium-size websites. It costs $1/Month on years of subscription.
The Premium plan costs $2.5/month on 1 years of subscription. If you want to host multiple websites, you can go with the Premium plan.
The Elite plan costs $5/month on years of subscription. If you want to host unlimited websites, you can go with the Elite plan.
You can start their web hosting services right away after successful purchase.

Standard Features OF HostPoco Shared Hosting
Some standard features of HostPoco include:
Unlimited Web Space & Bandwidth
Daily, Weekly Backups
Free SSL Certificates
Softaculous Installer
99.9% Uptime Guarantee
Free Website Migration
Free Domain Name
24×7 Live chat support
cPanel
One-Free Domain
With HostPoco, you get to register a domain name for your business at no additional cost. With the best Elite shared hosting plans of HostPoco, they give you one free .com domain. When the client purchases the hosting plan, they must add the free domain to the shopping cart. We offer a free domain name for life, until you have the hosting service for the same plan with us.
Free SSL Certificate
Your website is completely secured from any threats, if you have SSL certificate for your website. Data that goes to and from your website gets encrypted using 4096-bit encryption type. It lower down the chances of data being prone to attackers. Search Engine Rankings of your site is increased with an SSL certificate.
Website Builder Tool
It's easy to create websites using the site builder tool for websites that is available when you sign up with HostPoco. There are many template alternatives. Simply select the template that is best for your preference. Then, you'll need to add drag-and-drop images and other content you would like to incorporate into your site. Then, your site is ready in less than just a few seconds!
SSD Storage Drive
SSD storage drives can be described as extremely fast and are the most sophisticated storage devices. Your website's performance is enhanced when it's hosted with SSD-based server. With HostPoco every website is running on SSD drives, which boosts the speed of your website.
One-Click Installer
It is easy to install apps with the single-click installer. HostPoco offers the Softaculous installer in their web hosting service. It allows users to install most well-known Content Management System applications with just one click.
Control Panel
Your website can be managed effortlessly using the web-based graphic control panel ie cPanel. It lets you control the hosting accounts you have. Through the control panel, you can set up FTP accounts and databases, email accounts, database accounts as well as other accounts.
Datacenter Choice
The data center you choose will have an impact in the efficiency of your site. HostPoco provides you with a range of data centers' locations. You can pick one that is closer to the population you want to target.
Current Available Data centers can be found:
The United States of America
Germany
France
Canada
HostPoco Alternatives
If you are not okay with HostPoco and you are looking for alternative for it, then should look at some of the hosting providers from below list:
Hostinger
GoDaddy
FastComet
RaisingHost
HostPoco offers the best shared hosting service. You get all the best features at an affordable and reasonable cost. With all the web hosting plans, you get 24/7 customer support, a 99.9% uptime guarantee and a 30-day money-back guarantee if you are not happy with their services.
---