Evolution of the Digital Audience in 2021 (and Beyond)
---
Digital marketer's toolboxes are like the magical Mary Poppins bag. Inside you never know what you'll find, but you are sure to find something useful to serve your digital audience.
You already know this, but let's emphasize: Understanding audiences is the first and, by far, most important part of a marketer's job. In looking forward, it's important to consider the past and how it's influenced audiences of digital mediums. The year 2020 has greatly impacted audiences who were confined or on lock-down for a good portion of the year. This gave them more time on digital devices resulting in not just more digitally-savvy consumers but also a desire to connect emotionally and socially.
Here are a few key factors and stats for you to keep in mind to better understand today's digital audience of 2021.
More Phone Owners Means Increased Audience Engagement
In a data study from Visual Capitalist (using Statista-compiled data), the number of smartphone owners in the U.S. is predicted to reach almost 90% by 2024.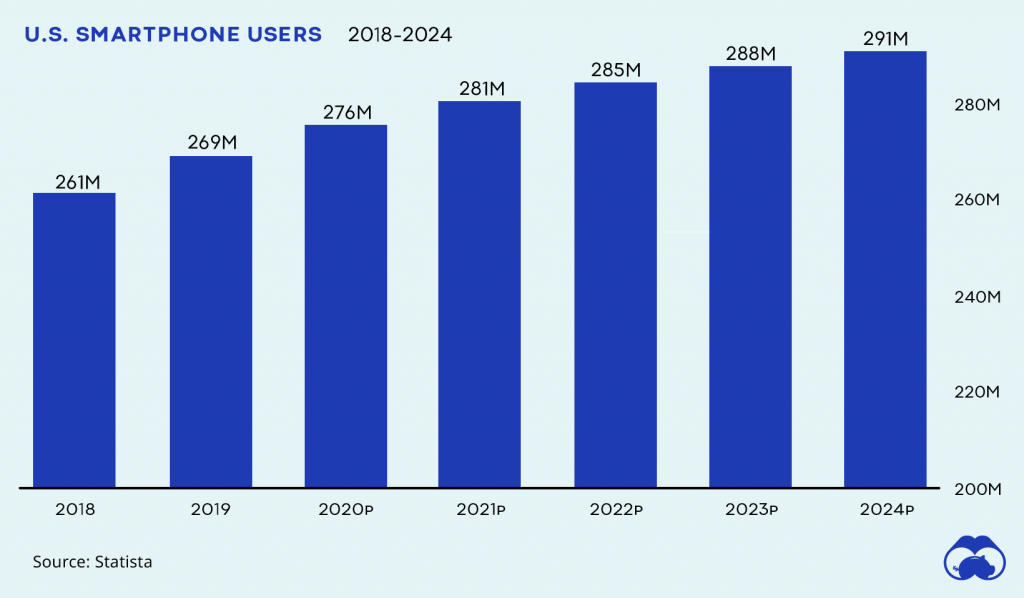 With more access to screens plus the pandemic shut-down, it's not a huge surprise that a report from United Healthcare and eyesafe found that since 2020 restrictions more than 13 hours each day are spent behind a screen. Even fresher data from a Pew Research Center survey in early 2021 indicates 31% of U.S. adults self-report going online "almost constantly."
This is bad news for eye health, but good news for marketers. That provides more opportunities to connect and engage with audiences.
It also means these audiences know the digital mediums better than ever.
Google is Smarter, But Searchers are Too
Smarter spending when it comes to search is mandatory to stand out among the massive amount of content. It's that whole, work smarter not harder idealogy.
Don't forget your back pocket, stand-by best practices to make sure to meet at least the minimum Google criteria. At the same time, it's imperative to understand that Google's algorithms are insanely complicated and more clever than ever. Be ready to adapt to any changes necessary as they roll-out. Let's be real though, you already knew that.
Google Data shows that mobile searches starting with "can I" grew over 85% between 2015 and 2017. As language searchers use is much more conversational, like asking a friend for advice. Now, that friend is Google.
That means marketers need to really focus on natural language around their targeted keyword. Don't stop honing in on keywords. Start exploring real questions and problems that exist for searchers in connection with them. Think about how you would talk to your friend about the topic or explain it to your grandma (or a 5-year-old).
It's worth noting, that in a restricted world, there was nevertheless an increasing desire for local community growth. Think with Google data reports a 20,000% increase in searches for "support local businesses" from 2019 to 2020. Keep that in mind when thinking about your audience. 

With a Need for Social Connection, Social is Hotter than Ever
2020 social network users outdid all previous predictions made for the year. By the end of 2020, there were 150 million more users worldwide than expected for a total of about 3.23 billion (according to eMarketer.com). These numbers vary according to different reports, but the message is clear: a lot of people use social media.
Top platforms include Facebook, Youtube, Instagram, and Reddit, but the truth is most social users juggle between several platforms. A report from We Are Social and Hootsuite indicates that overlap is common, so marketers should invest in multiple social media platforms to better connect with their audiences.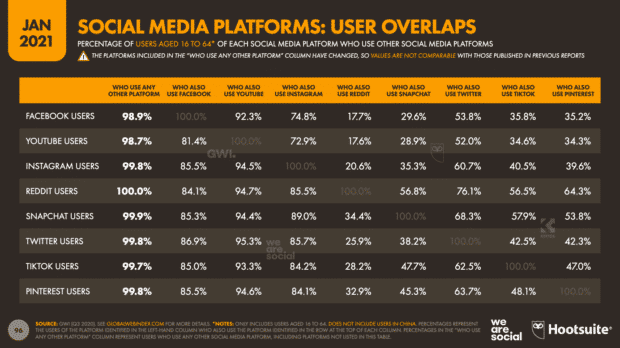 Hot new platforms might have smaller total daily users, but often these audiences are super engaged and make connections more likely. TikTok and Clubhouse are just a couple of the super in-the-moment socials attracting tons of attention.
Audio marketing is seeing a bit of a resurgence as of the past few years, and then 2020 brought us time to kill and Clubhouse: a new audio media to explore. Still fresh and less refined than, say, Podcasts or even TikTok, this is one to keep an eye on. It's a great place to connect with expert marketing professionals, potential audiences, or build your network.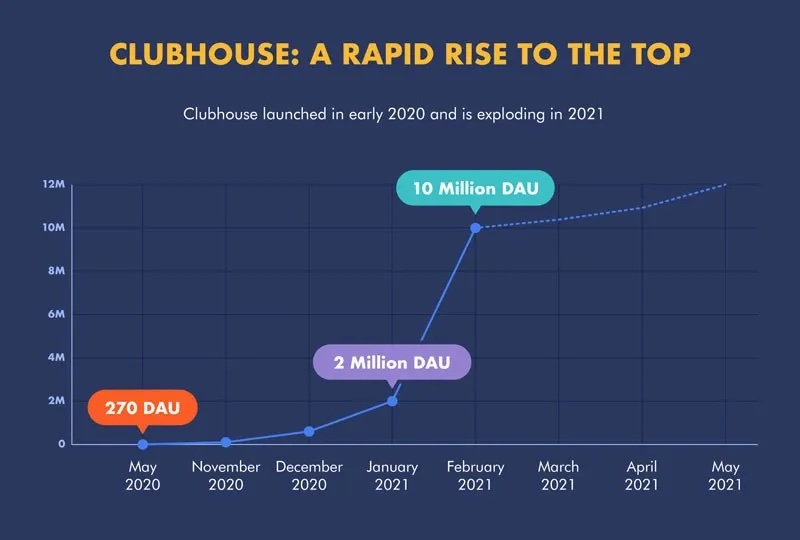 Your Audience is Human
Remember, while your goal is to market, you are marketing to real breathing, living, existing, and feeling human beings. They aren't just data numbers or website visitors. 
Show customers that you recognize this. Work on genuine connection and offer your audiences something valuable. Using a variety of methods and channels gives you more opportunity to connect and provide unique content. Dedicate more time to socials to engage more meaningfully with audiences and truly get to know who they are and what they need.
These are just a few of the things that will make you stand out in the crowd in the next year. Of course, stay flexible! You never know what the next big changes will be.
Author Bio
Kristen Klepac is a digital marketing specialist and content writer who likes to replicate her grandma's old Czech recipes in her free time and get outside for nature hikes as much as possible.
---