Digital Marketing Hacks According to Your Business Type in 2021[updated]
---
Digital marketing continues to evolve as time goes by. Nowadays, a business simply cannot succeed without developing solid digital marketing strategies. This has made the online market quite competitive and overcrowded. With that in mind, it becomes increasingly difficult for new businesses to truly stand out and effectively reach out to their customers. Each business is unique in its own way and they also have a unique way of promoting themselves.
The approach you develop is oftentimes based on the type of business your run. That said, every business can succeed with the right digital marketing strategy in place no matter its size or how developed or better-funded their competitors may be. Therefore, here are a few digital marketing hacks according to your business type in 2021.
The wide reach of AI in digital marketing demonstrates the prominence of futuristic tech solutions in today's digital landscape. With the capability to collect data, analyze and apply it, AI revolutionized the world of digital marketing and significantly, the sustainable innovation of Artificial Intelligence is set to build remarkable transformation. The benefit of Artificial Intelligence in digital marketing processes is extremely requisite in this 21st century. When it comes to enhancing the customer experience through AI, that works through predicting customer behaviour based on intelligence learned, which means digital marketers can send content & marketing communications which can convert the lead into conversions to drive sales. Consequently, AI will boost digital marketing campaigns to drive excellent ROI.
Sole proprietorship   
Sole proprietors, also known as solopreneurs, are individuals that oftentimes run a business on their own. Running a business alone is quite difficult but not impossible. With the right digital marketing campaign and strategy, you can make a name for yourself and attract customers or clients that will help you succeed. What you should do in 2019 is develop a personal brand. A personal brand will highlight you as both an individual and a business owner.
However, when developing a brand, you must portray your values to your audience the right way. That doesn't include just your personal values but what you can offer and how you can serve your customers. In terms of promoting your brand, make sure you position yourself as an industry expert by publishing relevant content that will educate and inform your audience. Also, don't forget to build a strong social media presence so that you can establish a good relationship with your consumers.
LLC (Limited Liability Company)
LLC is a common business type for small businesses and startups alike. These companies have the most difficulties when competing on the market. The main reason is that they are not yet fully developed and don't have the proper funds for a large-scale digital marketing campaign. However, where there's a will, there's a way. Small business owners must find an effective way to promote their businesses while not overspending in the process.
Fortunately, there are still a number of strategies you can use that are as effective in 2019 as they ever were. A good example is email marketing. Email is quite effective at promoting a business and at nurturing leads through your sales funnel. In fact, email marketing is 40 times more effective than advertising on Facebook and Twitter combined. What's more, email has one of the highest ROIs (return on investment) among all digital marketing strategies.
Franchises
Franchise businesses don't have to go overboard when it comes to digital marketing. After all, franchisees benefit from their franchisors reputation and have an already established, as well as proven marketing strategies made available to them. However, it's never as simple as it may seem. Franchisees must still compete on a local market and engage with their customers. On the other hand, franchisors must maintain their reputation and seek new opportunities to expand their business, i.e. open new franchises and attract more employees.
For instance, search engine optimization (SEO) has become mandatory for most businesses. Optimizing individual pages is therefore extremely important for good rankings and visibility online. As an example, if a franchisor wants to expand and is on a lookout for potential locations, they must optimize their commercial real estate jobs page, in order to attract the best contractors, agents or employees for the job opening. Simply put, you must outrank competitors, in order to be the first to explore new opportunities.
Corporations
One would think that corporate companies have it easy when it comes to digital marketing and success in the market. However, competition is fierce even for the corporation business types. The key is winning over customers, and corporate leaders must find a way to do so. As well-developed companies with substantial funds, corporations can easily tap into the most efficient digital marketing trends. In most cases, that comes down to leveraging the newest technology to develop more strategic digital marketing campaigns.
For instance, nowadays many corporations leverage artificial intelligence (AI) in their digital marketing. That way, corporations can seamlessly collect big data and automate most of their marketing processes for the best efficiency. This leads to the creation of useful computer programs, such as chatbots that leverage AI technology to provide a whole new level of customer service and support. Not only that, but corporations leverage data to establish powerful brands that can easily expand to other markets and acquire new businesses that will operate under their umbrella business model. 
Digital marketing provides numerous advantages and benefits to businesses of all types and sizes. However, the key to effectively using digital marketing to its fullest potential is planning a unique approach and strategy that will drive business goals and help a company reach success.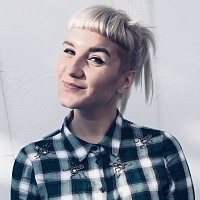 Lauren Wiseman is a marketing specialist, a regular guest author in adlbweb.com, contributor to bizzmarkblog.com and entrepreneur. She helps clients grow their personal and professional brands in the fast-changing and demanding market, strongly believing in a holistic approach.
---