Debunking Myths about IT staff augmentation services
---
Having the right IT staff is crucial to your company's success. However, because of tough competition, it's difficult to find skilled people with the right knowledge and experience. One way around this is to hire an external IT staff provider to fill in gaps in your workforce. This article debunks some of the myths about IT staffing agencies and shares what you need to know before deciding on a staffing agency for your own business.
High Risk and Low Quality
There are two primary concerns that business leaders have when considering an IT staff augmentation service. Some people feel that the service will come with a large risk because they will be relying on consultants who are not their own employees. Others are worried about the quality of work coming from contractors. In IT staffing, these concerns can be valid. While most of the time an IT consultant is just as capable and reliable as an internal employee. With a great staff augmentation partner having your back, you can make magic happen. Both quality and risks can be managed if you work closely with a single POC from the augmentation partner.
We at Core-Scale provide a single senior-level POC for your project, so you get what you asked from your remote developers.
Complex internal communication with remote staff
Most companies opt to hire an IT staff augmentation service because they can't afford full-time employees. These companies include startups, SMEs, and more established firms that have outgrown their internal resources. For some companies, this is the first time they're outsourcing work. Others are veterans of the process.
The downside of IT staff augmentation services is that you often have to communicate more with remote teams than if you were managing them internally. This means that your company must invest in tools to make sure everyone stays on the same page and knows what's expected of them at all times.
At Core-Scale we manage an internal communication flow with the tool of your choice with daily standup meetings and reporting the progress regularly.
Staff Augmentation is very expensive
One of the big myths about staff augmentation is that it's unaffordable. While it's true that you'll need to pay for the services, there are many low-cost or no-cost options available. You can use freelancers, outsourcing companies, and remote staffing providers over the internet without overburdening your IT department. At Core-Scale we provide the best competitive costing that is not only affordable by all levels of companies but is also customized to the number and skill level of employees that you hire.
No control over project progress
As an IT services company, we know that in today's fast-paced, ever-changing business environment it may not always be easy for you to keep up with your pace of innovation. To help your organization take advantage of emerging technologies, you might need to augment your technical team with outside expertise when necessary. Not having a dedicated project manager can be a major disadvantage for outsourcing IT development or IT staffing services. There is no one person who knows the business and the client, so they have no way of steering the project in any direction. The result is that there is little control over scope, budget, and timelines.
But, at Core-Scale we work in parallel with you so we understand where your project is headed and we manage the direction steering it towards where you want it to go and our developers work dedicatedly towards delivering what you expect in the time.
Time and Cultural Differences
One of the main benefits of using an IT staff augmentation service is the ability to be able to hire temporary employees with expertise in specific IT skills. But cultural differences can sometimes make it difficult for these agencies to find the right fit. It's important, though, for this type of agency to have knowledge about different cultures and how they operate. Many companies in Silicon Valley use IT staff augmentation services. The need for such a service can stem from any number of reasons, such as the company's rapid growth, lack of internal staffing, or simply due to a change in strategy.
At Core-Scale, we go through a very complex hiring methodology that consists of many steps in the interview process. We not only hire people who are good at communication but hiring developers from a wide cultural background is also our focus while hiring remote employees for you.
Data privacy and confidentiality
One of the biggest concerns with outsourcing work to other countries is data privacy and confidentiality. The first step to take is to do your due diligence and investigate the company you're considering. Ask yourself if their data practices are compliant with your organization's standards for protecting sensitive information. If you don't have a policy in place, now might be the time to start one. Also, before working with any vendor, make sure to ask what they plan to do should there be a security breach or other unauthorized access of your system. Communication barriers. At Core-Scale we and our remote workers working on your project are all working on a signed NDA clause that limits us from using your resources, data or anything associated with your project outside of the scope of your work.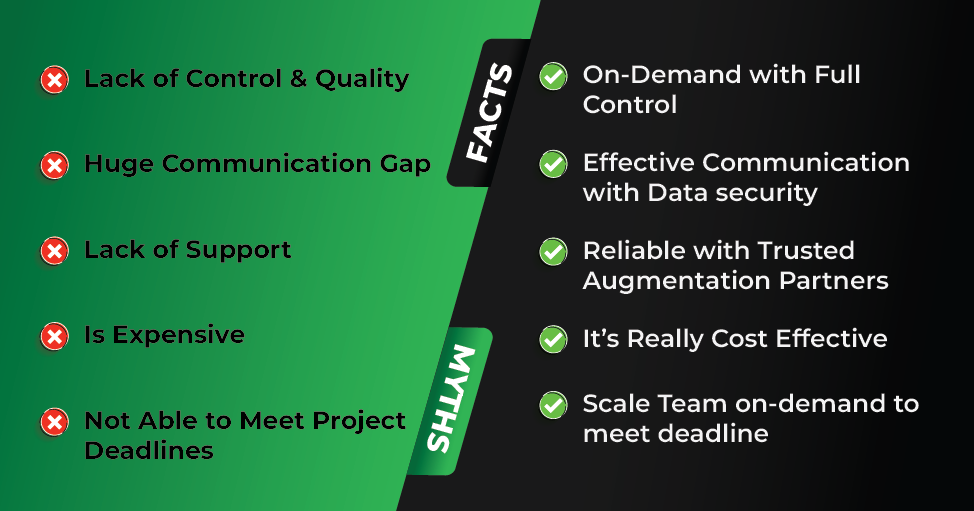 Conclusion
There are many myths circulating about IT staff augmentation and the idea of using expert contractors to help with IT needs. It is not true that by using a contract programmer, you will produce a higher quality website than your in-house team. This is because the contractor only has the knowledge necessary for this specific task and does not have insight into how it will work within the company's infrastructure. Hence, it's important to partner with an IT staffing firm that has been in the industry for a long and knows ins and outs of the critical issues that arise in a development process. Understanding the myths and the logic behind them is very important to make sure that you benefit the most out of it.
---