Database Architect: Pros and Cons For Marketing Business
---
You hear the term "database architects" quite often and you probably also know a thing or two about what they do. What you might not know is that they could be a great resource for your marketing business. They work with software designers and design analysts to create databases. Why is this important and how does this help a business? Let's dive deeper into all the details about database architects, what they do and the pros and cons of hiring one for your business.
What is a Database Architect?
A database architect is responsible for preparing electronic databases. Here are some of the main responsibilities of a database architect:
They work with a team and use ETL Architecture Standards to create the database.
After the creation of the database, they're responsible for troubleshooting any problems and correcting oversights.
During database creation, they work closely with the company's employees to align the database with the business expectations.
They continue to maintain, update and upgrade the database.
Identify database user trends to improve performance.
Database architects are employed by firms that have large databases such as banks and retail companies, as they handle a lot of their client's personal data. They also work for marketing businesses because analyzing data helps marketing businesses understand their audience trends better.
Most businesses get confused between database architects and database administrators. We will talk about the differences between the two later in the article but first let's look at some stats.
Gone are the days of static data warehouses. Previously, organizations dealt with low ROI which led to the emergence of data architecture. Database solutions helped utilize data more effectively. Businesses can now deal with customer related pain points in a more organized and insight-led manner.
Pros of Hiring Database Architect For Marketing Businesses
While a lot of you think that database architects are meant to work only for financial institutions and the retail sector, this isn't the case. Data architects can be very useful for marketing businesses because of the following reasons:
Database Architects Help With Strategic Thinking
Having a database architect in your team helps you gain an overall perspective on business challenges and activities. As a marketing business you need to understand the long-term impact of your strategy. Data architects help you see trends and patterns within your data so that your roadmaps and campaigns can be built on reliable information.
Database Architects Help You With Innovation
A database architect can enhance the efficacy of your business processes. Creation and comparison of different data models will help you understand what works the best for your business. This helps you innovate better because you can make decisions and infer outcomes based on real data and insights.
Database Architects Simplify The Complex For Your Business
Creating actionable insights from vast data is a tough task for a business. Database architects make it easy by mining all the data your marketing business needs and creating a database solution that simplifies processes in your business. Their solutions can also help convert that data into insights and stories to make it relevant to your goals.
Database Architects Can Help Improve Your Marketing Campaigns
Database architects can help you refine your marketing campaigns by creating database solutions that can collate click-through rates data and other data like discount codes, shopping cart, customer feedback, etc.
The performance of specific campaigns related to specific customer interactions or user sessions will help you improve your targeting. You'll be able to understand which demographics, timings and other parameters are better for your next campaign. Similarly, customer feedback data for every order or user can be related to the purchases they made.
Database Architects Improve Your Overall Business Performance
Database architects can create solutions that capture information on various devices. They can also help improve search results with automated suggestions or common synonyms based on previous search trends. Optimization and creation of databases also helps provide product suggestions based on user preferences with similar characteristics.
Cons of Hiring Database Architect For Marketing Business
While database architects can be quite useful in projecting your campaign outcomes and customer preferences, do you really need one? Will a database architect be a liability instead or an asset for your business? Let's find out the cons of having a database architect for your marketing business.
Database Architects Are Costly
A good database architect can set you back by $100,000 a year while an excellent one could take away around $200,000 a year. If your business size and needs justify this as an investment, you can go ahead with hiring one for your marketing business, however, if you're a small business with not a lot of data that needs creation of handling, hiring a database architect can quickly become a liability.
You Don't Have A Huge Amount Of Data
Database architects create databases that can solve problems and ease future processes for you. The database they create can be used for various purposes, whether it's targeting a specific audience from a specific region or looking at customer feedback trends for a product or service you offer.
If your business isn't at a stage where you will require a data architect's expertise, you should refrain from hiring one. If you have a long way to go before you come to a point where there are huge amounts of customer related data to create a database from, there's no point spending a hefty amount on a database architect who will just sit around and wait for some work to come his way in your company.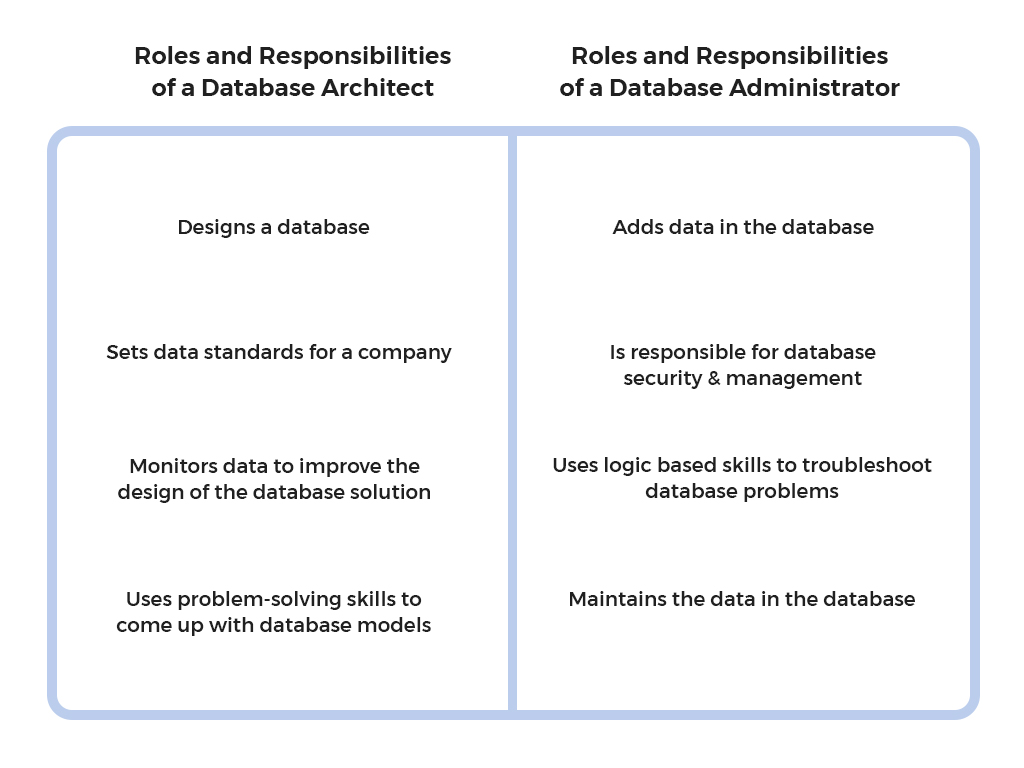 What You Need is A Database Administrator
A lot of businesses confuse the two positions. Here's the difference between a database architect and a database administrator for you to understand who of the two you really need.
Roles and Responsibilities of a Database Architect:
Designs a database according to your business needs and goals.
Sets data standards for your company.
Monitors data to improve the design of the database solution on a regular basis.
Uses problem-solving skills to come up with database models to solve business process problems.
Roles and Responsibilities of a Database Administrator
Adds data in the database.
Is responsible for database security and management.
Uses logic based skills to troubleshoot database problems.
Maintains the data in the database.
As can be seen, the two roles are different from each other. While a database architect comes up with solutions to use the available data in a better way to solve a business problem or optimize processes, a database administrator simply adds, maintains and manages the available data.
What your business might need is someone who is responsible for the security and management of your data. If that's your only goal and you have no complex database problems to solve then a database administrator is the right one to hire.
The average salary of a database administrator is approximately $88,000 a year.
Data Drives The Future Of Your Business
Whether hiring a database architect now is on the cards for you or not, the future of any business can be projected via data. Data helps you learn about your audience and your customers and devising the right database solutions can skyrocket your business into the hall of fame. Generating data should be the first goal of any business followed by analyzing that data to understand trends. Creating database solutions is the next step. This is where the role of a database architect comes into play.
Data before ideas.
Author Bio:
Aneesha is a Content Contributor at DistantJob, a remote agency that helps worldwide organizations hire qualified software engineers. Her love affair with writing began when she was only ten years old. As she grew up, filling the pages of her diary with poetry transformed into writing real-life stories, experiences, and informative articles for national and international publications. With more than a decade-long experience in content marketing and business development, her love for all things "communication" is seen in everything she does.
---