Creating a Winning Team for Your Digital Marketing Agency
---
It's safe to say that 2019 has already brought so much innovation in terms of marketing trends for the upcoming period, from how we collaborate with influencers, all the way to the changing consumer needs reflected through content creation. However, what most digital marketers tend to overlook is the relevance of the human factor in their organization: the employees you choose still remain a pivotal piece of the success puzzle for any marketing agency out there.
Simply put, no matter how much you invest and how creative you are when it comes to your marketing output and dazzling your clientele, rest assured that long-term success will depend heavily on your internal structure and communication. Now, let's go back to the basics of finding top talent for your business and creating the right atmosphere for them to thrive in, so that your business can flourish as well.
Set the tone in the job description
It's good to understand both sides of a story if you intend to make some changes to your approach or expectations. For example, how you present yourself through those job ads will make or break your ability to speak to the right potential mastermind of your next cutting-edge client deal. What turns many candidates away is precisely the manner in which you choose to speak of your brand in job postings everywhere.
The discrepancy between how you and how your readers see this is staggering: 72% of HR managers will be perfectly happy with the way they write a job description, while only 36% of candidates will agree with this statement. Chances are that you're missing out on potential "perfect fit" people simply because of this one step in the process. Talk to your employees to see how you can adapt your approach, your wording, or the application process itself – some genuine feedback can go a long way in helping you restructure your future job descriptions for a stronger effect.
Hire for diversity not uniformity
For too many companies, hiring for the sake of a diverse image is precisely and only that – a matter of image and public perception. Hopefully, you aim to actually contribute to your community, expand your horizons, and help your own team reap the rewards for this excellent practice. Why? Simply because diversity in the workplace has monetary, performance, and all-around innovative benefits. To put things in perspective, diversity-focused companies are almost three times more likely to recognize and build leaders, which makes them infinitely more successful in every possible way.
Diversity is so much more than a buzzword, it's the building block of modern businesses who strive for something more than success in numbers. For this reason, many companies rely on disability employment services to expand their search to candidates one would not typically find perusing the ads. With the right support, these people will not only flourish in your company, but they'll help your business flourish in return.
Enable transparency
How information travels within your company walls will greatly influence how successful each individual can be while they work with you. Some of the greatest, most successful CEOs have recognized this correlation, and David Siegel as an example, shared all reports with all employees, organized weekly metrics meetings, and enabled all-level employees to join any mailing list they please. Talk about a perfect example of cross-company transparency.
Not only does this strategy help boost morale and the feeling of equality among your employees, but it also provides everyone with equal ability to innovate, offer productive suggestions and ideas, and inspire necessary changes in each team under your wing. Collaboration is only possible if you give your people the means to expand their knowledge and make well-informed decisions, and David Siegel's three-step method is the perfect starting point.
Utilize the right tools
As you already know very well, digital marketing is a complex system of intertwined elements, from building long-term relationships with customers and delivering stellar content, to balancing paid campaigns and organic efforts. However, these infinitely complicated strategies can be simpler to deliver and easier on your teams with the use of right tools. How do you currently manage your employees and their workloads? How do you measure the impact of their input?
Even a single project management tool can help you streamline your in-house processes, allow you to work with remote teams, and understand how well each employee contributes to business growth. That way, you can identify bottlenecks, individuals who could use some support or a mentor, and equally distribute the workload to make your work more efficient. Finally, you can use this system to organize regular meetups for your marketing gurus to exchange knowledge and experience through workshops and presentations, which can become vital in company-wide success.
Creating the right team is a never-ending process that requires continuous revision and a keen eye for detail to spot flaws and imperfections. However, you can use these simple guidelines to streamline this process and help your digital marketing gang thrive in this increasingly competitive world of ours – because a happy team equals a successful business.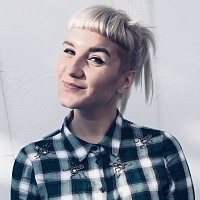 Lauren Wiseman is a marketing specialist, a regular guest author in adlbweb.com, contributor to bizzmarkblog.com and entrepreneur. She helps clients grow their personal and professional brands in the fast-changing and demanding market, strongly believing in a holistic approach.
---