What's in Store for Digital Marketing in 2019: Facts, Stats, and Expectations
---
At the beginning of 2019, digital marketing experienced significant changes in all its segments, including search engine optimization (SEO), content marketing, influencer marketing, content automation, social media marketing, e-mail marketing, and more.
2019 is the year when stuff that sounded like science fiction a couple of years ago, such as visual search or AI, will be used by everyone. Businesses of all sizes will have to adapt quickly and start deploying all these novelties because what used to work in 2018 may no longer be enough.
Here are the top 5 digital marketing trends for 2019.
1.
Artificial Intelligence
2018 was path-breaking for AI-powered digital marketing. Here are some stats to confirm its importance:
Over 50% of marketing experts stated they're already using AI in some form

51% of marketers stated they've seen increased customer retention and 52% of them said that they've seen increased sales since introducing AI.
As a result, the interest of using AI is growing, which makes it one of the most important trends to watch for in 2019.
53% of marketing specialists plan to increase the AI spend in the following 3 years

80% of them stated they expect AI technology to allow them to focus on strategy instead of on daily tasks

55% stated AI will help them improve personalized messaging

Almost 60% stated AI will aid in refining the customer experience
As AI continues to evolve, its technological abilities will constantly improve. This is best reflected in the use of chatbots.
Through the use of AI automation, chatbots have revolutionized the way businesses communicate with their customers. Based on machine learning, chatbots collect conversational voice modulations which allows them to react to spoken or written requests and mimic human conversation.
In addition, chatbots analyze search patterns and consumer behaviour, which enables them to provide effective customer support and personalized experience while leading visitors through the customer journey (Speaking of which, simply understanding the customer journey is not enough. It's best if you visualize it into a diagram that you and other team members can refer to. That's why you need a customer journey map).

By the end of 2019, the majority of companies are expected to use AI, with chatbots becoming a standard on websites across all industries.
2.
Connected TV
Simply put, CTV (connected TV) is television that connects to the Internet and facilitates the delivery of streaming video content. Unlike traditional TV, connected TV includes Apple TVs, Smart TVs, gaming consoles like PlayStation and X-Box, as well as devices like Roku and Tivo.
By 2019, the number of CTV users in the States is expected to reach 190 million. By 2022, this number will rise to 204 million, which represents more than 60% of the population. This will add more than 180 million more viewers to the CTV audience in 2018.
In 2018, advertising via CTV grew by 50% compared to 2017. With almost 40% of video ad impressions, connected TV beat mobile which accounted for 30% of video ad impressions.
As the popularity of CTV rises, it becomes a promising advertising opportunity. CTV offers possibilities, such as broad audience reach and very specific targeting, which are unimaginable in traditional TV commercials.
3.
Visual Search
In 2018, Pinterest introduced its visual search feature which allows users to capture a photo of an object and find similar items on the platform. Currently, there are over 600 million visual searches on Pinterest every month.
Besides Pinterest, the major search engines like Google and Bing enabled visual search functions that allow users to take a picture of an item in the real world and get a list of results that closely reflect it, with an option to shop.
Google Lens introduced a camera app which recognizes buildings and objects. So, you can get all the details about a certain landmark just by taking a photo of it.
Retailers like Marks & Spenser also introduced visual search, thus allowing consumers to take photos of items and locate similar products within the store's listing. Among the retailers that followed suit are Home Depot, Levi's, eBay, Neiman Marcus, Ted Baker, Disney, and many more.
In 2019, the image recognition market is expected to grow to over $25 billion. By 2021, and the brands which adapt their sites to visual search will contribute to a revenue increase of 30% in digital commerce.
Even though visual search technology is still at a very early stage, it is expected to advance quickly. Adopting visual search is a great way for brands to increase visibility in search results, attract more customers, and offer more relevant products.
4.
Messaging Apps
Social messaging apps enable us to keep in touch with our family, friends, and colleagues but that's not all they serve for.
Let's look at some numbers:
Individuals and businesses send 2 billion messages on Facebook Messenger a month.

55 billion messages are sent on WhatsApp daily

WhatsApp has 1.5 billion monthly active users, whereas Facebook Messenger accounts for 1.3 billion active monthly users.
In 2018, the estimated number of mobile messaging app users in the States was 149.8 million. By 2020, this number is expected to grow to more than 170 million, which means that more than 50% of the population will use social messaging apps.
Mobile messaging apps are rapidly growing in popularity as they continue to introduce new features such as social networking, better security, free calling and texting, photo and file sharing.
All this makes messaging apps an important marketing channel. The most important thing about these apps is that they allow personalization. And when it comes to personalization, it is undoubtedly on the list of top digital marketing trends this year, with 88% of marketers believing their customers and prospects expect a personalized experience.
Personalization makes social messaging apps ideal for marketing products and services by sending messages to customers on a daily basis, which makes us wonder: is the era of email over?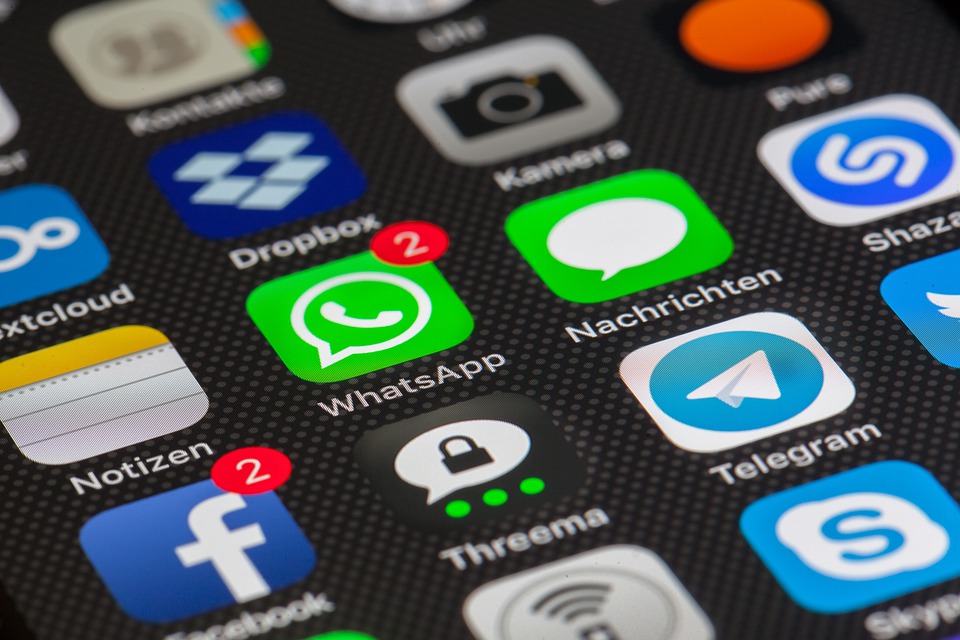 5.
Voice Search
Did you know that Amazon Echo was one of the top-selling holiday items in 2018? Obviously, voice search is here to stay and here are some facts and stats to prove it:
20% of mobile searches on Google are voice searches

25% of all searches on Bing are voice searches

Almost 40 million people in the US use a voice assistant

More than 45% of them use voice search to look for local businesses

More than 25% of them go to a local business website after conducting a voice search

More than 50% of voice assistant owners conduct voice searches every day

More than 20% of voice assistant owners have used the device to make a purchase.
By 2020, half of all searches will be voice searches and 30% of all searches won't use a screen
After looking at these numbers, it is safe to say that if you're not prepared for the rush of home voice assistants, your business will suffer the consequences.  
Businesses are still figuring out how to get discovered through voice search and how to use this new marketing channel to their advantage. Before voice search became popular, users only needed to type a query into search engines to get a great number of results. Voice assistants like Alexa and Siri only offer one "best" result to such queries. So, businesses need to understand how to be chosen as that one "best" result.
Some brands have started incorporating voice search in their digital marketing strategies looking to increase brand awareness and boost engagement. For instance, Ocado has introduced a voice grocery ordering system, Dominos has a voice-activated pizza ordering app, and Whirlpool offers voice-activated home appliances.
This year, the number of companies that create audio content will increase. Ads are also expected to arrive soon, which means that businesses will be able to buy voice ad space.
If you're planning to hop the voice search bandwagon, focus on keywords that users speak rather than type, try to get featured snippets on Google, and use conversational language when you write.
In Conclusion
The above-mentioned trends are just the tip of the iceberg. 2019 brings more cutting-edge digital marketing trends such as programmatic advertising and augmented reality advertising. In addition, we can expect novelties in more 'traditional' digital marketing methods such as influencer marketing and social media marketing (particularly social media stories).
Today, customers' expectations are higher than ever, so if you want to stay on top of the game, you need to invest in new technologies and ad formats.
---