Craft The Most Engaging Web Copy: Copywriting Formulas
---
You're a brand intending to increase the interaction with your audience and spread brand awareness. Thus, your end goal would be to promote your products and services, increasing the conversion rate.
A web copy can work wonders in helping you meet this goal! Wondering how? A web copy encompasses catchy phrases and brand information, offers the audience a solution, and entices them to take action.
Therefore, you would need to learn the art of copywriting to engage with your potential buyers. However, most brands fail in appealing their brands. An average reader spends only 37 seconds on a page to decide whether it offers them any value.
So, the question arises, how to keep your audience hooked to your copy? In this post, you will learn about some of the best copywriting formulas to apply to your copy and keep your audience hooked. So, read on and increase the conversion rates!
What Makes an Engaging Copy?
An engaging copy benefits both the readers and the brand. Hence, for the copy to be compelling, the main elements– the promotion and the information should be well-balanced and enticing.
Secondly, the content should encompass powerful phrases and offer value. The copywriter should understand the user intent with the correct usage of keywords and emotions. More importantly, a copy encourages its readers to take action.
Plus, the techniques helping the writer craft a copy are essential as well. Thus, they should write SEO friendly article.
SEO plays an essential role in making the copy effective and engaging. About 73% of readers prefer skimmable content.
The perfect example of an engaging copy is BarkBox and its audience understanding.
BarkBox uses the perfect captions. Thus, enticing its audience.
Provides information
Encourages its readers to take action.
The Purpose of Copy Writing
Every writing or brand promotion/awareness has a purpose for the business to reach its goals. The following are some of the purposes of copywriting.
To increase the conversion rates
Generate awareness and persuade the users to purchase a product or a service
To not nag your audience. Thus, define a voice
Offer value
To produce varied content: Brochures, catalogs, direct mail pieces, sales emails, web copy, online ads, and press releases.
The Copywriting Formulas
Even though copywriting has no rule book, you can still use some tips and techniques to craft your work. The tips and techniques or 'Formulas' that help create engaging copy to increase the conversion rates are as follows.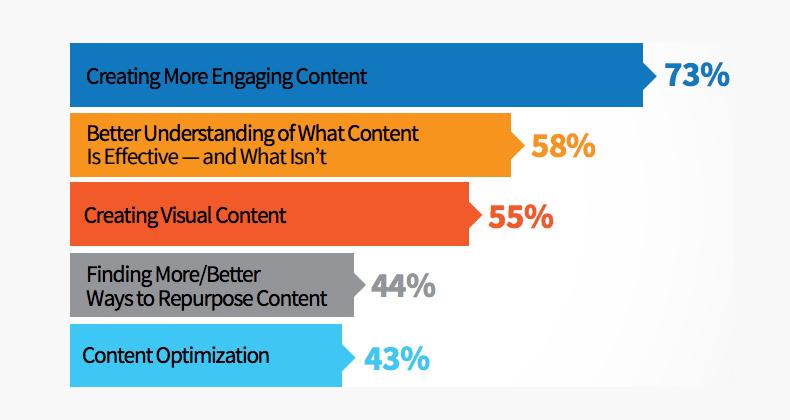 Sources: Cepyme News
Benefit-Driven Content
Users do not need pilled information on the features and the functioning of the product or services. They need to know the benefits they can derive from it. Therefore, if you talk about how a brand can enhance its lifestyle, the users will surely know.
So, when you start typing away your next copy, steer clear of feature-driven content. For example, a reader wouldn't want to know that an MP3 has a storage of 1GB. Instead, they would like to know that the MP3 can offer 1000 songs on the go.
Understand The Buyer Persona
The primary technique to write an engaging copy is to know your buyer in and out. Thus, buyer persona encompasses several aspects to consider before you start crafting your copy.
Location
Age range
Gender
Education
Income
Ethnicity
Personality
Values and beliefs
Shopping habits
The demographic information helps you craft your content better. Wondering how? Simple! The demographic information aids writers in identifying the tone, choice of words, and the suitable means to address the audience.
For example, Hipcamp targets individuals who love being outdoors. The content on their website encircles the topic of outdoor adventures such as best waterfalls and beach hikes. What a perfect way to sell camping services!
Choose The Voice Carefully
The voice is the tone and the style or the way your brand will communicate with its audience.
So, you should choose the style carefully as you want to retain your brand image in the mind of the readers.
Moreover, the brand voice has a lot to do with how you want to address your audience. So, to jot down the idea of the voice, you need to consider a set of qualities.
Tone
Styles
The goal of the copy
Who are you addressing?
Choice of words
Tense
Pronouns
All in all, you would need a style guide to set the voice of your copy. A brand usually provides a style guide. If the brand does not offer a style guide, you can consider the qualities mentioned above and create one for your copy.
You can also inculcate SEO content writing techniques to accentuate the copy and make it relevant to the search engine.
For example, FreshBooks offers problem-solving through the choice of words. FreshBooks is accounting software. It includes terms such as 'get paid faster,' 'easy invoicing,' and 'organize expenses effortlessly.'
The A/B Test
To know your customers and potential buyers better, you would have to study their behavior. Wondering how you can analyze customer behavior?
Firstly, by researching their preferences. Secondly, by giving them options to choose from, you found from the research. The option can be your landing page, consider the A/B test.
Look at the image below to understand better.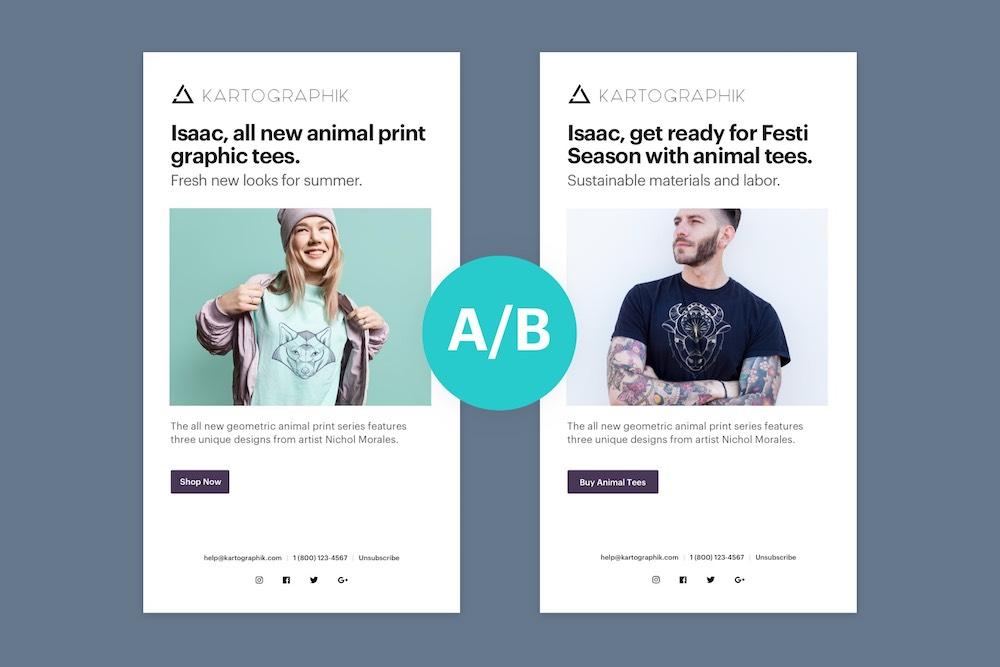 Sources: Mailjet
Using content writing tools for SEO, you can establish two different, high-quality copies. After publishing both, to understand which works better, you can use tools such as Google Analytics.
You can test the following web copy elements to find what audience relates more to your brand.
Headline length
Type of headline: Question vs. statement
Short-form copy or Long-form copy
Point of view: First person, second person, and third-person
Language and choice of words
SEO-Friendly Content
One of the top-most-rated web copywriting formulas is to follow SEO article writing. Now, you may wonder how to write SEO friendly content? The techniques given in the image below and the ones explained further down can be a boon to writing SEO-friendly content.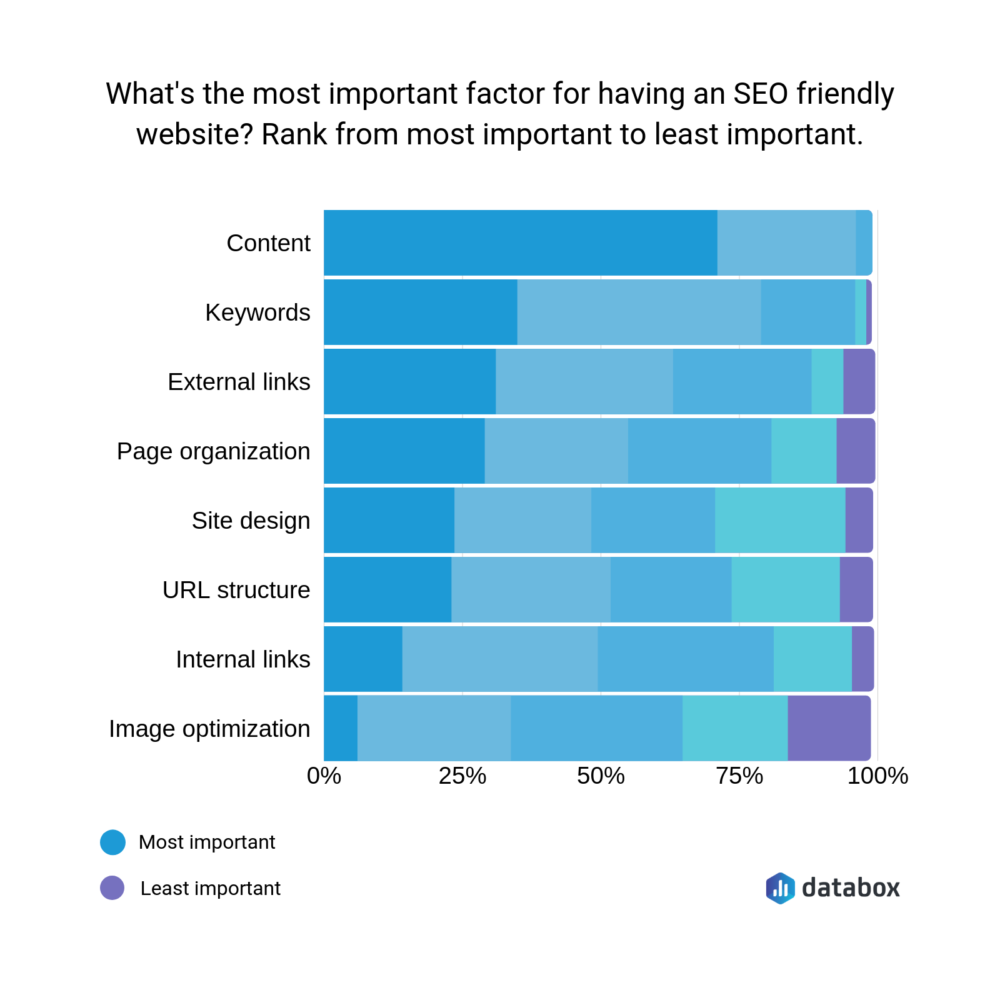 Sources: Databox
The text that is easy to read and follows the search engine ranking appropriate methods is an SEO-friendly copy. Also, about 57% of marketing executives that the content developments you imply on-page are the most effective tactics for SEO.
Thus, you should learn about these methods and enhance your content.
One of the most SEO-friendly copies you will come across is Hubspot's article – How to write a blog post. The article is well-written but also well-structured. Hence, it makes the information digestible.
The audience would like to read about topics briefly. If they find the information clustered, they won't spend much time going through it.
Skimmable content
A skimmable content includes information put together in an organized format. If you have too much information to put in your article or copy, make sure it is scattered enough.
This means to ensure you use bullet points, subheadings, tables, images, and other elements to make the text easy to read.
When you follow SEO best practices, your content is sure to become skimmable and easy to digest.
Keywords
Another essential SEO technique for your web copy is to use keywords. You may wonder, how can keywords enhance your content? Keywords, when used correctly, increase the chances of your copy ranking higher on the search engine result page.
To search-relevant keywords, you can use Google trends. On this website, you can know what people search about after entering a specific topic.
You would be surprised to know, about 50% of search queries contain four or more words. Thus, you can find a topic heading or subheading for your copy.
Note: Do not stuff keywords in your copy, as they can be identified as a negative ranking means. Plus, chances are your website or copy may be banned from the result pages for being irrelevant.
You can always hire SEO content writing services, such as WrittenlyHub, to craft an excellent copy that appeals to your audience.
Become A Storyteller
As a child, you would have loved listening to or reading stories about anything that fascinated you. If you loved the mountains, stories were your gateway!
Similarly, you can engage your audience in a story to promote a brand or a product/service. Most readers enjoy stories as they appeal to their emotions.
According to a study conducted by headstream, if people connect with a brand story, the chances of buying a product is 55%.
For example, the story about WrittenlyHub and how a small venture turned into a passionate team of young content writers. 
The story of WrittenlyHub offers a personal touch, it shows dedication and ambition. Thus, it appeals to the mass. The key here is to tell your story most authentically, relating what makes your brand stand out.
Wrapping Up
Web copies increase conversion rates and make the brand stand out to contain an eye-catching phrase, an idea or solution, and an action for the audience.
Now that you've learned about some of the best copywriting formulas, it is time to apply them to your brand. Do you need help in creating compelling copies? You should hire SEO Content Writing Service to craft engaging and valuable copy!
---