Benefit your Marketing and Sales team through Marketing Automation
---
Marketing Automation refers to the technology that makes your marketing and sales activity simplified and help you to focus on more productive as well as creative Marketing tasks. Marketing Automation help companies to streamline the workflow, so they can increase the operational efficiency and grow revenue fast.
How Automation Helps your Marketing Team.
SAVES TIME
Marketing Automation helps time so by being able to schedule everything in advance such as social posts, emails, any sort of follow up activities, you can work more efficiently and then you can use your time and resources better to focus on those more strategic and creative endeavors. There's no reason for you to be taking time doing these manual, mundane tasks when you could be using that brainpower in a more productive way.
EASILY GATHERS & REPORTS DATA
It allows you to easily gather and report on data so one of the most beautiful things is these analytic dashboards that are available on marketing automation platforms and they allow you direct access to your KPIs and by that, I mean your key performance indicators. The big-picture KPIs like revenue generated, all the way down to small KPIs like email open rate even the click-through rate on a specific email or the conversion of a specific channel through implementation of Marketing automation in your B2B Email Marketing Campaigns.
It tags all your marketing activities and allows you to organize them into campaigns. This helps you see which campaigns are making the biggest impact on your business and organizes it all so that you can optimize and track everything you're doing.The other thing that's great for this is especially good for presenting to other key stakeholders is these visual analytics of different things like traffic, conversion rates, click rates, and even pipeline velocity and more and these are really important to people that you're reporting to whether that may be a marketing director, a CMO above you, all the way up to your CEO.
REACHES POTENTIAL CUSTOMERS
It really is unmatched because you can reach them on a personalized way across multiple channels whether that may be on social, through email, through chat, there's so many ways, even the phone. So, it really allows you to have that omni-channel presence like it's never been available to marketers before and you can also reach out to these prospects at different stages of their buyer's journey on these different channels so again this is just gonna boost your conversion rates and your customer acquisition rates extremely.
ULTRA-TARGETS
It allows you to create and provide specific, tailored content so instead of just blasting the same message out to everyone you can really tailor it to specific buyers to specific places in their buyer's journey and like I said all of this is just going to improve your conversion rates and this is really one of the biggest opportunities available to marketers today.
IMPROVES LEAD MANAGEMENT
Marketing Automation prevents you from having leads getting lost in the funnel or just falling off, we know that just you know communicating with a lead once and giving them into the database isn't going to turn them into a customer. You need to continue to nurture that relationship and provide themmore and more information before they're going to become your customer and that's what marketing automation allows you to do. It also processes and stores high volumes of information on your digital leads. No more do you need to be entering things into an Excel spreadsheet manually. These automation platforms automatically update lead data and it'll also make that process of switching from marketing to sales smooth because no data is lost in that transition. Maybe it's they take a specific action like they visit a product page, or they fill out a specific form that indicates to you that they are a marketing qualified lead or a sales qualified lead.
How Marketing Automation helps your Sales Team
IMPROVES EMAIL CONVERSION RATES
You can schedule messages to be sent at optimal times so when that recipient is going to open the email. You can personalize these emails even on a mass level and you can create triggered follow-up emails and these triggered follow-up emails they have been shown to perform three times better than other emails so a prospect is getting them specific email based on a behavioral trigger and this is something you can do at scale and also you can respond 24 hours a day so just because you're sleeping and you go to bed say you're a 9 to 5 a.m. well if your prospect is up until 12 and that's when they're thinking about hiring you guess what you can still respond with Email automation
SELL TO QUALIFIED LEADS
You can follow up the leads and nurture it up to certain number manually, but you can't really follow up and nurture all of your leads, so it helps you to focus and follow it on the leads that are most likely to close and are important. You can focus on those who are ready based on behavioral triggers or maybe what makes an ideal buyer you know is an ideal buyer for you and it really prevents time wasted from connecting with leads that aren't ready so the worst thing is when marketing just sends you know a huge lead list to sales and they're expected to follow up with every single one but with marketing automation you're allowed to be able to pick out which of those leads are most likely going to close and only reach out to them.
GIVES INFO FOR FOLLOW-UP
Basically, it gives you context on this person so successful conversion means that you get the right message at the right time so what does marketing automation do? It tracks all of the interactions that this prospect is having on your website or with content or your forms and so you'll know already what they see and so you can get the right message so maybe they visited a particular product page you know that they had that pain point you can talk about that and it just allows you to create that connection right up front.
IDENTIFY BEST POTENTIAL CUSTOMERS
It allows you to identify your best potential customers so like I mentioned you don't want to follow up on everyone but what it allows you to do is the CRM. It allows you to rank your leads and set up things like lead scoring so that you know which leads hottest and which leads are have been shown to be most likely to close so this allows you to focus on only a handful of leads rather than again that entire database that marketing has sent to you.
CREATE YOUR IDEAL BUYER
It allows you to create who that ideal buyer is so you can enter specific criteria you want in a potential lead so just like we have who is most likely to close there may not be everybody in your database may not be who you want to be your customer so this allows you to filter through and find those people that are your ideal customers. Spend time on that and you're gonna find it exactly which leads to follow up on so now you know who's most likely to close, who you want to actually close and you're able to assure that they actually follow through on those and respond to your emails.
Final Thought
Marketing automation provides companies with customer profile and data management services to help them serve their markets in better and more efficient way. Successful customer acquisition, conversion and retention are the result of most successful holistic Marketing planning and strategy, a strategy that most marketing automation solutions are fully equipped to support without any error.
Author Bio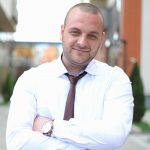 Ryan Smith is the Senior Marketing Manager at Optin Contacts Inc. He oversees Optin Contact's online marketing strategy and implementation. Ryan has launched 8 successful marketing campaigns including a 12-month project for Optin Contacts Inc. that doubled monthly revenue, and a social media campaign that grew the company blog's monthly traffic by 245%.
Photo by Joshua Rawson-Harris on Unsplash
---