9 Tools To Help You Craft Content That Generates More Sales!
---
Content writing is important in promoting a company's products or services, driving conversions, and generating more leads.
However, an effective content writing strategy comprises valuable tools that help you achieve perfection in your business.
More than 25% of B2C marketers claim that content writing tools helped them write winning content and succeed in their business.
Top-quality content writing tools help you better understand your target audience's preferences and needs.
If you have good tools that help you write amazing content, you can achieve tremendous leads in your business.
Google always promotes well-written content. Most importantly, it has unveiled some of the crucial queries that can assist you in gaining a proper understanding of how Google analyzes content. These are:
Does the content have any writing flaws?
Does the article tailored perfectly, or does it look sloppy?
How much content is subjected to quality control?
Writing top-notch content is the only key to driving more conversions and sales to your business. People love to read and share content that is engaging and flawless.
But crafting excellent content is not an easy feat. Many writers struggle to write content that covers users' intent. But what if you are running short of time and have to write a top-notch article that resonates with your target audience?
Does this question ring you?
Do not be worried!
This article has your back. Let's have a look at the top nine tools that can assist you to write content that generates more sales and leads.
Here you go!
Quillbot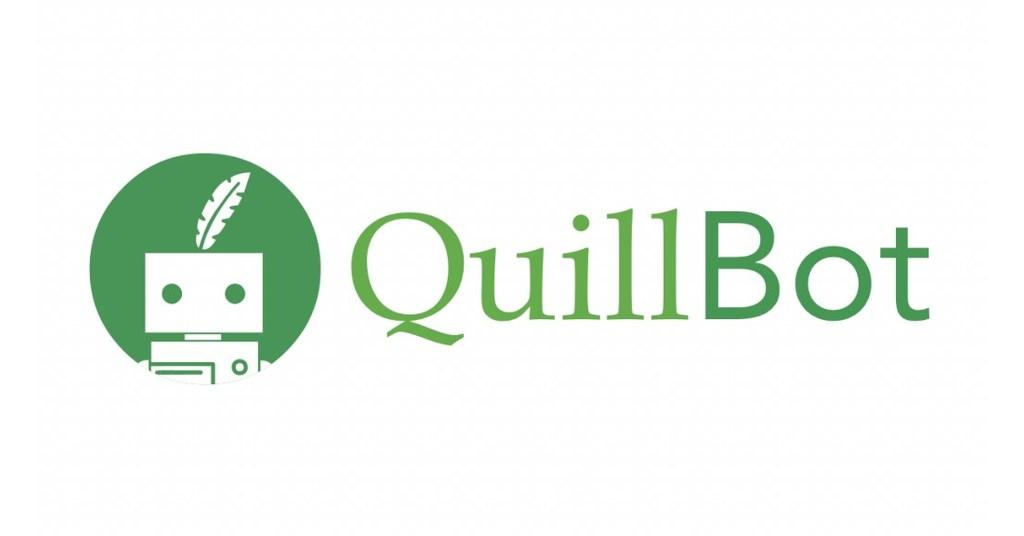 If you have just stepped into content writing, you will be familiar with paraphrasing and plagiarism. Since you have to craft content regularly, you must know about some quality paraphrasing tools that help you write impeccable content.
Quillbot is a good paraphrasing tool that assists you in writing unique content.
Unlike other paraphrasing tools, Quillbot does not only replace your written words with synonyms but also uses Artificial Intelligence (AI) to keep the content organized both syntactically and structurally.
In this way, it removes plagiarism from the copied article. In addition to rewriting any content, you can also use this tool to summarize paragraphs, change the sentence structure, and check the authenticity of your article through the plagiarism checker feature.
Therefore, this tool helps you write better and clearer content that is easy to read and understand by the readers.
Hemingway Editor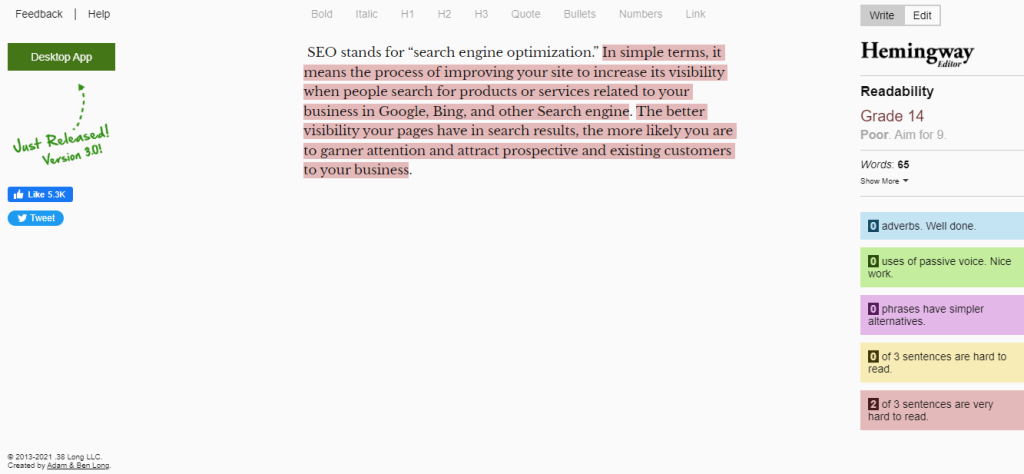 Writing content without editing is like a cooked vegetable without salt!
Editing helps you fine-tune your writing style and win readers' hearts. This is where the online Hemingway Editor steps in to bring the true vision to your content.
This online tool instantly highlights and fixes all the grammatical flaws and sentence structure in order to bring a new life to your writing. It teaches you how to write quality content in the best possible way.
It is one of the practical tools that assist you in honing your writing skills. It highlights all the complex and hard-to-read sentences that can give readers a headache.
Furthermore, it also provides you with valuable suggestions to replace tricky words and phrases with simple words. Using several passive voice sentences in your content is against professionalism.
Hemingway Editor also highlights all the passive voice sentences, so you remove them from your writing. In a nutshell, it improves your content's readability.
Word Counter
Sticking to a particular word count is an undeniable factor that you cannot ignore. Whether you are a professor, student, blog writer, product description writer, marketer, finance, or any other writer, you have to keep track of your content length.
Without keeping track of the article's length, you exceed not only word count but also stuff unnecessary content in your writing that can push readers away from the right track.
In addition, it also minimizes content's readability.
In this case, an instant result-driven word counter tool helps you keep track of your content length. This online word counter tool computes the total number of characters (with or without spaces), words, sentences, and pages of your written content.

While creating social media content, you are not allowed to write above a certain limit. This word count online tool is the best way to stay within the character and word limit.
Irrespective of your background, you can leverage this free tool. With its user-friendly interface, you can copy-paste the text into the input box. That's it.
Other matchless features of using this word counter are:
In order to lay stress on any particular information, you can change the font size of the text with a single click.
This feature enables you to change the case of any word or sentence. Whenever you are required to make headings out of your content, you can change its case to make it distinct from the entire article.
With its free grammar checker feature, you can make your content error-free. It instantly underlines all the typos, punctuation, and spelling mistakes. So, it gives a professional look to your content.
When you have done your work and saved it, you can clear the text with a single click. You can write as many words as you want and clear them with a single click.
Grammarly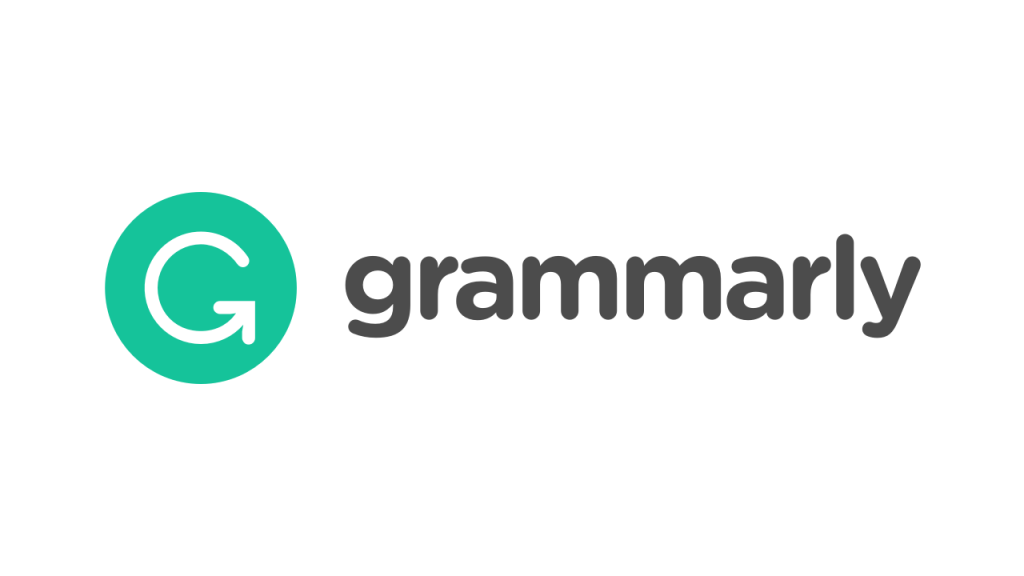 Grammarly is one of the most proven tools for making your content flawless. It analyzes your text for punctuation and grammar mistakes.
You can use this online tool for proofreading and editing your article. With over 10 million users worldwide, this tool is regularly used by professionals and general users to fix their writing errors.
Additionally, it improves your text's vocabulary by correcting all the contextual mistakes and improving your writing style.
Its premium version really makes a major difference in your writing. It strengthens your writing tone. You can also use its plagiarism checker in the paid version.
Cliché Finder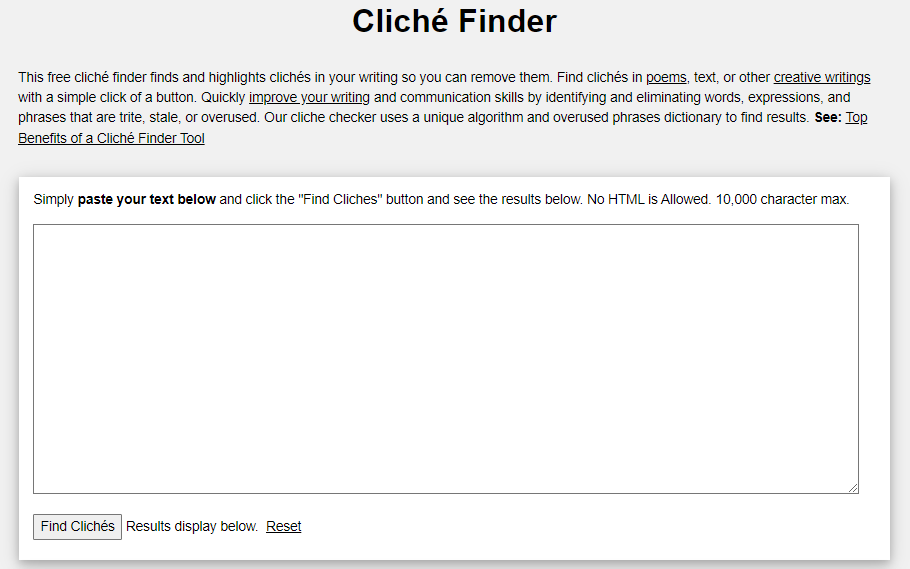 This amazing tool enables you to trace all the overused phrases that make your content boring. It analyzes your writing and underlines all the clichés.
Also, it lets you know where you need further adjustments in the content. That is why it is one of the best content writing tools to use.
This tool comes in handy when you are producing an email; thus, you can benefit from this tool as an email marketer. With its simple interface, you can make your writing free from all clichés and make your content stronger.
Online Notepad
Most often, you just want to pen down your ideas quickly and hassle-free. In that case, an online notepad is the best tool to consider.

With a simple and user-friendly interface, you can find a spot to jot down ideas and make outlines. Whether you are a content writer or a student, you can write whatever you want. You can simply generate ideas, write them down, and go wherever you want.
This tool automatically saves what you have written and displays the text in its original form whenever you revisit it.
It assists you in keeping record of your daily work and ultimately saves your time. Without the hassle of copying and pen, you can make your notes in a friendly way.
Plus, you can access this online notepad from anywhere.
WebFX Flesh-Kincaid readability test tool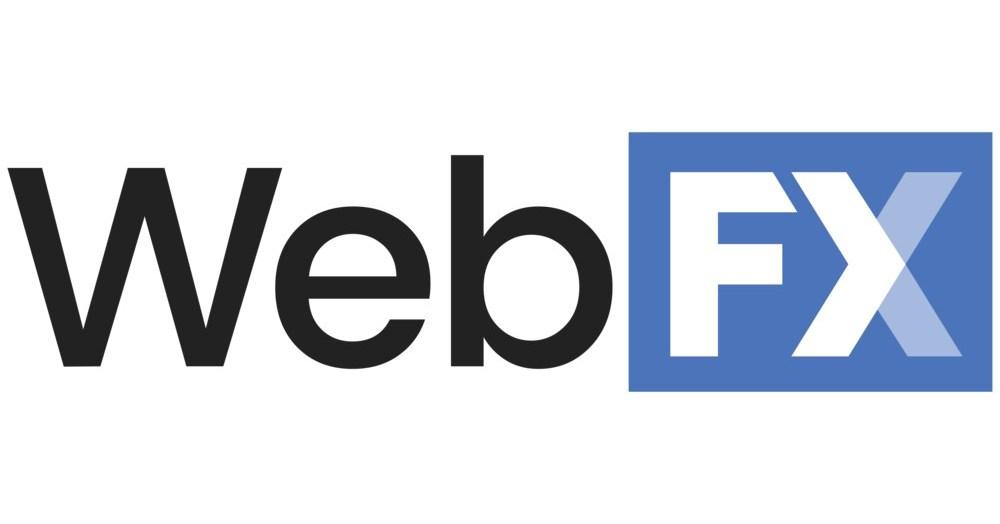 Whether you are a newbie or a seasoned SEO content writer, you cannot underestimate the significance of content readability.
Have you ever heard about functional illiteracy?
This term means that a specific person can read and write but not to the level that is necessary for ordinary needs.
Functional illiteracy has affected more than 20% of Americans. If you are not considering the readability level of your text, you are missing a whole lot.
There is a possibility that your written post has an inadequate level of readability to a group of your target audience. In this situation, the WebFX Flesh-Kincaid readability test tool brushes away your readability worries.
You can use this tool to check the readability level of your content. It would be best if your content had a readability score of 5-8.
All you need to do is copy-paste the URL in the inbox and hit the "Calculate Readability" button. That's it!
It is the easiest way to test the readability of your text.
Yoast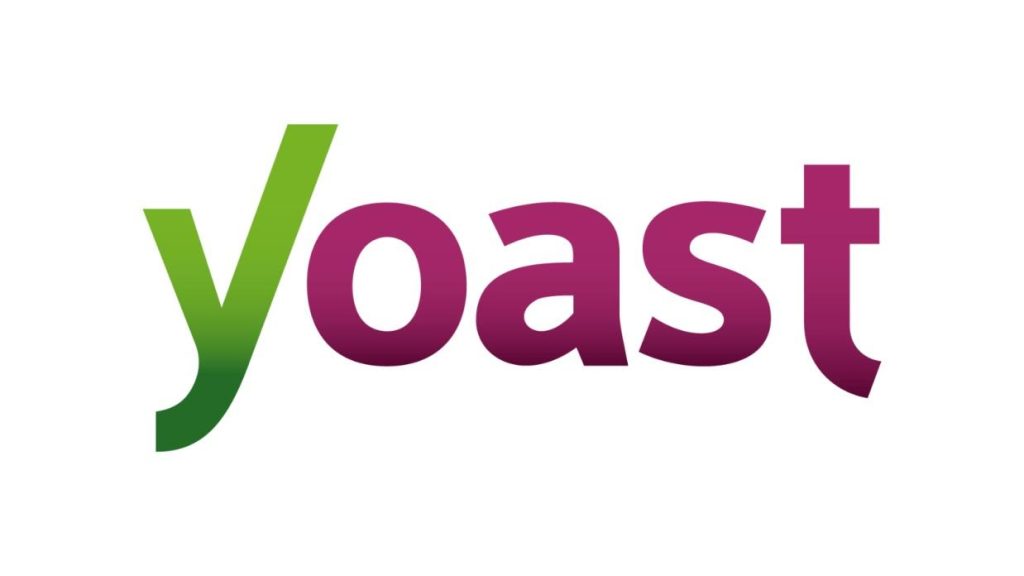 Yoast provides you with effective tips to optimize your content for SERPs. Its writing suggestions enable you to better optimize your content.
Moreover, it assists you to improve your article's SEO by setting a particular key phrase and telling you how you can fine-tune your content with this key phrase. Plus, it also allows you to enhance text's readability.
It analyzes how reader-oriented and SEO-friendly your content is.
Citation Machine
You have done comprehensive research for your content, right?
Now, you have to cite all the sources properly. While writing academic content, you have to follow these styles:
MLA
APA
IEEE
Harvard
Chicago
Oxford
On the contrary, you have to choose only one style and stick to it with your entire being. However, you can also follow the same style every time your write the content.
Citation Machine helps you to generate citations quickly and effortlessly. This tool is ideal when you have used several sources for collecting information and want to showcase the authenticity and credibility of your copy.
You can use this online tool to generate citations for your article, blog, and book.
Conclusion
These nine tools will help you kick your writing worries away from you. This is the best time to say goodbye to procrastination and welcome these writing tools.
With these tools, you will be able to craft content that rocks on the stage.
So what are you waiting for?
Try these tools and write a well-knit article for your site.
If you have any questions about these nine tools, you can place your query in the comment section.
Best of luck!
---