9 Features That Make Premium Web Hosting Worth the Money
---
One of the main functions of website hosting is to provide a space for your website to live on the internet. But, not all hosts are created equal. Some hosts offer faster speeds, better security, and more features than others.
And, for businesses that rely on their website for functional marketing – meaning that their website is their primary source of customers – it is worth investing in a premium web hosting plan.
With various website considerations when choosing a web hosting provider, going for a more expensive plan with more features may be the best decision for your business.
In this article, we will explore the features of premium web hosting that make it worth the money both in the short and long term for overall business success.
Let's get right into it.
Top Features That Make Premium Web Hosting Worth the Money
Here are the top features of premium web hosting that businesses should consider.
1. Speed And Fast Loading Times
The top premium web hosting you could usually go for is one dedicated to a single website. In other words, your website is the only one on that server. This single-tenant hosting environment gives you complete control of the resources dedicated to your website, resulting in much faster loading times.
Dedicated web hosting is vital for online websites with high traffic because it can help improve website speed and loading times, which is a significant ranking factor for Google.
With an average webpage load time of 27.4 seconds on mobile and 10.4 seconds on desktop, this is not good enough for businesses that offer an online product or service – especially with people's attention spans always getting shorter.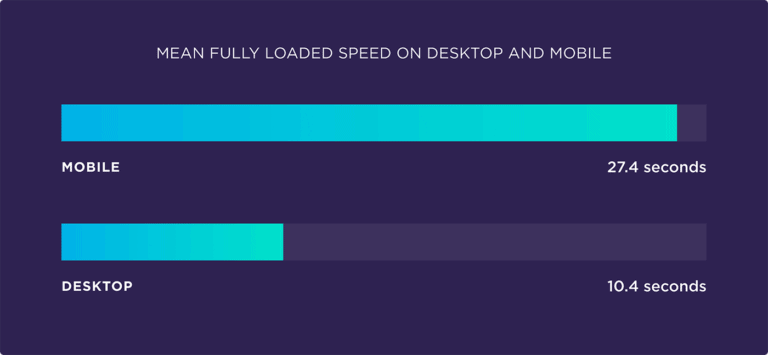 Image credit: bluehost.com
Frequent website visitors are impatient and will not tolerate a slow-loading website – no matter how good your product or service is. Investing in a premium web hosting plan will help ensure that your website loads quickly, keeping visitors on your site and reducing your bounce rate.
2. Security Monitoring
When you have a website, you need to ensure that it is secure from malicious attacks. Unfortunately, even the most secure websites can be hacked.
But, with premium web hosting, you get around-the-clock security monitoring from your hosting provider. This means that an algorithm constantly checks your website for any suspicious activity.
If your website is hacked, your hosting provider will be able to quickly fix the issue and restore your website to its previous state.
This peace of mind is worth the money for businesses that rely on their website to generate leads and sales.
3. Customer Service
One of the main benefits of premium web hosting is access to better customer service.
With lower-priced web hosting plans, you often have to rely on a knowledge base or online forum to get answers to your questions. While live chat might be available, it usually takes a relatively long-time to get the answer you need. But, with premium web hosting, you can access customer support on a 24/7 basis with fast response time.
This means that someone is always available to help you with any issues you may be having with your website. Whether you need help with the initial setting up of your website, troubleshooting a problem, or anything in between, premium web hosting customer service has got you covered.
4. Uptime Guarantee
One of the most important KPI metrics for premium web hosting is uptime. This means that your hosting provider guarantees that your website will be up and running a certain percentage of time – most premium hosting services offer 99.9% uptime, with some even going for 100%.
This is important for businesses because even a few minutes of downtime can cost them sales. For companies that deal with high volume traffic, even a few minutes of downtime can lead to a huge loss in revenue.
With the right uptime guarantee, you can rest assured knowing that your website will be up and running when your customers need it.
5. Money-Back Guarantee
You also get a money-back guarantee when you invest in premium web hosting. If you are unsatisfied with your hosting service for any reason, you can usually get a refund within the first 30 days.
This is a great way to try out premium web hosting without committing to it long-term. And, if you find it's not for you, you can always switch back to a lower-priced plan.
6. Disk Space and Bandwidth
Premium web hosting plans come with more disk space and bandwidth than lower-priced plans. This is important if you have a lot of images, videos, or other large files on your website.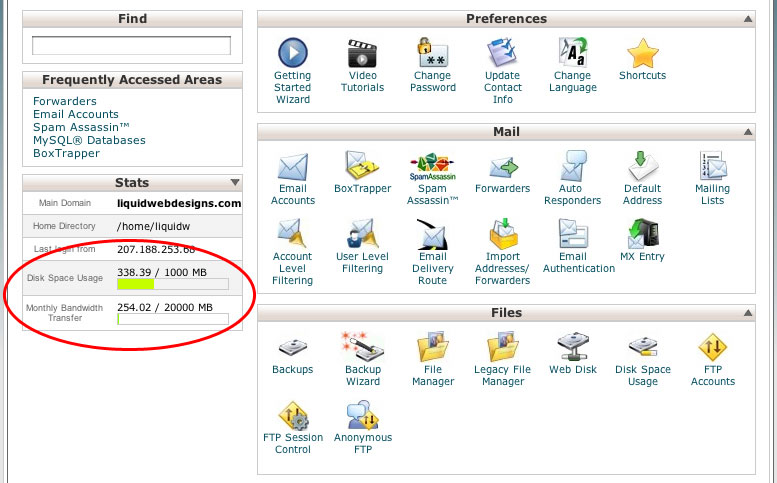 Image credit: liquidwebdesigns.com
With more disk space and bandwidth, you can also host more content on your website without worrying about running out of space as the number of site visitors increases. This is especially important for businesses whose website is a huge income driver.
7. Add-Ons and Extras
In addition to the features mentioned above, premium web hosting plans also come with several add-ons and extras. These can include elements like:
Free SSL certificate that helps keep your website secure and protects your customers' information.
Premium themes that make your website look more professional and help you stand out from the competition.
Premium plugins that add additional features to your website and make it more user-friendly.
Bundled software that includes things like email marketing software, CRMs, etc, all of which can help you grow your business.
8. Backups and Restores
Being a feature that not many think about until it's absolutely needed, a component of premium web hosting is automatic backups and restores. If something happens to your website, you can quickly restore it to a previous state.
This is important for businesses because it helps minimize downtime in the event that something goes wrong. Whether it's a malicious attack or a user error, being able to go back to a previous version can come in handy. It also gives you peace of mind knowing that your website is always backed up.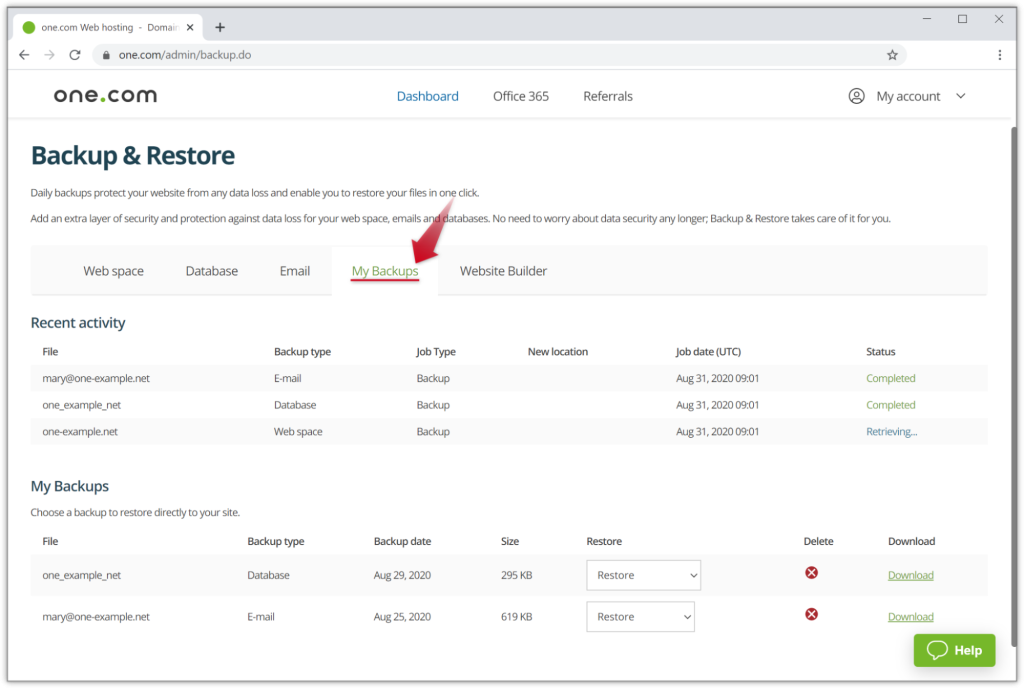 Image credit: help.one.com
While some web hosting providers only offer backups that go back a few days, premium web hosting providers often offer backups that go back weeks, months or even years. This means you can always restore your website to a previous state, no matter what happens.
9. Plugin and Theme Updates
Finally, premium web hosts also offer automatic updates for plugins and themes. This means you don't have to worry about manually updating your website every time a new update is released.
This is essential because doing so can be time-consuming and frustrating. It's also important for security purposes, as it helps to keep your website safe from hackers.
A Note On Web Hosting Control Panels
Most web hosting providers generally use one of two popular control panels: cPanel or Plesk.
cPanel is the most popular control panel and is used by a majority of web hosting providers. It's user-friendly and has a wide range of features that make it easy to manage your website. Plesk is another popular control panel that some web hosting providers use. While it doesn't have as many features as cPanel, it's still a good option for an easy-to-use control panel.
One main difference between cPanel and Plesk is that cPanel is only available on Linux-based servers, while Plesk can be used on both Linux and Windows servers.
That said, there are various other free web hosting control panels that you can use in your business. While most require development knowledge to install and set up, they can offer a more customized experience for those looking for something different.
Ultimately, it's up to you to decide which control panel is best for your business. If you're unsure which one to use, we recommend trying a few different options to see which one you prefer.
Pricing of Premium Web Hosting
When it comes to pricing, premium web hosting plans usually cost more than shared web hosting plans, VPS plans, or any other type of web hosting. Ultimately, the price of premium web hosting depends on your chosen provider.
Dedicated hosting averages $100 per month, which relatively, is still not a lot when considering all of the features and benefits of such web hosting.
Conclusion
For businesses looking for the best possible website hosting solution, going premium is usually worth the investment.
Not only does this offer several features and benefits that you won't find with shared web hosting, but it also gives your business the peace of mind that your website is almost always up and running as it should be.
Considering the features, benefits, and pricing of premium web hosting, along with your specific business needs, you'll be able to decide if premium web hosting is the right solution.
---