8 Tips for Generating Return Customers to Your eCommerce Business
---
The biggest challenge when it comes to running an eCommerce business is getting people to your website. You have to put in a lot of effort to market yourself just to get people in the door. After spending so much time and money to generate a first-time customer, you don't want to have to keep repeating the process in order to continue growth. 
It would be better if you could turn some of those first-time customers into return customers. However, generating return customers is a process in and of itself. You can't just hope that your products are so great that customers keep coming back time after time. 
Instead, you need to put a system into place that will encourage past customers to return. If you're interested in generating more return customers for your eCommerce business, here are a few tips you can use. 
#1 – Improve Your Website Experience
To start, you need to make sure each person who visits your website has a great experience. A first time customer may be willing to slog through an uncooperative website to complete their purchase, but they are less likely to do it a second time. 
Imagine walking into a retail store, and the products you're looking for are hard to find, the employees there are unhelpful, and the checkout process takes too long. Chances are you will find another store the next time you want to shop. The same thought process applies to websites.  
Luckily, improving your site experience isn't too hard to do. There are a few key things you'll want to focus on. 
Site Speed
First, you should focus on the speed of your site. Studies have shown that people won't wait very long for a site to load. Speeding up your website by even a few seconds can make the difference between generating a sale and losing a customer.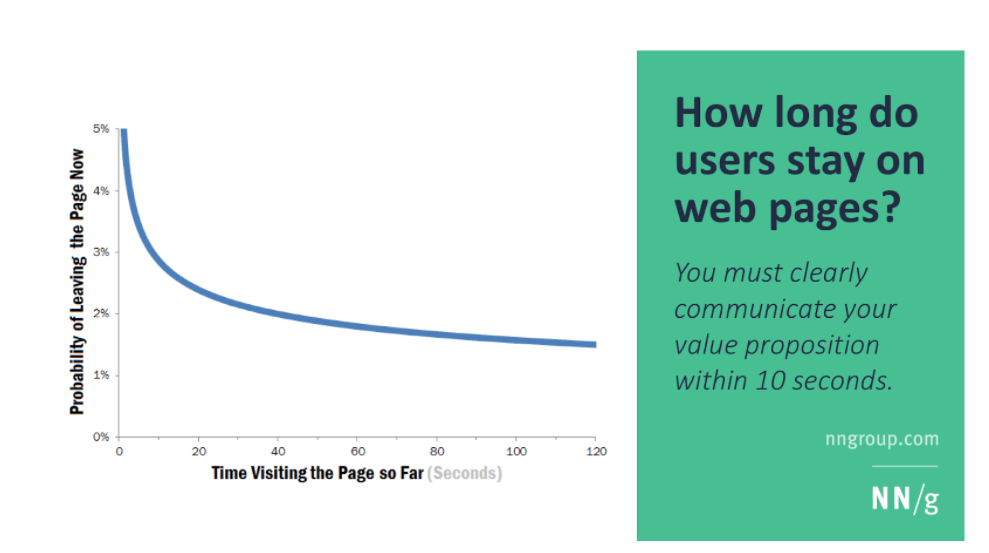 Image Source: https://www.nngroup.com/articles/how-long-do-users-stay-on-web-pages/
You can speed up your site in a number of ways, from using smart traffic routing, to using a content delivery network, to switching to a faster web hosting company. Try loading your site from different devices and on different internet connections and see if your site could use some improvement in this area. 
Improve Customer Service Options
Another way to improve site experience is through customer service options. It should be easy for customers to get in touch with your team, whether they have a question about a product, need help completing a purchase, or are experiencing some kind of issue. 
Live chat is a great thing you can add to your eCommerce site for this, or you can list multiple ways for customers to get in contact with you on your site. The easier you make it for customers to get the help they need, the better experience they will have. Here's an example of how you could add Live chat to your website: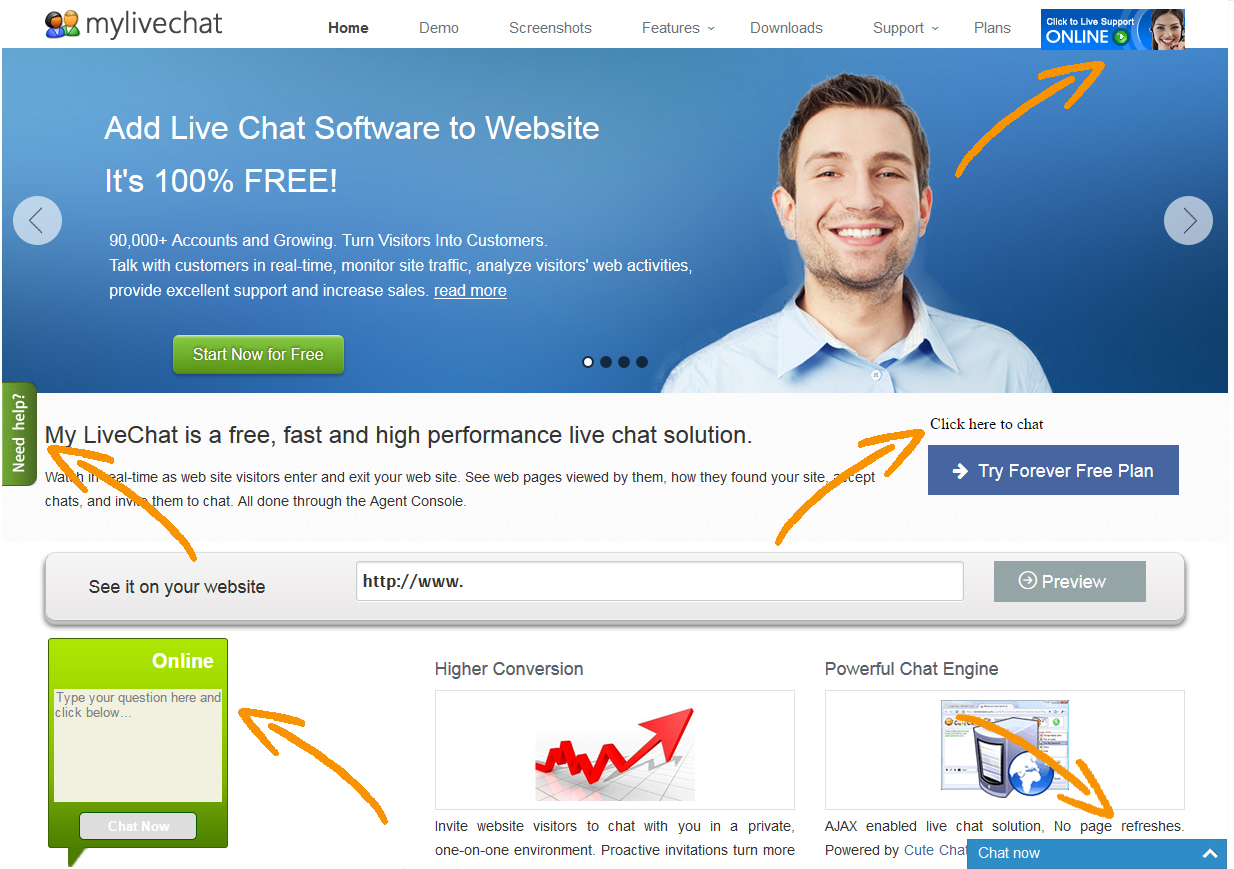 Image Source: https://www.mylivechat.com/screenshots.aspx
Lastly, there are some simple tweaks you can make to ensure a good experience with your site. For instance, look at how you're grouping your products together and see if it makes sense. Also look at the navigation options you have on your site and make sure it's easy for customers to get around your site.
Finally, make sure your website works well on mobile devices so that users can have a great experience no matter what sort of device they are on. 
#2 – Add Order and Shipment Tracking
A great way to improve the customer experience both on your website and once they leave is through the order and shipment tracking. Giving customers the ability to track the status of their order, and then the location of their package has been shown to increase customer favorability. One survey from Forrester (pdf) found that 78% of B2B customers said the ability to track their orders was very important to their overall satisfaction. 
After a customer completes an order with you, they should be able to do the following things:
See that their order was received

Know when their order is being processed

Find out when their package is expected to ship out

Receive an update that their order has been shipped

Track their order's location via the shipping provider
#3 – Email Your Past Customers
The next strategy for generating return customers is through email marketing. When someone completes a purchase on your site, it's a good idea to collect their email address in the process. That way you can email them somewhere down the line and entice them to come back. 
For example, if through tracking your customers you see someone was making a purchase once a month for a few months, but then suddenly stopped for 6 months, you could email them a discount code encouraging them to come back. 
Or, you could simply target all previous customers with special discount codes on products they might have an interest in, based on their past purchases. Another option is to email a special discount whenever your customer has a birthday.
Little reminders and incentives like this can go a long way. If someone became a customer of yours, that means they have an interest in the types of products you're selling. And unless they had a bad experience with your product, there's a good chance they still have an interest in those products. 
By sending out little reminders via email, you gain their attention once again, and that small incentive could be what it takes to make them a return customer. 
#4 – Encourage Social Media Engagement
Image Source: https://www.pexels.com/photo/apps-business-cellphone-cellular-telephone-533446/
A great way to bring back old customers is through social media. Most people check their social media accounts at least once a day, so if you can get them to engage with you on social media, they'll get a daily reminder that your eCommerce store exists. 
There are a few ways you can encourage social media engagement. You could offer a discount to anyone who follows your social channels. Another option is to simply ask them to follow you and let them know you occasionally give out special offers to your followers. You could also run contests on your social accounts, giving away free prizes to your followers. 
By getting your customers to connect with you on social media, you are establishing a connection that will extend beyond the sale. You can then use this to draw them back into your site and generate future sales. 
#5 – Make Use of Marketing Automation Tools
To generate more return customers, you need to have the right tools on your side. One tool you'll definitely want to invest in is an intelligent CRM that will allow you to automate your marketing processes. A major benefit of implementing marketing automation is saving time, but this isn't the only benefit. 
For starters, it can increase your ROI. Marketing automation allows you to automate your upsells and follow-ups, which will increase your customer lifetime value. On top of this, your marketing automation tool will help you to prioritize your leads, so that you're only focusing on the best ones. Here's just a small example of the type of data a good CRM can provide you with: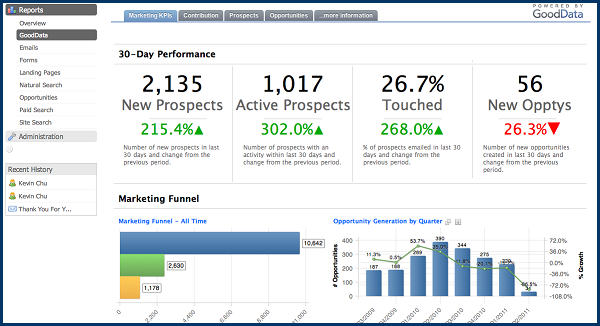 Image Source: https://www.ventureharbour.com/23-benefits-of-marketing-automation/
The keys to generating return customers is identifying the best prospects among your past customers, reaching out to them at the right way and at the right times, and ensuring they have a good experience all the way through. Marketing automation tools allow you to improve in each one of these areas. For more on the benefits of marketing automation, you can check out this guide. 
#6 – Start Using Retargeting
Retargeting is a marketing strategy in which you show ads across the web to people who have already visited your website. The idea behind retargeting is this – just because someone left your website doesn't mean they no longer have an interest in your product or service. Maybe they just weren't ready to buy yet, or they became distracted while browsing the web. By showing online ads to these people, you're keeping your brand in front of them and encouraging them to come.
This same idea applies to both past customers and ones who left without converting. Your goal is to keep people who have shown an interest in your brand aware of your products or services. Someone who has visited your website – or completed a purchase in the past – is more likely to come back to your website, provided you can give them a gentle reminder that you exist. 
There are some strong statistics that show Retargeting is an effective method for generating return customers. For starters, the click-through rate of a retargeted ad is 10x higher than that of a normal display ad. In addition, another study (PDF) found that retargeted website visitors are more likely to convert by 70%. Between these two numbers alone, implementing a retargeting strategy is something you'll strongly want to consider. 
#7 – Create a Customer Loyalty Program
The next tip is establishing a customer loyalty program. If you can create a program in which customers are rewarded for frequently coming back to your eCommerce store, you will be able to generate a lot more return customers. 
For example, let's say you establish a points system. Every time someone completes a purchase through your site, they are given 100 points. When they reach 1,000 points, they are eligible for a free product (or big discount). This type of program will encourage users to keep using your site, rather than getting a similar product somewhere else. 
The key to a good loyalty program is finding a balance between an enticing reward and something that is financially reasonable. Going back to the previous example, if a customer has to make 100 purchases before they get a 10 percent discount on one purchase, this likely won't be enough to keep them coming back. 
On the other hand, if they only have to make two purchases before getting a 90 percent discount, you'll find that it's hard for your eCommerce store to afford this promotion. Think about your own products and their costs before deciding on a program. Then play around with some of the numbers and see what works best for you. 
#8 – Create a Customer Referral Program
Finally, besides a loyalty program, you can also create a referral program. A referral program allows you to capitalize on providing a good experience to one customer by encouraging them to spread the word. 
For example, after someone becomes a customer of yours, you can offer them a 10% discount on their next purchase if they get someone else to buy something. This will then not only generate a new customer, but likely a return one as well. 
Starting a referral program is one of the best things you can do to generate new customers. According to this infographic, business to business companies with a referral program saw a 70% higher conversion rate. Not only that, but 84% of consumers say they trust referrals more than other forms of marketing. 
And in terms of return customers, 47% of consumers get excited by exclusive offers, while 91% of consumers said they would share an exclusive offer with their friends and family. The numbers are clear – people like getting rewards and don't mind promoting your business in order to do so. 
Don't Miss Out on Return Opportunities
It takes a lot of work to generate a new customer, so it's important that you make the most of it. By employing a few simple tactics you can turn that one-time customer into someone who keeps coming back over and over again. This will greatly improve your original ROI, and help your eCommerce business continue to grow for a long time to come. 
Image courtesy of Mein Deal
---