8 Social Media Marketing Tips for Restaurants
So you've set up your restaurant, got the perfect chefs, and all the dishes taste heavenly. You're all good to go!
BUT, how do you get customers? How do you entice people to try out your food rather than go to their favorite diner again?
Of course, you could use the traditional flyers as they work great when running marketing campaigns. You could let everyone in your family and friend circle know about it. However, with the current trend and customer preferences, social media is the best way to reach locals in your area.
Of course, you could try old-school flyers and let everyone in your family and friend circle know, but the best way to reach locals in your area and gain new customers is through social media.
A 2019 survey revealed that 45% (nearly half!) of US diners said they tried a new restaurant because of that restaurant's social media posts.
2022 is the perfect time for restaurants to step up their social media strategy, given that people are eager to go out and try new things after being cooped up in 2020.
In this article, we've covered why restaurants need a social media strategy and provided seven relevant tips that they can use to elevate social media marketing efforts.
Why Social Media Marketing is Essential for Restaurants
33% of restaurant professionals named "Attracting and Retaining Customers" a top challenge to success in Toast's 2019 Restaurant Success Report.
While social media cannot be the all-encompassing solution to this challenge, it's undoubtedly a good place to start.
If you're still on the fence about social media marketing for restaurants, here's why you need it now more than ever:
Everyone's on it
Statista estimates that there were 3.6 billion social media users in 2020. You can advertise your restaurant to its target audience — be it teens, people in their 20s, middle-aged people, or people interested in a specific theme.
Most people are on social media, and you can target them with the right posts.
It's free
Instagram, Facebook, Twitter, and most other major social media platforms are completely free to sign up for, set up a page, and start posting.
It won't be perfect from the start, and you might have to invest in tools if your pages become popular, but it's a worthwhile endeavor, and you'll learn along the way.
Show rather than tell
The difference between manual, old-school marketing tactics like flyers and digital marketing is that the latter lets you show what you can do rather than just tell people about it.
Social media platforms let you showcase how great your food, ambiance, and decor are.
Reach a bigger audience
People don't just follow their friends and family on social media; they follow acquaintances, colleagues, old friends, former teachers, and the list goes on and on.
When someone shares your social media post or tags your restaurant in a positive way, an extensive network of people are exposed to it. It's likely that someone else from that list will want a taste.
Build loyalty
Once your customers become followers, you can actively engage with them. Respond to comments, criticisms, and queries immediately. Thank followers for sounding off or answering their questions publicly. This builds brand trust and shows that you aren't just a money-hungry organization.
All of the above points highlight how crucial social media is, and if you're ready to delve into social media marketing, we've listed seven expert tips below.
8 Social Media Marketing Tips for Restaurants
1. Identify the best channels
The first and most important step is to pick the proper channels. If there are 10 major social media platforms, you don't have to use all 10 of them.
Depending on where you're based and who your target audience is, you can narrow down which channels to invest your time in. You could also combine it with other types of marketing like SMS or email.
If your target audience is young with a short attention span, then Instagram or Twitter posts with brief descriptions and the right hashtags are your best bet.
2. Get by With a Little Help from AI
There are plenty of AI tools out there that can help you to make the most out of your social media presence. You can use websites like Craftly.AI to generate original content for your Instagram captions, blog posts, YouTube video outlines, and so much more. If you're searching for optimized content that will help you to connect with your guests, AI social media tools are for you.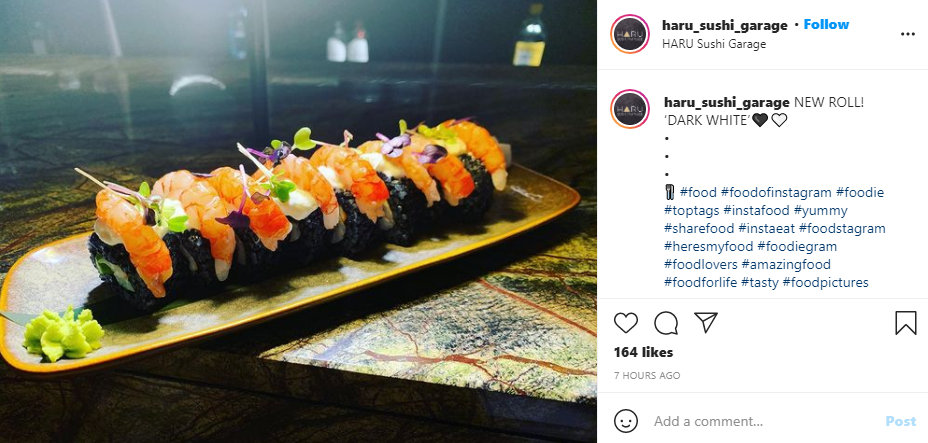 If they're older, they're more likely to be active on Facebook. This channel could also be used for longer descriptions or a detailed customer story.
Most restaurants have a primary customer persona in mind. That's an image of what most of your customers look like. Use this and determine which channel to use.
PRO TIP: Even if you've already been marketing on social media forever, it's essential to take a step back and evaluate whether you're using the right social media platforms from time to time.
3. Use them the right way
Before we get into best practices for specific channels, you need to follow the basic "golden" rules for social media strategy development.
Be consistent: Don't post three times in a week, go silent, and then post again two months later.
Use good pictures: Camera phones are good enough now where you can avoid posting a grainy image that your followers are confused by. This also applies to profile pictures and logos.
Post with intent: Don't just churn out random posts. There must be a point to every post.
Respond to comments: Unless you're a mega-famous food chain with thousands of comments per day, respond to your followers.
Analyze and tweak: Check if your posts are hitting the expected numbers in views, likes, comments, or shares. If they aren't, you need to make changes — experiment with new types of content, post at different times, etc.
Let's take a brief look at each social media platform, specifically Facebook, Instagram, Twitter, and LinkedIn.
Facebook
Facebook is generally better for more informational posts. It's also worth noting that you MUST set up your organization's profile properly.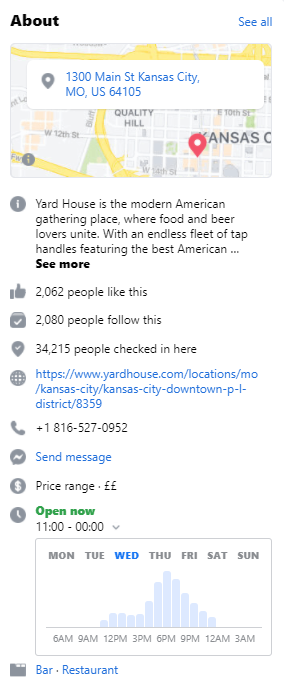 Take this example from Yard House in Kansas City.
The About section includes:
Their location
A short description
Opening timings for each day
A phone number
Their website
Anyone that wants to contact them or visit them can do so easily.
Another important aspect is Facebook's call-to-action button.

Yard House uses theirs to urge users to sign up for a newsletter. Restaurants can also use this to link to platforms where customers can order food or to other social media pages.
Instagram
Instagram is all about the pictures. If your Facebook pics are decent, then your Instagram photos must be exceptional. It's the only way to stop users from scrolling to read the description.
Your social media strategy on Instagram is also heavily dependent on the hashtags you use. A restaurant should always use the top food hashtags, but it's more important to use local ones.
For example, a restaurant in New York can use tags like #newyorkfoodie, #newyorkfood, etc., to help attract locals to your establishment.
Twitter
Twitter is all about engagement and very short attention spans. Your Twitter posts should have one or two sentence quips, a good picture, and the right hashtags.
The platform also moves from one "trend" to another very quickly. You have to stay on top of everything that's happening and adapt to it. Posts with a specific format that are related to trendy memes will be well received.
LinkedIn
LinkedIn is where you post company updates and statements. If you've hired a new manager, LinkedIn is where you announce it and post the statement. Other platforms will most likely use a picture of the statement or post the manager's image with a link to the information.
LinkedIn is a lot more professional than the other platforms. It's more helpful for creating industry connections than for sharing memes or creating casual engagements.
4. Make em drool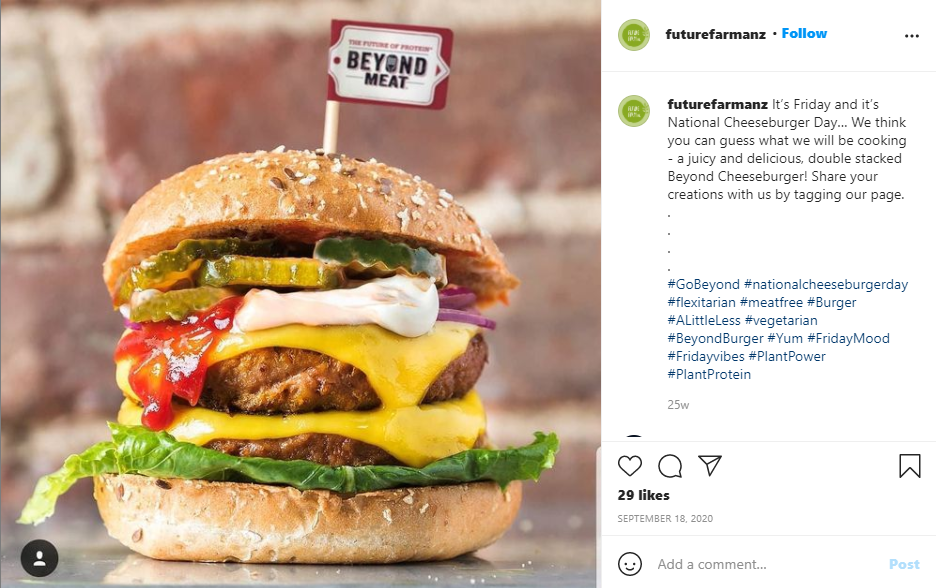 Most people can relate to the feeling of lazing on the couch and scrolling on Instagram or Facebook. Suddenly they see a food picture, and lo and behold; they're now in the mood to indulge. Unboxing is a popular phenomenon in the eCommerce world, so take that idea and put it into your social content. Your customized food packaging, your decked-out restaurant, and the juicy meal that's awaiting them.
Use this to your advantage by posting enticing pictures of your dishes.
ShakeShack UK is killing it on Instagram.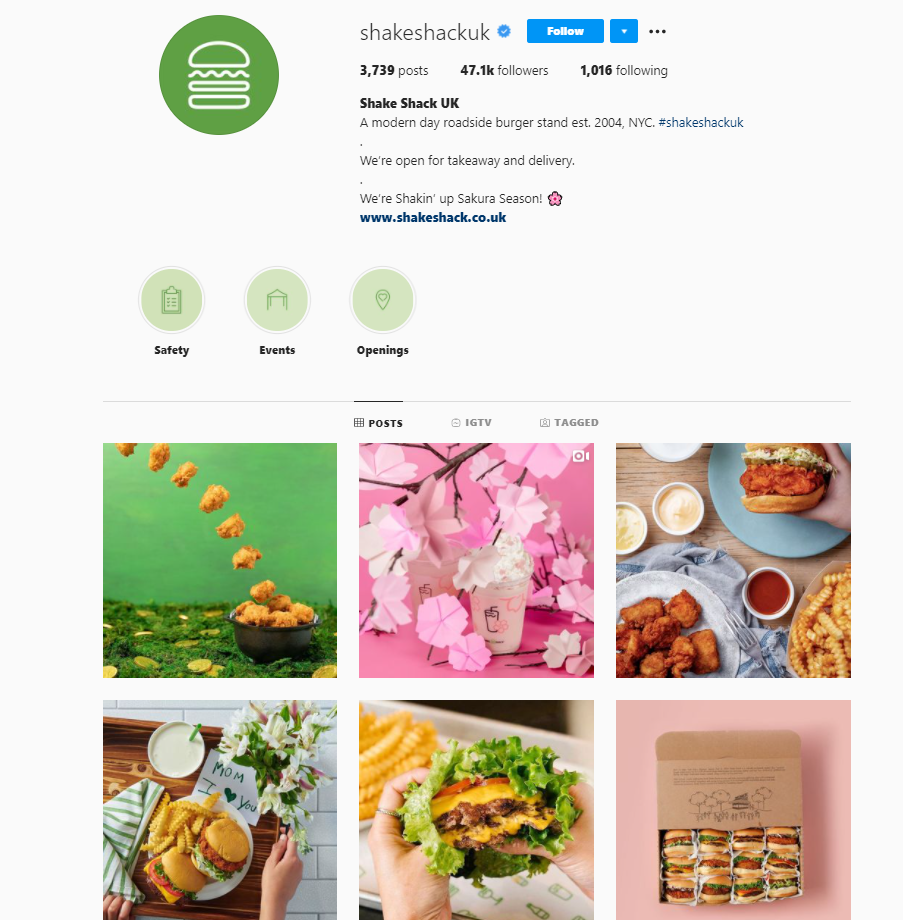 They have a concise bio with a link, but pictures are the main focus. ShakeShack's food pictures are mouth-watering, and seasonal dishes are aesthetically themed.
We understand everyone can't hire professional teams for their pictures, but the general rule is to avoid bad angles and low lighting. Keep the focus on one dish or type of dish at a time.
Good pictures make the thumbs stop scrolling, but they also showcase how great your food/ingredients are.
5. Be human
Social media marketing is ineffective if you can't engage with your customers or followers to build trust and loyalty.
McDonald's does this really well. One example of their community engagement is the Twitter screenshots they post on Instagram.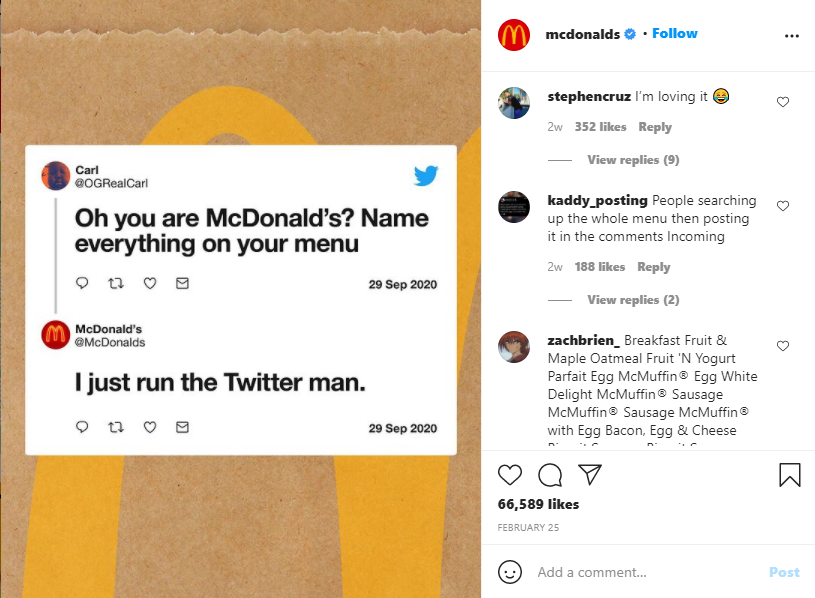 Not only are you sharing funny posts with your followers, but you're also creating discussions.
Other examples of good social media posts for engagements could be questions about food, posting recipes, and posting about any social causes you support.
Behind the scenes content humanizes your staff, showcases their skills, and inspires confidence among viewers.
6. Save your customers money
Drive engagement up while benefiting your customers at the same time by posting offers and hosting competitions.
Here's an example from Subway: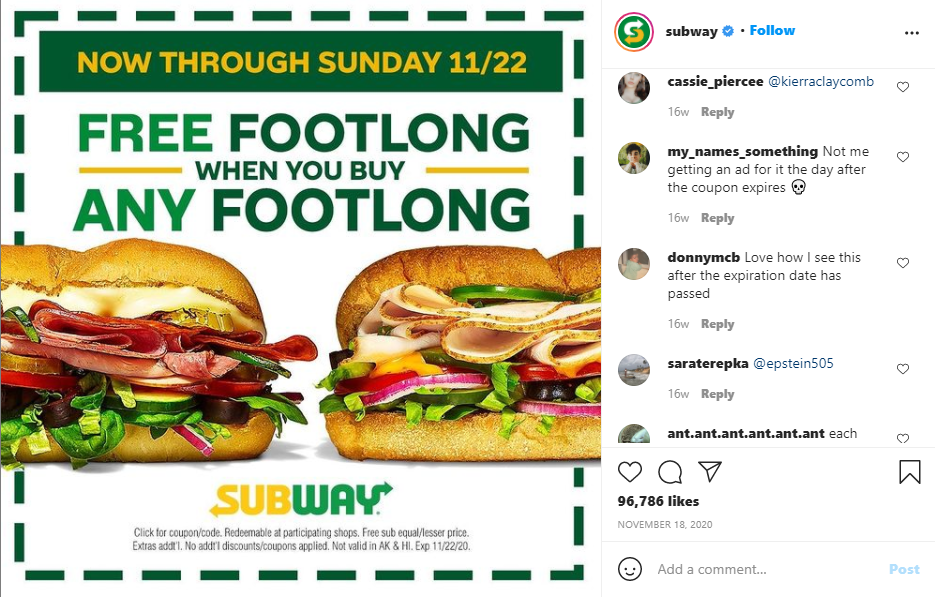 The picture catches your eye and relays information immediately.
You could create a sense of urgency by posting timed offers around mealtimes or slightly longer ones that last for a few days.
Competitions are excellent for engagement. Let's say you host a contest to give someone a free subscription for a meal planner app or a considerable discount. One of the conditions to enter can be liking, posting, commenting on the post, and following your page.
Smaller restaurants can benefit from competitions. Even if only 20 people follow or participate, that's still 20 more to show your content to and highlight your food.
7. Partner up
Local influencers are crucial for social media marketing.
Influencers have built a trusted relationship with their followers. So if they recommend your restaurant or a dish, their followers are more likely to take it as a genuine review.
This perceived "realness" or authenticity raises your restaurant's profile and makes their followers more likely to stop in for a meal.
The easiest way to find local influencers is to simply Google food influencers of [CITY NAME] or other variants.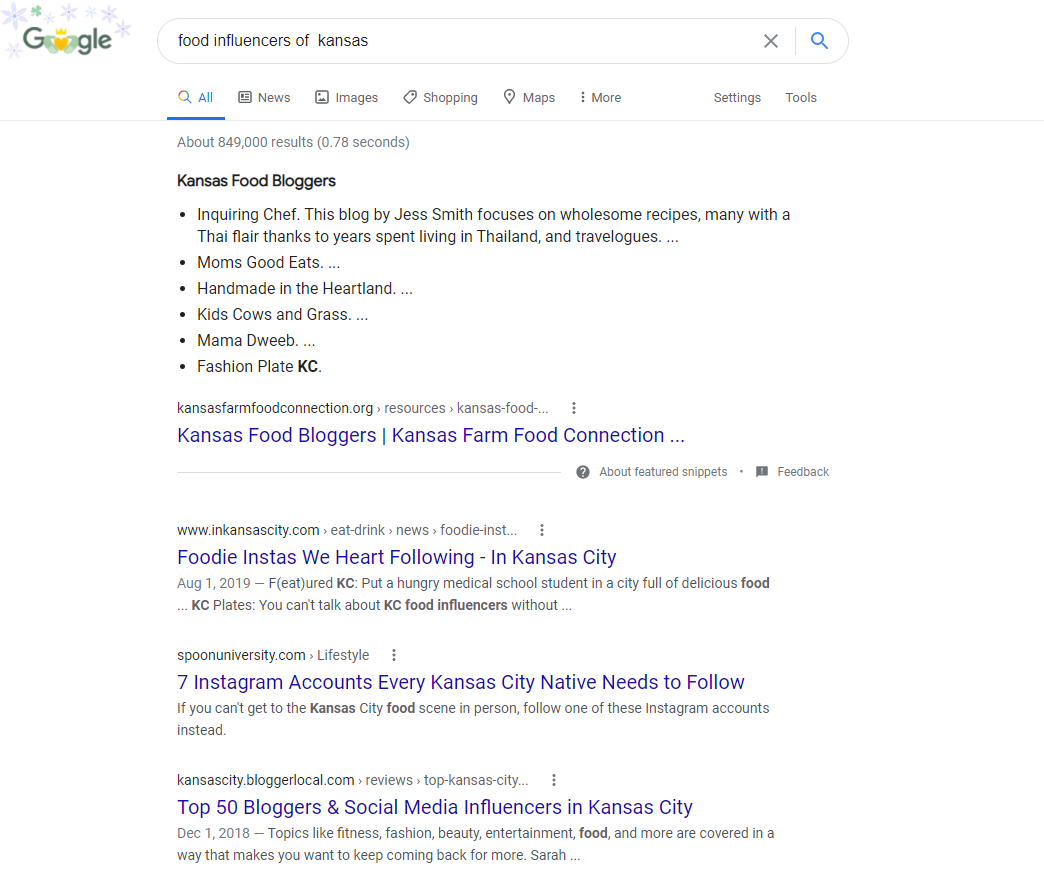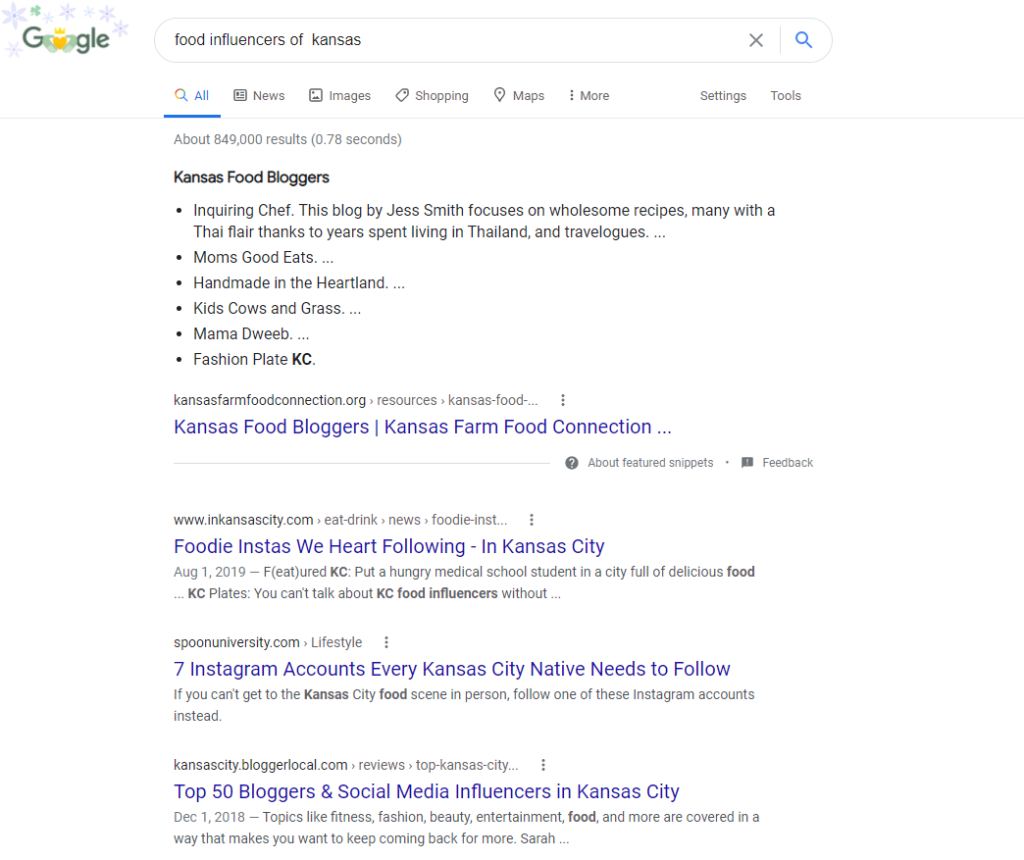 You can also look at Instagram hashtags to find them. Searching #[CITY NAME]foodie or #[CITY NAME]food gives you a list of top posts.
For example, here's what you get when you search #kansasfoodie. Restaurants can look at these posts to find local influencers with a good following.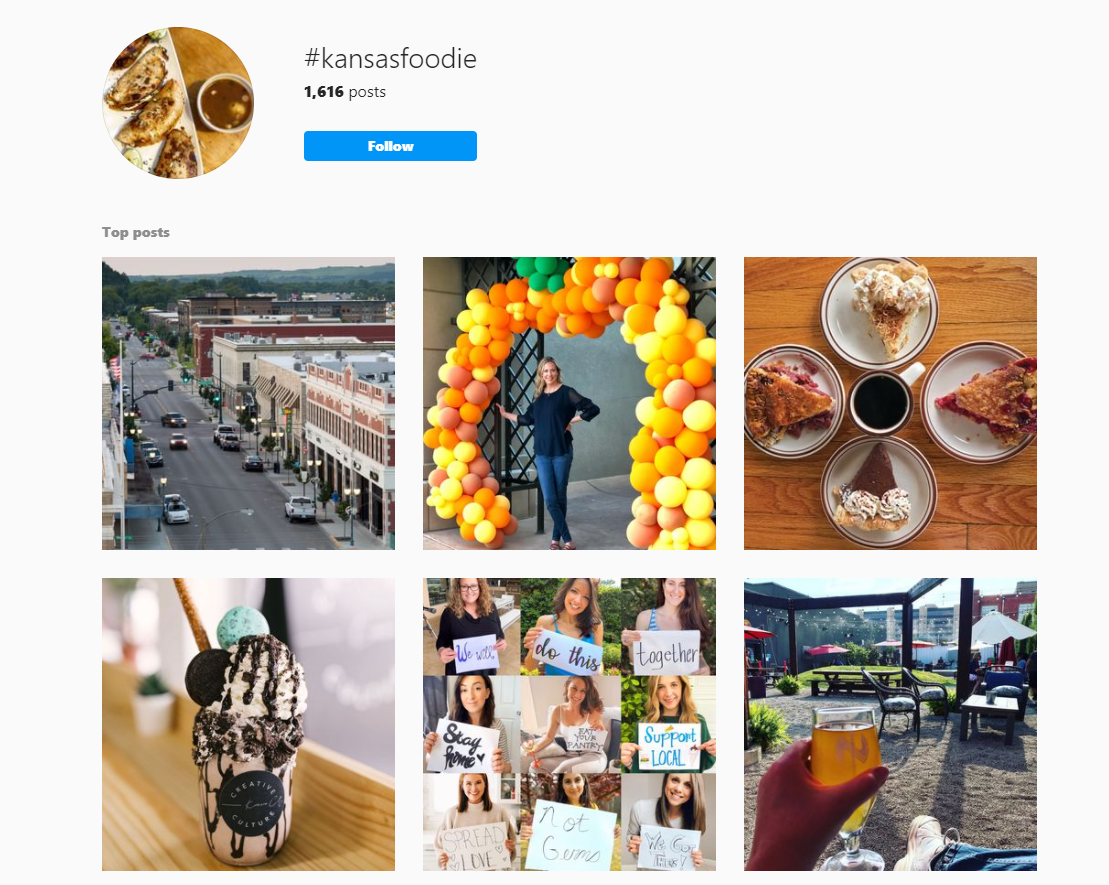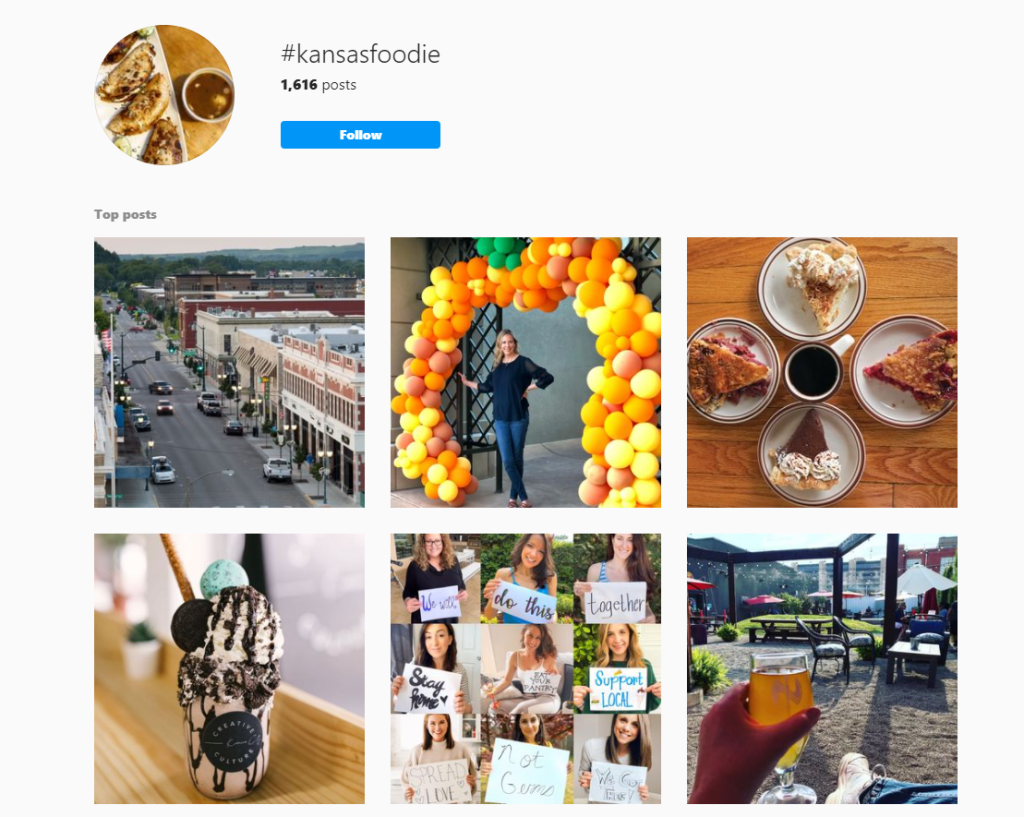 Influencer marketing can be an expensive affair if you make the wrong moves.
It could be better for restaurants with a limited budget to work with an influencer with 1,000 followers that is local to your area rather than a larger, non-local influencer with 10,000 followers.
Influencers usually charge a certain amount per sponsored post, but there's no strict method.
When you narrow down your list of local influencers, reach out to them, work out a deal, and stick with one that works well for your restaurant.
8. Show off your success
Social media reviews and feedback are crucial for business growth.
Touch Bistro's report states that 41% of people have decided to eat at a specific restaurant based entirely on positive social media feedback.
Happy customers and good reviews prove just how good your restaurant is, which encourages others to visit. This is why it's important to post positive user content.
If a customer posts a picture of your restaurant and tags it, you can share that post on your restaurant's page.
Five Guys shares user posts but adds their own captions with a link to the original user.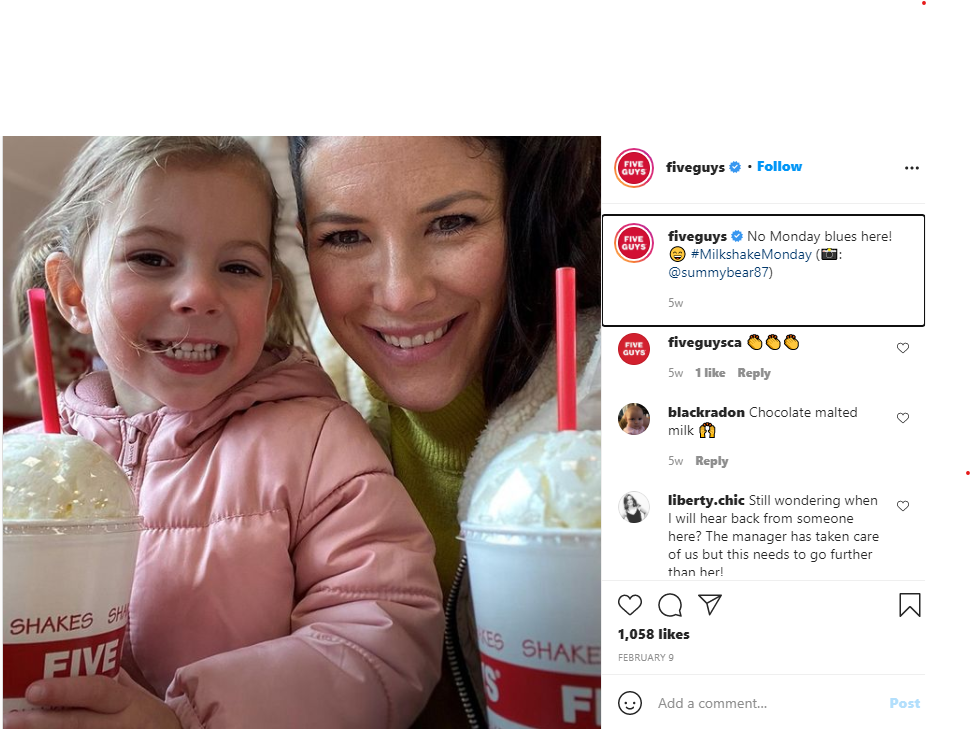 You can also share text reviews on Twitter or Facebook with a generic picture.
Just remember, you must receive permission from users to share their content.
Reviews and user posts serve the dual purpose of being high-quality content while simultaneously increasing engagement.
Wrapping Up
A good social media strategy can help take your restaurant to the next level, but developing this strategy can take time, experimentation, and maybe a bit of money.
The main goal is to build awareness and foster a connection with your audience.
As with everything, keep your spirits up, and don't quit if your social media targets aren't met for a few months in the beginning.
Use these tips to get started and keep growing your dream restaurant.