7 Great Content Strategy Examples From 2021, Plus What Not To Do
"Content marketing strategy" is the most searched query related to content marketing and yet, only 40% of marketers say content marketing is a very important part of their overall marketing strategy, according to Semrush.
What then is causing the disconnect between understanding content strategy and executing the plan?
In a noisy, crowded online environment, the most successful companies are creating diversified content, using multiple distribution channels, and avoiding many of the mistakes common to this space.
The result is a more cohesive marketing presence that informs, engages, and drives meaningful action.
What Is A Content Strategy?
Content is simply another term for the text or imagery a person creates to communicate information. The words, images, and videos on your website, for example, are all content.
A content marketing calendar and a plan that guides your actions toward achieving a specific goal is a must-have.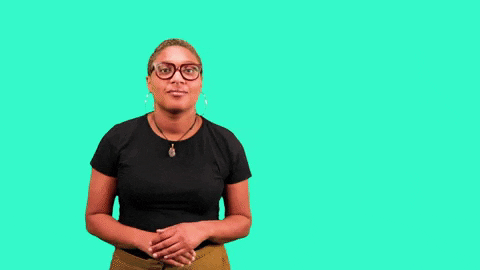 So, essentially, a content strategy is a roadmap that guides the type of content you create and the medium you use to communicate that content.
Once you create the content, you must share it through various channels. The intention of the content that determines these channels is where the topic is most relevant, which medium will communicate the subject best, and where the target audience is.
There are different types of content strategies like email, social media, multichannel, and a bunch of others. They all depend on the previous notion and what the marketer wants to achieve.
Why Is A Content Strategy Essential?
A content strategy is essential for businesses that want to create a clear brand identity and establish authority in their field.
Without a concise content strategy, the company/project can veer off-road, and make it harder to achieve the desired results.
Benefits of a Content Strategy
Provides clarity for your work, allowing you to focus on creating content that connects with your audience and moves them toward taking a specific action.
Helps tie your marketing efforts together cohesively and compellingly, bringing synergy to your overall marketing strategy. Whether it's affiliate marketing or something else entirely.
Focuses you or your team on what content you need to create and how each piece of content contributes to your overall key objectives.
Reduces your dependence on paid advertising or social media and instead allows you to get found online through relevant, authoritative content.
Disadvantages of Not Having a Content Strategy
Without a content strategy, you're less likely to achieve your goals since the chances of having your content rank with search engines or connect to your audience diminishes.
Your marketing is likely to feel disjointed if the content you create doesn't align with your other tactics inside of an overall content strategy.
You'll feel pressured to have more marketing tactics than you need because you won't have a single strategy that guides you to the right platforms at the right time.
What Not To Do When Implementing A Content Strategy
When creating your content strategy, it's critical to avoid some common pitfalls that might derail you from achieving your overall goals.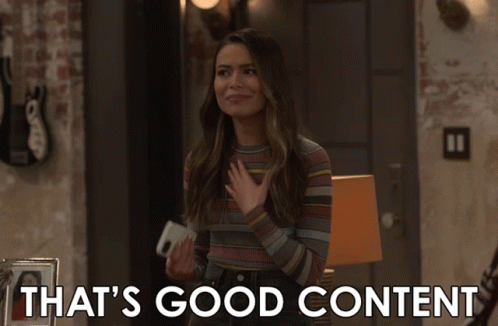 Don't Create Your Content Strategy in a Silo
If a single person is responsible for creating a company's content strategy, the perspectives represented in the plan will be highly subjective to their ideas or thoughts and lack diversity in their approach.
Don't Start Your Content Strategy Before Defining Goals
A content strategy goes beyond the art of choosing content platforms and writing copy. You must first define your primary goals and then create a plan around how your content will lead you to achieve them.
Don't Have a Set It and Forget It Attitude
Some businesses create strategic plans and content strategies once and then never make any adjustments. Your content strategy should be an active document that is revisited at least quarterly and evaluated for its performance relative to your goals.
Don't Avoid Platforms Without Research
It's tempting to create a content strategy that employs all your favorite marketing channels and overlook the ones you don't know.
However, taking this approach can have a detrimental effect on your effectiveness and cause you to miss out on valuable opportunities for exposure.
Don't Discount Reusing the Content
Many companies get overwhelmed at the volume of content required to break through the noise and get their message across to several channels.
However, they overlook the value of reusing and repurposing the content they've already created. In most cases, you can repurpose content at least three times, and there are plenty of tools to help you reuse content efficiently.
Content Strategy Hacks For Success
Invest Time in Creating In-Depth Content
There's plenty of research to support that creating in-depth content is more effective than multiple short pieces of text content with little depth.
So instead of focusing on the word count, focus on creating informative content that educates and invites readers to follow you elsewhere.
Ensure your content supports team selling. For instance—your content needs to serve a specific purpose—example—sales enablement, or creating awareness about a topic.
Crowdsource Content
It can be challenging for companies to create 100% of the content they need to be successful, especially for those with a small (or no) team.
Crowdsourcing content is a great way to reduce the workload and ensure your content includes multiple perspectives and voices.
Batch Your Work
Creating content every day is likely to result in burnout and, at worst, abandonment of the strategy. 
Dedicate time to batch your work and combine similar tasks in one sitting.
For instance, every Thursday, create your social media posts for the following week. Write all of your copy at one time, and then design all of the supporting graphics.
Repurpose and Reuse Content
Repurposing and reusing content is one of the most undervalued content strategies because it feels like cheating. However, it's not only an excellent tactic to save time and money; it's also better for your audience.
For example, if you're creating awesome content on social media and yet 30-40% of that content is not being seen either due to algorithms or a portion of your audience that isn't on social media, that content is going to waste.
However, when you repurpose that content, you've now expanded your audience and exposed a greater number of potential customers to your message.
One simple way to repurpose your content is to start with your long-form content and break them down into smaller pieces for social media. Or, create a summary of the blog post with key takeaways and share that via email.
Identify Gaps in Competitor Content
While it's not possible to read the minds of your audience, it is relatively simple to understand what they are searching online and be proactive in answering their questions.
Research the top five blog posts that address your audience and the product or service you offer.
Then, search those titles on Google and scroll down to the sections that read "other people also asked" or "related searches."
Using the information, create content that answers the questions with a different perspective than your competitors' information or addresses something they've skipped over.
7 Great Content Strategy Examples From 2021
There's no easier way to spark your creativity than to see real-world examples from companies that have successfully used content strategies to nail their marketing campaigns.
We've segmented this list of examples based on the content format, so it's easy to see how you can take one or two forms and combine them for one stellar campaign.
Video Content
Video is one the fastest growing and most effective forms of content in 2021, poised to become even more essential for companies in 2022.
Video encompasses everything from off-the-cuff footage behind the scenes on a platform like Instagram or TikTok to more sophisticated campaigns like Sephora's "Identify as we" campaign.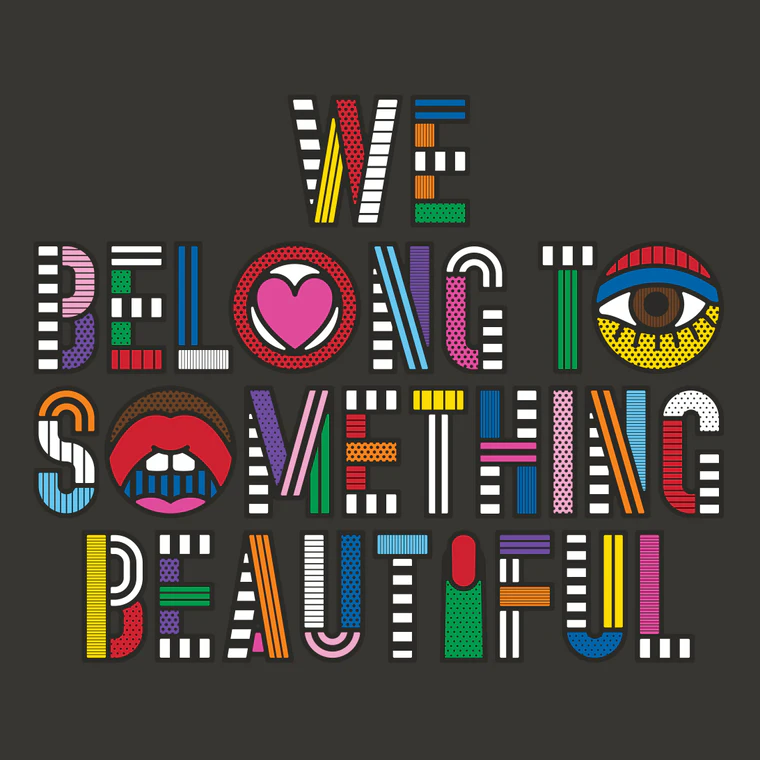 Image Source: Sephora
For Sephora, the video campaign was more than creating content. They responded to a bigger movement as the beauty industry redefines what it means to be beautiful.
The campaign is effective because it transcends gender and speaks to people of all backgrounds about the value of being seen and included.
This Sephora campaign was most assuredly a result of a robust content strategy that began with listening to user feedback online.
It then led to multiple internal changes, including closing all of their stores nationwide for diversity training, culminating in their inclusivity message across media channels.
Email Content
Given that email is 40x more likely to create customers than social media and that "60% of people who sign up for company emails expect to receive promotions," it's no wonder that email marketing is such a critical component of content marketing.
Whether it's sending weekly updates about new products or services, educating your audience, or sharing personal stories about the work you do, email marketing is one of the few ways to capture someone's attention and personalize the message in a way that's difficult to resist.
Brooklinen did a fantastic job with this in one of their most recent email campaigns, capitalizing on their audience's curiosity and revealing just enough information about an upcoming sale to ensure they opened a second email later in the week.
Their ability to weave storytelling into their campaigns and take their customers on a journey is highly effective.
Written Content
Perhaps the most common type of content that comes to mind is written content.
Since written content is the most accessible of all the content types and allows for complete ownership of your niche, it's likely to be more persuasive when used effectively.
Content strategies are even more critical when producing written content because it's easy to veer off track and attempt to serve various audiences with one piece of content.
The team at Animalz blog have become experts at owning their niche of content writing and delivering informative, practical advice that oozes with authority on the topic.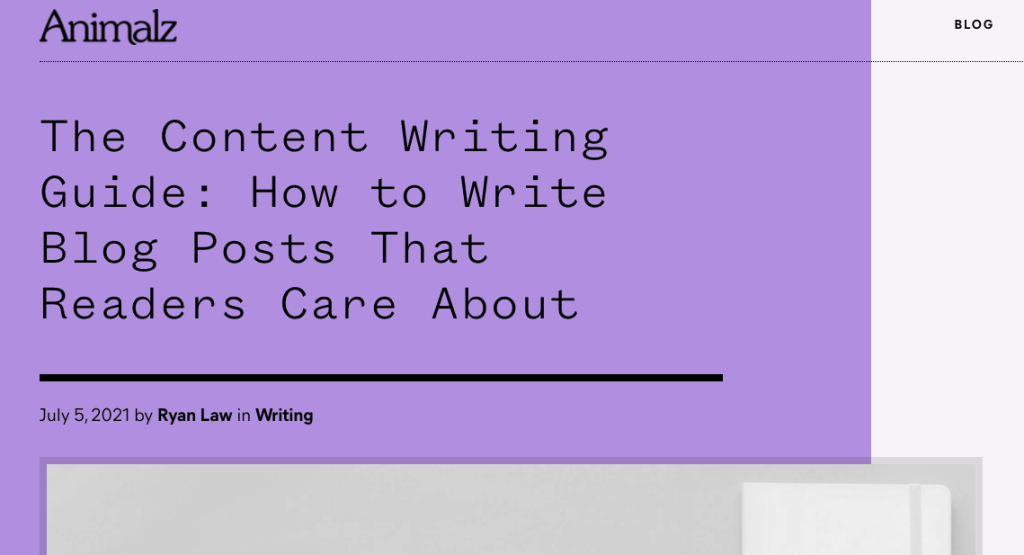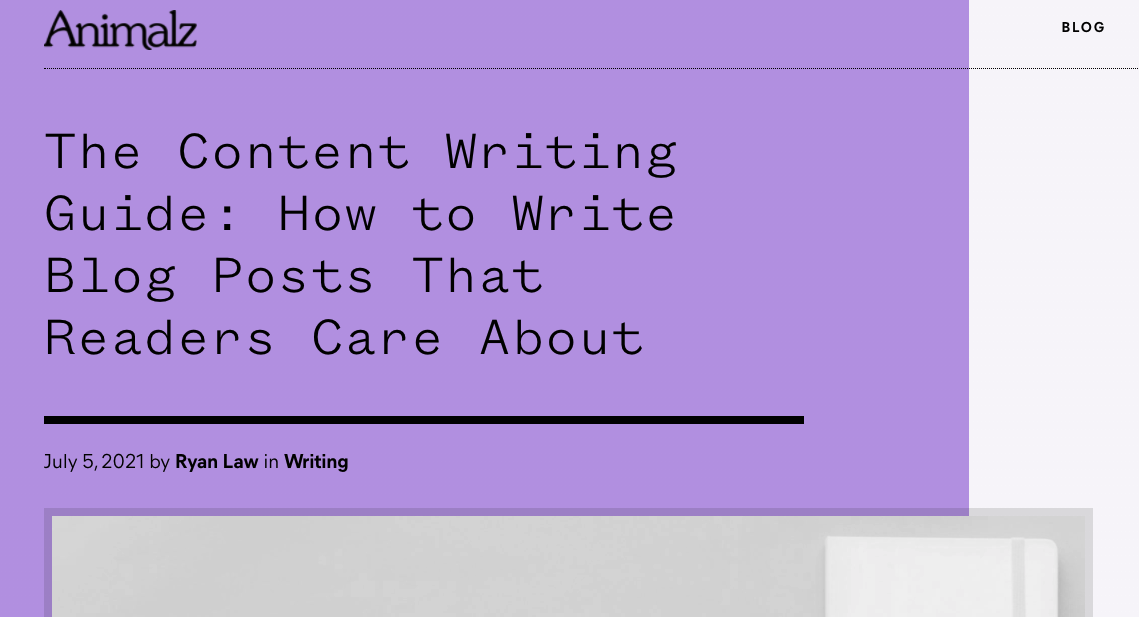 Image Source: Animalz
Animalz is also highly effective at incorporating other types of content inside its written content, such as infographics, ebooks and email marketing, that continue the conversation outside the blog.
Another example of a blog with outstanding written content is Vectornator. While they mostly write about design-related topics, the articles cover each topic in a way that makes the content both educational and entertaining to designers and non-designers alike.
Some of the in-depth pieces such as Lettering Styles: A Crash Course or How to Hone the Power of Color Meaning are just a couple of examples of design content done right. Each subject, if done incorrectly can be overwhelming to follow.
What the team behind Vectornator's content has succeeded in is making each article relatable and easy to understand. Plus, the visuals in each article work great for showing each described example – there's nothing boring about that.
Social Media Content
Social media content might be the most top-of-mind form of content right now, with platforms competing for users and battling negative press around socially-responsible practices daily.
However, it's also one of the areas companies need to break through the noise and find interesting and innovative ways to beat the algorithms.
Posts on social media are most likely to polarize audiences resulting in a higher likelihood of engagement.
Businesses should take note of Ikea's brilliant social media strategy to rethink its traditional print catalog and repurpose it by moving it to a shoppable format on Pinterest.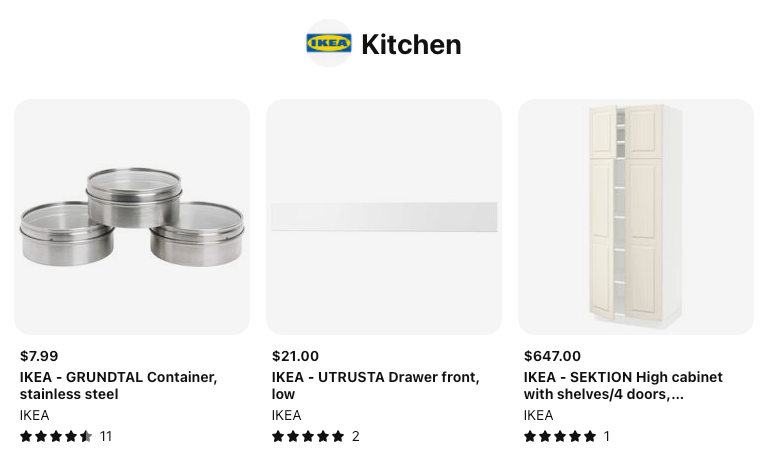 Image Source: Pinterest
Their innovative approach resulted in more than 10 million monthly unique views.
User-generated Content
Companies often overlook user-generated content because they either prefer to control the content they share or don't understand how to find and use the content shared by others.
This type of content is often highly effective as potential customers get a break from the "company voice" and tend to trust the message a little more, understanding the user has no intrinsic motivation to sell something.
Smart companies capitalize on this strategy and build momentum by sharing user-generated content as part of a greater effort.
For example, the heart-warming story of the Ikorodue Bois who fell in love with movie making and reimagining movie trailers resulted in receiving a care package from Netflix of professional movie-making equipment and then used the story of "Fans Makes the Movies" to create various forms of content for their own promotions.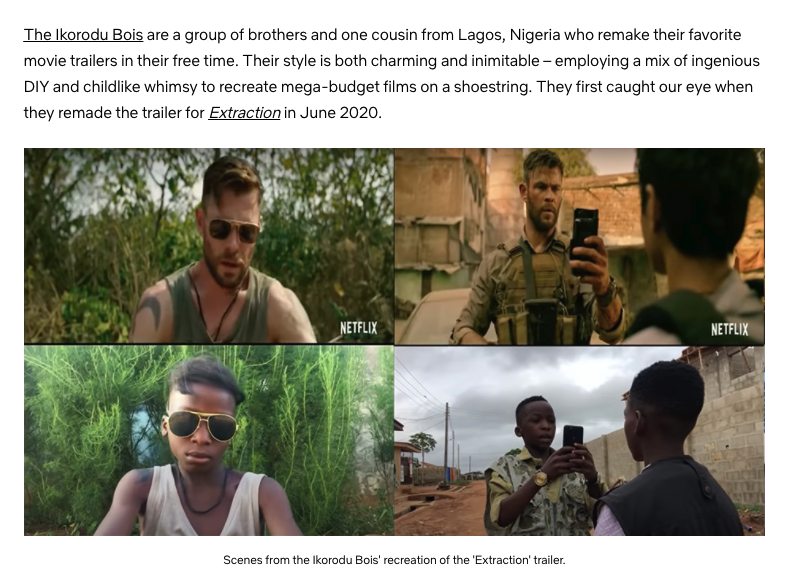 Image Source: Netflix
Multi-channel (360) Content
Multi-channel (360) content involves using various channels to communicate the same message in different ways to reach a broader audience.
Instead of relying solely on the written content or social media, for instance, a multi-channel approach reformats the content and shares it in a new way.
Multi-channel content is highly effective because it allows companies to expand their reach and increases the likelihood of a potential customer seeing the message more than once, appealing to more than one sense at a time.
For example, if you hear an audio ad in the morning and then see a visual billboard ad in the evening, you're more likely to remember and engage.
Spotify's "Everywhere" campaign is a brilliant example of distributing the message worldwide in the formats and channels most likely to result in new downloads or subscribers.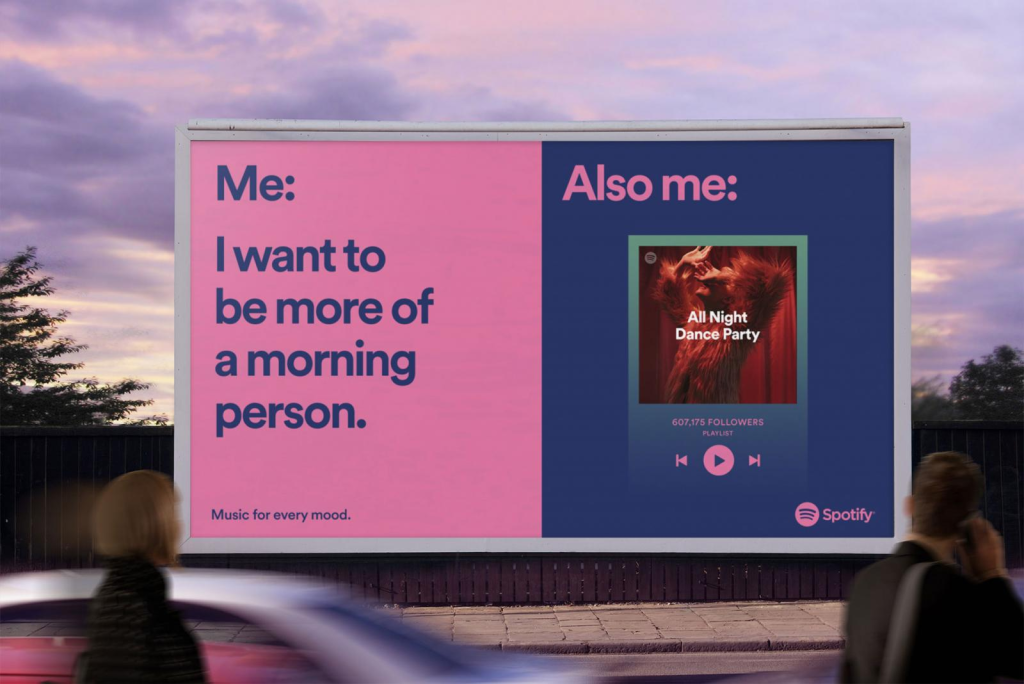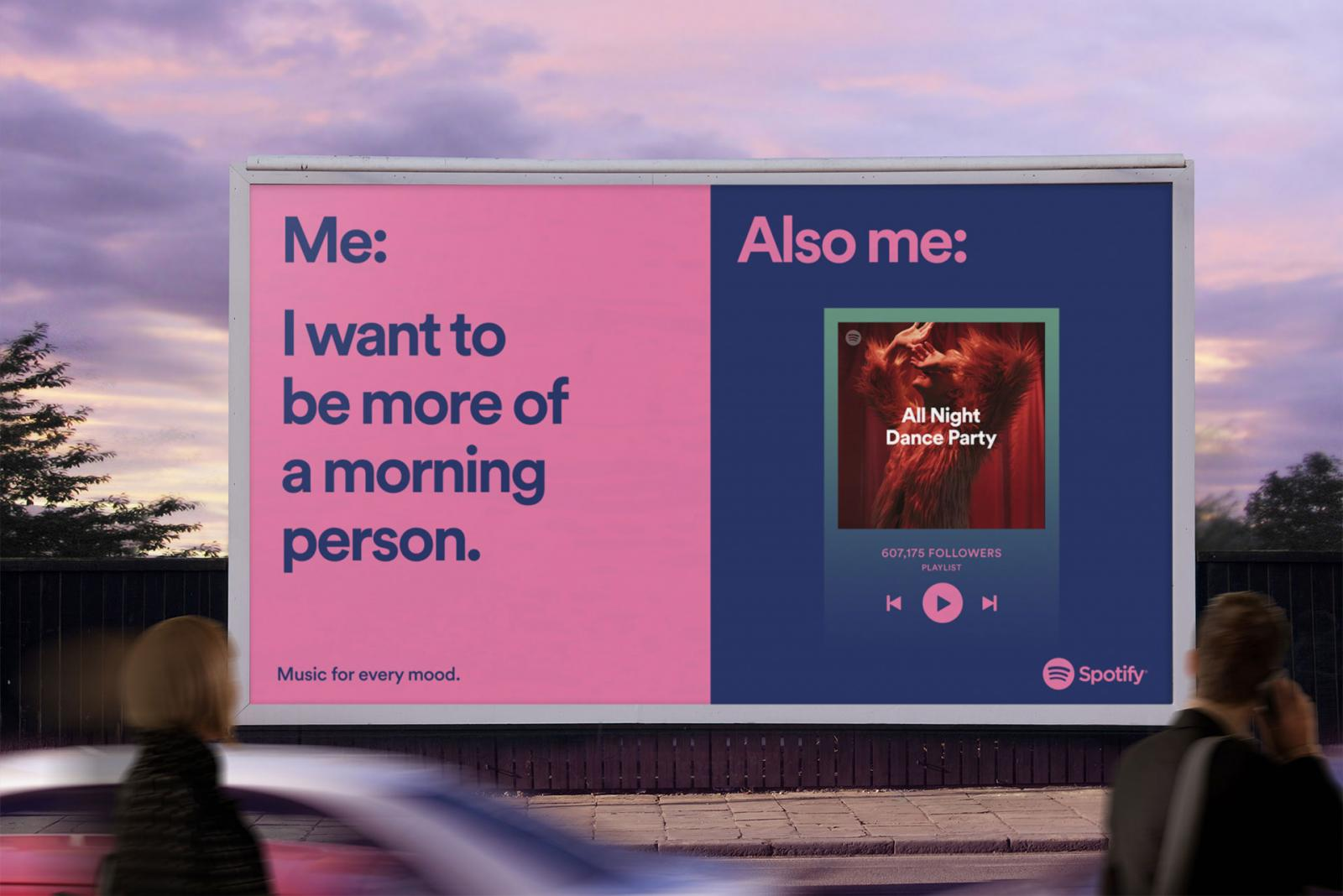 Image Source: Music by Clio
By using a combination of audio, print, and television advertising, their potential customers are far more likely to receive the message.
Informative content
Informative content aims to educate an audience in a specific niche, resulting in high-authority content that performs well in search engine optimization and conversions.
Because audiences are more likely to trust information from a source they deem credible and trustworthy, consistently creating informative content is an excellent content strategy.
However, this type of content often requires the use of multiple delivery systems beyond written content.
For example, Sprout Social owns the space of informative marketing content with their resource center, learning portal, webinars, blog, ebook, white papers, and more.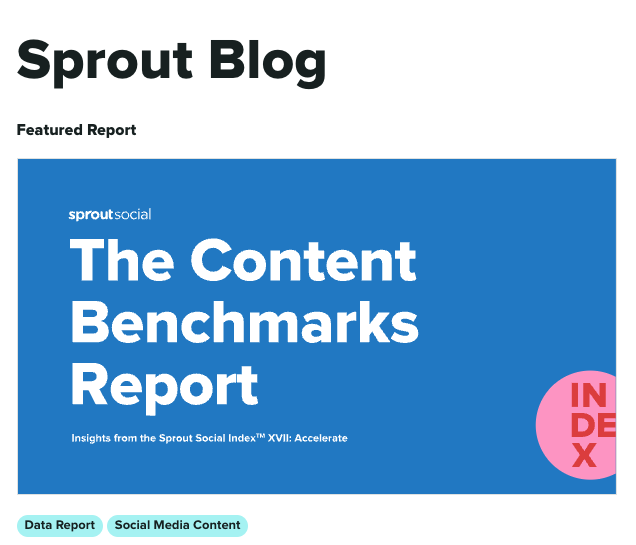 Image Source: Sprout Social
By educating their readers through various formats and channels, they can differentiate themselves from the competition and connect with segments of their audience who value this type of content.
Case studies
Case studies are highly effective forms of content that often appeal to customers in the later phases of buying research.
They've decided they trust you, have likely seen or read other forms of content from you, and are now ready to make a final decision. A well-written case study can push them to action.
Every case study should include elements that demonstrate not only the work you've completed but also the results of the process and any challenges along the way.
By including these components, you allow potential customers to see themselves in the same process and identify how they can find a solution with your product or service.
This example from Ideo around the Toronto Airport is a fantastic example of how using visual elements, clear and compelling written content, and project context could serve as excellent recruiting tools for new clients.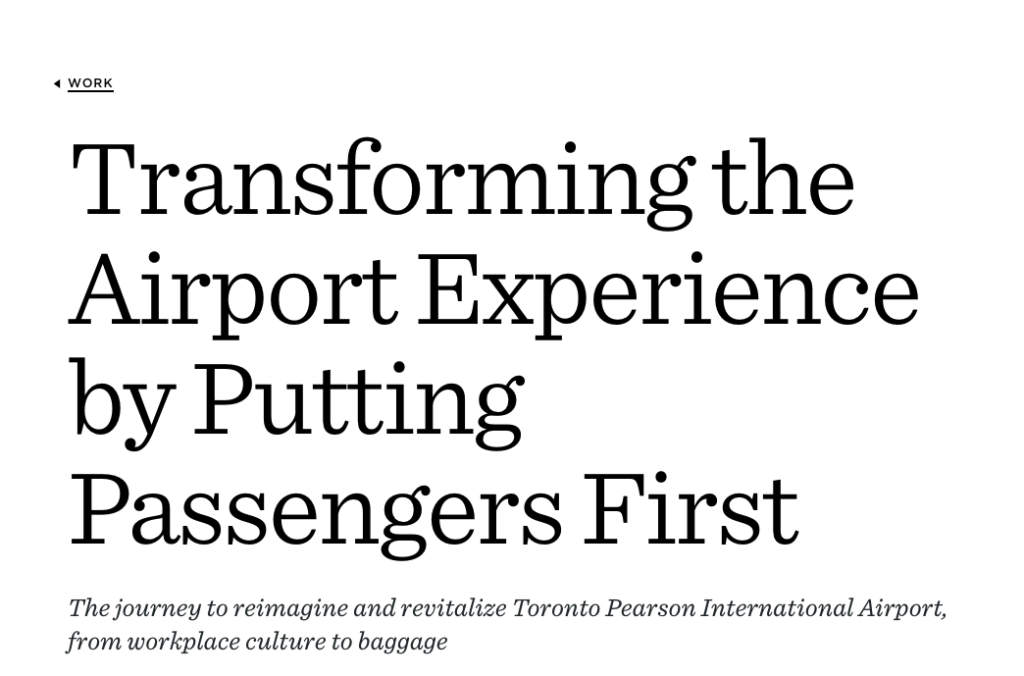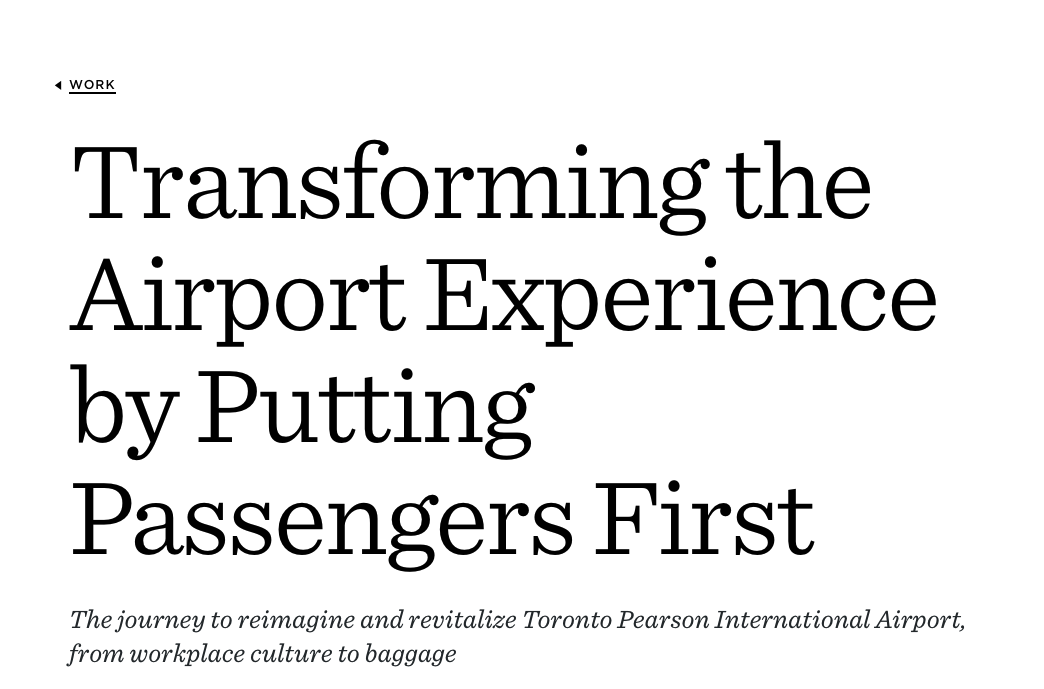 Image Source: Ideo
Final Thoughts
The biggest takeaway here is that all great content begins with a content strategy.
Regardless of the form your content takes or where it ultimately gets published, the best content connects with a specific audience and is driven by the desire to lead the customer on a journey with you.
Begin by documenting your content strategy with your team, ensuring you included several of the types of content we listed here and use the provided examples as inspiration.
There are also some excellent resources over at Animalz around the art of writing that anyone can use to improve their skills and become a better communicator.