69 Catchy Email Subject Line Examples To Boost Your Open Rates
---
Did you know that the subject line is the most crucial aspect of any emails you send?
That's because they determine whether your recipients will open your email, ignore it, or report it as spam. In fact, 47% of recipients will open an email based on the subject line alone, and 69% will report an email as spam depending on the subject line.
So what makes an email subject line effective?
Here are 69 catchy email subject line examples from various brands you can use as inspiration to increase your open rates:
Curiosity-Invoking Subject Lines
You can capitalize on people's curiosity by leaving your subject line open-ended, giving subscribers a desire they can only satisfy by opening your email.
Here are some excellent examples of curiosity-invoking subject lines:
"A very ~controversial~ opinion" — BuzzFeed Books
"Last Day To See What This Mystery Email Is All About" — GrubHub
"10 bizarre money habits making Millennials richer" — Refinery29
"Don't Open This Email" — Manicube
"A surprise gift for you! 🎁" — IKEA
"9 Disgusting Facts about Thanksgiving" — Eat This, Not That
"Hologram Shorts?!" — Chubbies
"What They Eat In Prison" — Thrillist
"What 1,320 therapists are hearing from patients" — New York Times
"The secret's out!" — Warby Parker
"Hey, you're in!" — Ritual
Fear of Missing Out (FOMO) Subject Lines
Hinting at the possibility of missing out on a chance and the idea of exclusivity is a convincing way to persuade subscribers to open your emails. You can use this fear element in your subject lines by adding an aspect of urgency (limited time) or scarcity (limited availability).
Here are some great examples of email subject lines that use the fear of missing out:
"Tonight only: A denim lover's dream" — Guess
"Grab a ride pass before they're gone" — Uber
"You're missing out on points" — JetBlue
"Uh-oh, your prescription is expiring" — Warby Parker
"[WEEKEND ONLY] Get this NOW before it's gone…" — Digital Marketer
"Billy, Earn double points today only" — Jersey Mike's Subs
"By Invitation Only: Exclusive Rewards Inside!" — JustFab
"Barnstable is in high demand for August" — Airbnb
"Starbucks — By Invite Only" — Groupon
"Click it or miss it, people: Over 500 styles under $25 is ending!" — J.Crew Factory
Pain Point-Driven Subject Lines
You'll know your target audience's most significant pain points when you understand their needs. Addressing these issues in the subject line shows your subscribers you're here to help.
Here are some brilliant examples:
"Stop wasting time on mindless work" — Evernote
"Wanted: Cute and affordable fashions" — Guess
"Your summer outfit dilemmas SOLVED" — J.Crew
"Where do all these toys go?" — IKEA
"Your beauty issues, solved" — Sephora
"Don't think about saving. Save without thinking." — Qapital
"Get more kitchen space with these easy fixes" — IKEA
"Learn a language with only 5 minutes per day" — Duolingo
Personalized Subject Lines
Personalizing your subject lines is an excellent way to connect with your audience in a way that feels more human.
However, you don't always have to use the recipient's first name. Personal subject lines may also imply using a friendly approach when reaching out to your audience.
Here are some brilliant examples:
"You got a message 💌" — Tinder
"Happy Birthday Billy – Surprise Inside!" — Rent the Runway
"Thanks for helping us" — Revolution Tea
"Seriously, who does this?" — Ryan Levesque
"Are you coming?" — John Lee Dumas
"Quick favor?" — Jon Morrow
"Crazy Invitation, I am Going to Buy You Lunch…" — James Malinchak
Last Chance Subject Lines
Another effective strategy is to use subject lines that create a sense of urgency. Your subscribers are likelier to open your emails if it's the last chance to take advantage of an offer and save on a specific product.
Here are some superb examples:
"It's there and then it's GONE. POOF. 💥" — The Spinsterz
"URGENT: Need by EOD 😉" — Snowe
"Time is running out…" — Opodo
"Final call to save up to $35 🚨" — UberEats
"Your discounts expire soon." — Poshmark
"Say goodbye to your exclusive 20% offer" — Tarte
"Shirts for $39 ends at midnight" — Charles Tyrwhitt
"Clock's ticking ⏲ 50% OFF 500+ items" — Urban Outfitters
Black Friday Subject Lines
Black Friday is a busy time for everyone — both marketers and consumers. So, in this massive competition, you need compelling Black Friday subject lines that'll entice your recipients to open your emails.
Here are some brilliant examples to help you boost your open rates on the busiest shopping day of the year:
"25% Off for E-Listers Only 🦃 We're Thankful for You!" — Estee Lauder
"Black Friday's Starting Early! 🙈" — Cloth & Paper
"Been waiting for Black Friday? TODAY'S THE DAY🤩" — Miss Selfridge
"You're on the nice list – 25% off for you" — Paperchase
"Early Access: Up to 30% Off Gifts 💃" — Greetabl
"Black Friday Priority Access: Up to 30% Off" — Ralph Lauren
"Early access to Black Friday deals unlocked." — Levi's
"❗ Seray, get 25 to 40% off BEFORE. EVERYONE. ELSE." — Hollister
"🦃 🦃 🦃 Black Friday's here early 🦃 🦃 🦃" — Torrid
"Black Friday's early to the party this year" — Fenty Beauty
Welcome Email Subject Lines
A welcome email gives subscribers a friendly introduction to your business. It should be exciting and give recipients a hint of what they can expect from you.
Here are some great examples of welcome email subject lines from various brands to inspire your own:
"Welcome to the Flock" — Allbirds
"Well, Hello There! Welcome To Our Inner Circle" — Stila Cosmetics
"Welcome to Food52! Make yourself at home" — Food52
"You + Grammarly = The Dynamic Duo" — Grammarly
"Welcome. Now the real fun begins" — Redbubble
"Welcome to the jolliest club!" — Falviar
"Welcome To The MIELLE Family!" — Mielle Organics
"Welcome to the world of Magic Spoon" — Magic Spoon Cereal
"This was a good decision" — Rue La La
Funny Email Subject Lines
Adding humor to your subject lines requires a little more creativity, but it can pay off big time by boosting your open rates.
Here are some funny email subject lines to make your recipients laugh and open your email:
"Look what you did, you little jerk…" — The Hustle
"Yes, I'm Pregnant. You Can Stop Staring At My Belly Now." — Baby Bump
"Boom shakalak! Let's get started." — TicTail
"Licking your phone never tasted so good" — OpenTable
"Need a day at the beach? Just scratch n' sniff your way to paradise…" — Travelocity
"We Like Being Used" — The Muse
Boost Your Open Rates With Eye-Catching Email Subject Lines
There you have it. You can reverse engineer other brands' strategies and write stunning subject lines for your own business. Select one of the subject line examples above and make it your own to boost your open rates.
Do you have other eye-catching subject lines we haven't mentioned? Share the post with your answers.
Author Bio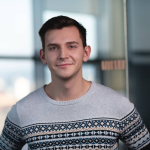 Skirmantas Venckus is a writer by day and reader by night. He hates talking about himself in the third person. He is also the growth hacker at Sender.net – the email marketing provider that is focused on user-friendliness, affordability, and utility.
Linkedin: https://www.linkedin.com/in/skirmantas-venckus-8ba16983/
---