6 Digital Marketing Strategies For Your Small Business
---
Hey, I'm Michael Culp, and today, I'm going to show you 6 digital marketing strategies for your small business.
The global digital marketing market was estimated at $350 billion in 2020 and is projected to reach $786.2 billion by 2026. This appears as a huge opportunity for those who want to use digital marketing to grow their business.
So, keep reading to see the 6 strategies that will help you leverage digital marketing to grow your small business!
1 – Build Your Digital Assets
In the digital world, you have the opportunity to develop 2 main assets, your website, and your email list.
Your website is the place where people can find you. Just like rental properties are assets in real estate, your website is like a piece of real estate. And your email list will allow you to follow up with prospects automatically.
It's extremely important to start developing these assets as soon as possible. As an investment, all the efforts you put in compounds over time.
2 – Use SEO
There are hundreds of people looking for the solution your company provides. And SEO can help you get in front of all these potential customers.
SEO stands for search engine optimization. There are a lot of people out there that have big problems that your services and products can help them solve.
In the same way that people go out there to shop, people use search engines like Google to shop. Taking advantage of SEO will allow your business to show up for related keywords your customers are looking for. SEO is like the biggest mall on the internet.
There are 3 main strategies you need to keep in mind when improving your SEO efforts.
The first is to perform keyword research. You have a lot of tools to assist you in this, both paid and free. You can use Google Keyword planner, answerthepublic.com, Ahrefs, SEMrush, and KWFinder, the options are many.
With these tools, you can get hundreds of suggestions, along with their monthly search volume. This will help you figure out which terms and keywords you should focus on.
The second tactic is to do on-page optimization. The goal of on-page optimization is to make it easy to find your page, and understand what your page is about.
A great free plugin to make sure you have good on-page optimization is Yoast SEO. You just need to follow the Yoast suggestions and you'll be good to go.
The last strategy is your off-page SEO. This consists of building high-quality backlinks from other websites to improve your domain authority. Two great strategies for building backlinks are HARO and guest posting.
If you're looking to rank your page locally, instead of globally, you need to pay attention to some specific SEO tactics. For that, you can check out this guide on local SEO.
3 – Use PPC
SEO is a great strategy, but it can take some time to start seeing results. PPC allows you to pay money for showing your page at the top of the search results. PPC is very similar to SEO because people are looking for what you've to offer.
The first step in PPC is also doing keyword research. The second step is improving your CTR, which stands for click-through rate. CTR is the ratio between the number of times people see your ad, and the amount of time they click on it. It's important to always improve your CTR to drive as much traffic as possible,
The last step is to make sure that you capture the leads that visit your page, to build your email list. You've spent money to find this prospect, so you need to make sure that you have a channel to continue following up with them.
To achieve the best returns on your PPC investments it's important to build a great landing page. For building a great landing page, you're going to need to use software such as GoHighLevel, Clickfunnels, or Groovefunnels.
4 – Social Media Marketing
Social media is a HUGE platform, with a lot of potential customers. More than 50% of the global population is active on social media. This means that you can get in front of more than 4 billion people.
Social media differs from SEO, as the intent behind it is different. When people go on social media, they are looking to connect with people, they aren't looking for a particular product or service.
This means that you need to create valuable content to capture their attention. To create valuable content you need to know your target audience. What are they interested in? What are their problems? What are they aspiring to achieve?
Based on these questions, you can create valuable content that will help your audience achieve their goals and solve their problems.
Now that you're creating high-quality content that your audience is interested in, you need to play in favor of social media algorithms. This means that you need to post a high volume of content with consistency. Some people argue that in the social media environment, quantity is more important than quality.
5 – Lead Magnet
A lead magnet is a piece of valuable content that you'll give for free, in exchange for your customers' contact details. This lead magnet will help you position yourself as an expert and build your email list. This will allow you to continue following up and sending marketing messages to your prospects.
To promote this lead magnet you can use the strategies I'm showing you in this article, such as SEO, PPC, and social media marketing.
6 – Email Marketing
Now that you've acquired your customers' contact information in exchange for your lead magnet, you need to set up an effective email marketing strategy.
With email marketing, you've the opportunity to follow up, provide value, and send offers again, again, and again.
Most people check out their emails 2, 3, and even 10 times a day. We are actively involved in checking our emails, which means that it's a very effective channel to share your marketing messages.
When it comes to email marketing, it's important to keep in mind that you need to offer value. It's completely okay to send offers to them, but you need to mix it out with valuable emails, and valuable information.
Aim to entertain, inform, and educate your audience. Your goal should be to be seen as a trusted advisor.
Partner With Anthony is a great course that teaches you how to do email marketing in an effective way.
Conclusion
Starting and growing a small business can be a difficult challenge, but the internet has appeared as a very effective tool to get out in front of hundreds of thousands of potential clients. Today, you learned 6 strategies to leverage digital marketing for your small business:
Build Your Assets
Use SEO
Use PPC
Social Media Marketing
Lead Magnet
Email Marketing
AUTHOR BIO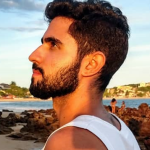 Michael Culp is a Business Master's Student and founder at Ambition Yard. He is a business enthusiast and on his site, he teaches the best ways to make money online.
---