5 Ways Brands Can Incorporate Customer Feedback into Their Marketing and CX
---
Now more than ever, brands need to be customer-centric and produce content that reflects their role in bettering their customers' lives. Unlike the old advertising-focused approach rich with "buy now" CTAs, the modern business is expected to build a long-term strategy to earn their customers' trust and loyalty, listen to their needs, and recognize their preferences. All of that is only possible when you directly ask your customers to share their feedback with you, be it through social media quizzes, email surveys, or after a call order with your support team. 
Customer experience (or CX for short) heavily depends on how adaptive your brand is to changing market trends, and much more so how eager you are to recognize their evolving tastes. Incorporating your customer feedback into your marketing and weaving it seamlessly into your CX can be a challenge – here's what you can do to make the process more straightforward and effective. 
Feedback as social proof on your site
Source: screenshot
Marketing encompasses so many different tactics that it can be difficult to choose the ones that will be effective for your industry or your target demographic. One of those timeless and omnipresent strategies that come with surefire success is presenting social proof on your site. The notion of social proof requires your brand to showcase how trustworthy your business is through customers' reviews and testimonials. 
You can send out email surveys or ask for reviews upon specific orders, and of course, ask for permission to publish those reviews on your website, next to the product in question. Visitors who come to your site will then read their impressions and recognize the value of your brand for their own quality of life. If so many people already trust your business, new visitors will naturally be more inclined to join their ranks, as well.
Empower brand innovation and growth
Your communications strategy and your HR experts will agree that how you perceive your brand will not always coincide with how your audience perceives it. However, achieving a high degree of consistency in brand perception among your employees and your target audience will boost your chances to recognize opportunities to innovate and improve, hire people that share your values and those who will be most successful at conveying your key brand messages. 
Make sure that you use your feedback loop to create a powerful brand development strategy that will rely on customers' views and suggestions to innovate your offers. Feedback can be a source of invaluable data for spotting gaps in your brand identity and presentation and innovating with the help of your customers' input is a promising strategy for business growth. 
Combine social media and customer feedback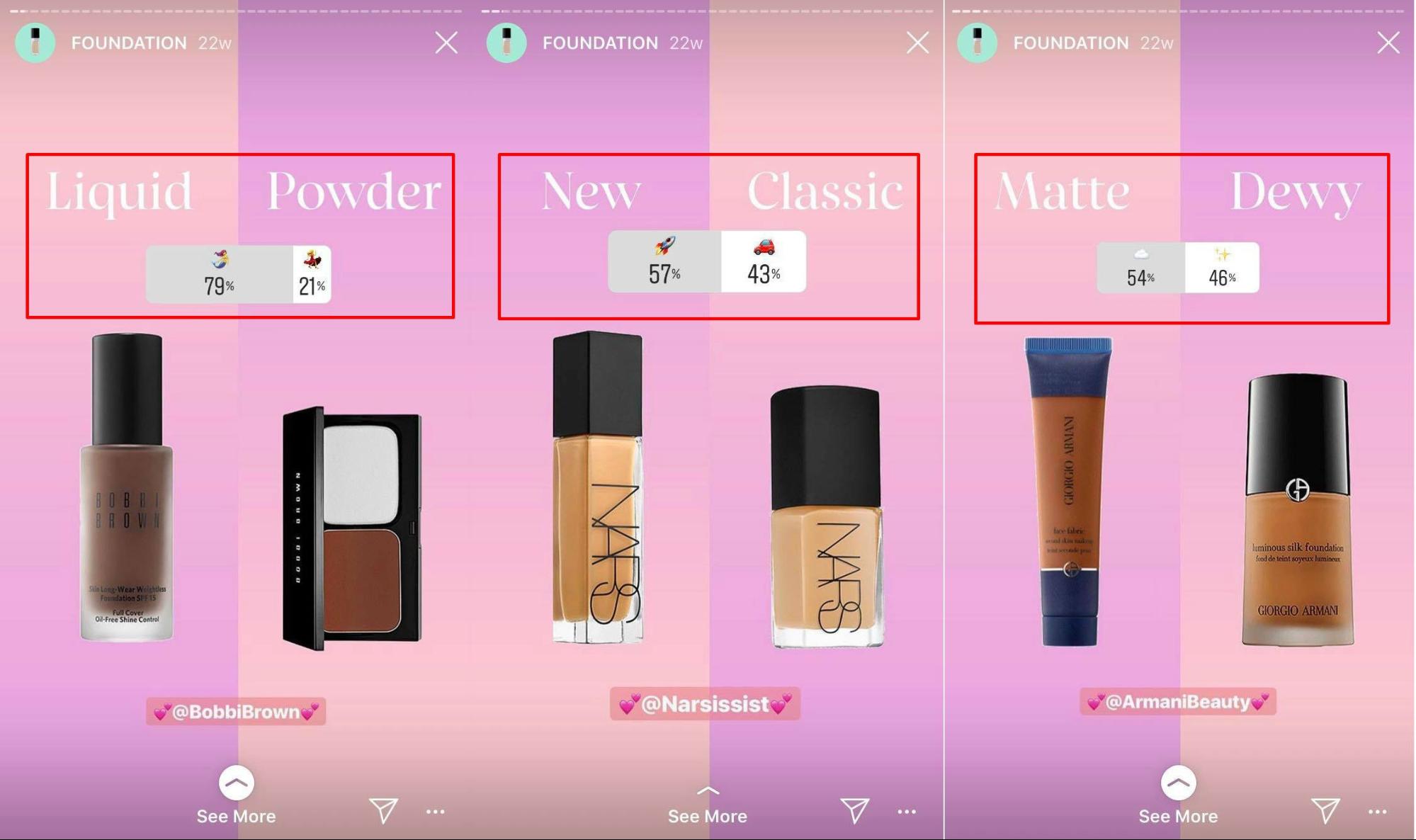 Source: screenshot
While your website is a great digital outlet to inspire feedback and publish reviews, you should also use your social media presence to dig a little deeper into how your target demographic perceives your brand. Luckily, social networks provide a slew of creative, engaging ways to achieve that without making the customer feel overwhelmed. 
For example, you can generate Facebook quizzes and offer multiple-choice questions to make it simple and fun for your followers to share their views with you. People love interactive content on social media, so why not use the chance to discover vital information about your brand perception?
Encourage third-party reviews
Beyond your own website, the feedback you ask for can be published on third-party sites such as Google, Yelp, and similar platforms that serve to present how trustworthy and reputable your brand truly is. You can use your email newsletter campaigns as well as every order your customers place to entice them to publish a review on one of these sites where your brand exists.
Such reviews are beneficial for your SEO strategy, but they are also extremely powerful for inspiring trust in new, potential customers, and for inspiring long-term loyalty from existing buyers with a brief history with your brand. 
Publish user-generated content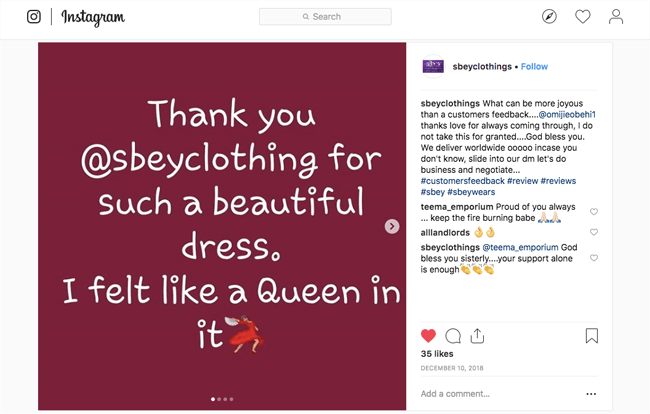 Source: sendible.com
Feedback can come in many different formats, from simple survey responses, star ratings on Google, all the way to entire case studies you base on customer testimonials. However, you can expand your marketing strategy with user-generated content that focuses on feedback in its many forms.
For example, social media stories of customers boasting how they put your product to use are brilliant for generating awareness and interest. Video reviews on YouTube and other platforms are great for boosting engagement, while selfies with unique branded hashtags are great for building a sense of belonging and community around your brand. Either way, include user-generated pieces in your content strategy to rely on genuine customer feedback.
Asking your customers for feedback is so much more than a passing trend or a way to create the illusion that you care about their opinions. This is an evergreen strategy that can reshape your marketing approach and change the direction of your brand for the upcoming years. It will help you recognize the drawbacks in your offers and find ways to build brand awareness, trust, and customer loyalty for years to come. Do your best to incorporate feedback into your marketing and make it the core of your CX, and you'll grow your brand success as a result.
---