5 Tips For Choosing A Corporate Video Production Company
---
Whether small or large, video marketing plays an essential role in the success of any business. It's a promotional technique that uses graphics and moving subjects, enhancing a firm's visibility and awareness. Using video to market your products is perhaps one of the best strategies to generate many leads and sales. So, be sure to publish high-quality marketing videos on your website to make the most out of its benefits.
While you can create marketing videos for your business yourself, you can benefit more from hiring a corporate video production company. Working with a production company allows you more time to focus on the management and growth of your company instead of producing a competitive corporate video. And because they're experienced in the video production field, they're likely to create high-quality materials to help your business connect with a large audience. However, you must select the right video production team.
That said, here are tips for selecting a corporate video production company.
Check The License
Before you sign a deal with any corporate video creation agency, ensure they've got a working license or a local business permit. Essentially, this is a permit issued by the state to anyone who wants to start a business.
A license will be granted to any company that has followed the proper procedures when registering its name with the state. So, you can be assured that these agencies have complied with the local state's rules and regulations, and they're legally allowed to operate.
Therefore, to ensure you're working with a genuine video production company, ask whether they've got a working license.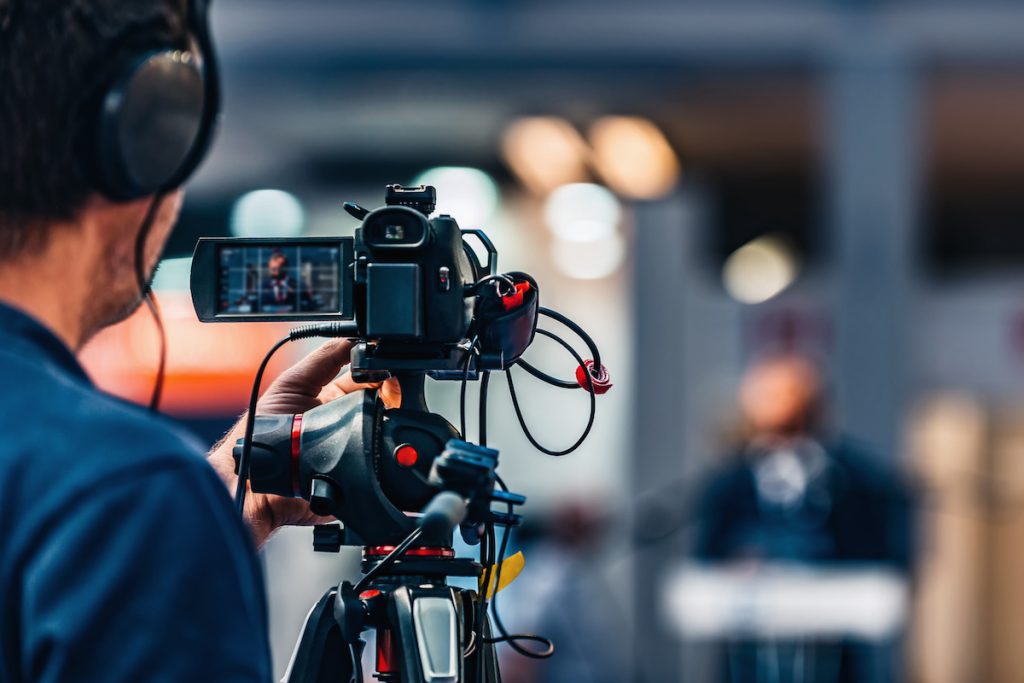 Hire An Experienced Company
Experience is perhaps one of the most crucial elements to consider when selecting a corporate video production company. Although a particular company might be legally incorporated, it might not be helpful in any way if not experienced. In other words, it may fail to produce quality videos. For that reason, it's advisable to work with an experienced partner.
You can get at least an idea of a video production company's experience by determining when it was founded. An agency with many years in the market will have more experience than one founded recently. So, choose a video production company that has been in the industry for a reasonable time.
Aside from knowing when the company was launched, you should also view their portfolio. This can be a sure way to assess if their level of expertise and creative direction matches your company's brand. This is important because the quality of marketing videos will significantly depend on the skills of the creative team behind them.
Consider The Pricing Versus Quality
Several companies offer almost similar video production services. However, their prices may significantly differ. This typically occurs since there's no standard formula for setting prices. Each company has its own way of computing prices, perhaps, driven by the team's expertise, cameras and other equipment, and creative approach and direction.
Before you hire any firm that comes your way, you need to conduct price comparisons for different companies first. While it can be tempting to go for and select a video production company that charges low fees, you should always keep in mind the quality of their output and their service. You have to weigh their pricing versus what they can do for your company.
It's important to note that choosing the right corporate video production company can boost your marketing efforts, while choosing poorly can do more harm. This is to say that if you want high-quality promotional videos, you might need to consider going deeper into your pockets and hiring a reputable production team.
Take Location Into Account
You might think that location isn't essential when finding a corporate video production company. However, it's crucial, especially when it comes to effective communication.
This is particularly true since you may want to get in touch with your video creation service provider to ask a few questions or know the progress of your project. For that reason, you might want to find a partner within your time zone. This enhances your communication.
Determine The Service Provider's Reputation
Finally, consider checking the reputation of the video production company you're eyeing before hiring them. This refers to knowing the feedback and comments of other business managers regarding a particular production team's service.
Reputation takes two major forms- positive or negative. So, select an agency with a positive reputation and run away from those that have so many negative comments against them. However, if you see both positive and negative reactions from different clients, research more to determine how the company in question responds to negative criticisms.
Takeaway
Video marketing is a must if you want to take your business a notch high. It helps grab the attention of consumers who visit your website. For that reason, you may be able to generate more leads.
So, if you're looking to hire a corporate video production company, consider the tips mentioned in this article to help you find a suitable creative team to handle your business video marketing needs.
---