12 Social Media Promotion Hacks for WordPress Website Owners
It's no longer news that social media marketing is a must for any business' success today. With millions of people using social media networks to share their opinions and ideas, you need to get your WordPress website noticed on these networks.
With the right social media promotion hacks for your WordPress site, you can make your website or blog go viral on the Internet. So, if you're looking for some online promotion for your business, you've come to the right place.
Here are some of the best and tested social media promotion hacks for your WordPress website.
Create high-quality content
Content is still king, regardless of the type of website you have. You can have both textual and visual content depending on your type of website.
For instance, if you are using your WordPress website for blogging, you will mainly have text. Make sure it is unique, informative, engaging, authoritative, relevant, and shareable.
When it comes to content length, long-form articles tend to fare better. To get the most organic traffic, you need to write articles with a word count between 2,250 and 2,500.
After you create and post the content, share the link to the content post on your social media accounts. Use an attractive image and add a captivating headline and a caption. It will entice the users to continue read and keep returning for more.
If you have built a portfolio site, you will have to create optimized visual content, such as images, videos, and animations.
Visual content such as videos is engaging, versatile, and can quickly impart even the most complex information. It can increase both site traffic and conversions. If you look at the statistics, social media posts that contain videos receive 48% more views.
You can use videos to create awareness, engage your audience, build trust, and more. The best social media platform for posting videos is YouTube, followed by Facebook and Insta.
YouTube has the best ROI for video content (35%), followed by Facebook (26%) and Instagram (18%).
As far as video length is concerned, the ideal lengths vary from platform to platform.
Look at these ideal video lengths for different social media platforms:
The ideal video length for Facebook is 1 minute.
For Instagrammers, the best length is 30 seconds.
The ideal length for Twitter is 45 seconds.
YouTubers can create a video in under 3 minutes or over 10 minutes depending on your content. Even a 30 minutes video can do well if you are providing value.
And for Pinterest, the best video length is 3 minutes.
Consider getting in touch with a WordPress development agency to maximize your content performance.
Allow visitors to follow and share your posts easily
Make it easy for your visitors to follow, like, and share posts on your WordPress site to increase social engagement. It works because it offers more opportunities for visitors to engage with your brand.
One way to go about it is by adding social sharing buttons to your site itself. It is going to play a massive role in how your posts get shared. Your visitors will also be encouraged to check out your own profiles and follow you.
If you are an e-commerce store, adding share buttons next to your product is a great idea.
Here's how Walmart Mexico does it.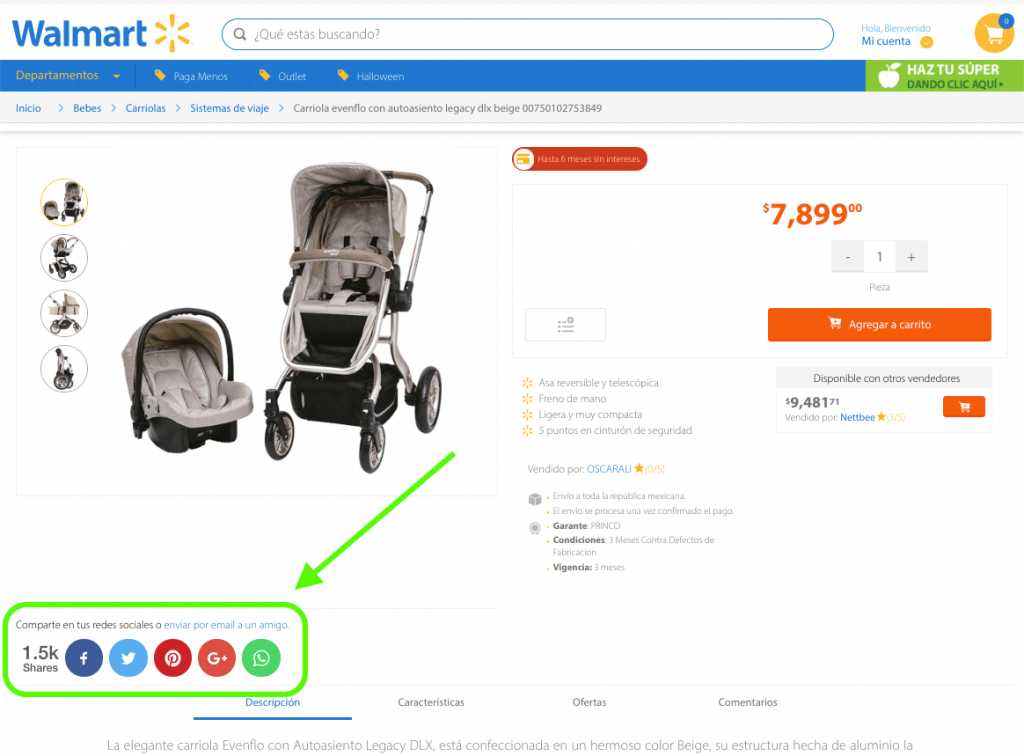 As the share button is added right under the product image, it taps into a visitor's instant visual instincts.
If you are a magazine website, you can also put the social share buttons right at the article top or even at the article bottom.
Consider customizing share buttons so that they blend in with your site. Tools such as Easy social share buttons and MashShare will help you add the social sharing buttons.
Integrate social media on WordPress
Perhaps, a lot of social interactions happen on your social platforms. But your website visitors will not know about it if you don't showcase it on your website.
Let your site visitors know about your activities on social media. They will willingly join the conversation or activities.
For instance, you can display your Instagram feed on your site. Or let them have a glimpse of your Facebook wall on your website. It will give the visitors an inkling of what's happening in your social network and help them decide whether to join you or not.
Automate social sharing
In order to build a strong online presence, you will have to consistently post, tweet, or pin on your social media channels. Initially, it is possible to do that as you will be all pumped up. But you will get burnt out in the process of repetition. Plus, creating a post alone takes plenty of time.
What you can do is use tools to automate the social sharing task. Tools such as Missinglettr can help you to auto-share content on different social media channels.
You just need to have a strategic campaign and content calendar. You can select what you want to share on which platform, set a schedule, add hashtags and branding, and then approve your social media campaign.
Ask for content rating and feedback.
Content rating and feedback have many benefits, and one among them is to get a promotion. Providing great content is not enough. You want to engage people with your content, offer the fun people desire, and want them to recommend your site to the people they know.
Instead of adding a comment section on your website, why not include the content ratings and feedback section? It will let you know what content type gets the most attention.
It will also serve as a guide for new users as they will come to know what is good for them and what is not. As per a stat, 95% of consumers say they read reviews prior to buying a product.
And the likelihood of more customers buying your product increases by 270% if it has at least five reviews.
Here's how "Get Crocked," a food blog, uses a 5-star rating system on its site.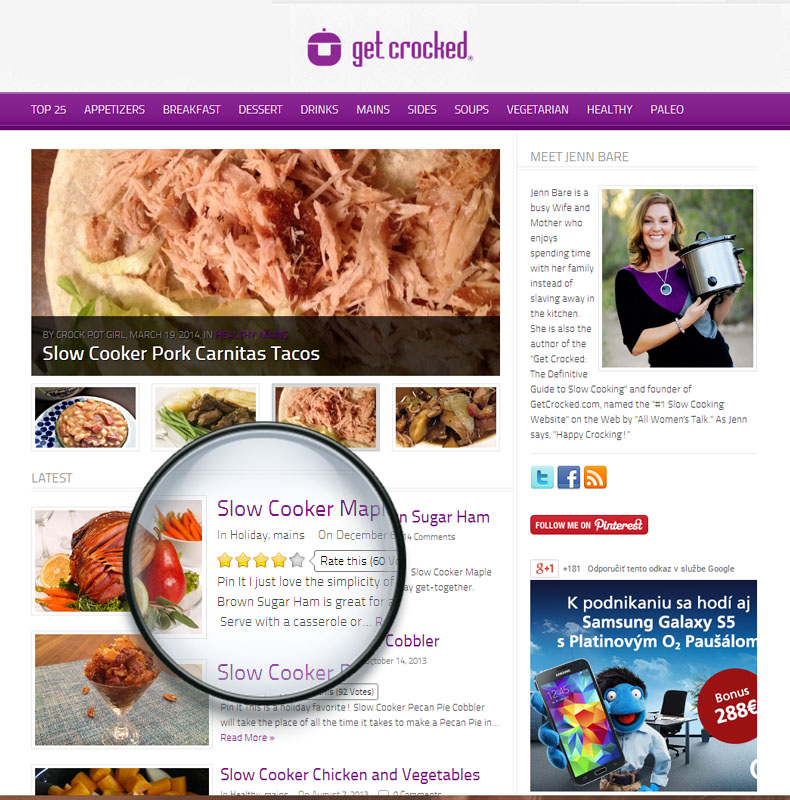 The rating system allows them to know if a topic is worth spending time on. They also come to know if there are any issues with a low-rated recipe.
There are several WordPress plugins, such as the Voting – Feedbacks plugin by Vicomi, to help you with it.
Offer free downloads occasionally.
Want to gain fame for your site the easy way? Offer free downloads occasionally. Though it may sound counterintuitive, giving away free downloads can increase social media traffic, boost sales, and help you build a loyal following.
You can give away almost anything, provided it is of value to your users. A helpful tool, a how-to e-book, a WordPress theme, or an online tutorial course! The choices are limitless.
If the users find out that what they downloaded is of no use to them later, they will most likely never revisit your website.
Conduct contests, giveaways, and webinars
Contests and giveaways can help you build community, incentivize people to follow, create awareness, boost subscribers, increase sales, and improve engagement.
Besides, people will be more than willing to participate as most people love freebies.
Even if you don't have the budget to run a contest or offer a freebie to the winners, you can still find a way to incentivize your audience.
For instance, you can create a fun contest like Shopkins did.
Their "caption this" prompt encouraged followers to make comments on their photos and engage with them while showcasing their products.
The contest prize was featuring the winner in their Insta stories.
You can also offer extra giveaway items to entrants who promote your content by sharing it on their social media account. It is a great way to expand the reach and amass traffic.
As far as participation forms are concerned, consider offering a social media auto-fill option. It can boost conversion rates by about 189%.
Webinars are also great for garnering leads. If you look at the statistics, a single webinar can help you gain over 1000 leads. You can promote your webinar on your social handles and bring interested users to your WordPress site.
Make it clear that signing up for your webinar is free and will benefit them. Consider uploading teaser content in your social media accounts to let them have an idea of what they can expect out of the webinar.
Customize permalinks
The permalink is the permanent URL of your WordPress website. They are used in the address bar and allow users to reach the website and view the right page.
You can use permalinks on other websites by adding them to keywords to link your site page. These links are custom-made. WordPress will automatically create a permalink. You can then optimize it for SEO prior to posting the content.
It is best to use a clear and simple permalink structure. In most cases, it makes sense to add your post name to the domain name.
Here are some examples of permalinks: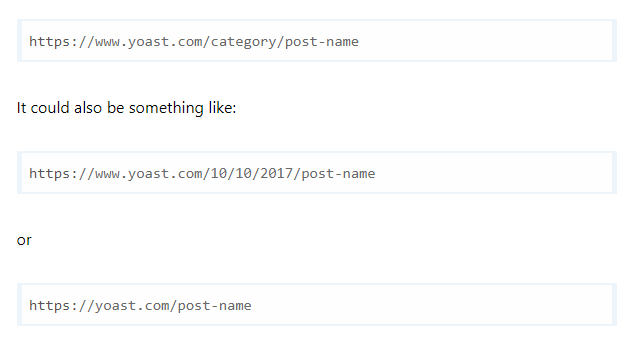 Influencer marketing
Influencer marketing is a $5-10 billion dollar industry. And 89% cite that ROI from influencer marketing is better compared to the rest of the marketing channels.
Simply put, Influencer marketing is when companies pay or incentivize critical individuals within their industry to promote their products. The influencers could be bloggers, content creators, or social media celebrities with a large following.
Businesses are earning $5.20 for every dollar invested in influencer marketing.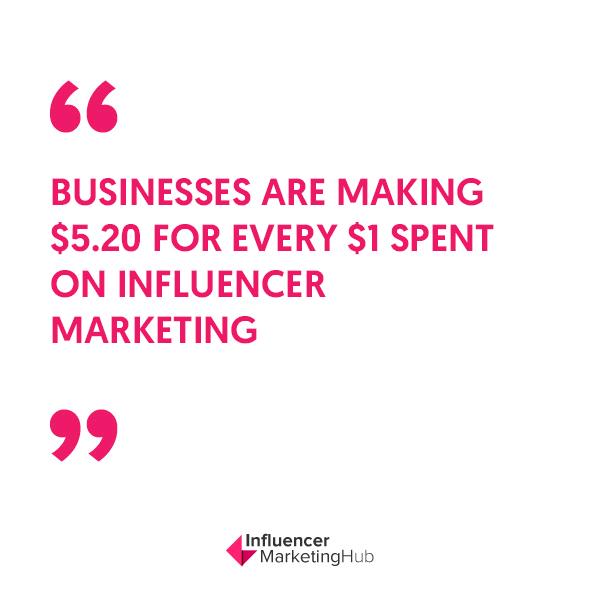 If you follow the right strategy, your social media campaign will definitely bear fruits regardless of whether your aim is to create brand awareness, increase sales or expand your reach.
Instagram is considered the most impactful channel for influencer marketing today.
However, before you go and find your influencer, make sure that you are offering the best quality content. Your sponsored content should be both thoughtful and creative.
When it comes to the number of followers your influencer should have, most marketers opt for micro-influencers with a following between 10,000 and 100,000. It is because micro-influencers tend to have better engagement rates.
If you are a small business and can't afford to pay your influencer, many will be willing to promote your brand in exchange for a product sample or for a discount on your products or services.
Use guest posting
Guest posting is a great way to promote your blog to a sizeable online-based audience. It can encourage readers to visit your blog. It will not only promote your blog but will also give you the benefit of an external link from authority sites, thus boosting your search engines rankings.
Before you write a guest post, first, know your goals.
Ask yourself these questions:
Are you writing to drive traffic to a landing page?
Do you want to create brand or product awareness?
Do you wish to boost SEO via inbound links?
Having clear goals will help you frame your bio and build trust as you deliver what you promise.
While finding sites for guest posting, you will find plenty of sites that accept guest posts. Hoverer, double-check whether they are a genuine site with lots of readers. You want external links from an authority site.
While writing your pitch, see that it is short and concise. And read the guidelines. After you write your guest post, don't forget to include a CTA and bio.
Consider including links to your landing page by offering a lead magnet in your bio, as in the example below. It is an excellent strategy to gain leads.

If people like your content and want to learn more, they will sign up.
You can also link to your social media channels asking interested readers to follow you on your accounts.
As far as the number of guest blogs, it is said that 60% of blogs create 1-5 guest posts monthly.
Implement paid ads
Paid social media ads help you to target your audience and drive sales. PPC, influencer-generated content, and display ads are some examples of paid social media ads.
When you implement social media ads, your content will be displayed to those consumers who may still not know they require your services or products.
You can use information, such as demographic data, user interests, etc., to display your ads in front of those who are more likely to be interested in your offer. Information like an email subscription list will help you target customers and bring qualified traffic back to your site.
Every social media platform has different strategies to implement social ads. However, they all have the same mechanism.
For instance, Facebook gives you the Boost Post option, while Pinterest offers promoted pins. Both LinkedIn and Twitter platforms offer site click ads.
In case you have a tangible product, a Facebook photo ad will help you to show it off. Instead of merely displaying a photo of the product, show people using it.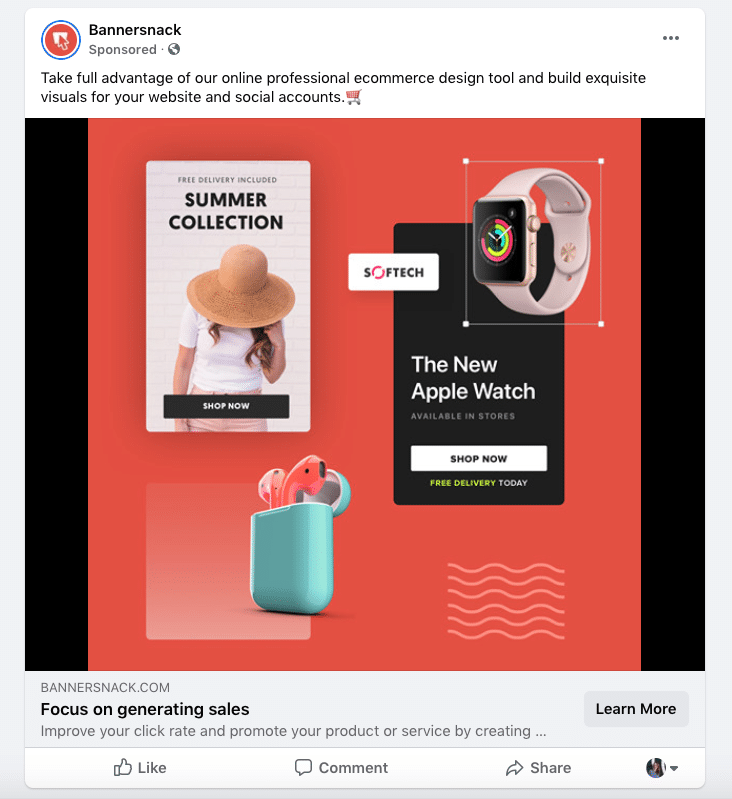 Paid social ads have a lot of potentials. They will help you to get good traffic as long as you set things up correctly.
Statistics suggest that paid social ads are used by 83% of marketers. It was positioned second in success (29%) next to search engine marketing (33%).
Share testimonials
Posting client testimonials on your social media pages is a great way to increase site traffic. It is especially true for e-commerce sites though it works for all sorts of sites that offer services.
One obvious benefit of posting customer testimonials do is increasing brand trust and loyalty. The testimonials tell customers that your business is genuine, trustworthy and that you are offering something of value.
A great way to showcase testimonials is by having an entire page dedicated to client testimonials. You can also use an image containing a quote on your social pages and then link them back to your WordPress site.
You can easily collect quotes, fabricate them, and add hero images to your testimonials.
Images can boost conversions as it makes it easy for prospective clients to identify with buyers. According to a case study, Driving Academy increased its conversion rate by 161% after swapping its stock hero images with images of actual people.
Here's an example by Birchbox, a New York City-based makeup company.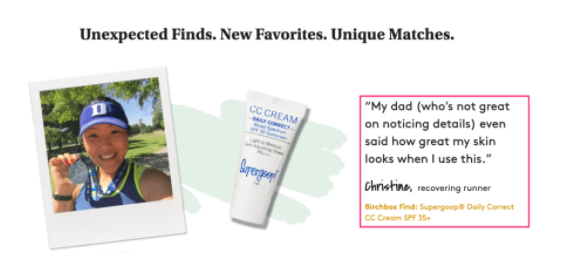 As you can see, Birchbox adds high-resolution hero images to their testimonials. Seeing a quote from a client who is like you makes it to identify with and take the next step of buying a product or service.
That's a Wrap!
The chances are that if you own a website, social media plays an integral part in your marketing efforts. Whether it's the community aspect of interacting with members of the same niche or just leveraging social networks to help drive traffic to your website.
However, social media goes far beyond getting "Likes" and building a following on Facebook or Twitter.
It's about using social networks to promote your business and in whatever way makes sense to you.
To help you out, this article talked heavily about how you can promote your WordPress website using social media. We also discussed the best strategies for gaining more visibility on social media while developing an effective social media promotion strategy.
About Author:
Lucy is a creative content writer and strategist at Marketing Digest. She specializes in writing about digital marketing, technology, entrepreneurship, and education. When she is not writing or editing, she spends time reading books, cooking and traveling.