12 deliverability and open rate tips
---
So, you've spent time and energy constructing an email marketing campaign for your subscribers. Yet, once you fire it out, the results show a depressingly low delivery rate and a barely noticeable open rate.
With 300 billion emails being sent daily, email is a tough nut to crack. We will offer our top twelve tips, as advised by marketing experts, on how to improve deliverability and open rates to boost conversions and revenue.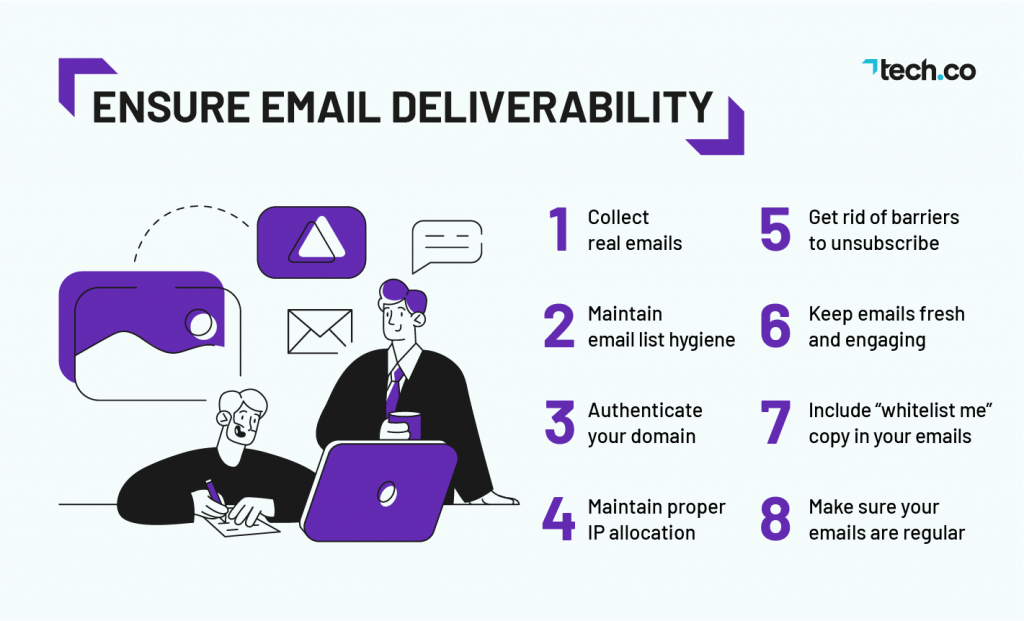 1 Collect real emails
Buying email lists online might seem like a quickfire way to increase your subscribers, but if it sounds too good to be true, it probably is. The chance is most of these emails are fake bot accounts, which will have a negative impact on your deliverability and will likely see your emails go straight to your recipient's junk folder.
2 Maintain email list hygiene
It's easy to ignore or delete those undeliverable email contacts, but these tainted addresses will not do you any deliverability favours. For those persistently ignoring your emails, you can aim to re-engage through a re-engagement campaign, but if no response, clear them out of your list. Email contact management is more administrative work, but we promise it will help your deliverability and success in the long run.
3 Authenticate your domain
Authentication gives email providers identification that you are legitimately sending emails, and are who you say you are. Without this, you increase the chance of getting blocked or filtered and damaging your reputation.
Depending on your email provider, authenticating your email is usually pretty straightforward, you should be able to find an authenticate section on the platform which will explain how to do it.
4 Maintain proper IP allocation
IP addresses can be shared or dedicated. Shared IP addresses are shared across a pool of users whereas dedicated is used by a single domain or company, with no other company being able to send from this IP address. Dedicated IPs allow you to regain more control over the reputation of your IP address, so is worth considering if you have the budget.
Your IP address factors into how mailbox providers determine your reputation and whether your emails will make it into the inbox, so it is an important consideration.
5 Get rid of barriers to unsubscribe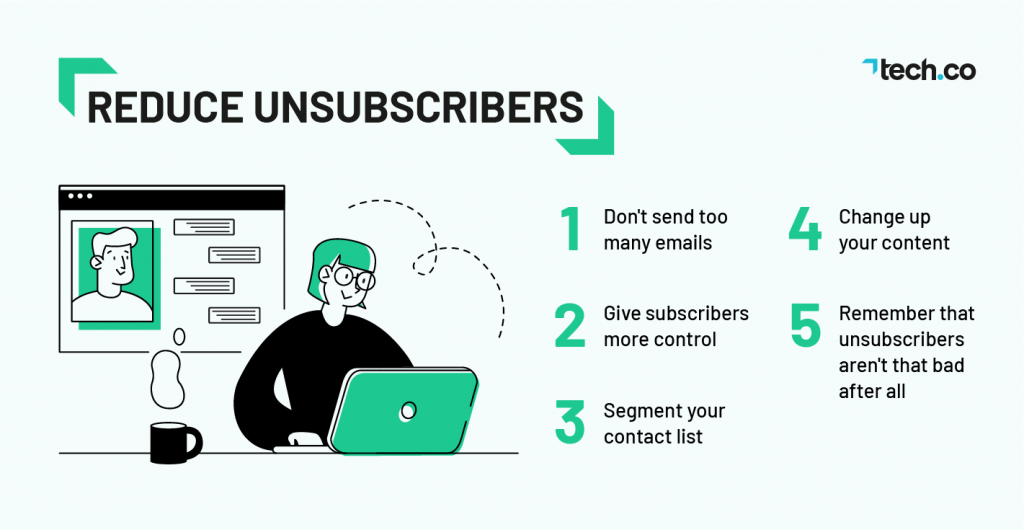 Not giving your recipients clear ways to unsubscribe will not only irritate them but if you are based in Europe, it also breaches General Data Protection Regulations (GDPR), so you could find yourself in a sticky situation. Always include an unsubscribe button at the bottom of your email – you can even include a question to find out the most common reasons for unsubscribes.
6 Keeps emails fresh and engaging
This should go without saying, but you need your customers to engage with your emails or else email providers will see your emails as useless and spammy. To keep emails engaging and fresh, consider our tips:
7 Include "whitelist me" copy in your emails
Your emails may be going to other tabs and folders other than the primary inbox, causing them to go unnoticed. Be including a "whitelist me" prompt in your email, it gives a positive signal to ISPs that users are engaging with your emails, which are valuable and not spammy.
8 Make sure your emails are regular
Consistency is important when it comes to email marketing. It's advisable to send out a weekly newsletter to ensure you are sending out regularly, which gives email providers and potential customers an idea of whether you are worth a read.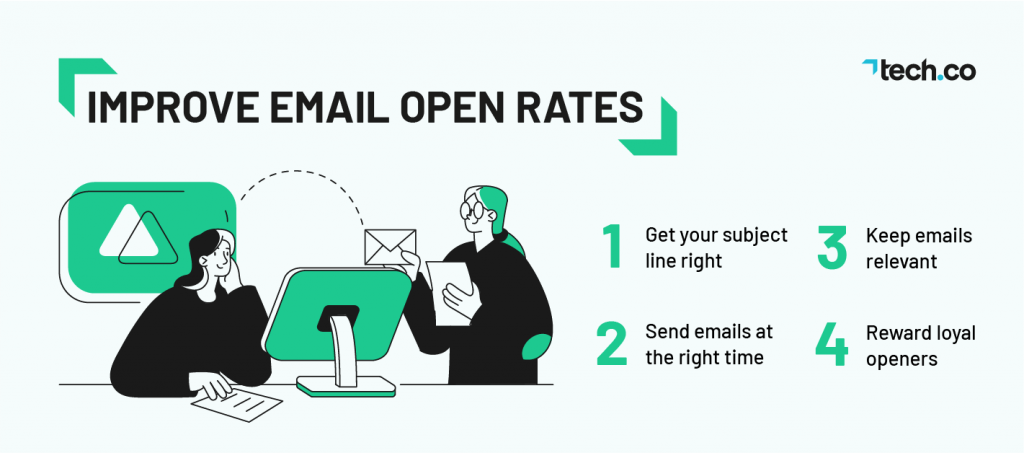 9 Get your subject line right
47% of recipients use the subject line alone to decide whether or not an email is worth opening, so you want to spend time ensuring you get it right. There are a few things to bear in mind when deciding on a subject line. A/B testing different subject lines in your campaigns can help inform in the future what works best. Here are our tips:
Short and sweet is best
Avoid filler words – be concise
Use humour (sometimes)
Put your most important words first
Personalise where possible
Our email expert even suggests experiments with emojis to make emails look more engaging in the inbox, but don't overdo it.
10 Send emails at the right time
The time you send an email can make the difference between a 20% open rate and a 5% – it's more important than you think. Generally, the best time to send an email is between 9 am and 3 pm but the specifics depend on where your customers reside, demographics, and industry. If you have customers around the world, it's worth segmenting them by location so you can strike at the right time. You should be continually testing send times through A/B testing your campaigns.
11 Keep emails relevant
Don't try and say too much in each email – stick to the subject matter and include a CTA that relates. You'll lose your time-strapped audience if you don't get to the point, and reduce the chances of your email falling into the spam folder.
12 Reward loyal openers
It's far easy to boost sales through existing customers than trying to acquire new ones. So, use this to your advantage by rewarding loyal openers. Target them with special deals and offers, and consider segmenting them into a more regular list.
There you have our top 12 tips on improving email deliverability and open rates. Your content can be the best in the world but it still needs to get through to your recipient, and email providers are only becoming more sensitive to content it deems as spammy. Continuous testing and reporting are also crucial in discovering what works and what doesn't and gaining great success from your campaigns.
Author Bio
Ella Patenall is a Content Manager for Tech co, a global resource for tech news, product reviews, how-to guides, and all-around inspiration. She writes on SEO, digital marketing, and content marketing. In her spare time, she writes a music blog and plays guitar in an acoustic duo.
---