12 Best Hotel Affiliate Programs To Send Your Financial Woes On Vacation in 2020
Welcome to another of our famous Authority Hacker affiliate program roundups.
This time we're covering hotel affiliate programs, including some you've never heard of.
A lot of affiliates can be put off by the perception that the "hotel booking" niche is too competitive.
It can be.
But its revenue trend from 2011 – 2017 looks like this:
That's in billions, by the way.
There are 148 million travel bookings made online each year, and every one of those people needs somewhere to sleep at night.
That includes both business and recreational travelers.
Your only task is connecting them with the perfect hotel.
And we've found some very cool hotel affiliate programs to help you do just that.
Travelocity Affiliate Program

Travelocity seems to have a bigger mission than being just another travel site.
In fact, they see life as being "…one big journey".
Somebody has been reading their Marcus Aurelius.
Either way, it's a good PR pitch for a company that's widely recognized in the travel industry, probably because it's been around since 1996.
Typical of many similar price comparison sites, your visitors can use Travelocity to book hotels, flights, cars and even cruises.
But they do make the chore of booking holiday accommodation easier because you can choose either adults-only resorts (no kids anywhere) or family-oriented hotels (kids everywhere).
That makes their offerings broad enough to appeal to the vast majority of people interested in booking their ideal hotel.

Travelocity's affiliate commission structure is a little confusing because they feature so many different products.
That's pretty typical of a generic travel affiliate program.
But here's what the commission structure looks like for "selling" hotel rooms:
3% where customers pay when they check out
4% when customers pre-pay their hotel room
Affiliates get paid for everything from car rental and flights, to vacationers booking a cruise, so cross-sell as often as you can within your content.
URL: Travelocity affiliate program
Commission rate: Up to 4%
EPC: $94.68
Cookie duration: 45 days
Priceline Affiliate Program

Priceline is another well-known price comparison site servicing the travel industry.
Something they've been doing for over 20 years now.
Today Priceline remains one of the leading hotel price comparison sites, offering savings on trusted brands like Hyatt, Hilton, Intercontinental, Kimpton, and Westin.
They provide vacationers and travelers with access to 700,000 hotels in 170 different countries.
Basically, you won't really have to try to sell your audience on clicking through to Priceline offers because they're a recognized brand.
It's really just a case of finding the best angle in your content to pre-sell people on specific hotel offers.
Like "The 10 Best Adult-Only Hotels in Central Paris".
Just a thought.

Affiliates are paid 3% – 5% in commission depending on the offer they promote.
And this is where you need to be careful because certain types of bookings – like those made using coupons – pay 0% commission.
Always read the fine print, affiliates.
URL: Priceline affiliate program
Commission rate: 3% – 5%
EPC: $78.13
Cookie duration: 30 days
Sirenis Hotels Affiliate Program

You'd never heard of Sirenis Hotels before today?
Me neither.
Even though the same family has run this business since 1970.
Sirenis offers a mixture of affordable and luxury accommodation in its hotels in Spain, the Dominican Republic, Mexico, Colombia, and Cuba.
Their Grand Sirenis Hotels are their most luxurious offers, although guests are assured of a more than comfortable stay at any of their locations.
Why would you promote a smaller network of hotels than a large corporate chain or franchise?
Because family-run businesses have to focus on guest satisfaction.
The larger chain hotels don't.
Or at least that's how I'd pre-sell it.

They're obviously doing something right because their average order size is over US$1,000.
So that means affiliates can net $62 per referral, which is pretty healthy for any affiliate program.
Oh and they offer a multilingual website experience, so make sure to tap into the Spanish speaking market.
Non-English speakers are just as happy to click on affiliate links as English speakers are.
URL: Sirenis Hotels affiliate program
Commission rate: 6%
EPC: $118.04
Cookie duration: 30 days
InterContinental Hotel Group Affiliate Program

The InterContinental Hotel Group is big.
And by that we mean, 5,000 hotels, 674,000 rooms, and 150 million guests annually.
IHG encompasses several of the most popular hotel brands, including Crowne Plaza, Regent, Hualuxe, Avid, Hotel Indigo, Holiday Inn, and Candlewood Suites.
And before you scoff at promoting Holiday Inn, I've never had a negative experience staying with them.
But I've had piss-poor service in 5-star hotels, including stained sheets that I still have nightmares about.
Anyways, the core point here is that no matter what type of hotel your visitors are looking to book into, IHG will have one that matches their needs, budget, and destination.
Basically, they have a hotel for every occasion, be it for a family on vacation or a business traveler looking for a brand name they can rely on.

Yes, a 3% commission rate is pretty small, but it's also typical of what affiliates make in this industry.
But this program's EPC and 'Network Earnings' score tells me that a lot of people are making those bookings through IHG affiliates.
And that means there's affiliate money to be made.
Commission rate: 3%
EPC: $136.50
Cookie duration: 14 days
Derby Hotels Affiliate Program

Derby Hotels offers those visiting the main European capitals a more sedate stay in any of their 21 hotels.
These are hotels with heart and charm, embracing the architectural and cultural heritage of their home city.
Your visitors get a range of truly boutique hotels in Barcelona, Madrid, London, and Paris.
Each hotel in their "Collection" is different from the next, so you never have that "cookie-cutter" hotel room experience.
Like when you can find the travel kettle or trouser press in a room, blindfolded.
It's also worth mentioning that their hotels have been winning awards since 2000 – literally dozens of them.
Hipsters and more affluent business travelers will love these hotels.

Affiliates are paid a 6% commission for each referred sale, which equates to about $26 for anyone who books a room through your affiliate links.
There's a certain type of vacationer who likes to boast about staying in hotels their friends have never heard of.
And Derby Hotels are absolutely perfect for that audience.
I hope all you potential affiliates are taking notes?
URL: Derby Hotels affiliate program
Commission rate: 6%
EPC: $108.75
Cookie duration: 30 days

Hotels.com has been in business for a long, long time.
They started way back in 1991 as the Hotel Reservation Network, but rebranded to Hotels.com when they became part of Expedia in 2001.
So that's approximately 15,200 Internet years in business.
This particular brand has also become synonymous with the idea of booking hotel accommodation online.
Hotels.com did it before it was cool…or there were hundreds of impersonators.
A big advantage of promoting them is that their site is available in 35 different languages, and they have 85 localized websites to serve their worldwide audience.
So no matter where somebody lives, or what language they speak, you can push a Hotels.com affiliate link their way.

You get paid a 1% commission for selling one of their gift cards, but 4% on every room booked.
The 7-day cookie is a pain, although most people who book hotels online already know what they want.
So, as long as you're sending relevant traffic to their landing page(s), you shouldn't have any conversion problems.
This is also one of the top-performing affiliate programs on Commission Junction, so affiliates are receiving large checks on a regular basis.
URL: Hotels.com affiliate program
Commission rate: Up to 4%
EPC: $74.99
Cookie duration: 7 days
Oberoi Hotels Affiliate Program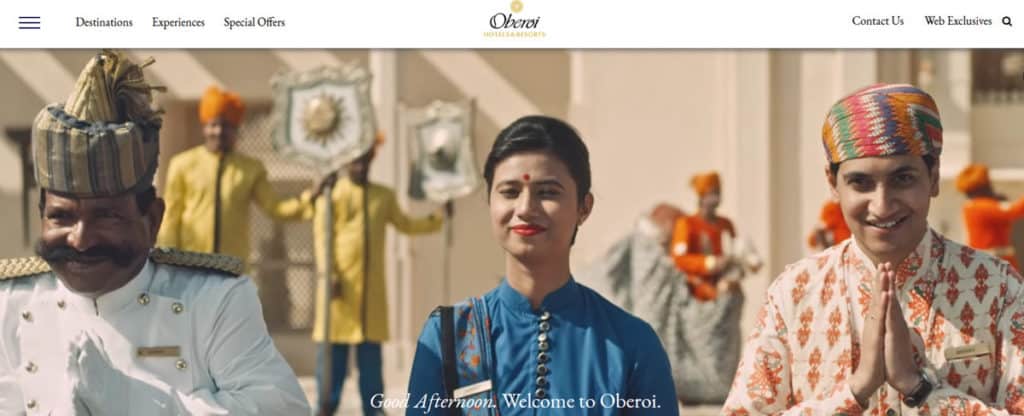 Oberoi Hotels, at first glance, might look like just another chain of luxury hotels.
But their entire business started with M.S. Oberoi earning INR50 (50 Rupees) per month working as a hotel clerk.
He worked hard, learned a lot, and then opened his first hotel in 1934. Since then the business has grown to own 31 hotels in locations as diverse as India, Egypt, Indonesia, Mauritius, Morocco, Saudi Arabia, and UAE.
And, what's even cooler, is that family members still run the business today.
So, your visitors get to book luxurious rooms, enjoy exceptional service, and in the most exotic of locations.
There is something very different about staying in a 5-star hotel in India – it's like you are genuinely welcome there.
It's not just a Vaseline-gummed facade.

Affiliates get paid a 6% commission on an average order size of almost $600, which will put $30 in your affiliate account.
Your only real challenge here is introducing your audience to Oberoi Hotels & Resorts simply because they're not an instantly recognizable brand for most people.
So work on getting actual testimonials and/or hotel reviews from guests whenever possible.
These can be worth their weight in gold for boosting your conversion rate.
URL: Oberoi Hotels affiliate program
Commission rate: 6%
EPC: $73.28
Cookie duration: 30 days
Choice Hotels Affiliate Program

Choice Hotels is an international hotel brand that opened for business way back in 1941.
As of today, the Choice Hotel brand accounts for 6,300 hotels, a total of 570,000 rooms, spread across 35 countries.
Choice Hotels live up to their brand name because they have something for every budget.
If your visitors are looking for something a bit more upscale, then they can choose from Ascend or Cambria Hotels.
Working away from home for an extended period of time?
No problem – check out their MainStay Suites, WoodSpring Suites, or Suburban extended stay hotels.
These offer an apartment experience backed up by hotel facilities, ideal for anyone traveling for business.
Budget travelers or vacationers can book into Comfort, Clarion or Quality Inn hotels.

A potentially useful pre-sell for affiliates is their "Lowest Price Guarantee" – if a customer can find a better Internet rate for a room they get a $50 gift card.
The EPC for this program isn't huge, but their 'Network Earnings' score is.
So there's absolutely no reason you can't make decent money promoting their offers, as long as it's to the right audience.
Don't put Choice Hotel links on your pet care site, for example.
URL: Choice Hotels affiliate program
Commission rate: 5%
EPC: $64.52
Cookie duration: 7 days
BlueBay Hotels Affiliate Program

BlueBay Hotels are aimed squarely at those of you who want to get away from it all.
And by away, I mean far away.
They have hotels in Spain, Italy, Turkey, Luxembourg, Mexico, Dominican Republic, Colombia, Ecuador, Bolivia, UAE, Lebanon, Jordan, Tunisia, and Morocco.
So, your holiday won't be to any of the more typical destinations in North America, Asia or Europe.
Their hotels range from family-friend experiences to ones that are better suited to couples looking for a quieter experience.
Just for once you can book a romantic weekend without having to deal with free-range children screaming at you during breakfast, dinner, and lunch.
They also offer a range of experiences (location dependent) from golf and cycling to snorkeling and jet skiing.
BlueBay Hotels want to leave your visitors with memories that will last a lifetime.

It's starting to feel like different affiliate managers are copying each other because this program also pays a 6% commission on all referred sales.
They do have promotional codes you can use to get some leverage with your audience, which is always handy.
URL: BlueBay Hotels affiliate program
Commission rate: 6%
EPC: $65.96
Cookie duration: 30 days
Red Roof Inns Affiliate Program

Red Roof Inns are perfect for people who want to visit a major city, but not have their hotel located miles away from anything.
There's nothing worse than realizing you'll have to travel several miles to access the highlights of your host city.
So Red Roof Inns offers affordable, centrally-located accommodation across North America, including Orlando, Houston, Fargo, San Francisco, Chicago, Atlanta, Boston, Detroit, New York, and many other locations
But they also have hotels in Japan and Brazil for international or business travelers.
If you're looking for a pet-friendly hotel chain, then you've found it.
In fact, your pet gets to stay with you free of charge.
This one facet of their business gives it instant appeal to pet owners, something 90% of hotels don't bother with.
The Red Roof Collection (their various hotels) focuses on offering guests value, comfort and affordability.

3% commission is at the lower end of the scale, but there's enough affiliate traffic on Commission Junction to show their offers convert well.
One definite angle to take is to promote their hotels to pet owners –that's a sub-niche within itself.
There's also very little competition for those types of localized searches.
*Drops hint for potential affiliates.*
URL: Red Roof Inns affiliate program
Commission rate: 3%
EPC: $67.75
Cookie duration: 30 days
Avani Hotels and Resorts Affiliate Program

If you're looking for modern, chic and stylish accommodation in some of the most exotic locations on Earth, then Avani Hotels & Resorts might be the answer to your prayers.
They offer a mixture of city and resort hotels in locations as diverse as Portugal, Lesotho, Korea, Zambia or Seychelles.
That's just the tip of the iceberg though – they have dozens of hotels worldwide.
While many hotels focus on style over function, Avani Hotels work hard to strike a balance that works for everyone.
So you'll never feel like you're staying in a drab and boring hotel.
But you'll equally also never feel you're trying to sleep in the middle of a stag or hen party.
Their reviews all have a common thread –the staff go above and beyond the call of duty to make guests feel welcome and valued.

So, how well does their affiliate program pay?
Affiliates get 5% commission for every completed stay.
This proviso made me question who many guests bail on their hotel bills each year?
Obviously enough to make this an issue.
Apart from that, you'll make around $53 for every 100 qualified visitors you send to their site.
URL: Avani Hotels affiliate program
Commission rate: 5%
EPC: $53.63
Cookie duration: 30 days
Turnkey Vacation Rentals Affiliate Program

But what if you don't want to book a hotel room?
What if you'd prefer more privacy, flexibility, and space?
Tadaaaaaa – introducing Turnkey Vacations!
I've stayed in a variety of luxury hotels around the world (not boasting), but one of my favorite vacations was in a long-stay apartment in Amsterdam.
Turnkey Vacations offers your audience much the same experience – you can access 4,600 homes in 80 North American destinations.
Guests enjoy the privacy of an entire home to themselves, but with the backup of professional cleaning and customer service if anything should go wrong.
It's like Airbnb, but with more support.

What's surprising about this affiliate program is the average order value – it's almost US$2,000 per transaction.
Affiliates can get up to 5% of that, which in turn means that you can earn almost $100 for every referred sale.
That's on a par with finance affiliate programs (insert link), for example.
URL: Turnkey Rentals affiliate program
Commission rate: 5%
EPC: $336.42
Cookie duration: 30 days
Conclusion
You now have a dozen truly worthwhile hotel affiliate programs to work with.
Ones that affiliates are making bank with on a daily basis.
By the by, we didn't include the Booking.com affiliate program because they use session-based referrals.
Which is basically a 0-day cookie.
Nah, we're good. Thanks.
Not all affiliate links are created equal, folks.
Now, you might be wondering what good any of the above information is to you.
And how you go about finding the right niche, and the right keywords to go with it?
We have the answers to those questions, and many more besides.
Just click here, drop in your email address, and we'll shoot you over an invitation to a free training session on how to build your authority site.
We look forward to seeing you there!
See more here – Source